North Catholic ends season with 3-0 loss against Hampton
End of the Ride
WEXFORD — Amanda Fetter likened her girls volleyball team's trip to the PIAA Class 3A semifinal playoff to that of an amusement park.
"We just were making too many errors," the North Catholic coach said. "We would get up, then we would drop. I told them it was like a trip to Kennywood. We were high, low, high, low, high, low.
"We couldn't level out."
The Trojanettes grabbed the lead early in all three sets Tuesday night at North Allegheny High School, but each time Hampton took over, it refused to fall back. The Talbots swept North for the second time in an 11-day span; this time by scores of 25-16, 25-18, and 25-20.
"One thing we've been able to do well all year is just stay composed and play one point at a time — and it showed tonight," Hampton coach Dainen Holler said. "This group, we have a lot of seniors on the team, and they bring the energy at practice every day. They want it."
Talbots (25-0) senior outside hitter Emerson Schrom took control in the initial game after the Trojanettes held 1-0 and 2-1 edges. Schrom tallied five kills in a 6-0 run — and nine overall in the first set — that North wouldn't recover from.
The Trojanettes (20-3) traded punches with their opponent until a hitting error handed Hampton a 7-6 upper hand. The Trojanettes kept within five, then three consecutive points — including kills by Camdynn Gonzalez and Megan Becker, and a Claire Beaman ace — made it 19-17 and forced the Talbots into a timeout.
"My seniors — Alex Sepcic, Aniela Balog, Megan Becker, Tori Schelbauer, and Brooke Sciullo — they are wonderful," Fetter said. "And they will be so missed. We battled."
The minute-long pause blew away North's steam, with two hitting errors, a double contact, a service error, and a net violation piling up directly after.
Two Gonzalez kills and aces by Rebecca Feczko and Balog helped the Trojanettes race out to a 5-1 advantage in the third and final set, but Hampton pulled ahead with five consecutive points.
"We feel confident if we take care of our own business and we play to the best of our ability," Holler said. "They're a really good team and it shows. They're competitive in every match that we play them in."
North knotted the score at 6, 7, 9, 10, and 17. In each instance, the Talbots tilted the scoreboard back in their own favor.
"We've had fun," Fetter said. "We've had a lot of fun. That's what we just said in the locker room, that it's really important that we don't carry the way that this feels today on with us about the year. We were blessed and honored and humbled to be in this position — to be in the state semifinals and get to come in here and battle it out.
"It just wasn't our night."
Ella Koziara finished with a dozen kills for the Trojanettes, Gonzalez eight, and Sciullo six. Schrom had a match-high 21 kills for Hampton.
The Talbots have reeled off wins in 36 consecutive sets dating back to Oct. 3, including a 3-0 win over North in the WPIAL Class 3A final on Nov. 4.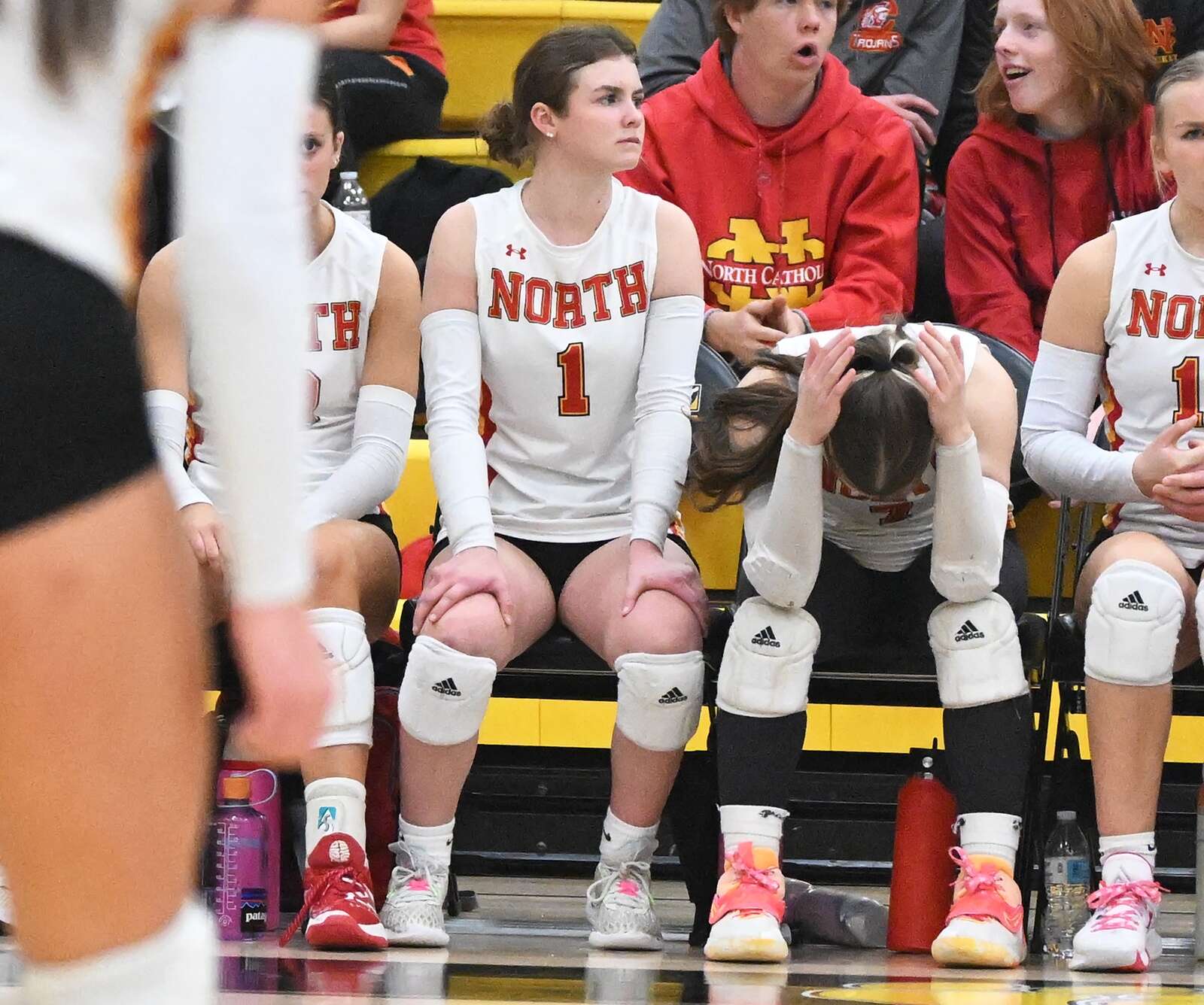 More in Sports