Butler County seniors can hit the water to stay fit
For Your Health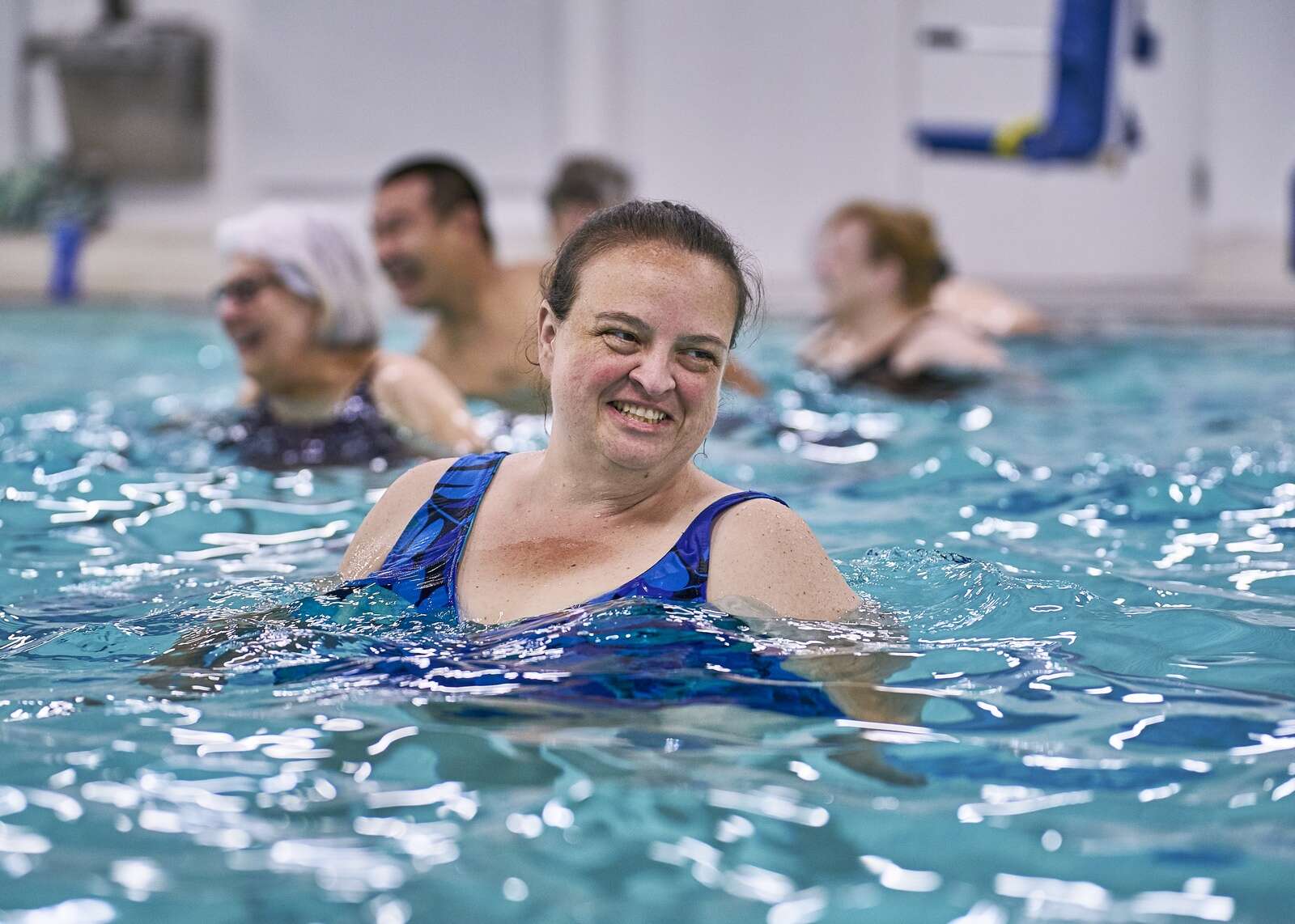 Staying active as you age can be as easy as getting your feet wet.
There are 13 aquatics classes a week at the Butler YMCA, according to Heidi Nicholls Bowser, the membership and healthy living director.
The Butler YMCA, 339 N. Washington St., has offered aquatic fitness classes for at least 30 years, before Nicholls Bowser began teaching exercise classes.
"Most of the classes take place in what we call our warm water pool, but there are also classes in our lap pool," Nicholls Bowser said. "Typically, some of the gentler classes are going to be in the warm water pool."
These aquatics classes are large, with 20 to 30 participants. Some aqua fitness classes available at the Butler YMCA include Pool Jogging and Deep H2O Suspension.
"We are very proud of the fact that we have so much variety here at the Y," Nicholls Bowser said.
Since Atria at Cranberry Woods first opened almost three years ago, it has offered an aqua fitness class, YMCA Aqua Burn, to its residents.
"We offer that two days a week and we work with the Rose E. Schneider Family YMCA," said Brianna Neely, the engage life director at Atria. "They come in and send their wonderful instructor and she leads the class two days a week."
Aqua Burn classes for Atria residents are on Tuesdays and Fridays, from 10 to 11 a.m. These classes started with three or four residents and have grown to about 15.
"I lead monthly programming meetings where I ask residents what they want to have, what kind of programs and activities, and they mentioned aquatics," Neely said. "We had a relationship with the YMCA and they said, 'Oh yeah, we can do aquatics.' We did it once a week and then we started to increase it. Within the first year, we increased it to two because we started to see the residents really enjoying it."
According to Nicholls Bowser, most aqua fitness participants are from the senior population and are "drawn to the low-impact exercise in the warm water."
"Our warm water pool is shallow, so you can stand in the entire pool," Nicholls Bowser said. "This would be for people who prefer to stand and do their exercise that way.
"One thing to remember is that all of the classes that we do in the water are gentle on your joints, that's really important because you're talking about impact," Nicholls Bowser said. "Some people with arthritis really rely on that water in order to get their exercise because it just hurts too much to do resistance training on land."
At the Butler YMCA, two of the gentlest aqua fitness classes would be the Gentle Water Exercise and the Aqua Exercise for Arthritis because of their slow speeds.
"The instructors understand how to increase heart rate, so you're going to be doing slower movements in general," Nicholls Bowser said. "Speed is a big deal when it comes to heart rate, so when you do things faster, your heart rate is going to go up a little bit more."
In addition to the program's speed, each participant can modify the activities and exercises in ways that benefit them or match their abilities.
"Sometimes in certain classes, they might use what we call toys or accessories, like water dumbbells," Nicholls Bowser said. "While we don't have specific levels, all of these water classes are modifiable and, I would say, they can be modified for all fitness levels."
According to Neely, the Aqua Burn class for Atria residents is also a modifiable class.
"Everyone is welcome and (the instructor) gets to know the individuals and their abilities," Neely said. "Everyone does what they can."
When Nicholls Bowser was interviewed for another health story published by the Butler Eagle July 19 called "Stretch your way to health," she stressed the importance of working to stay flexible and keep full range of motion as the body continues to age. In the interview for this article, she explained the importance again and how aqua fitness classes help in this area.
"Moving the joints through a full range of motion comfortably in the water gives relief to people that have joint issues," Nicholls Bowser said. "A lot of people who take water exercise will tell you, almost more than any other population in the building, 'I really need this.' They need it because they feel better and that's huge, that's why we do it."
According to Nicholls Bowser, even in the more gentle aqua exercise classes, the instructors will emphasize the cardio work a little more each time as the class progresses.
As seniors continue with the aqua fitness classes, Nicholls Bowser notices they feel less pain and have more energy throughout the day. Once this is achieved, she guides members toward joining strength classes on land, such as a functional walk class or a beginner's weight training class.
"A lot of times once people start feeling better, I will guide them toward some strengthening, because, for a person that can do it, a combination of water and weight-bearing exercise is actually really recommended," Nicholls Bowser said. "Many people that I've worked with here have gone from water to doing weight-bearing exercise, or they currently do both, that is not uncommon at all."
Some combinations Nicholls Bowser has seen include Functional Walk, Active Older Adults Strength and Stability, and the Silver Sneakers program.
According to Neely, she has noticed Atria residents improve physically after participating in the Aqua Burn class.
"Their flexibility (and) their ability to get around has improved," Neely said. "Some of those people had to use a walker and now they only use a cane, so that is really neat to see. In general, the duration of being able to walk without having to sit, I've seen some increase in that, and their energy level has increased.
"Their mindset too, it's not only physical but it's created something that they look (forward) to, it's created purpose, friendship and socialization," Neely said. "I think that it (has) a whole body aspect."
More in Special Sections