Mistakes cost Seneca Valley Raiders in Friday's defeat
JACKSON TWP — Amari Henson and Sean O'Shea provided a fleeting moment of positive momentum for the Seneca Valley football team Friday night at NexTier Stadium. Those good vibes were halted quickly during a 35-13 nonconference loss for the Raiders.
Seneca Valley hasn't led in any of its four games this season. But Henson intercepted Pine-Richland quarterback Aaron Strader's pass on the first play of the second quarter and gave the Raiders a chance to break a 7-7 tie.
Seneca Valley quickly followed with a 48-yard run by O'Shea that brought the Raiders to midfield.
Two plays later, disaster struck. O'Shea had a 20-yard completion to Luke Challingsworth wiped out by a holding call. After a false start, O'Shea would get sacked for an 8-yard loss, and the Raiders would be forced to punt.
"We get some positive chunk plays and then we go backward," Raiders coach Ron Butschle said. "It's a recipe for the wheels falling off the wagon. We have to figure out how to keep going."
Pine-Richland (2-2) scored touchdowns on its final three drives of the first half to stretch the lead to 28-7.
Seneca Valley fell to 0-4 for the first time since 2014.
"As a whole, I think we have to figure out how to get out of our way," Butschle said. "We're just having a hard time executing the simple things. When you have a hard time doing that, you create penalties. "
Pine-Richland (2-2) dominated the line of scrimmage from the start of the game. The Rams finished with 262 rushing yards. Pine-Richland's steady march toward the goal-line started on its first possession. The Rams went 85 yards in 11 plays and capped the drive with a 3-yard touchdown run by Ethan Pillar.
Pine-Richland coach Jon LeDonne said the Rams love playing a bruising style of football.
"It's a mentality we try to develop," LeDonne said. "We have a tough running back and guys that are hard to bring down. We think we are physical up front. We have to hold onto the football."
Seneca Valley's defense set up the Raiders' lone score.
Tommy Wuycheck recovered a Pillar fumble with about three minutes left in the third quarter on the Rams' 22-yard line. Seneca Valley would cash in three plays later when O'Shea scored on an 11-yard run to tie the game.
On Pine-Richland's next possession, Henson stopped the drive with an interception. But after Seneca Valley's ending punt, the wheels fell off for the Raiders.
Pillar, who finished with 145 rushing yards on 17 carries, scored the go-ahead touchdown on a 1-yard run with 7 minutes, 49 seconds left in the first half. Tanner Cunningham would add two touchdown catches to stretch out the lead.
Seneca Valley was limited to 243 yards of total offense, including 101 passing yards. Brayden Wise caught 24-yard touchdown pass from Parker Brugos in the final two minutes to give the Raiders their final points.
While the loss to Pine-Richland didn't impact the Raiders' postseason hopes, Seneca Valley needs to find a way to score more points if it hopes to contend.
"We have a process in place," Butschle said. "It's a matter of these guys maturing physically and football-wise. What we do to prepare isn't going to change. We're just going to have to execute."
Purchase photos from the gallery below at photos.butlereagle.com.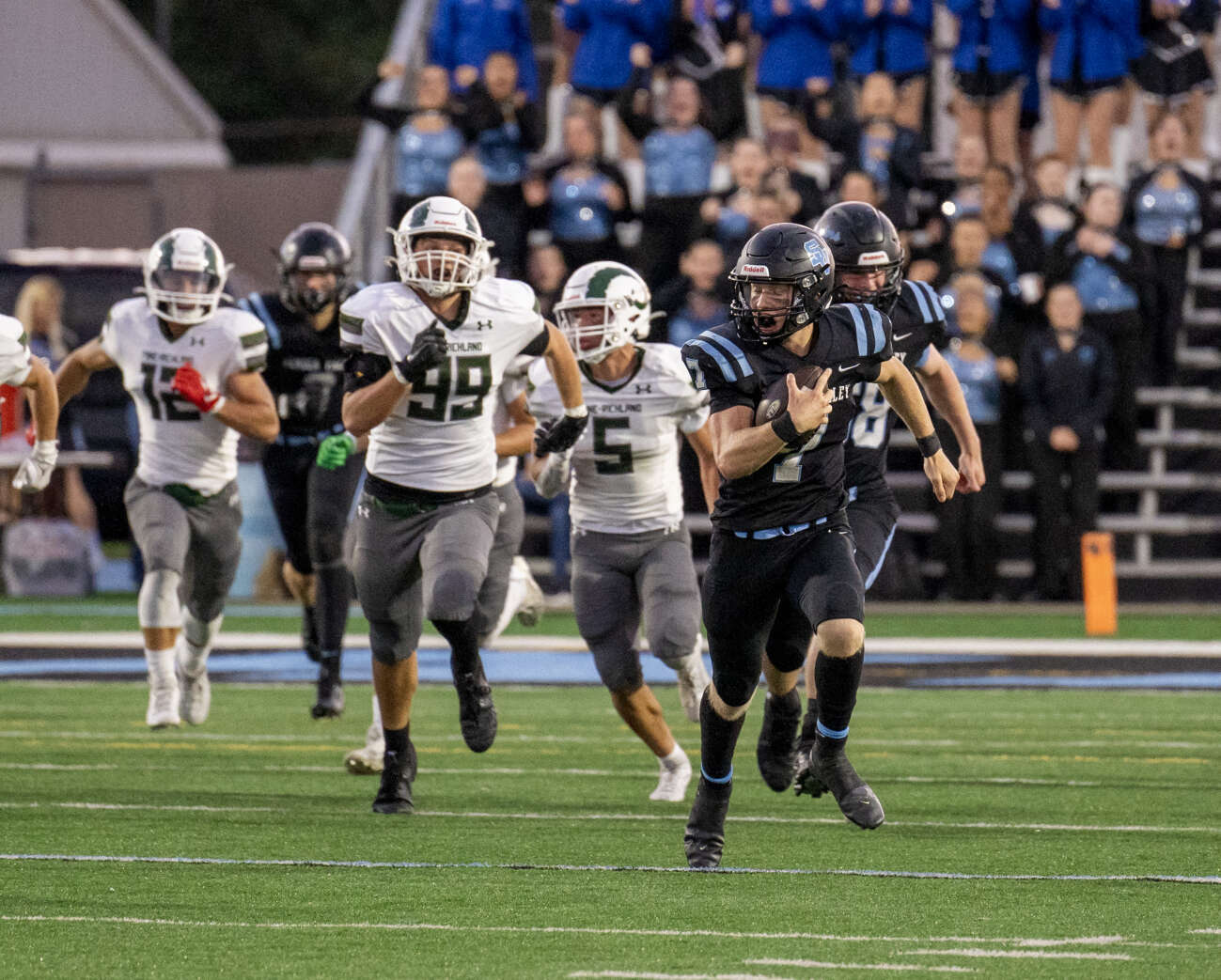 Pine-Richland 7 21 7 0-35
Seneca Valley 7 0 0 6-13
First Quarter
P — Ethan Pillar 3 run (Grant Argiro kick), 7:46
S — Sean O'Shea 12 run (Jacob Adams kick), 1:54
Second Quarter
P — Pillar 1 run (Argiro kick), 7:49
P — Tanner Cunningham 11 pass from Aaron Strader (Argiro kick), 3:10
P — Cunningham 29 pass from Kanan Huffman (Argiro kick),: 24
Third Quarter
P — Pillar 7 run (Argiro kick), 7:57
Fourth Quarter
S — Brayden Wise 22 pass from Parker Brugos (kick failed), 1:52
Rushing: Pine-Richland, Ethan Pillar 17-145, Aaron Strader 7-59, Maclane Miller 8-42, Talan Hill-Ressler 10-20, Kanan Huffman 7-(-4). Seneca Valley, Sean O'Shea 15-83, Kyler Matson 4-39, Kai West 3-20.
Passing: Pine-Richland, Kanan Huffman 4-6-70-0, Aaron Strader 2-5-11-2, Derik Macik 1-1-13-0. Seneca Valley, Sean O'Shea 6-17-67-0, Parker Brugos 3-6-34-0.
Receiving: Pine-Richland, Tanner Cuningham 2-40, Bryce O'Brien 2-37, Valsilios Balouris 1-14, Hans Meijer 1-13, Aiden Harper 1-1. Seneca Valley, Kai West 2-45, Braylon Wise 2-28, Kyler Matson 2-12, Cayden Parker 2-11, Adam Gehm 1-6, Luke Challingsworth 1-(-1).
More in Sports