Mars girls soccer winning with new faces
Familiar Results
ADAMS TWP — A perfect start to the season is nothing new for the Mars girls soccer team.
The unfamiliarity this season lies with the names of the players keeping the Planets on top.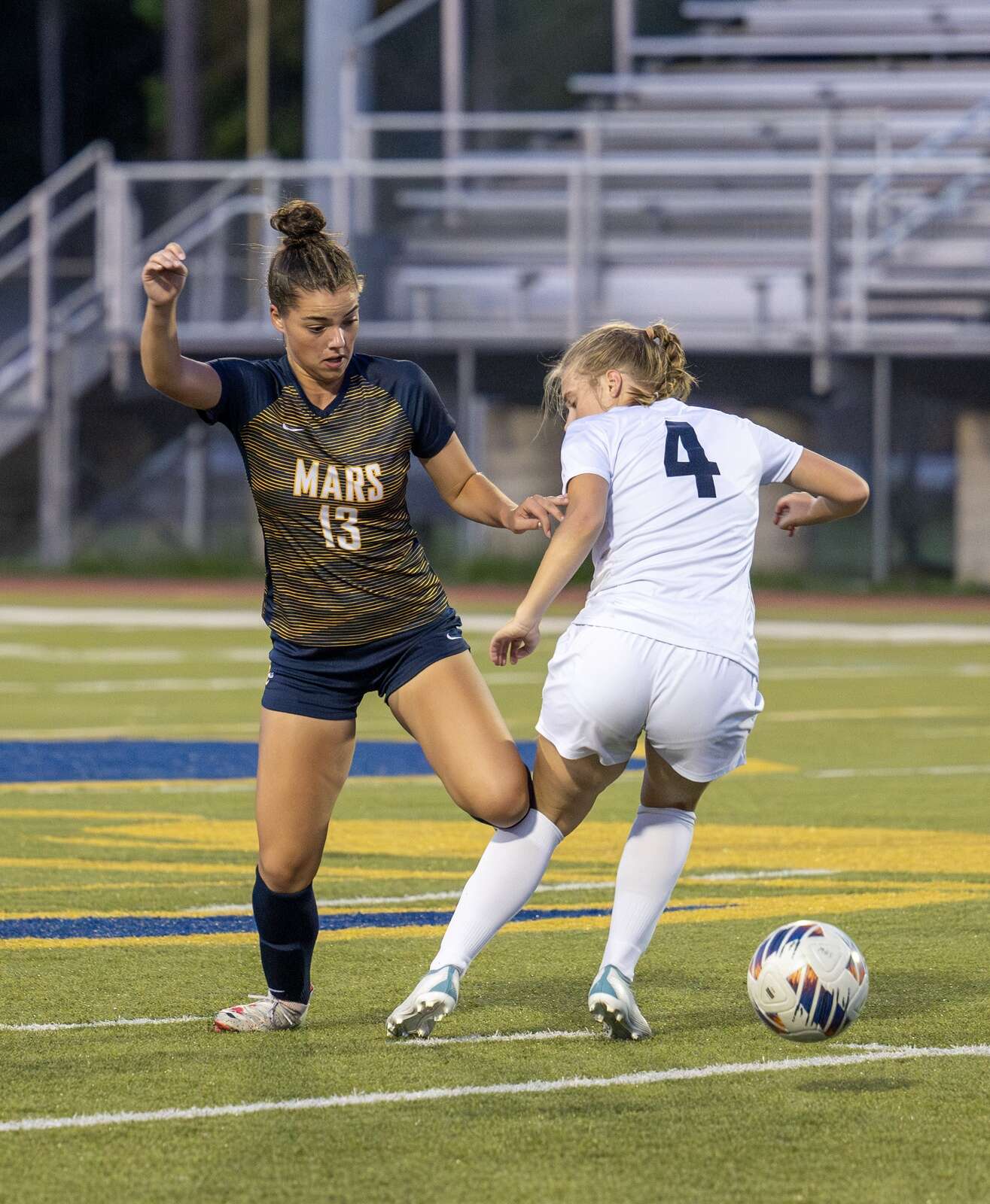 Despite losing nine starters from last year's 19-2 team, Mars won its first six games by a combined score of 23-1. The most recent triumph came Wednesday night as the Planets shut out Indiana, 5-0, at the Mars Athletic Complex.
Addison Girdwood scored a hat trick against the Indians (2-6, 1-4). A senior forward, she began starting as a sophomore and is one of a few players in the lineup with a lot of varsity playing time under her belt.
"It's definitely a different feel this year because there's a lot less experience," Girdwood said. "The older players, like myself, are guiding the younger ones and everybody is doing a good job of stepping into their roles."
Kate McEnroe played the first half in goal for the Planets and Lily Goodworth played the final 40 minutes. The Planets dominated play throughout as Indiana managed only a single weak shot on goal in the first half.
"Kate starts games and we see how it looks from there," said Planet coach Blair Gerlach. "They're both seniors and Lily is more than capable of getting the job done when she's in there.
"Overall, it's a different group. We're trying to be well-versed with different formations so we can counter whatever teams throw at us."
Also scoring for Mars (6-0, 4-0) were Rosie Pellegrino and Alivia Halliday. Contributing assists were Kayleigh Clark, Brynn Ramsey, Halliday and Girdwood.
The Planets' loss to Moon in the WPIAL Class 3A final last year snapped an 80-game unbeaten streak for Mars. Prior to that, Gerlach's squad had won three straight WPIAL titles and three straight state championships.
"We started just one underclassman tonight (sophomore defender Alexis Cashdollar)," said Gerlach. "Five of our starters were seniors and we've got a talented group here, but most of them weren't starters in the past.
"We've got a new look with new players, but I think they're capable of continuing the tradition that is in place here. They don't want it to end on their watch."
Girdwood was a starter on the last Mars team to win a WPIAL and state title in 2021.
"We obviously want to keep that reputation as a top team, but we just need to focus on one game at a time."
Mars travels to Kiski Area for another section test on Monday.
More in Sports