Stretch your way to health
Reach out
To keep flexible and strong, make your muscles long
Stretching before exercising is not only important and vital to maintain flexibility and strength, it offers lifelong benefits to its practitioners, say two Butler County health and wellness experts.
"I see stretching and improving your flexibility as a core basic need...what our body needs to function well," said Dale Reckless of MRS Physical Therapy in Cranberry. Reckless, who has worked in physical therapy for 34 years, added that flexibility allows "our body to maintain or improve its mobility."
He and Heidi Nicholls Bowser, the membership and healthy living director at the Butler YMCA on North Washington Street, said there are two primary ways to stretch: static and dynamic.
Static stretches are when you extend the muscle and hold the stretch. These stretches are typically associated with yoga and Pilates.
Some examples of good static stretches are stretching the hamstrings and hip flexors.
"Those are common areas that get tight over the course of our work day just from sitting and not being active," Reckless said. "Doing some static stretches for those muscle groups is really important."
Dynamic stretches are more active movements that take your joints and muscles through a full range of motion.
Some examples of dynamic stretches are high knees, high kicks, butt kicks, lunges while twisting the torso and moving your arms across your body back and forth.
"You take your muscles and joints through a full range of motion with this dynamic stretching, and you are also increasing your heart rate and getting your body ready for work," said Nicholls Bowser, who is a certified trainer and teaches three classes at the YMCA a week.
MRS Physical Therapy offers a program for people who play pickleball, an increasingly popular sport locally and nationally, to stretch the body where players need "good mobility when they play,' Reckless said. That includes shoulder and wrist muscles, hips and lower body and back.
Both Nicholls Bowser and Reckless agree that the average amount of time for someone to stretch is between five and 10 minutes, depending on the person's age, fitness level and physical ability.
"You can modify for whatever your fitness level is," Nicholls Bowser said. "If you can walk, you can probably do a march. You can also hold onto something, if you have a balance issue, such as a table or chair, and do high knees. "
Both Reckless and Nicholls Bowser agree that the biggest misconception about stretching is that it isn't always necessary.
"When we think about exercising and improving our wellness, we automatically jump to strengthening and conditioning," Reckless said. "We skip over that important part of flexibility, which is where we should start."
Nicholls Bowser said another misconception is that static stretches are best before physical activity.
"The difference between dynamic and static stretching is something that a person should look into to understand how to best achieve their goals -- how to best warm up, how to best increase flexibility and range of motion," she said.
"If you see athletes before games, they're going to be doing dynamic stretching, taking that joint through a full range of motion, sometimes based on sport-specific activities that they are going to be doing."
For most people, having the flexibility needed to maintain a full range of motion is more important than, say, "the hyperflexibility a ballerina has," Nicholls Bowser added.
"I'm not trying to do the splits in my 50s, but what I want to do is make sure that my muscles and joints can go through a full range of motion," she said. "To me, that's what most people's goals should be."
Reckless said people should take steps to change their activity as they get older.
"We need to work a lot more [and] focus on flexibility in addition to strengthening and conditioning," he said. "Our body changes, the elasticity of our muscles change as we age.
"We really need to refocus what we are thinking about with our wellness as we get older to make sure that that flexibility component is not forgotten about."
Reckless said he has seen many diagnoses of lower back, neck, shoulder, foot and ankle pain, as well as balance issues, which could have been prevented "if my clients had worked on their flexibility as much as they had on their strength."
Reckless and Nicholls Bowser agreed that the likelihood of injury increases if stretching is not done adequately.
"Typically the injury is occurring because you don't have the flexibility that you need to do the activity you're doing," Reckless said. "If you just worked on your flexibility, you wouldn't end up needing to come to me for a low-back pain issue."
Reckless recommends stretching to cool down 'after the activity that you're doing.'
The Butler YMCA has a designated stretching area in the Wellness Center and a walking track where Nicholls Bowser sees people doing high marches around the track to warm up.
There is also a stretching class called "Recover, Restore, Renew" designed to improve stability and range of motion through stretching.
"That's a designated class for range of motion with joints and muscles. We do that every Monday," Nicholls Bowser said.
The Butler YMCA also offers a barre class, where you can learn how to stretch muscles and joints through a full range of motion with low-impact exercises, such as upper arm circles, as well as yoga classes.
"All of our instructors understand how to warm up the body so when you come to a class you don't have to worry about it," Nicholls Bowser said.
At MRS Physical Therapy offers, assisted stretching is among the multiple programs and services offered to clients. It is a one-on-one program, completed with the assistance of a physical therapist, to improve range of motion and flexibility when added help is needed.
Older clients have shown many improvements with assisted stretching to counter posture problems that occur with age, Reckless said.
"It helped to improve their overall sitting and standing posture when they did the program," he said.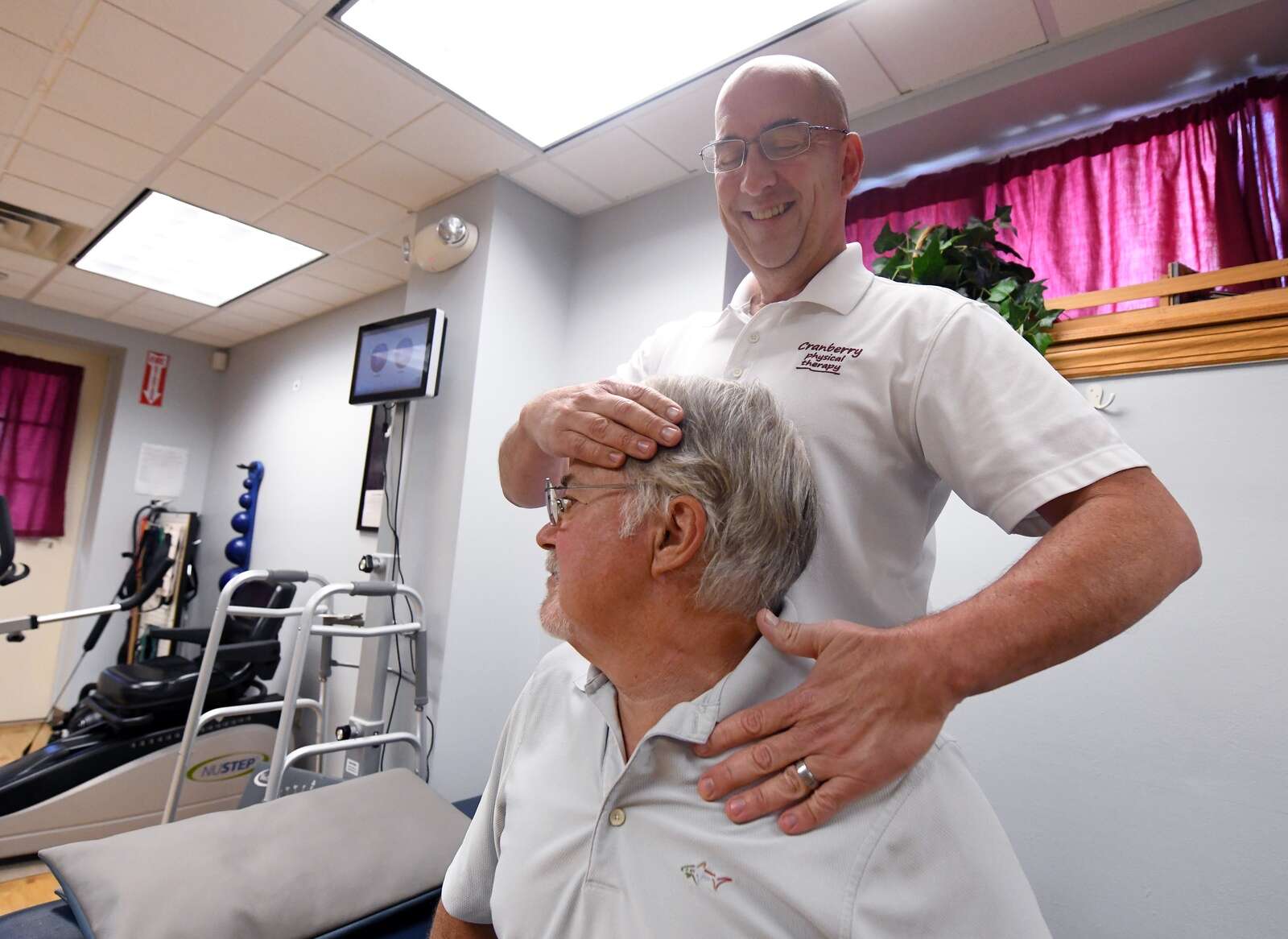 More in Special Sections