Indoors can be better during Code Red days
Breathe easier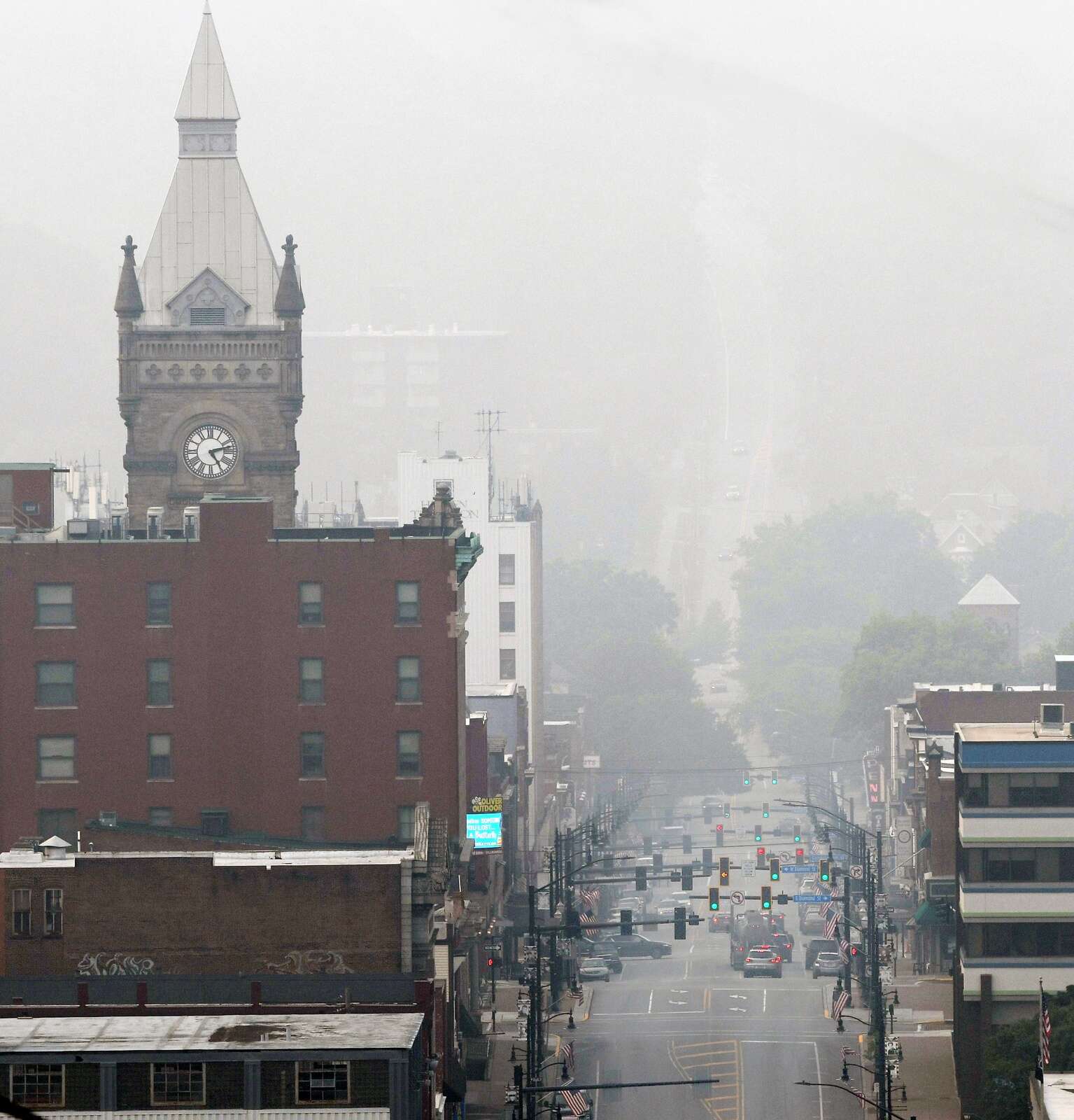 Air quality alert increases need for special precautions
The bouts of exceptionally poor air quality that have struck the region in recent weeks can be especially hard on people with chronic health issues, older people and children.
Consequently, doctors say the best way to avoid the effects of poor air quality is to stay indoors when things get bad.
High volumes of particulate matter, caused by smoke from Canadian wildfires, prompted the Pennsylvania Department of Environmental Protection to put the state under Code Red air quality alerts for a few days in June and early July.
The Code Red alert is part of a color-coded index that quantifies air quality. The alerts are reported by the online resource AirNow, part of the U.S. Environmental Protection Agency. Code Red indicates unhealthy air quality that may impact the general public but especially hurt people with who are sensitive to air quality.
Dr. Tariq Cheema, division director of Allegheny Health Network pulmonary, critical care, sleep and allergy, said those Code Red days were likely unpleasant for people with healthy lungs, but could be detrimental for people with some conditions.
"Most healthy people recover from that (but) if you have asthma or emphysema, you could end up in the hospital," Cheema said.
"If someone has emphysema, they can get into serious trouble where they can have difficulty breathing, and it'll seem like they are having an attack."
John Darnley, observation program leader for the National Weather Service Pittsburgh, said weather conditions change air quality, and periods of intense heat or dryness can push air quality to dangerous levels.
Darnley said air quality was poor during the Code Red days because the region was under a high pressure system for an extended period of time. The days were marked by dryness and cooler temperatures. That system has shifted westward, he said, which has mitigated Canadian winds circulating through Pennsylvania.
"Because we've lost the high pressure, we've lost our really strong inversion," Darnley said. "We've lost that bubble, so now we've had a couple systems that produced rain every couple days. That rain acts as a cleanser, if you will."
Recently, "our temperatures are more seasonable," Darnley said. "As long as we have that high pressure in the west and we have the systems that rotate around the Great Lakes, then we're pretty good."
Although conditions have improved air quality, Darnley said weather patterns could produce more days of poor air quality this summer.
If that occurs, the need to be especially vigilant about health will return, even for people who are typically in good shape.
Dr. Sally Wenzel, chairwoman of the Department of Occupational and Environmental Health at the University of Pittsburgh, said days of poor air quality can provoke respiratory issues even in healthy individuals.
"We know from studies that higher particulates, higher toxic gases, higher ozone in the atmosphere and air, the higher level of exposure, the more likely you are to have issues develop," Wenzel said. "The main issues we have are respiratory diseases like asthma, but lung diseases could be impacted by the air we breathe."
Children and older adults can be at higher risk of hospitalization caused by poor air quality. Children could even be at risk of developing lung problems, Cheema said.
"Children's lungs, they are very young, you don't smoke around a child. Same situation here," Cheema said, adding it's ditto for older adults. "Their lung function is not as good as it used to be because lung function declines as you get older."
Cheema noted that the Pittsburgh region has had poor air quality for more than a century, brought about by industrial activity in the region dating to the 1800s. And rising temperatures over the years have further contributed to the development of widespread breathing problems among people in the area.
"When the temperature goes up to 90, maybe this is the day you don't go outside," Cheema said. "We know those factors contribute to breathing problems. You combine that with the bad air quality, that is not going to be good for their lungs."
Wenzel said prevention is the best method of avoiding future health issues.
"From the standpoint of immediate improvements, if you've got an air purifier it might help a little bit," Wenzel said. "If it's a bad air quality day you should limit your time outdoors, you should especially not do heavy exercise outdoors. If you have healthy lungs, a healthy heart you can be outside for a while."
Cheema also recommended that anyone who can should put off outdoor chores when air quality is poor.
"If you don't need to go out, do it tomorrow. Don't do yard work," Cheema said. "Don't have fires and barbecues because you don't want to contribute to these conditions."
More in Special Sections