Plenty of off (and on) road activities at the Jeep Heritage Festival
The annual Bantam Jeep Heritage Festival has something for everyone to do over the weekend. From friendly competitions to an all-new Jeep Safari, there's something for the entire family to enjoy.
The festival will be from 9 a.m. to 4 p.m. Friday, June 9; 9 a.m. to 6 p.m. Saturday, June 10; and 9 a.m. to 3 p.m. Sunday, June 11, at Cooper's Lake Campgrounds in Worth Township.
Best of Bantam
Does your Jeep have what it takes to be best in class? Presented by the Jim Shorkey Family Auto Group, participants can register their Jeep in one of 17 classes. Festival participants will be able submit their vote for this year's People's Choice winner. Award-winners will be announced at 4 p.m. Saturday followed at 5 p.m. by the presentation of trophies.
Bantam Boot Camp
New this year, the Bantam Boot Camp is for the Jeep owner that has not taken their Jeep off-road, yet. There will be opportunities to learn off-road basics and try out a few simple obstacles, along with instruction on common terminology, hand symbols and more. This activity is at 1 p.m. Thursday at the Bantam Quarry in Portersville.
Babes of Bantam
Calling all lady Jeepers, at 9 a.m. Friday, the popular "Babes of Bantam" returns. This event is women-only and geared specifically for beginning drivers looking to expand their skills and confidence when off-roading. The ride will take place on a dedicated trail and obstacles created specifically for participants. An "Introduction to 4-Wheeling" session also will be presented.
Jeep 'n Seek
Looking for an activity for the entire family to enjoy? Check out the Jeep 'n Seek. Formerly the Mystery Road Rally, Bantam is offering the family favorite on-road activities in a new format. Participants will be able to download an app and go on a hunt through the festival and surrounding area while completing trivia and challenges. Plaques will be awarded to the top five participants.
Bantam Poker Run
You have to know when to hold 'em, and when to fold 'em with the annual Bantam Poker Run. Taking place during all three days of the festival, participants will be directed to six different stops while trying to compile either the best poker hand or the worst poker hand. Prizes will be awarded at 2:30 p.m. Sunday.
Bantam Night Ops Mission 2023
For those that are not afraid of the dark, festivalgoers have an opportunity on Thursday night to participate in a Night Ops Mission. Two options are available — a stock trail for those that want to use their lights and another for Jeeps using only parking lights and the headlights as their guide. A bonfire will be held at 8:30 p.m. so participants can hang out with other thrill-seekers before their ride.
Jeep Safari
New in 2023 families won't have to leave the Keystone state to enjoy a drive-through safari. Participants will travel in groups and see up to 100 animals from 25 different species up close and personal. All weekend long Keystone Safari will be offering a special Bantam package for participants that includes admission for up to five passengers, two food pails to feed the animals, an exclusive stock-friendly drive around the pond and an exclusive animal encounter after the drive-through. Keystone Safari is located at 2284 Mercer Butler Pike, Grove City.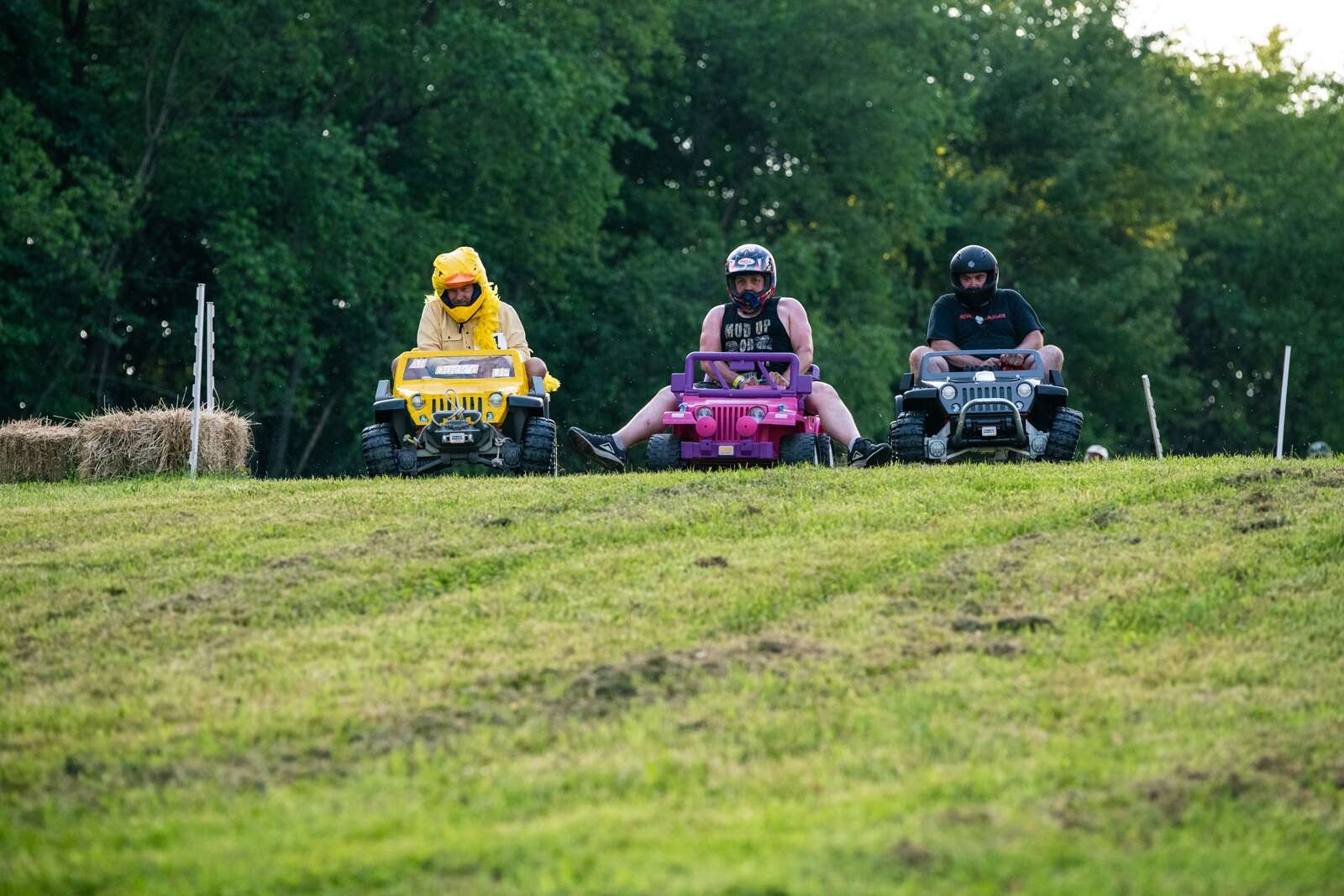 Barbee Jeep Race
What better way to live your childhood dream then by racing your Ride-on Jeep for a chance to win $300? At 6:30 p.m. Saturday, participants will race down the hill in a slalom-style course. And even if you're not racing, make sure to watch this sure-to-be hilarious event.
Light Bars & Brews
After the lights go down Saturday enjoy craft beers, wine and more from Butler County breweries and wineries that will be selling their beverages by the glass throughout the evening. Jeeps will show off their lights and will be judged by various festival vendors. Judges will vote for the Most Colorful, the Best Use of Lights and Out of the Dark with a chance for cash prizes.
Jeep Team Challenge
Come test your motor skills with the popular Jeep Team Challenge on Saturday and Sunday. A driver and a passenger will try to figure out how to complete while driving the Jeep slowly through a specially designed course. Plaques will be awarded to the top five teams.
Bantam Quarry at Kildoo Trail Sessions
Starting at 8 a.m. Friday through Sunday Jeepers can enjoy a three-hour trail session at the Bantam Quarry, located just 4 miles from Cooper Lake on Kildoo Road. Trails are rated based on their difficulty level, based on the experience of the participants.
Jeep Invasion
On Friday night, downtown Butler is shutting down the streets and opening the area to Jeeps and Jeep enthusiasts. Starting at 6 p.m. visitors can join the fun as music fills the streets and business showcase their wares, while enjoying the company of fellow Jeep-lovers. All preregistered participants will receive a dash plaque.
Jeep Playground
Who doesn't like getting a little muddy? Starting at 9 a.m. Friday, bring your Jeep to the ultimate Jeep Playground at the Cooper's Lake Campground. Jeepers will have the chance to climb up piles of dirt; crawl over rocks, tires and concrete obstacles; maneuver around poles; and cross over bridges and jersey barriers.
Jeep Blessing
The festival previously held a small nondenominational church service for individuals before the festival opened Sunday morning. This year, the Jeeps will be blessed as part of an expanded Sunday morning offering. About 150 Jeeps are expected at the service, which will include an inspirational message and music.
More in Special Sections