Moraine State Park manager outlines rules and regulations for those ready to set sail
Just like many outdoor activities, boating took off during the pandemic and the popularity has not fallen off since. According to the National Marine Manufacturers Association, U.S. boat sales rose 40% during the pandemic — one-third of those sales to first-time boat owners — and reached numbers not seen since 2008. Over 100 million Americans go boating each year, according to the association.
Unfortunately, an increase in boat sales, especially among first-time boat owners also led to an increase in accidents, injuries and deaths among boaters. At Moraine State Park, safety concerns are the reason for the rules and regulations for boaters at Lake Arthur.
The first step to boating is to make sure that registrations are up-to-date. This an be especially important to know for first-time boaters who haven't had to go through the process of having their boats registered yet.
"From a safety perspective and from a permit and registration perspective," Moraine State Park manager Dustin Drew said, "the first thing to know is what kind of boat you have, what kind of registration or permit you may need."
Any boat with a motor needs to be registered with the Pennsylvania Fish and Boat Commission. If the boat isn't motorized — for example, a sail boat or kayak — then it can be registered in any state, or have a launch permit from Pennsylvania State Parks or a launch use permit from the Pennsylvania Fish and Boat Commission.
After registration, Drew recommends making sure that the boat has everything needed prior to going on the water. Life jackets are required and must be worn on certain types of boats during the colder months, and they must be accessible during the remainder of the year. Other required gear includes specific types of lights and whistles. A list of requirements can be found on the Pennsylvania Fish and Boat Commission website.
"You have to make sure you're safe and legal before you come out," Drew said.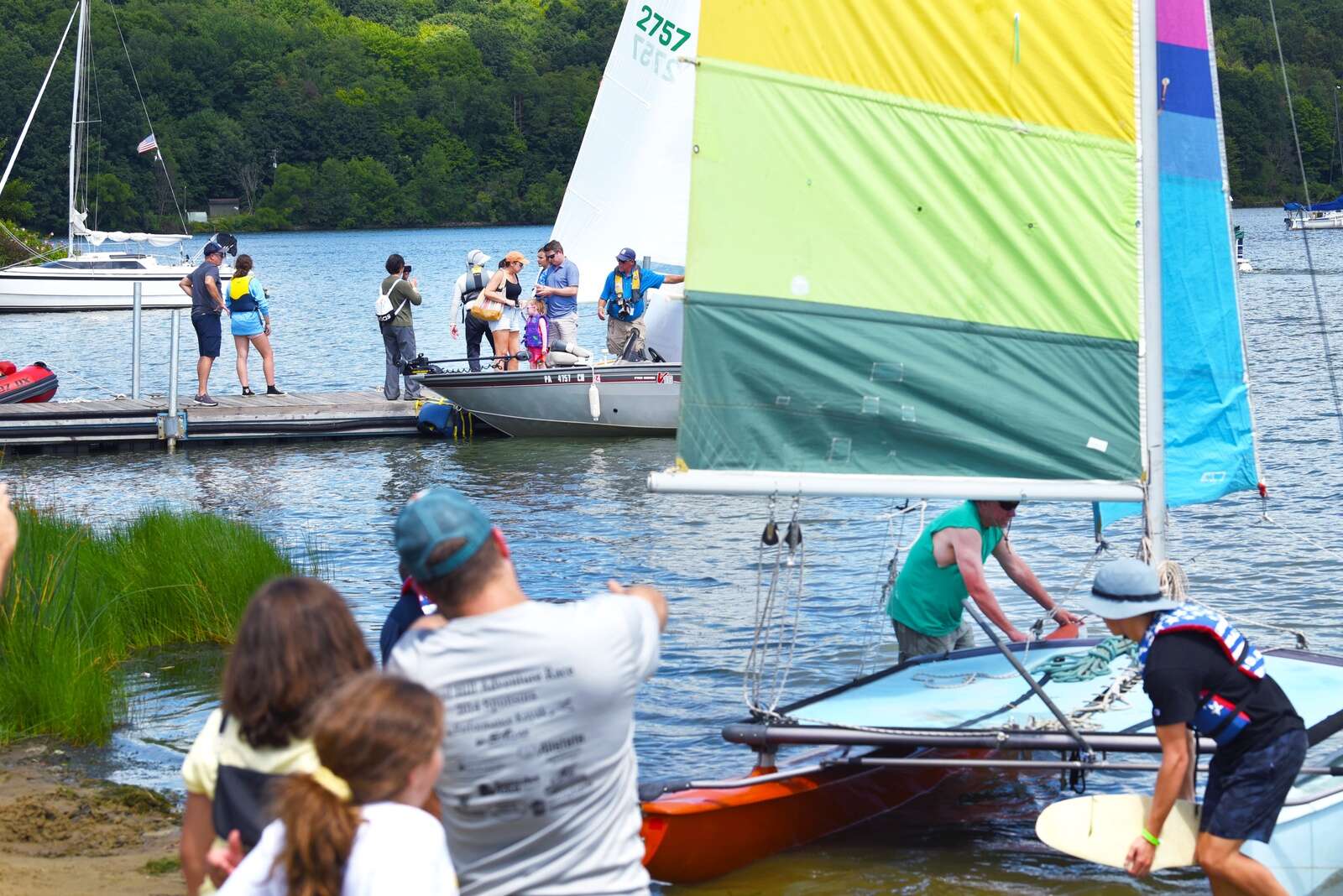 Most of the rules and regulations at Lake Arthur are imposed by the Pennsylvania Fish and Boat Commission. However, Moraine State Park does impose a few extra to further ensure the safety of boaters at the lake.
Certain locations of the lake are off-limits to boaters — the Game Propagation area and near the dam are not accessible by public boaters. Beyond that, a 20-horsepower limit is enforced at the lake.
"That's done for several reasons," said Drew. "One is to control the amount of wave action and the erosion that causes, and also just to keep the recreation on the passive side and more family-friendly. There are Jet Skis and water skiers, perfectly fine recreation, that's just not suited for this lake or most Pennsylvania State Parks."
At the 3,225-acre lake, there are nine public boat launches and a pair of marinas — Davis Hollow and Watts Bay — for boaters to take advantage of. There's also windsurfing, boat rental and two sailing clubs — Moraine and Lake Arthur — to provide more options for boaters in the area.
With so many options for boaters, it's easy to see that the summer season can get busy on Lake Arthur. This makes following guidelines important for all boaters.
More in Special Sections