Treatments put on ice during visit with Penguins
A 6-year-old hockey fan got to trade a hospital room for a hockey rink and skate with the Pittsburgh Penguins earlier this month.
Dominic Lettrich of Gibsonia, along with three other Make-A-Wish recipients, had breakfast with the team and skated with the players March 8 at the UPMC Lemieux Sports Complex in Cranberry Township.
In addition, they were given a tour of the locker room and got their own custom-made hockey sticks, hockey bags filled with team clothing, a jersey with their names and numbers of their choosing, and a helmet signed by the team.
Dominic has neuroblastoma, a cancer that develops from immature nerve cells, said his mother, Michelle Lettrich, this week from UPMC Children's Hospital in Pittsburgh where Dominic was undergoing a week's worth of immunotherapy treatment.
"It's a cancer of the nerve cells. The way it usually presents itself is as a tumor on the adrenal gland," she said.
"We knew there was something not quite right ... He was having neck pains, leg pains and fevers," Lettrich said. At first, doctors thought it could have been Lyme disease or the onset of juvenile arthritis, but the cancer diagnosis was a shock to Dominic's parents, Joe and Michelle.
The 6-year-old underwent 10 sessions of radiation and then had the tumor removed in June at the Memorial Sloan Kettering Cancer Center in New York City.
Now Dominic is undergoing a combination of immunotherapy treatments and low-dose chemotherapy at Children's Hospital, his mom said. The low-dose therapies do not compromise his immune system and do not cause his hair to fall out.
However, the inpatient treatments, which take place every three to five weeks, require Dominic to stay in the hospital from Monday through Saturday.
"He has a little nausea and also some pain," said Lettrich, "but he's managed well. It takes him a handful of days to bounce back when we get home."
Lettrich said Dominic attends kindergarten between hospital stays and is a big Penguins fan and an especially a big Sidney Crosby fan. It might be because Dominic has been skating since he was age 3.
So, his mother said, it was a surprise when the Make-A-Wish of Greater Pennsylvania and West Virginia contacted the family.
"When he was diagnosed last year, a worker at the hospital gave me a form to fill out. We filled out a lot of forms," she said. One of the forms was from Make-A-Wish.
"They called back in late fall, and we decided now as a good time because he was able to attend school," said Lettrich.
Dana Antkowiak, senior manager of marketing communications for Make-A-Wish, said her group works with the Penguins, indeed with all the Pittsburgh sports teams, to make these visits possible.
"Three other children from Canada reached out to us, and we worked with the Penguins," to make their wishes and Dominic's come true, said Antkowiak.
"We grant this type of wish once a year, but this one was special because we hadn't done one since February 2020 just before COVID," Antkowiak said.
Dominic and the other boys arrived at the sports complex around 9 a.m. for breakfast with the players in the team lounge and then a ceremony where they signed special one-day contracts.
The contracts were signed during a press conference with Penguins general manager Ron Hextall.
Lettrich said, "He got a custom jersey with his name on the back, and he got to pick his number. He picked 66. They took him in the locker room where he had his own locker stall with his name and number. He got two sticks and a hockey bag filled with shirts and sweatshirts," said Lettrich.
Dominic also was presented with a hockey helmet with his name and number that was signed by all the Penguins players.
Dominic and his family — his parents Michelle and Joe Lettrich and siblings Joseph, 8, and Isabelle, 4 — were able to watch the Penguins practice before Dominic got a chance to take to the ice himself.
"At the end of practice, he got to go out on the ice with the team," said Lettrich.
"He did a little skating, stick handling; he shot some passes. He was shooting on Casey DeSmith," she said.
"Sidney Crosby has always been his favorite player; now he likes all of them. He met so many. They were all gracious and kind," she said.
"I knew Sidney Crosby was nice, but he's nicer than you would have expected. He was wonderfully kind as was every single player that we talked to and that interacted with him," Lettrich said.
"Dominic is very shy and Sidney Crosby went out of his way to take the time and make sure he had fun and get him out of his shell a little bit," she added.
Antkowiak said that the next night Make-A-Wish and the Penguins treated the boys and their families to the Islanders-Penguins game at PPG Paints Arena, where they watched the game from Sidney Crosby's suite.
"We have a long-standing relationship with the Penguins. This was something to lift their spirits," Antkowiak said.
"Michelle Lettrich said that after the game, Dominic had them get the hockey net out of the garage so he could take some shots," she said.
Lettrich said Dominic will be facing immunotherapy sessions with their attendant hospital stays for the immediate future.
Even after his scans show he's recovered from the cancer, he will still have another few rounds of immunotherapy to ensure the cancer has been eradicated.
"Then we will move on to the next phase. Sloan Kettering will have a clinical trial of a neuroblastoma vaccine, which will allow the body to identify cancer cells themselves and kill them," she said.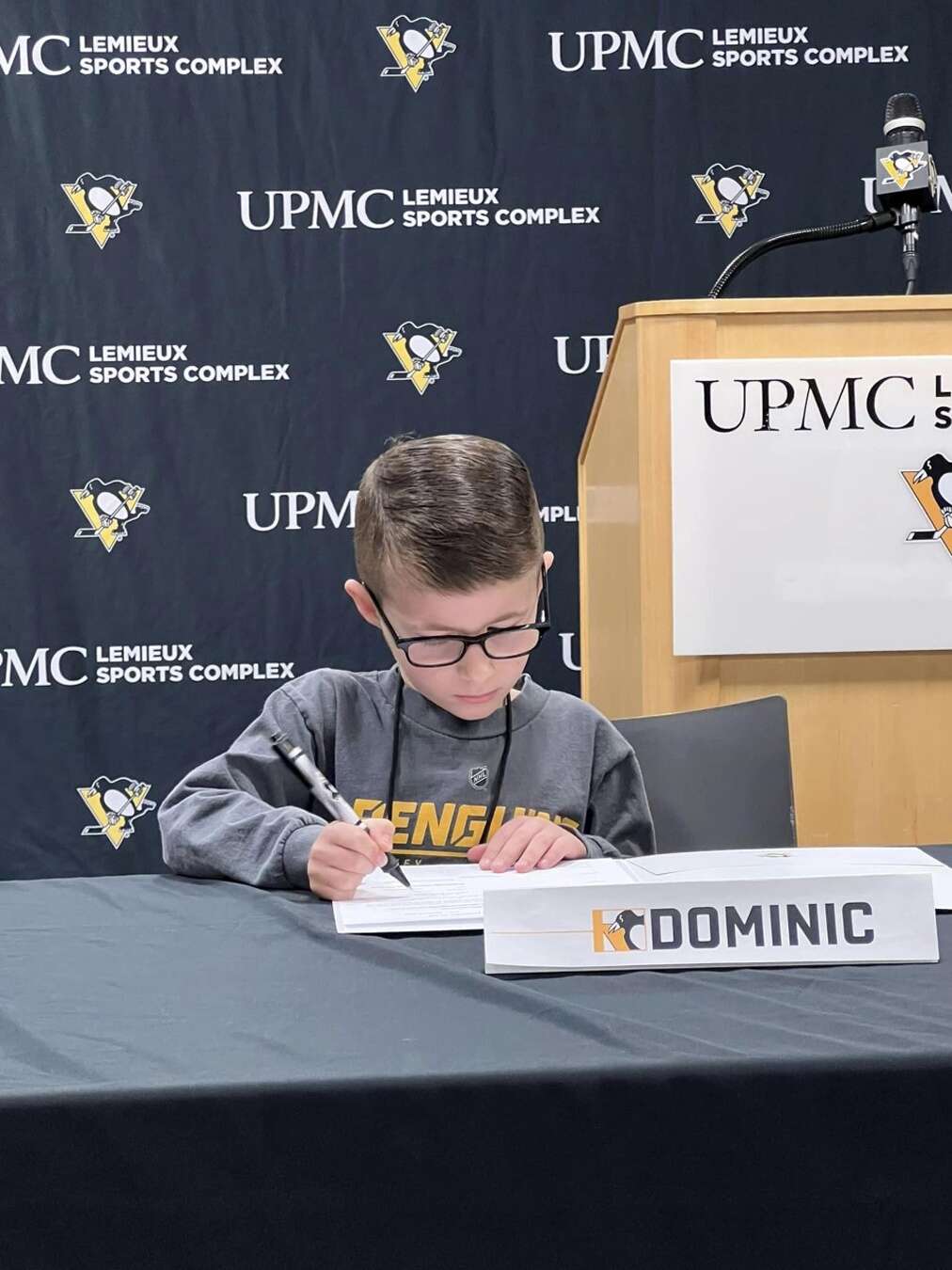 More in Community