Trojanettes roll on
North Catholic builds 34-point lead in the first 14 minutes of 70-44 PIAA 4A tourney win over Conneaut
CRANBERRY TWP — North Catholic coach Molly Rottmann was a bit concerned about her team's energy level prior to tip-off.
No need.
The Trojanettes scored six points in the first 45 seconds, led 21-2 less than six minutes into the game and cruised to a 70-44 PIAA Class 4A first-round girls basketball tournament win over Conneaut on Saturday in the North Catholic gym.
"Entering the first round, I always worry about what our energy level will be like," Rottmann admitted. "There's the WPIAL hangover, waiting a week to play, it's Saturday afternoon ... but we came out ready to go."
Alayna Rocco canned a layup off the opening tip for the Trojanettes (23-3) and a pair of steals led to quick buckets by Anna Waskiewicz and Rocco for that sudden 6-0 burst.
"That quick start definitely energized us," Rottmann said.
The game was never in question as the Trojanettes cruised to their 17th consecutive win. Butler graduate and North senior Dacia Lewandowski, who only recently returned from a high ankle sprain, scored 20 of her game-high 22 points in the first half. She scored 13 points in the second quarter and North struck for 51 points in the first half.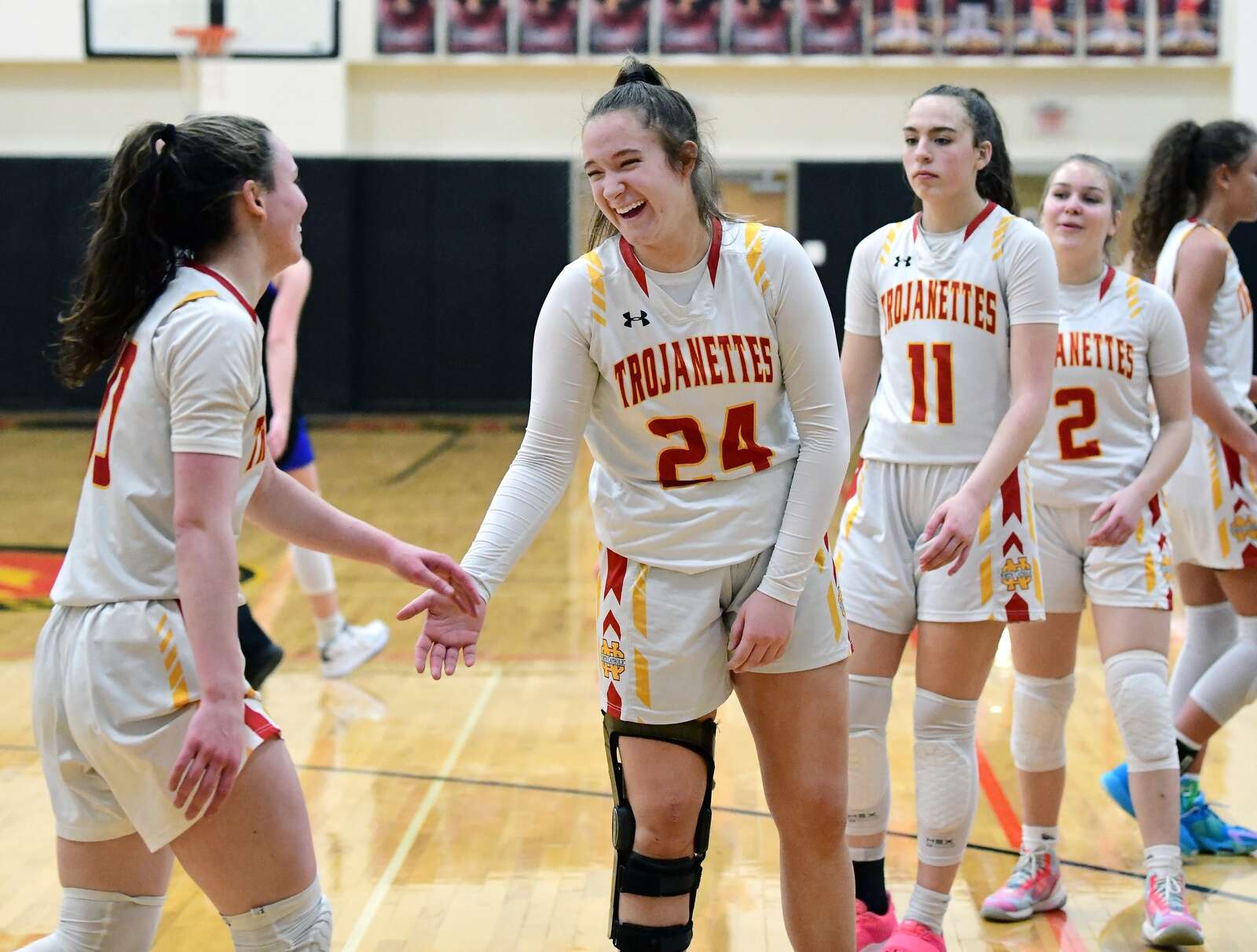 Lewandowski had been sidelined from Dec. 22 through Jan. 29.
"She's still not 100%. That ankle will be pretty sore tomorrow," Rottmann said. "But Dacia is able to go. We got her back for Senior Night, which was good timing. She got a couple of games under her belt before the playoffs."
Lewandowski admitted the pain in her ankle lingers on, but knew her season wasn't over.
"I was gonna be back out there," she said. "No matter how my ankle feels on game day, I'll be out there playing. I'm not going to miss this."
The Trojanettes had a 46-12 lead with 2:27 left in the first half and their 31-point (51-20) halftime advantage put the mercy clock in motion for the second half.
Conneaut had 20 turnovers, North Catholic's starters only three.
Conneaut (15-11) was playing in the program's first-ever state tournament game. The Eagles picked up their first-ever playoff win to qualify for state tournament play.
The Eagles have two seniors, a junior, 10 sophomores and seven freshmen on their roster.
"We're young and we knew we were playing the WPIAL champions, a program that's been a powerhouse for a very long time," Conneaut coach Christine Krankota said. "We wanted to come out and play confidently and aggressively.
"There was no pressure on us here. I wanted the girls to have fun. We never quit from the opening tip to the final buzzer. We showed we belonged here, we deserved to be here."
Conneaut seniors Jacqueline Detelich and Eliza Harrington were freshmen on a Conneaut team that won four games.
"Their leadership has elevated this program," Krankota said. "The way this game started, we showed some nerves and panicked a little bit. But we never stopped playing hard."
Rocco scored 21 points — draining five treys — and had three assists for North. Waskiewicz tallied 15 points, six rebounds and five steals. Tori Drevna had six assists.
"We played pretty well in that first half," Rottmann said. "We just want to keep going, get ready for the next round."
The Trojanettes will play Harbor Creek (20-6) — a 43-40 winner over Quaker Valley — in the second round at 6 p.m. Wednesday at Westminster College.
Lainie Harrington led Conneaut with 11 points.
Lewandowski was not surprised the Trojanettes kept winning throughout her absence from the court.
"That's the mentality here," Lewandowski said. "When one player goes down, it doesn't change anything. All of the players are treated the same. We can all play. We have confidence in each other."
CONNEAUT 44
Jacqueline Detelich 1-2 2-2 5, Lainie Harrington 4-9 2-3 11, Morgan Poff 2-6 0-0 4, Hannah Brady 1-2 0-0 2, Eliza Harrington 2-4 0-0 5, Kaitlyn Crabb 0-0 0-0 0, Courtney Perrye 3-10 2-6 8, Carly Perrye 4-6 0-0 9. Totals: 17-40 6-11 44.
NORTH CATHOLIC 70
Anna Waskiewicz 7-11 1-2 15, Alayna Rocco 8-12 0-0 21, Dacia Lewandowski 7-11 6-9 22, Ava Walker 1-6 1-2 3, Tori Drevna 1-5 0-0 2, Sarah Loughry 0-0 0-0 0, Kaitlyn Tavella 1-1 0-0 2, Emma Shoemaker 1-2 0-0 2, Annabelle Pawlowicz 0-1 1-2 1, Mackenzie James 0-1 0-0 0, Leah Larson 0-2 0-0 0, Lyndsay Luff 0-0 2-2 2. Totals: 26-52 11-17 70.
Conneaut 7 13 11 13 — 44
North Catholic 23 28 14 5 — 70
3-point goals: Conneaut 4 (Detelich, L.Harrington, E.Harrington, Ca. Perrye), North Catholic 7 (Rocco 5, Lewandowski 2)
Wednesday: North Catholic vs. Harbor Creek, 6 p.m., at Westminster College
STORIES YOU MAY ALSO LIKE