13 Butler varsity head coaches played for the Golden Tornado
Homegrown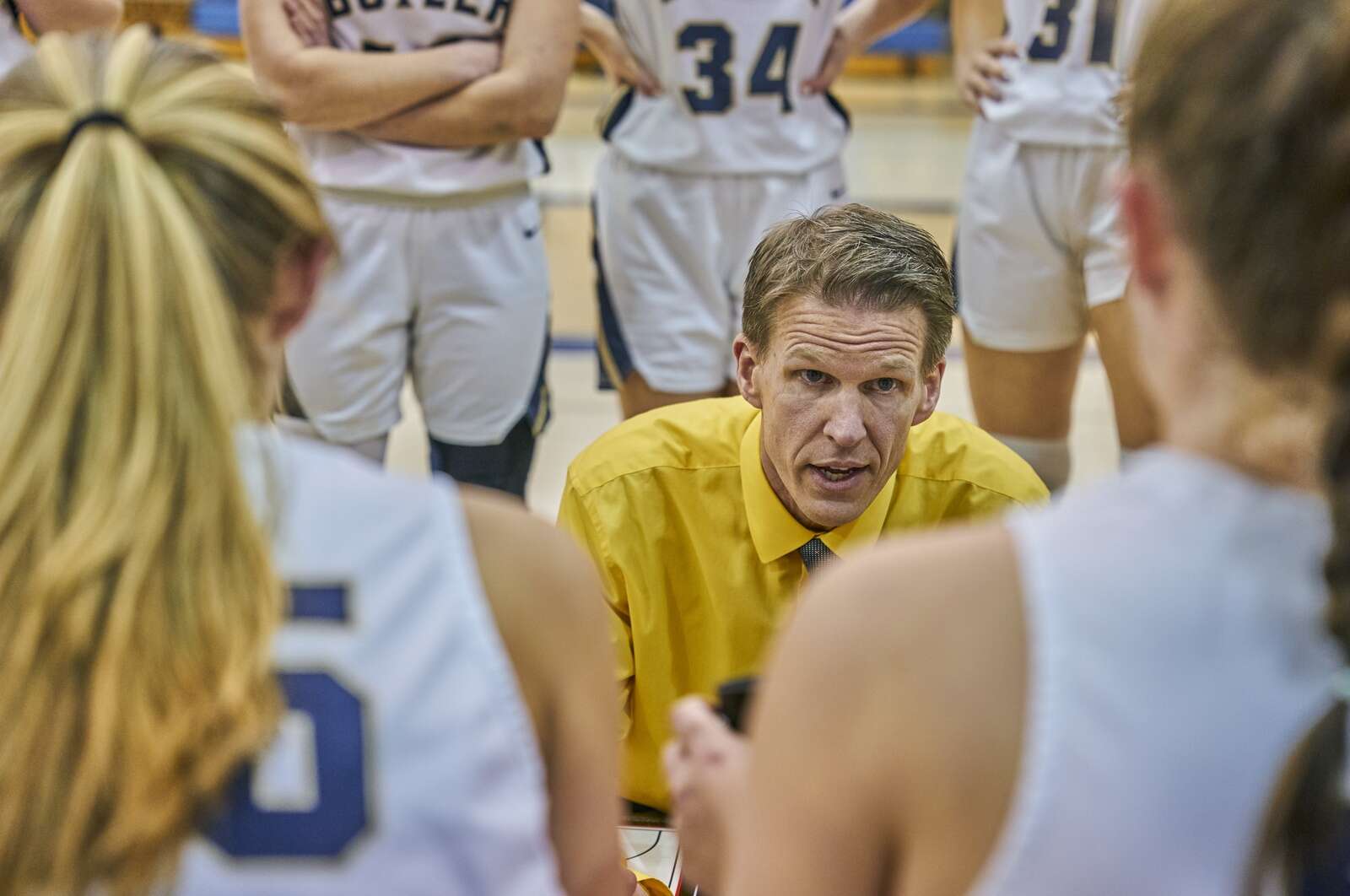 BUTLER TWP — In most cases, 13 is considered an unlucky number.
Butler Area School District athletic director Bill Mylan views it as a baker's dozen he's fortunate to have.
The Golden Tornado has 13 varsity head coaches who not only graduated from Butler High School, but were standouts in their respective sports at the school.
"It's certainly not a prerequisite to have gone to school here to coach here … maybe it seems that way," Mylan said, smiling. "All I know is, those coaches have a will to succeed and have a lot of motivation to succeed.
"They remember the success of their programs when they played here. They want to give back, push it forward and elevate the level of the teams they're now coaching."
Those 13 current head coaches who are Butler graduates are Travis Shingleton (boys golf), Brent Piccola (girls golf), Rick Davanzati (cross country), Troy Mohney (boys soccer), Eric Christy (football), Bob Cupp (bowling), Kristin Karam (competitive cheer), Matt Clement (boys basketball), Mark Maier (girls basketball), Mike Seybert (boys track and field), Justin Steiner (boys lacrosse), Cait Baxter (softball) and Alisa Green (girls tennis).
Mohney coached both of his sons, the second one breaking his school career goal-scoring record. Christy was starting quarterback of a WPIAL playoff team. Karam was a freshman on the Butler cheer team that placed second at nationals. Clement played on the 1991 Butler WPIAL championship team. Maier was a 1,000-point scorer at Butler.
And so it goes.
Steiner/Boys lacrosse
"When I played lacrosse here, our teams were pretty good," said Steiner, a 2013 Butler graduate. "I wound up coaching in Florida for a while and was defensive coordinator for a (lacrosse) team that reached the state championship.
"My girlfriend and I wanted to come back to Butler, be closer to family. I saw the Butler job came open, and it was a no-brainer for me to apply for it. I love this sport and my goal is to get our program back to the level of being a WPIAL championship contender."
Clement/Boys basketball
Clement has been Butler's boys basketball coach for 14 years.
"Basketball is my first love, and coming back home to coach at Butler was something I knew I wanted to do when I was done with baseball," the former major league pitcher said. "Our family was going to stay here, and my goal was to get the program to the point where we could play in front of big, noisy crowds in our gym.
"That's the way it was when I played. I loved that atmosphere. I wanted these kids to experience that. I don't know if I thought I'd be coaching for this long, but each new crop of kids seems to invigorate me and keep that passion going.
"I can't see myself coaching anyplace else. This is home," Clement added.
Maier/Girls basketball
Maier never planned on getting into coaching. Now he can't imagine his life without it.
When his original post-collegiate plans "didn't work out," he found himself making his coaching debut when his daughter, Makenna, was in second grade.
"Her grade school team was the first one I coached," Maier said. "I surprised myself by how much I enjoyed it. Next thing I knew, I coached the girls junior varsity under Joe Lewandowski for two years and wound up becoming head varsity coach.
"Now I love coaching. I coached my daughter's AAU team during the summer. I have developed a sense of loyalty and dedication to the program. This was my school and basketball is the sport I played here. I've loved coaching my daughters and giving back to my alma mater at the same time."
Baxter/Softball
Baxter was a standout softball player for the Golden Tornado who went on to a stellar playing career at Slippery Rock University. Now she's a seventh-grade teacher in the Butler Area School District and is in the process of rebuilding the Tornado softball program.
"Getting girls to come out for the team and teaching the game are what it's about for me," Baxter said. "My family has a history of athletic success at Butler. I want to add to that as a coach.
"I cherished my time playing at SRU, loved every minute of it. If I can help other girls realize that opportunity to play in college … That's what I want to do."
Christy/Football
Christy described Butler football as a family. He was thrilled when he was given the opportunity to teach at his alma mater, become an assistant coach here, then the head coach.
"There's something special and unique about coaching on the same field where you played," he said. "A lot of my assistant coaches are former Butler football players, too. We have a family bond and we're committed to building a successful program.
"I keep trying to get my brother Eli (defensive coordinator at Slippery Rock High School) to join us, but he's pretty entrenched where he's at. I don't feel any more pressure coaching at my alma mater, but the added motivation? That's definitely there."
Seybert/Boys track and field
Seybert, a 1980 Butler graduate, has been involved in coaching with the boys and girls track and field teams for years. He admitted to having opportunities to coach elsewhere — including North Allegheny — and has turned down higher offers from other places.
"Coaching where you played … It just means more," he said. "If I'm coaching, I want to stay here. I love teaching and coaching. When I first got out of college, I was building another career and stood to make a lot of money, but I found I wasn't happy doing it.
"I'm doing what I'm supposed to be doing. If you're building something, you take more pride in it."
Seybert is in his 38th year of coaching.
"There's so much pride in this program. These kids want to be the best," he said. "It's fun and rewarding working with kids like that."
Karam/Competitive cheer
Karam described Butler's competitive cheer program as "upbeat." A former Slippery Rock University cheerleader, she is a 2019 Butler graduate and cheered for coach Randi Stoner's team that placed second at UCA Nationals. To this day, that's the Tornado's highest finish at that event.
Karam has been working with the Butler cheer program for seven years. This is her first season as head coach.
"This program has a legacy that needs to be upheld," she said. "I get what pressure and expectations come with that. I was in their (cheerleaders') shoes. I understand.
"The baton has been passed to me. I feel a certain energy with that. It's hard to describe."
Shingleton/Boys golf
Shingleton, a 2004 Butler graduate, has been boys golf coach for nine years. He averaged 40 for nine holes as a Golden Tornado golfer himself and went on to play for the Butler County Community College golf team.
He is a ninth-grade history teacher at Butler.
"It's no coincidence that people keep coming back to Butler to coach," Shingleton said. "We've all had great experiences as athletes here and that's where the passion got started. Once you come back, that passion just grows.
"We have a great athletic director and supportive staff. We love the community. In my case, local golf courses like Slippery Rock, Butler Country Club, Hiland … they've been great to us. Believe me, we all feel very fortunate to be here."
STORIES YOU MAY ALSO LIKE