Mars bows to Hampton in high-scoring thriller
Dizzying Display
ADAMS TWP — Rumor has it that touchdowns are still being tacked onto the scoreboard at the Mars Athletic Complex.
In a Friday night football game-turned-track meet where the two teams combined for 974 yards, Hampton outlasted the Planets, 49-42, and escaped with their playoff hopes intact.
Mars slipped to fifth in the WPIAL Class 4A Greater Allegheny Conference standings with the loss.
"Hampton made one more play than we did," Planets coach Eric Kasperowicz said.
A few important ones, really.
Facing 3rd-and-10 from their own 10-yard line, Talbots' quarterback Joey Mayer connected with Eric Weeks for a 16-yard gain, keeping alive what turned out to be the game-winning march.
Six snaps later, Mayer wheeled 26 yards to his left and managed to get in for the go-ahead score. The drive began after Hampton linebacker Mike Santorello picked off a deflected pass on the other end.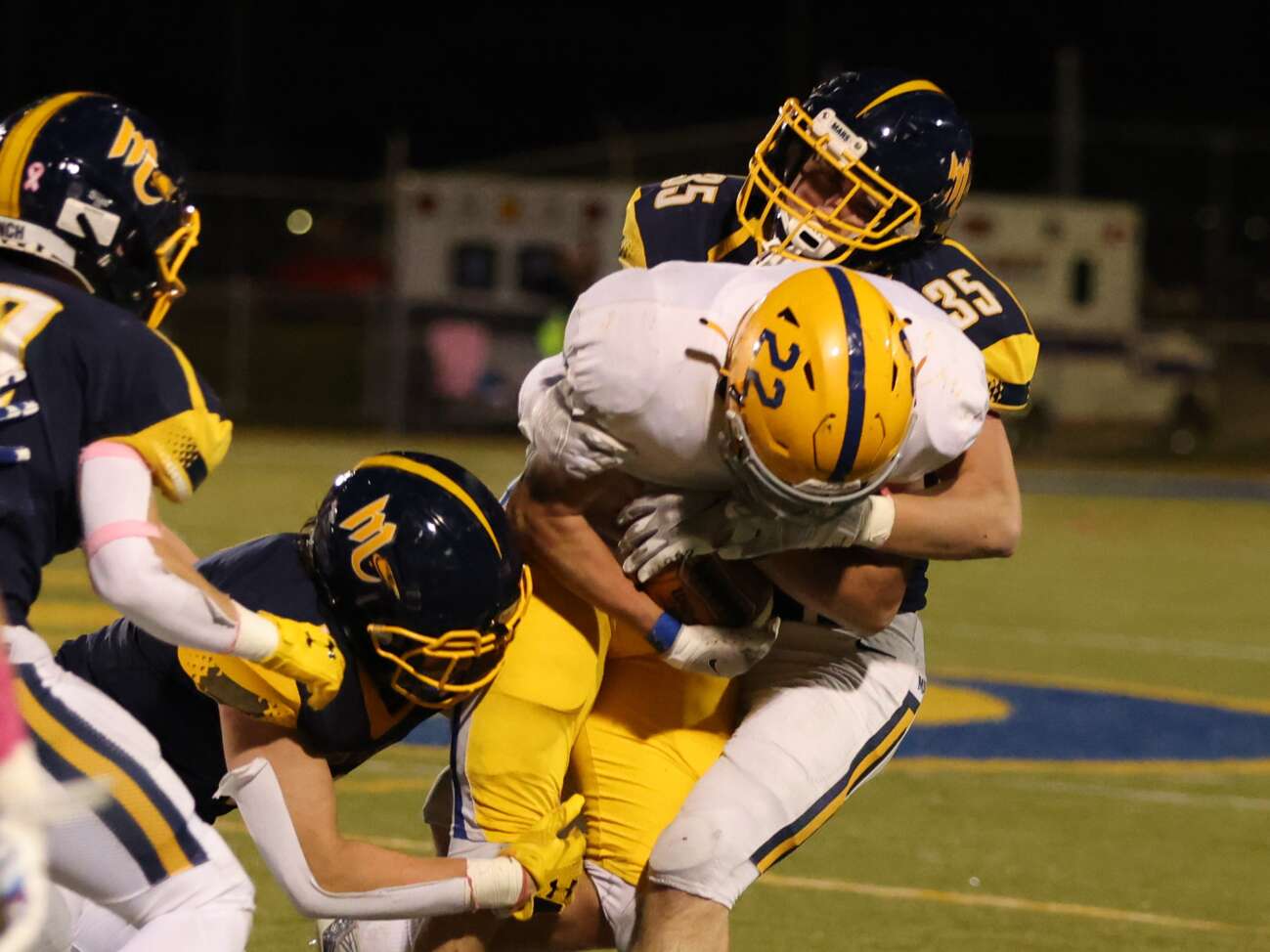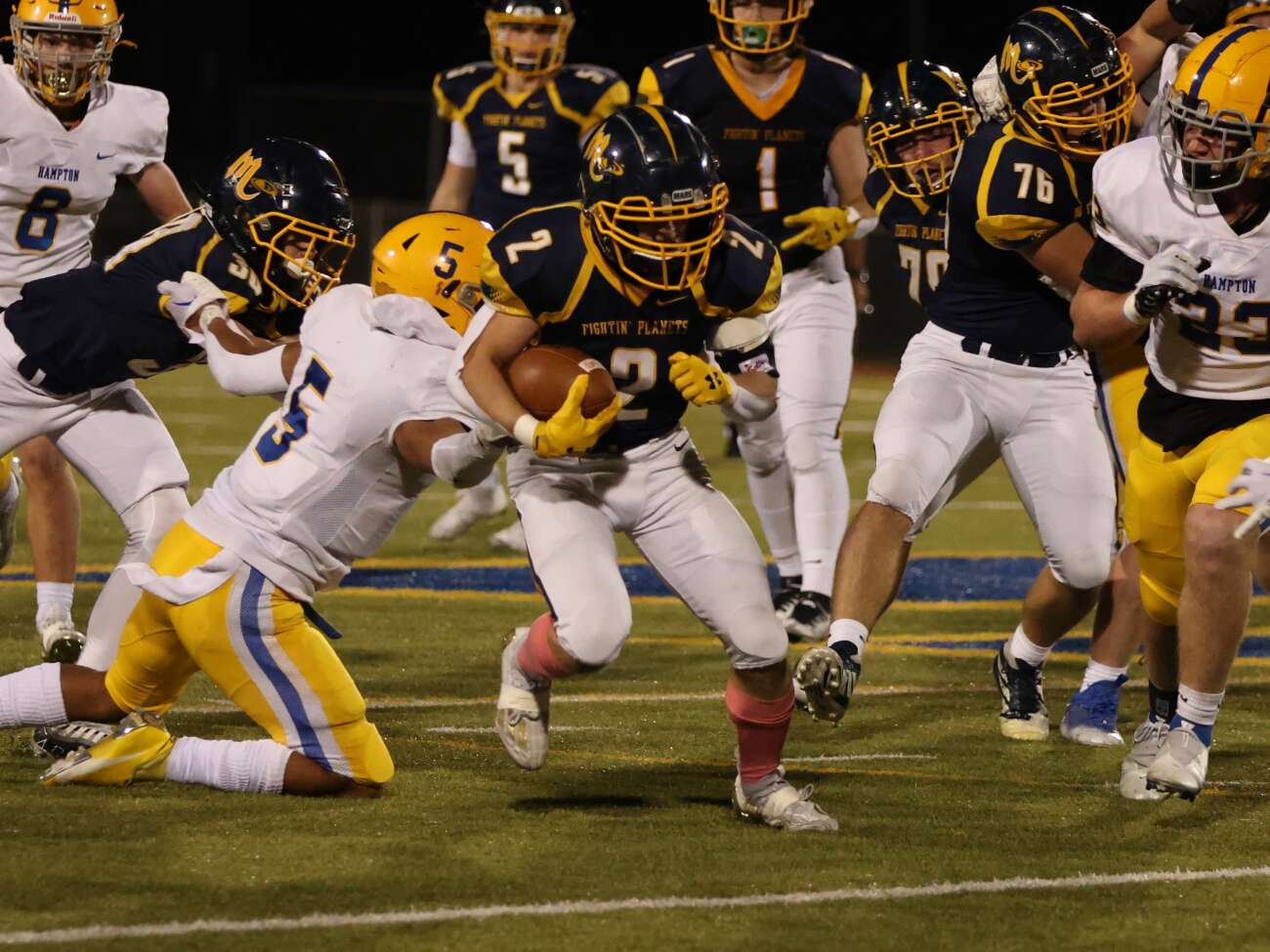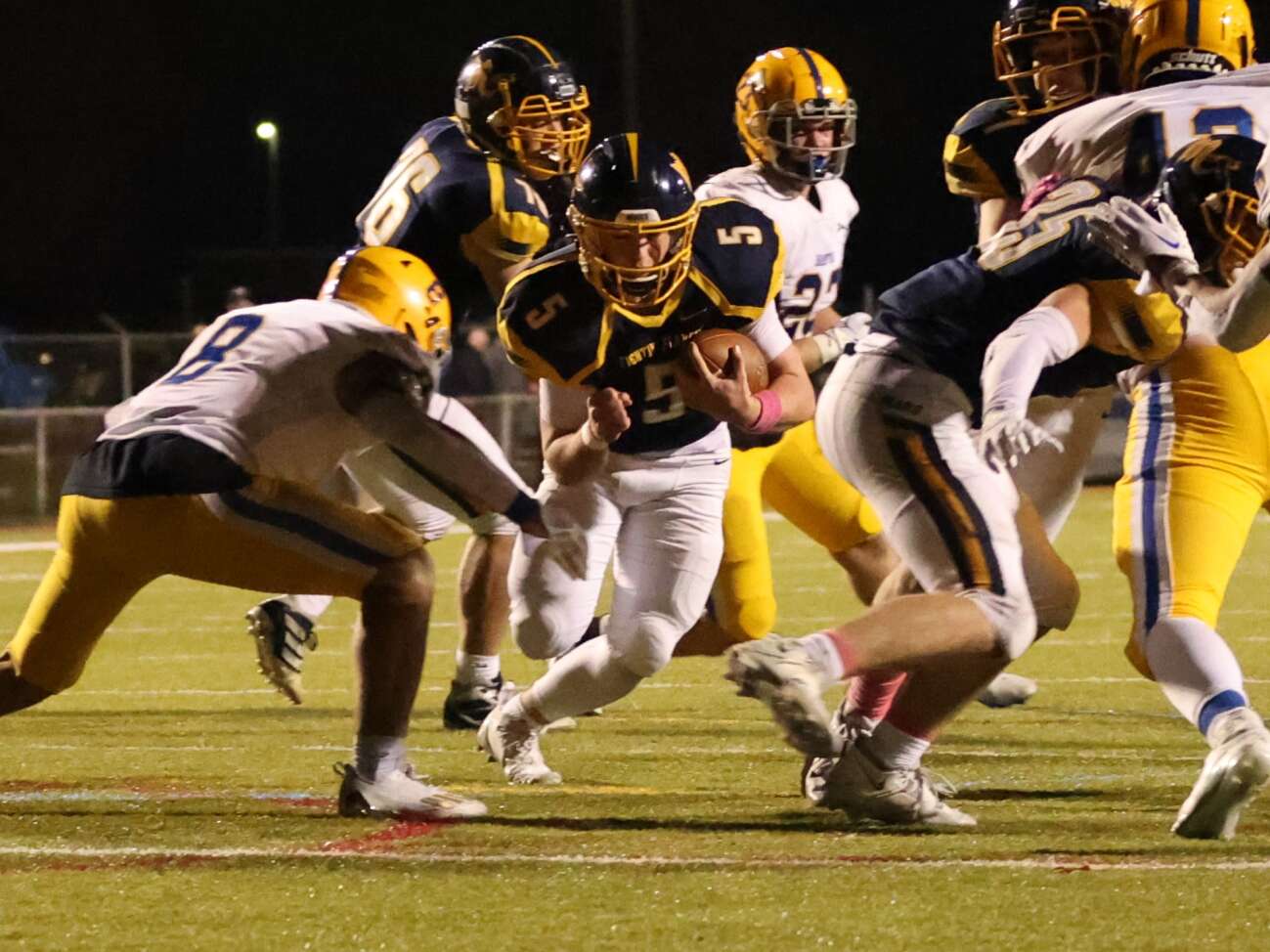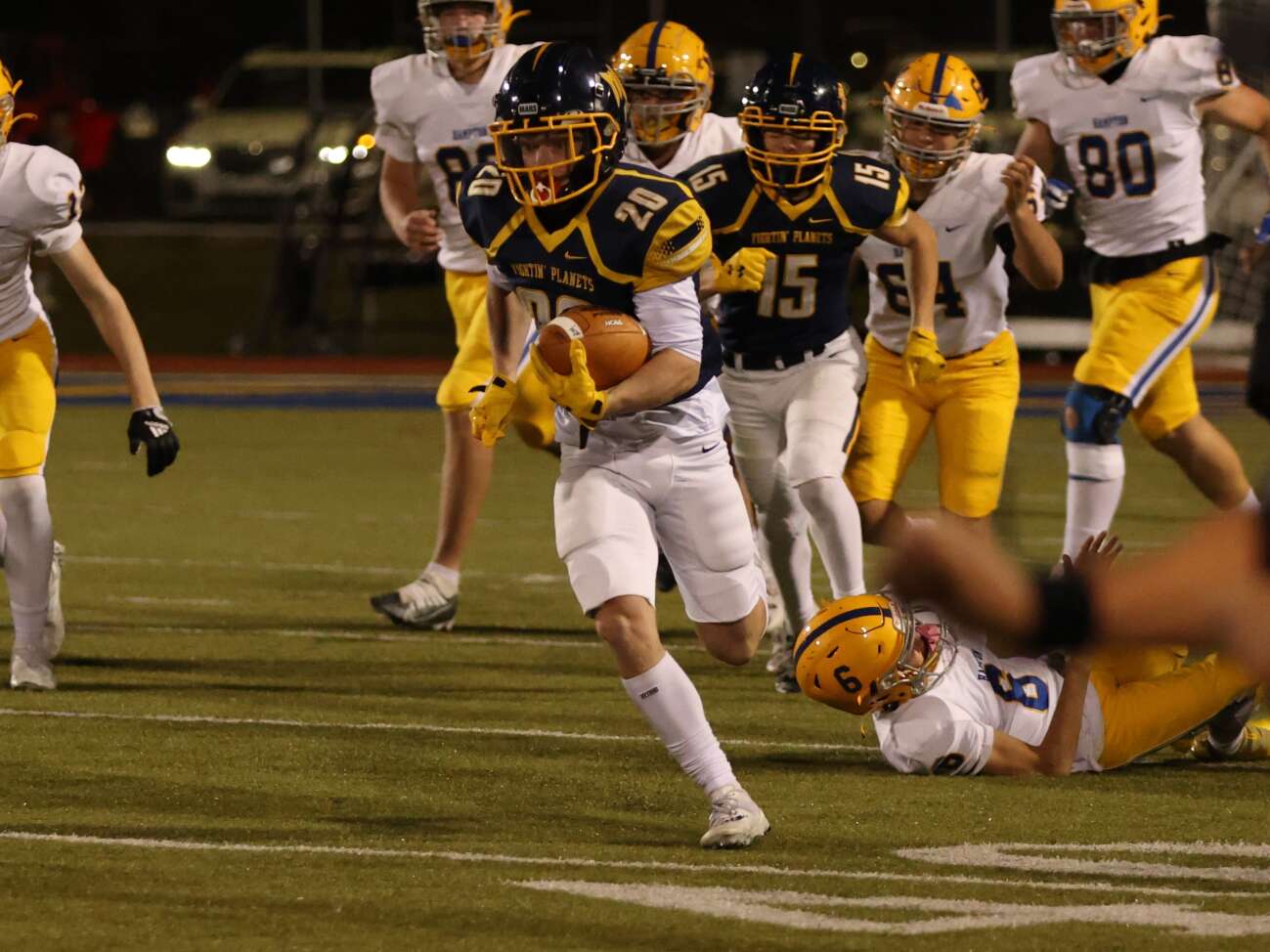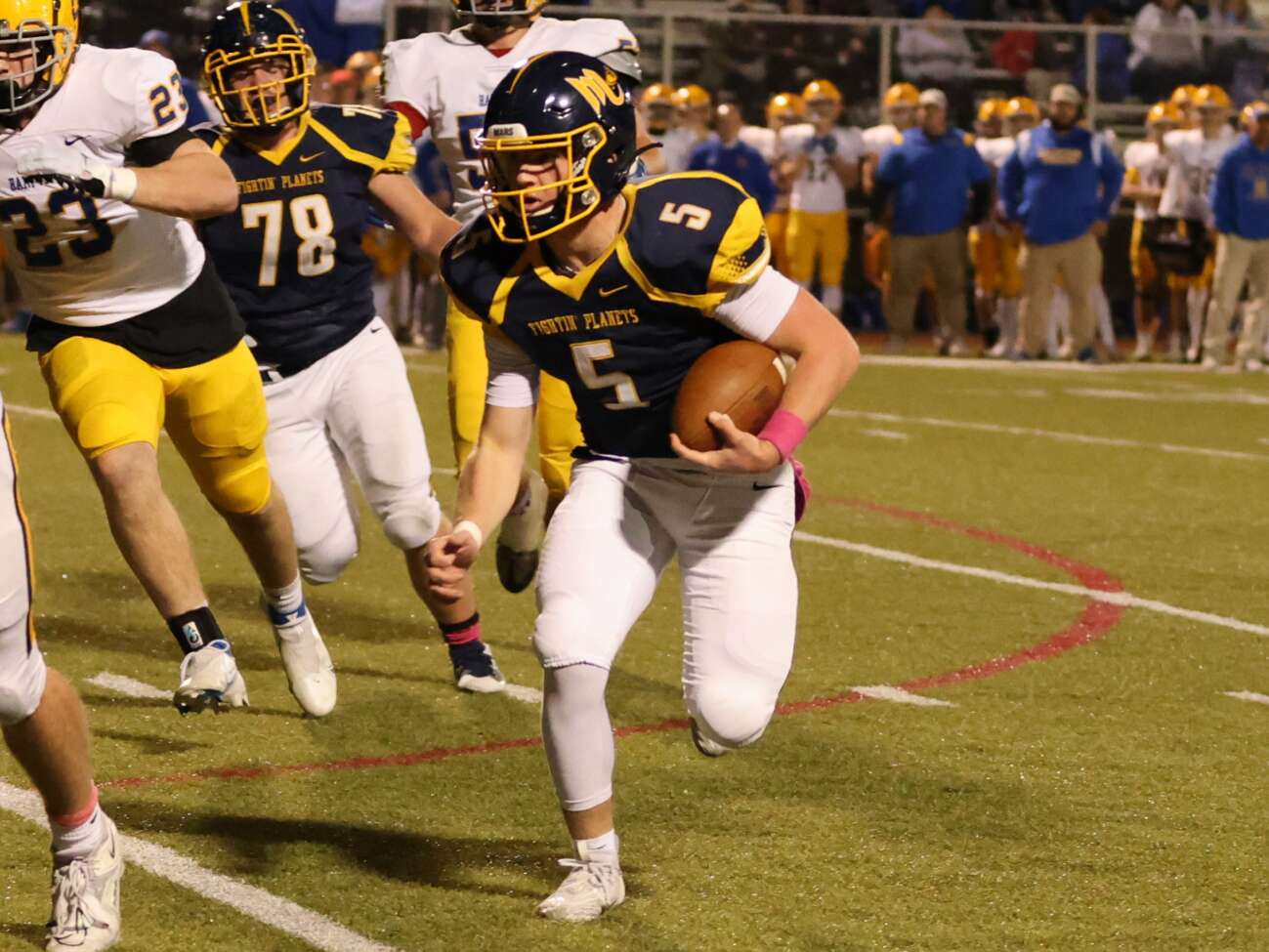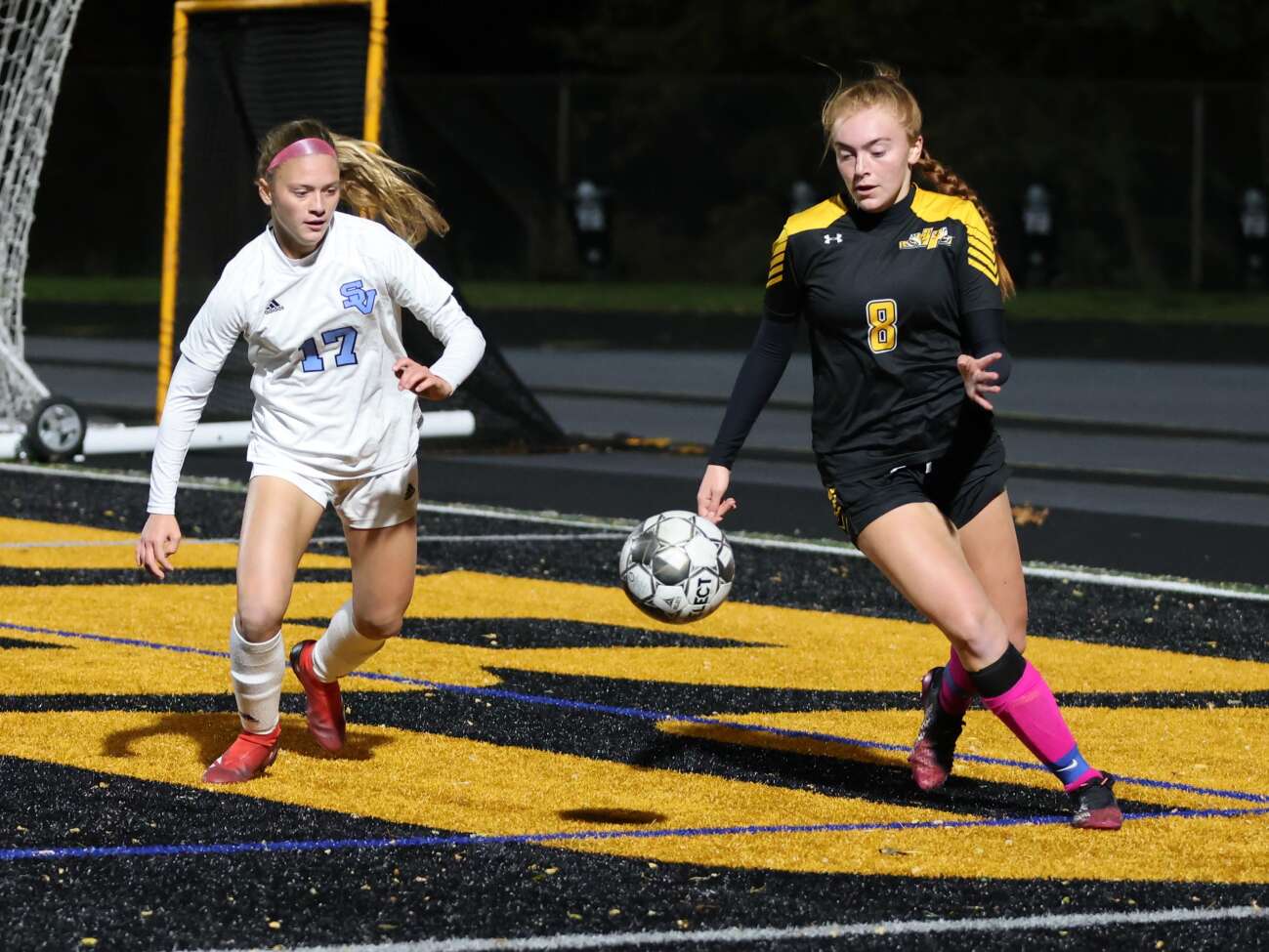 Making the series even more impressive was the fact that a false start penalty pushed the Talbots (5-4, 3-2) back to their own five to start it off.
"That was a heck of a game!" Hampton coach Steve Sciullo exclaimed. "Both teams played their hearts out and it was great to see. That's what you play high school football for in Western Pennsylvania. These are the games.
"Rivalry game, Friday night, great weather, two teams dying to win. It was great."
The visitors opened the scoring in the initial frame on Mayer's first of four passing strikes. Right after, Mars senior Garrett Heatherington took the kickoff 79 yards to the house.
The Planets' only lead came after sophomore signal-caller Eric Kasperowicz's 14-yard run later in the opening quarter. The Talbots' Brock Borgo evened things up before five minutes passed in the second period. The score was tied on four more occasions after that.
Momentum felt like it was shifting in the home team's favor when senior linebacker Rafael Bartley sat on a screen pass and took the pick back 39 yards to make it 35 apiece. Hampton had a pair of splash plays on a similar play design earlier in the contest.
It took two plays for the Talbots to snatch it back, with receiver Benny Haselrig breaking free for a 74-yard score on what was an intermediate pass to the left sideline.
"A lot of 'would've, could've, should'ves,'" Coach Kasperowicz said. "But, I was proud of our guys."
The younger Kasperowicz punched it in for a second time in response two minutes later and Noah Nesselroad's ensuing theft gave Mars a short field. The crucial turnover followed.
Once they got out of the shadow of their own goalpost, Hampton turned to the workhorse Borgo during their last possession.
"That was the difference," Sciullo said. "With the control of the clock a little bit in that fourth quarter, we kept them off the field. They're pretty explosive. We are, too. We were able to grind them out there."
For the Planets, the defeat makes a rivalry matchup with North Catholic next week even more consequential. The league tilt has huge postseason implications.
"I told the seniors, 'This is it. You're guaranteed four practices, then you're going to play on Friday and that will be it for your career or you're going to earn yourself another week,'" Kasperowicz said. "Everything's on the table. It's, 'How bad do they want it and how hard are they going to work?'"
Hampton will go from upending the Planets to rooting for them next week. If Mars comes out on top against North Catholic and the Talbots pull one out against Highlands, Hampton will finish second in the conference.
The game between the Planets and Trojans (5-4, 3-2) will be played at Mars' home field.
Hampton 7 14 14 14 — 49
Mars 14 7 7 14 — 42
First Quarter
H — Benny Haselrig 36 pass from Joey Mayer (Luke Fiscus kick), 7:24
M — Garrett Heatherington 79 kick return (Mason Childress kick), 7:09
M — Eric Kasperowicz 14 run (Childress kick), 2:53
Second Quarter
H — Brock Borgo 17 run (Fiscus kick), 7:16
H — Eric Weeks 59 pass from Mayer (Fiscus kick), 2:50
M — Evan Wright 4 run (Childress kick), 1:07
Third Quarter
H — Borgo 63 run (Fiscus kick), 6:28
M — Wright 21 run (Childress kick), 4:09
H — Haselrig 36 pass from Mayer (Fiscus kick), 1:26
Fourth Quarter
M — Rafael Bartley 39 interception return (Childress kick), 11:16
H — Haselrig 74 pass from Mayer (Fiscus kick), 10:24
M — Kasperowicz 5 run (Childress kick), 8:23
H — Mayer 26 run (Fiscus kick), 1:15
Individual Statistics
Rushing: Hampton, Brock Borgo 31-212, Joey Mayer 9-58, Benny Haselrig 1-8. Mars, Evan Wright 22-121, Eric Kasperowicz 18-94, Garrett Heatherington 2-10, Gabe Hein 1-(-1).
Passing: Hampton, Joey Mayer 13-26-326-3. Mars, Eric Kasperowicz 10-21-146-1.
Receiving: Hampton, Benny Haselrig 7-227, Eric Weeks 5-97, Brock Borgo 1-2. Mars, Rafael Bartley 3-54, Aidan Alessio 3-51, Gabe Hein 3-36, Noah Nesselroad 1-5.