Autumn festivities roll into Mars with annual Applefest
Sweet autumn cheer will return to downtown Mars this weekend for the annual Applefest on Saturday, Oct. 1.
The free fall festival is run by the Mars satellite of the Rich-Mar Rotary, and this year will be the third year that the branch has organized the event.
Rotary event organizer Brian Fleeson expects this year's festival to bring similar activities and vendor opportunities as past years.
"We are trying to appeal more to craft and food vendors," Fleeson said. "We went to a couple of different craft shows and tried to solicit people there, and it seems that we have a pretty good turnout for craft vendors this year."
The event will boast about 140 vendors, he said, ranging from artisans to nonprofits to local businesses from downtown Mars borough.
Fleeson said he saw enthusiasm for this year's event as early as April, when vendor sign-ups opened.
"We seem to have a great turnout on vendors this year," he said. "We filled up pretty quickly this year too. It seemed like a lot more people were anxious to jump back into it. I'd say by about mid-June we were pretty much filled up."
The event will run from 10 a.m. to 4 p.m. Saturday and will feature live music from Brandon Krul, the Greater Cranberry Men's Chorus, Jenkins Crum: Old Friends Music, Greater Harmony Chorus, and Dizzy Woosh.
Last year's event brought around 3,000 people to downtown Mars. Fleeson expects a similar turnout this year.
"It's the beginning of fall, and there's a lot of local businesses and a lot of local vendors all in one spot, all in one day, along with all of the businesses along Grand Avenue in Mars that will be participating," Fleeson said. "It's definitely a family-friendly event."
Proceeds benefit charity
Vendor fees from the event go to benefit the Rotary's many charitable and volunteer causes, Fleeson said.
"We have a couple of things we always do. There's a charity on the North Side called Mission from Mars, and we do work with them providing lunch to the homeless on the North Side," he said. "We make donations to the Lighthouse Foundation, and we are pretty active with ShelterBox. Two of the members of our club are the local representatives for ShelterBox, so we've become pretty active with them."
At the Applefest on Saturday, Mission from Mars volunteers will collect winter clothes for homeless individuals at a collection box.
"We'll have a donation bin for socks, shoes and warm clothing," Fleeson said. "New would be great, but we definitely will accept gently used."
A 50/50 raffle run by the Rotary will also benefit End Polio Now, the Rotary International initiative to eradicate polio in the world.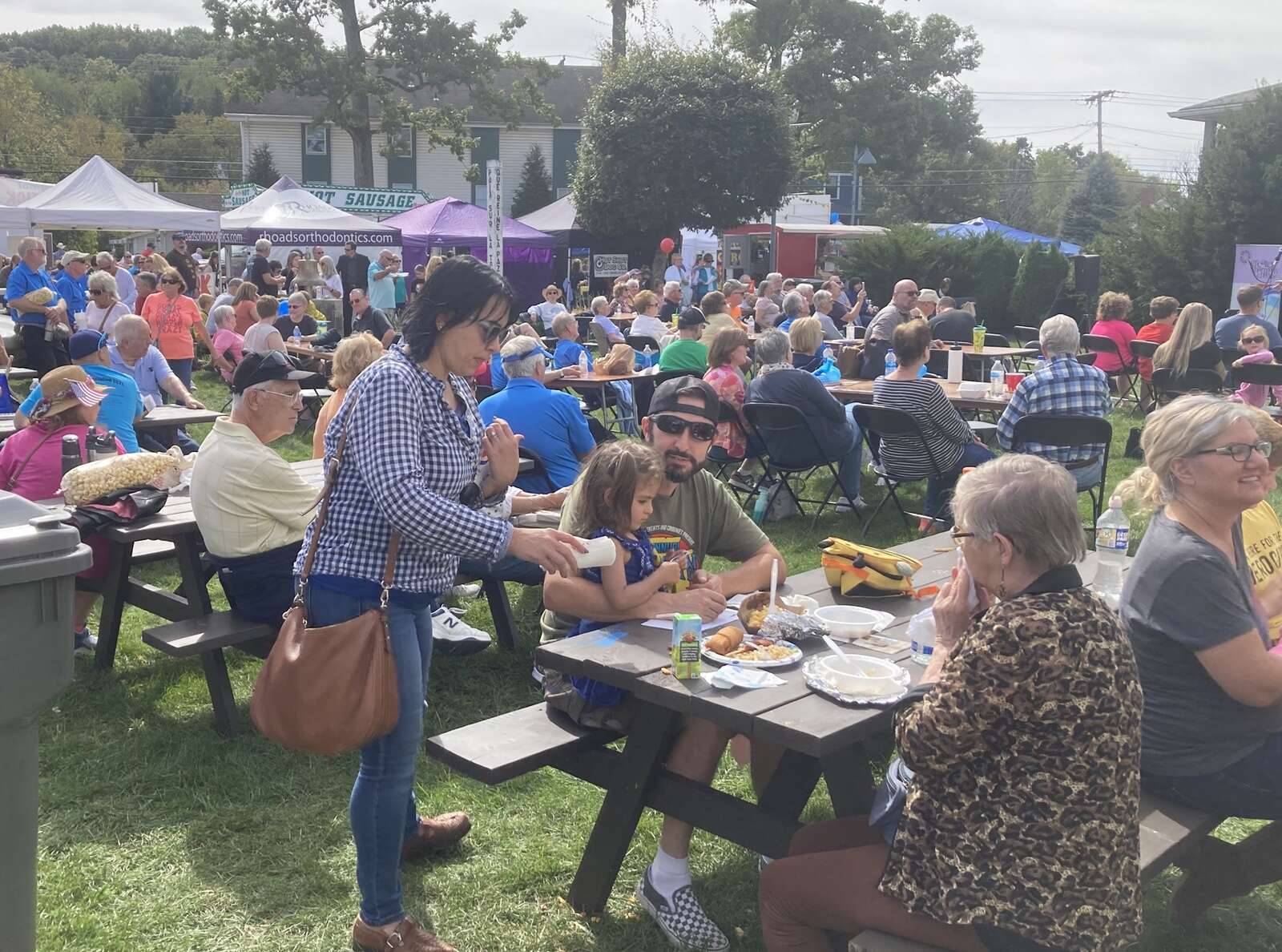 Listening to community
Mars borough Mayor Gregg Hartung is looking forward to the event, and he is hoping for good weather.
"For the town and for the area, it brings lots of people and visitors to the town, and for the businesses that are open that day, they do a really good job," Hartung said. "We are excited about it."
In past years, the borough has worked with a group of graduate students from Chatham University to collect local input on Municipal Separate Storm Sewer System (MS4) improvements in the borough for future reports and projects.
This year, Hartung said, a class of Chatham students will return to discuss MS4, as well as downtown revitalization projects.
"There will be 16 students there to talk with residents and visitors about how the downtown might be redeveloped in the future, and have conversations about that and MS4 both," Hartung said. "It's going to be a combination of rethinking downtown and ongoing work on MS4."
A survey will be available at the event for visitors to fill out, and it will be posted online and on social media afterward.
"We are going to do a couple of listening sessions in the community with the same students, though this will be broader than MS4," Hartung said.