Karns City overcomes rough start to defeat Moniteau, 35-6
Making up for lost time
CHERRY TWP — Karns City struggled to keep its hands on the football early.
Once they did secure it, the Gremlins knew what to do with it.
Eric Booher — who got the cast off his injured right wrist Monday — threw for three touchdowns, Cooper Coyle had a pair of explosive runs and the Gremlins turned a pair of interceptions into touchdowns in cruising to a 35-6 football win Friday night at Moniteau.
Karns City started the game by fumbling away two kickoffs, but the Gremlins' defense kept the Warriors off the scoreboard. After forcing a three-and-out on KC's first possession, Moniteau (1-4) drove 52 yards in 12 plays with quarterback David Dessicino's 1-yard run giving the Warriors a 6-0 lead.
The snap was botched on the PAT attempt.
"We certainly don't want to start games the way we started this one," KC coach Joe Sherwin said. "But we kept them off the board after fumbling those kickoffs. Then we capitalized on their turnovers later. That was important."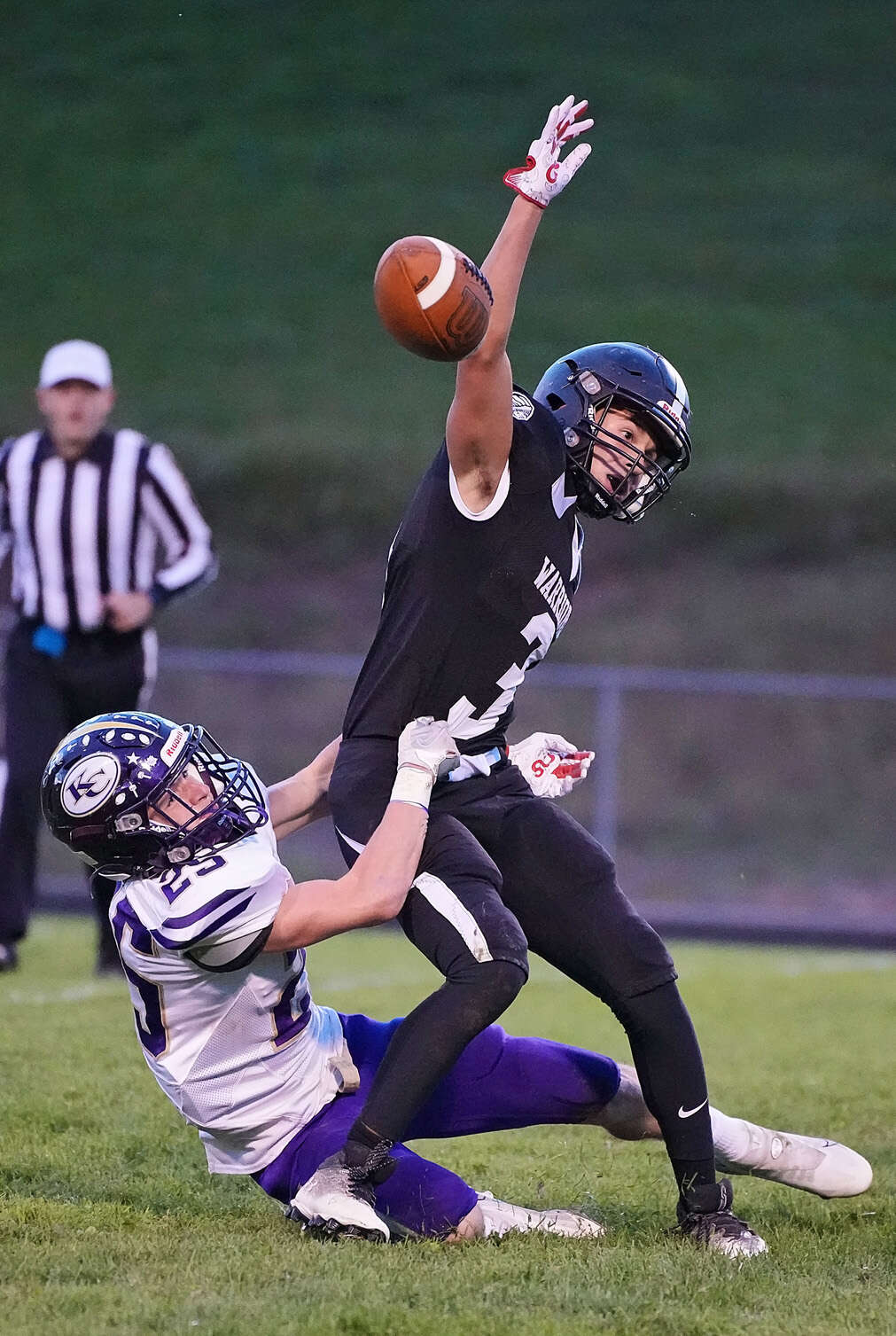 Moniteau ran 21 plays in the first quarter to Karns City's three. The Warriors ran 40 plays to the Gremlins' 19 in the first half, but trakled 14-6 at intermission.
Coyle's 44-yard scoring run and Colson Ritzert's PAT gave KC (3-2) the lead with 9:34 left in the half. After a short punt gave the Gremlins' possession at the Moniteau 30, Booher found Micah Rupp for a 7-yard TD toss for the 14-6 edge with 4:29 left in the half.
"Absolutely, we didn't do enough early when we had our chances," Moniteau coach Bob Rottman said. "I don't think we were outplayed tonight. Our own mistakes hurt us. Holding penalties killed drives again. Interceptions hurt us again.
"Our biggest problem right now is getting out of our own way."
Moniteau was flagged 10 times for 85 yards Friday night. A Rupp interception was followed by a 51-yard Coyle run midway through the third quarter. That set up Nate Garing's 3-yard TD run and a 21-6 Gremlins' lead.
After a 55-yard touchdown bomb to Rupp was wiped out by a holding penalty, KC drove downfield and scored regardless. Coyle caught an 18-yard touchdown pass with 11:17 left to play. Booher added a 43-yard touchdown pass to Rupp for good measure, following a Garing interception.
"It felt good to get out there and throw the ball again," Booher said. "I got cleared on Monday and the cast came off. I went at it in practice right away.
"Cooper's first run (for a touchdown) broke the ice for us. We were able to get a lot of people involved in the offense again."
The win was Karns City's third straight. The Gremlins have allowed only 12 points in those three contests.
"I liked the way we won those past two games (without being able to throw), but we weren't going to be able to sustain that for the whole season," Sherwin said. "Eric's arm was ready to go tonight, no doubt about that."
Coyle rushed for 94 yards and caught passes for 34 more for the Gremlins.
"Cooper is a playmaker in a lot of ways," Booher said.
Booher's healthy wrist and the re-discovered KC passing attack came as no surprise to Moniteau.
"You can't keep secrets between these two schools," Rottman said. "Families know eash other, the kids talk to each other. I was hoping (Booher) wouldf be a little rusty with his throws, but he was spot on. He was dropping dimes in there."
Hunter Stalker led Moniteau's offense wioth 60 yards rushing. Logan Campbell caught seven passes for 46 yards. The Warriors had 15 first downs to Karns City's 10.
"We moved the ball. We just have to clean some things up," Rottman said.
"I was impressed with Moniteau tonight," Sherwin said. "They played physical. They played us hard. We took advantage of mistakes and they didn't. That went a long way in this game."
Karns City 0 14 7 14 — 35
Moniteau 6 0 0 0 — 6
First Quarter
M — David Dessicino 1 run (kick failed), :41
Second Quarter
KC —Cooper Coyle 44 run ( Colson Ritzert kick), 9:34
KC — Micah Rupp 7 pass from Eric Booher (Ritzert kick), 4:29
Third Quarter
KC — Nate Garing 3 run (Ritzert kick), 6:34
Fourth Quarter
KC — Coyle 18 pass from Booher (Ritzert kick), 11:17
KC — Rupp 43 pass from Booher (Ritzert kick), 5:20
Individual Statistics
Rushing: Karns City, Eric Booher 5-57, Cooper Coyle 5-94,. Nate Garing 7-18, Levi Hawk 5-6, Braden Slater 3-7, Hunter Scherer 2-12. Moniteau, David Dessicino 10-21, Hunter Stalker 15-60, Logan Campbell 10-44, Matt Martino 3-5, Mathew Baptiste 5-7, Trent Beachem 1-9.
Passing: Karns City, Eric Booher 5-7-93-0. Moniteau, David Dessicino 6-16-55-2, Trent Beachem 6-9-38-0.
Receiving: Karns City, Cooper Coyle 2-34, Micah Rupp 3-59. Moniteau, Brock Beachem 2-24, Ashton Grossman 2-20, Hunter Stalker 1-4, Logan Campbell 7-46.