Students cut ribbon on new Ehrman Crest Elementary and Middle School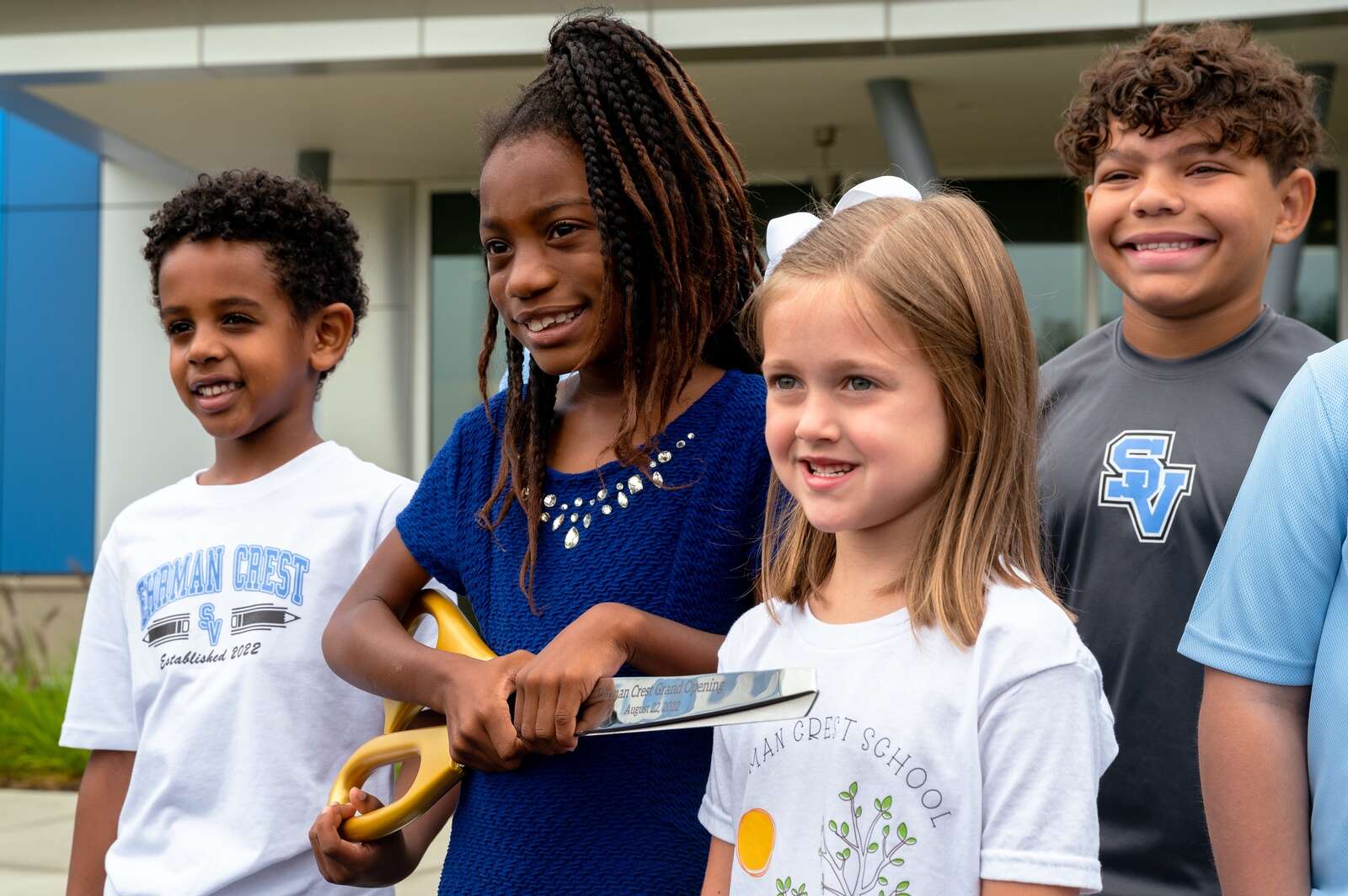 CRANBERRY TWP — A feeling of accomplishment and educational celebration was in the air Monday, Aug. 22, morning at the ribbon-cutting ceremony to officially open the new and futuristic Ehrman Crest Elementary and Middle School.
While Seneca Valley School District administrators and school board members lined up behind the ribbon, the honor of chopping it in half with the giant scissors was reserved for a group of students representing each grade level attending the school.
Superintendent Tracy Vitale helped the students safely cut the ribbon outside the $67 million school's main entrance as the smitten adult officials looked on.
More than 1,000 invited guests toured the school and listened to the speakers who talked about the innovative new school.
John Mitro was school board president 20 years ago, when the district purchased the 142-acre Ehrman Road property for $4.5 million.
Mitro said when the board bought the property, he had no idea the school that would be built there would be a regional standard in forward-thinking and state-of-the-art learning techniques.
"This facility includes many exciting and innovative educational opportunities," Mitro said.
Hannah Tuquabo, of Cranberry Township, said one of those innovative features, an exposed beam showing the infrastructure inside, is in the classroom of her second-grade son, Kaleb.
"I'm really happy," Tuquabo said. "He's excited. We're excited. There's a lot of engineering (demonstrated) in the school, and that's what he wants to do when he grows up."
Kaleb was thrilled to be one of the students who got to help cut the ribbon.
"I got to hold up the golden scissors," he said.
He looks forward to attending the school starting Tuesday, Aug. 23.
"I'm excited because I like learning," Kaleb said.
Mitchell Everly represented the sixth-grade class when he helped cut the ribbon.
Mitchell is excited to transfer from the former Evans City Elementary School to Ehrman Crest for one main reason.
"This one's not old," he said.
Mitchell's favorite features at Ehrman Crest include his room facing the playground, the desks fitting together like puzzle pieces for group projects, and especially the huge, spiral ramp that leads from the lobby to the second floor.
"I wish I could have gone here since kindergarten," Mitchell said.
Representing the Ehrman Crest kindergarten class in cutting the ribbon was Caroline Yingling, of Cranberry Township.
Caroline, who wants to be a teacher when she grows up, is excited that her classroom's theme is plants.
Her mother, Erica, said students in her neighborhood were moved from Rowan Elementary to Ehrman Crest.
"We were pleased," Yingling said. "It will provide a lot of opportunities for growth."
Vitale was all smiles as she participated in the ceremony Monday morning.
"I hope that this school would become a vibrant learning community where curiosity is fostered," she said.
Japas Duggal, a fourth-grader from Cranberry Township, represented her classmates when the ribbon was cut.
"I felt nervous and excited for being a school representative," said Japas, who is articulate beyond her years. "I feel really happy that we are going to a new school and a new building and taking the next big step for Seneca Valley and Ehrman Crest."
Sean McCarty, the assistant superintendent who oversaw the school coming to fruition, said he felt joyful Monday.
"It's so exciting to see the kids come into the school," he said.
McCarty said after five years of collaboration with architects, the construction manager, suppliers and even educational experts from the Pittsburgh Children's Museum, it's hard to believe the school is finished, shined up and ready for classes.
"It feels surreal," he said as he gazed at the school's entrance. "It's hard to believe children are coming to this building tomorrow."
The feedback McCarty has heard from teachers, staff, parents and others is a feeling of awe, and he agrees.
"I've never seen a school that looks like this when you enter the front door," he said.
School board member Jeff Widdowson was on the board 20 years ago when the property was purchased.
"We knew it was a good deal at the time and knew we needed to prepare for the future and here we are," Widdowson said. "It took a while, but it was on time and under budget."
Widdowson said when the board voted to purchase the property two decades ago, he never imagined such a unique school to appear.
"It's amazing," Widdowson said of Ehrman Crest. "You can't describe it. When you first walk in the door, it blows you away."