Philips Building construction going smoothly at BC3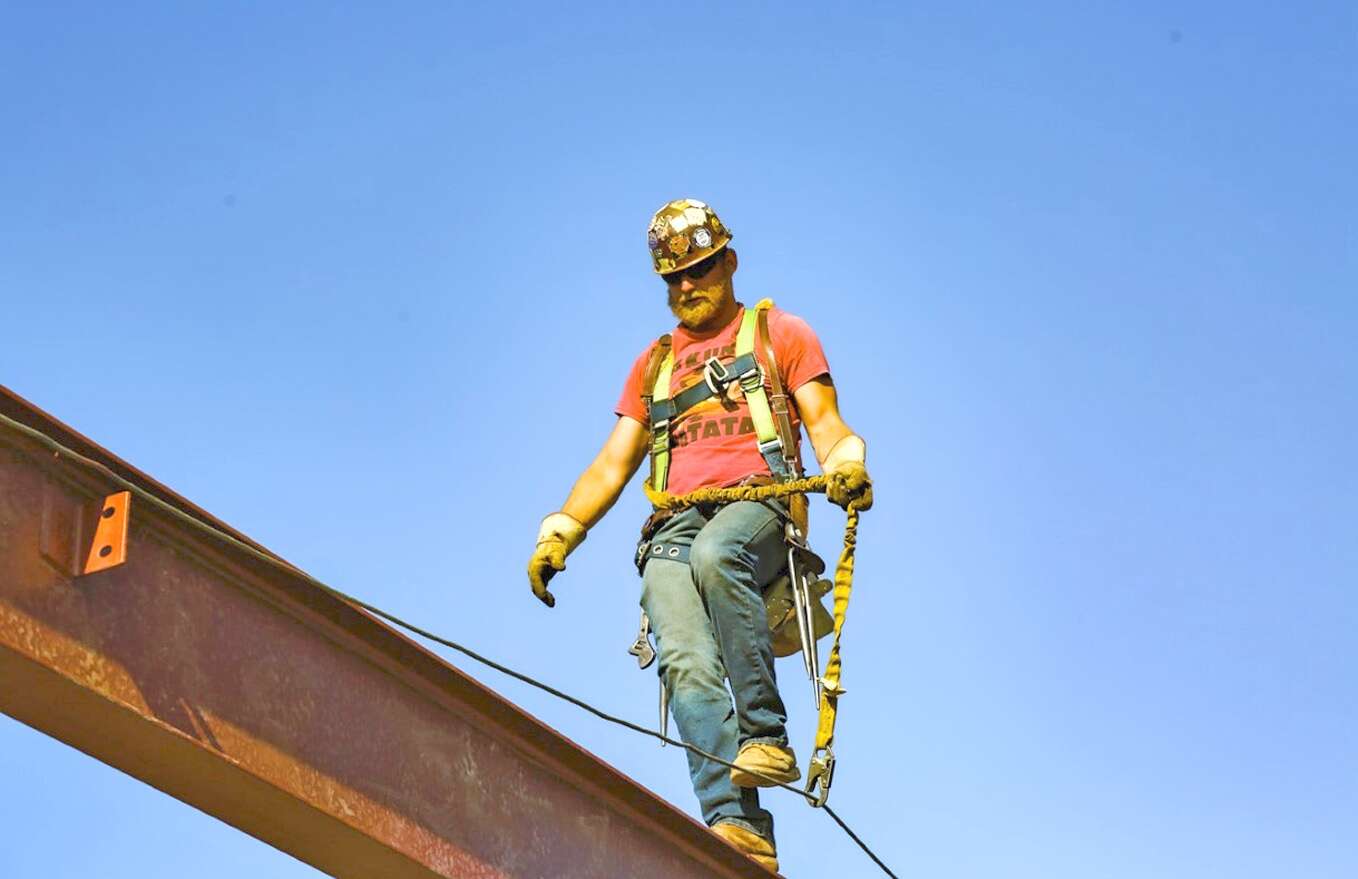 BUTLER TWP — Dylan Stitt places one sized-10 work boot directly in front of the other as he steps along a 4-inch-wide steel girder toward its edge atop the Victor K. Phillips Nursing and Allied Health Building under construction at Butler County Community College's main campus.
Some 25 feet below, an operator swivels a crane's 110-foot-high boom toward awaiting I-beams, hoists another and swivels again toward Stitt near the roof's edge.
Harnessed to a half-inch-wide wire line, Stitt reaches to guide the arriving 1,800-pound girder into position, then straddles another as he secures the next installation with a half-dozen 3-inch bolts.
The Kittanning resident and connector with Century Steel Erectors of Dravosburg rises again on his wedge-soled work boots.
"We all wear them so we don't trip," Stitt said. "They have a smooth bottom."
Construction of the Victor K. Phillips Nursing and Allied Health Building is also going smoothly.
"All the materials are getting on site on time, and we are getting the basement floor slabs in place because all the underground utilities have been completed," said Shawn Glancy, project manager for general contractor R.A. Glancy and Sons of Gibsonia. "We are making hay."
To open for fall 2023
The $15 million state-of-the-art Victor K. Phillips Nursing and Allied Health Building is the centerpiece of the largest construction project in BC3 history and is expected to open for the fall 2023 semester.
BC3, in early August 2021, razed its century-old shipping and receiving building, and its 28-year-old maintenance building, as part of a $21 million south campus project and in preparation for the construction of the Phillips building.
The facility will provide an immersive learning environment with a hospital-like interior featuring simulated medical-surgery and ICU rooms, said Brian Opitz, BC3's executive director of operations.
Placement of structural steel on the 25,000-square-foot single-story facility is nearly complete, Opitz said.
"The whole building is now framed," Opitz said. "It is really interesting to see how it sits on the site, how it relates to our other campus buildings and how you can now get a feel for the actual size of it.
"We put a lot of effort into making sure this new building would complement our existing campus through not only how it was situated and located on the site, but also with architecture and materials that make our campus unique," Opitz said.
"Conceptually," Glancy said, "it's really cool."
Stitt has worked for Century Steel Erectors for 10 years and is impressed by the roof that has taken shape under his wedge-soled work boots over the past month.
"Different pitches and different elevations," Stitt said. "The overhangs, the outriggers. A lot of changes."
Changes across campus
Among changes on BC3's main campus is the repurposing of a 10,000-square-foot former social science building near the construction site for use as offices and classrooms for the Shaffer School of Nursing and Allied Health, Opitz said.
Construction of the Victor K. Phillips Nursing and Allied Health Building and of a 10,000-square-foot operations building, renovations to the former social science building and the demolition of the two buildings a year ago are part of a south campus project that began in June 2020.
BC3's operations building now houses the college's shipping and receiving, and maintenance staff.
The college held a ceremonial groundbreaking for the Phillips building in October, and began survey work, tree removal and utility preparations in February.
Five months later, generators hummed as they powered welding guns for crews securing metal decking to the building. Cement-truck drums whirred as they revved to 27 rotations per minute before spilling contents into power buggies. Material handlers beeped as they shifted into reverse.
This month, four of five prime contractors – Glancy; electrical contractor Right Electric, Meridian; mechanical contractor First American Industries, Pittsburgh; and plumbing contractor Enders Plumbing and Heating, Kittanning – will be on site.
The fifth, fire protection contractor J.&J. Fire Protection, Butler, will be on site in the near future.
"A lot of chefs in the kitchen," Glancy said.
"All top-of-the-line," Opitz said. "They are the ones who make this successful. We plan it. We design it. But they carry it from ideas to move-in.
"I'm big on them because they are the ones who are doing the work. I am very happy with the team that we have in place. These types of projects can be a real challenge, certainly in today's construction environment, but we have worked very hard to create a positive project atmosphere that everyone involved has bought into."
Project funding
The BC3 Education Foundation, as of July 18, had received $6.1 million in private contributions or pledges from 82 donors toward construction of the facility, said Lynn Ismail, the foundation's assistant director and its financial manager.
The Janice Phillips Larrick Family Charitable Trust, former state Sen. Tim Shaffer, Concordia Lutheran Ministries and an anonymous donor each contributed $1 million toward construction of the Victor K. Phillips Nursing and Allied Health Building, and Grove City College, $500,000.
Larrick died at 96 on March 20 and Shaffer at 76 on May 3.
BC3 created a partnership in 2019 with Grove City College and in 2020 with Concordia Lutheran Ministries.
Grove City students began technical and clinical training in fall 2021 at BC3 as part of the Mercer County private institution's one-plus-two-plus-one bachelor of science degree in nursing. Grove City students will attend classes at Grove City in the first and fourth years of the program, and at both institutions in the second and third years.
BC3's practical nursing certificate program debuted in January as part of an up to $10 million partnership between the college and Concordia Lutheran Ministries. BC3's first class will graduate in December.
The Cabot-based health care provider's commitment to BC3 also expanded the college's registered nursing enrollment and offers tuition assistance to nursing students who agree to work for Concordia after graduation.
BC3's Shaffer School of Nursing and Allied Health offers associate degrees in the career programs of health care science; medical assistant; nursing, R.N.; physical therapist assistant; and technical trades-massage therapy management option. It also offers certificate or workplace certificate programs in massage therapy, medical assistant, medical coding and billing specialist and in practical nursing.
Bill Foley is coordinator of news and media content at Butler County Community College.