Mars Area may remove electronic sign by high school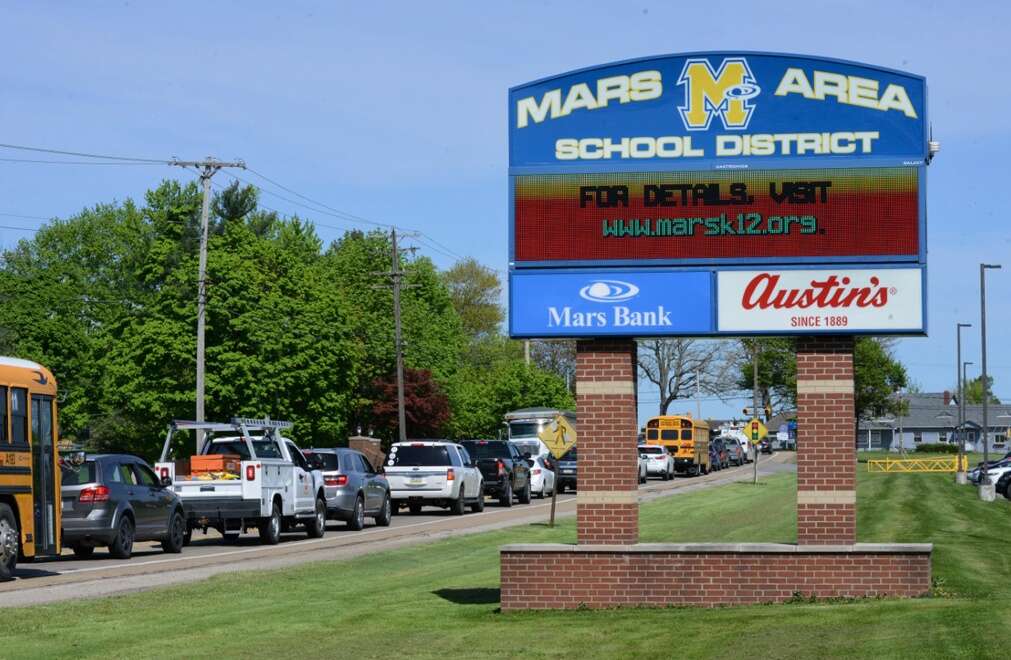 School to make way for future Route 228 construction
ADAMS TWP — The electronic sign in front of Mars Area High School's days may be numbered.
At a school board meeting Tuesday night, board members and staff discussed a potential plan to relocate or replace the 10-year-old district sign ahead of future road construction projects.
Mark Gross, Mars Area superintendent, said the Pennsylvania Department of Transportation is offering the district $90,000 to relocate the sign, as it sits too close to the upcoming Route 228 expansion work.
"It's near its end life, and with the (Route) 228 renovation project, we have to relocate that sign," Gross said. "My recommendation would be to go ahead and purchase a new sign."
The sign originally was sponsored by Austin's and Mars Bank, under a 10-year contract that expired in 2020. Both businesses paid $35,000 to sponsor the sign, said Debbie Brandstetter, district business manager.
Josh Schwoebel, district director of communications who organizes the sign's messages, described the software running it as "a little bit antiquated."
"It would probably behoove us to get a new sign with new software and things like that that are easier to use," Schwoebel said. "It's 10 years old, and the technology has changed a lot since then."
Board member Anthony DePretis said that examining the current state of technology updates for signs such as this one is a priority before choosing whether to move or replace it.
"I would hate to build a new structure to fit a sign that we are probably not going to be able to repair," he said.
DePretis encouraged the district to look for sponsorships again if a new sign is in the works.
Board member Jennifer DiCuccio suggesting using the sign at a different location in the district, such as in front of the middle school.
"We could use that in a different location, but I'm not sure how it would survive the move," Schwoebel said.
He said the main portion's light board has had issues with bulbs and related things.
The board did not vote on any official motions related to the sign at the meeting, but made plans to discuss the sign again at a later date.
More in Education