For the Birds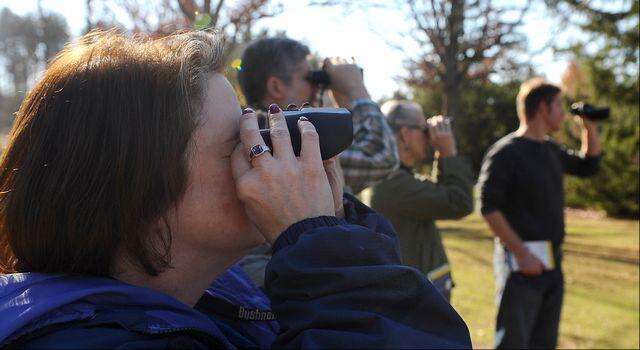 Audubon Society gets ready for annual Christmas count
PENN TWP — The Audubon Society of Western Pennsylvania is preparing to conduct its annual bird count.
The count is done by volunteers through two related programs — FeederWatch and the Christmas Bird Count.
These programs use volunteers — many of them counting birds on their own properties — to report on bird activity.
While the FeederWatch program runs for multiple days, the Christmas Bird Count will occur on a single day. In Butler County, the society has not yet selected that date.
According to Bob Mulvihill, scientific adviser for the Audubon Society, "People are more interested in birds than any other animal in natural history. There is a federal survey that shows that 2.5 million people in Pennsylvania watch birds."
"If you have put a bird feeder or a birdhouse somewhere on your property and you watch it, you are a bird watcher," Mulvihill said. "The primary motivation for feeding birds is to watch them."
The Audubon Society has been turning people's interest in bird-watching into a way to collect information on the different types of species that live across the continent.
Succop Conservancy, located in Penn Township, is the society's newest reserve, according to Audubon.com.
More the merrier
One way that the Audubon Society is trying to get the community involved with nature is by holding bird-counting classes.
Classes teach the proper ways to collect data on the different species that live in or travel through Western Pennsylvania.
The Cornell Lab of Ornithology suggests that when performing bird counts participants should choose a portion of their yard that is easily monitored from inside the home. Also, the counts should take place from November through early April.
Counts should be performed when the watcher is able to do the count for two consecutive days, and the count should be held at the same time both days. The best time is morning.
The amount of time spent counting the birds, the temperature and weather conditions are also important to record. Tally sheets for bird counting can be found on FeederWatch.org.
"When doing a bird count at the feeder, the watcher should only record the most birds you see of one species at one time," Mulvihill said. "If you see the same bird returning to the feeder multiple times, that bird should only be counted once."
Participants who would like to submit their bird counts can do so at feederwatch.org. There is a $15 yearly fee.
The information collected from the website is used to help scientists better understand which regions the different species are residing.
According to the website, "FeederWatch has been partnering with the public since the 1960s, and we tackle problems ranging from global climate change to avian disease."
"The public can play a very important role in collecting data," Kubiak said.
The Audubon Society realizes that bird-watching is not only something that can be done by adults. It can be a great way to get children involved in nature.
"We have been trying to reach out to the local schools and get more field trips to the Conservancy," said Davlin Smith, center coordinator at Succop Conservancy.
Jill Ruzich of Adams Township said, "I think anything hands-on really helps develop an interest for the children."
Room with a view
If you have a bird feeder on your property there are a couple tips that will help make bird-watching more enjoyable.
"People often put bird feeders where they think they should be for the birds, and I tell them to put the bird feeder where it's best for you," Mulvihill said.
The event that the Audubon Society is preparing for now is its Christmas Bird Count.
"The Christmas Bird Count, which was originally held on Christmas Day, was originally started as a way to get people interested in seeing birds and not shooting them," Mulvihill said. "There was not much of a conservation ethic at that time."
The first event in 1900 hosted 27 volunteers who counted 89 species of birds. In 2008, there were 59,813 volunteers who counted 661 species.
For information on how to get involved with the CBC, contact Suzanne Butcher at sarbie@msn.com or by visiting aswp.org.
There will be a bird-counting class at the Succop Conservancy from 10 a.m. to noon Dec. 1.
The cost to attend is $6 for members of the Audubon Society and $10 for nonmembers.