Santa starts the holiday season in Cranberry
CRANBERRY TWP — Santa Claus opted for a fire truck rather than a sleigh to make his first stop at the Cranberry Municipal Center on Friday, Nov. 17.
With 36 days left until Christmas, Santa has a full schedule ahead of him — but he made time, as always, to visit Cranberry Township.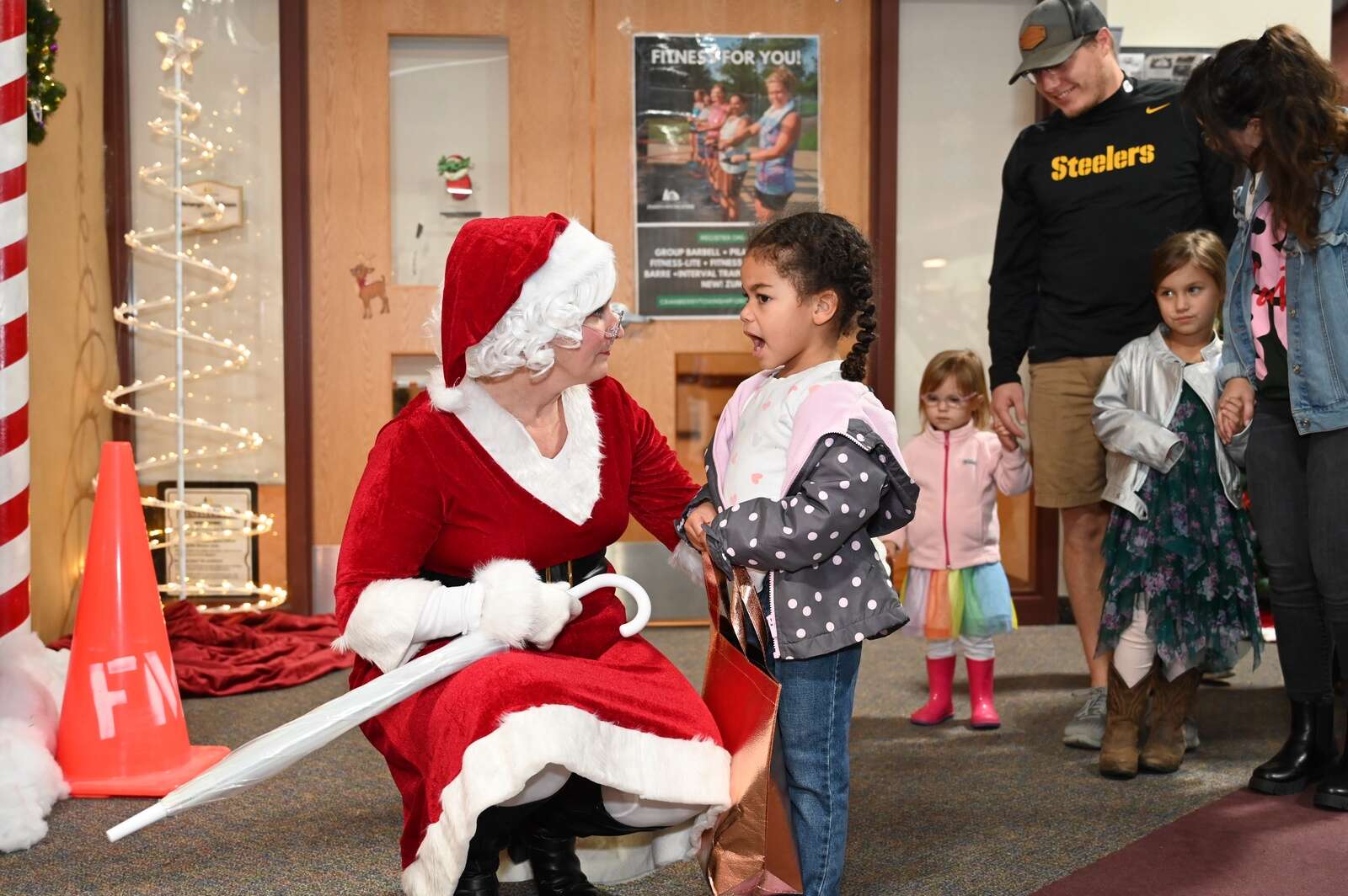 Santa has made the yearly trip to Cranberry since before he was an elf, said Dave Hutner, Parks and Recreation manager.
"The children just light up seeing (Santa Claus)," Tina Fedko, township director of communications, said. "He's such a delight."
Cider, hot chocolate and other treats were available outside before Santa's arrival, with games and arts and crafts taking place in the gymnasium. Christmas trees and holiday displays lit up the hallways of the municipal center.
As children and parents waited for the pinnacle moment, the Dutilh United Methodist Church Choir sang familiar holiday tunes.
Santa's First Stop is also a chance for parents and adults to reminisce on their childhoods, and remember that the holidays are for grown-ups, too.
"I don't think I realized what (the holidays were)," said Jeremy Jarrell, who attended the event with his wife, Mary, and their two daughters, Clara, 4, and Elise, 9. "That's probably been eye-opening. There's a lot of process, but I mean, it's enjoyable. I enjoy it more as a parent — as much as I liked it as a kid. OK, I actually enjoy it even more — it's just different."
"There's a lot more making magic," Mary Jarrell said.
Shelley Lauer, who attended with her husband, Brad, and daughters Quinn, 9, and Evelyn, 6, said one of her favorite holiday memories as a child was driving to see Christmas lights with her father.
"We were always looking at Christmas lights," Lauer said.
Gabriela Solorzano, from Colombia, said this will be her first holiday season in Cranberry. She said she will miss her family this Christmas, but said she is excited about seeing snow for the first time.
Fedko said Santa's First Stop brings the Cranberry community together.
"Friends come and see their neighbors, family members bring their extended family, friends at school come together," Fedko said. "It's just really a holiday gathering place and it starts the holiday season for a lot of people."
Season of giving
Prior to Santa's arrival, candy canes were handed out and warm drinks made the rounds to cold hands.
Cranberry Township's ambulance service also hosted a toy drive, with one boy, Callan Weletz, and his mother, Caroline, donating four large bags to Toys for Tots.
Encouraging her son to get involved in the community is important, Weletz said, because the holidays mark the season of giving.
When asked what he was excited about this holiday season, Callan said he was "just excited for some kids to have toys."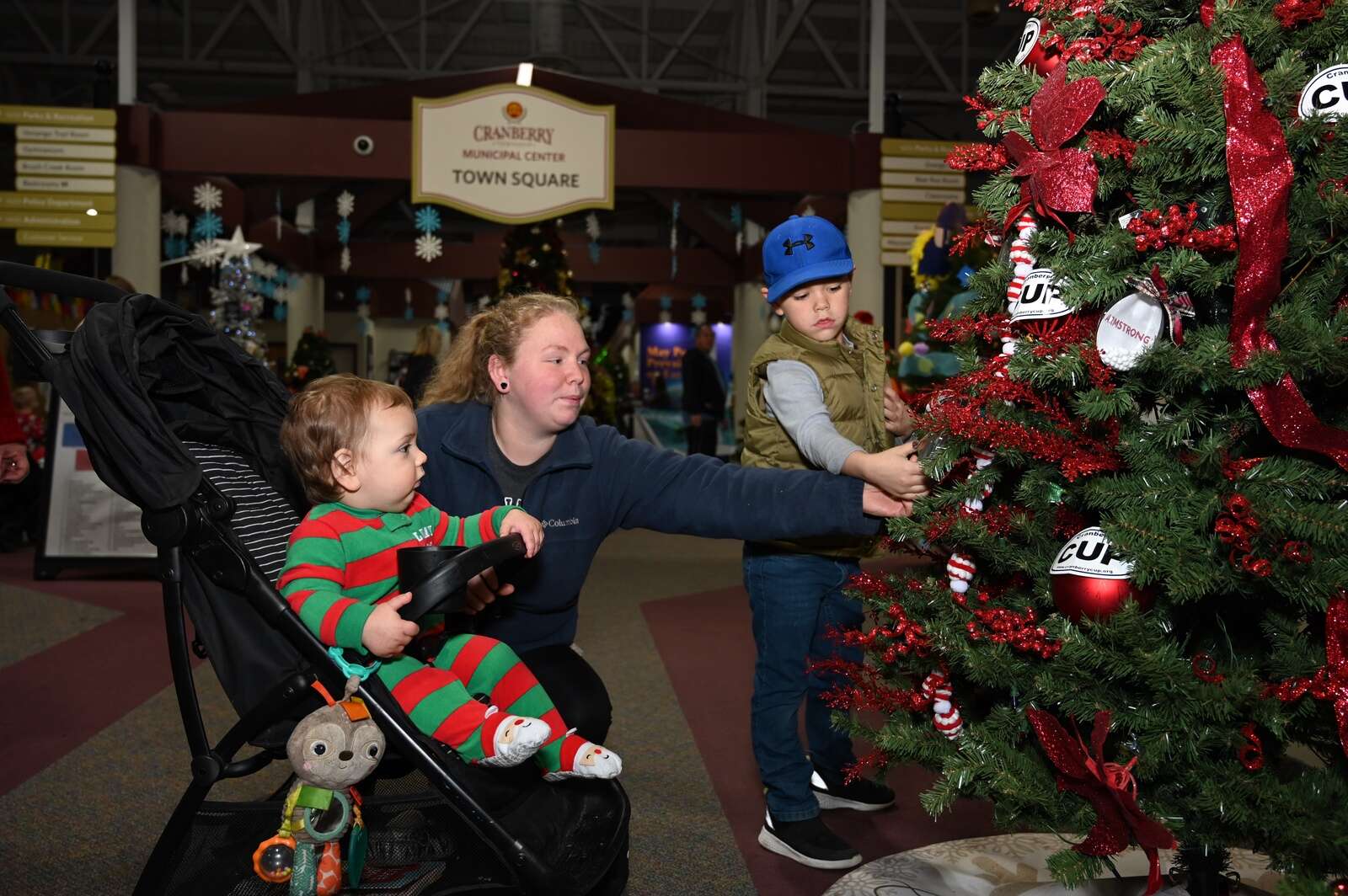 More in Local News