Fallen firefighter receives emotional last call, funeral rites
The dozens of firefighters and emergency medical personnel assembled Saturday morning on Main Street in Prospect could have spent their day off sleeping in. Instead, they donned their dress uniforms to give their brother the send off he deserved.
Prospect Volunteer Fire Department Assistant Chief Kenneth "Kenny" Wilson, 51, took his final ride on a firetruck on Saturday in his red casket, which was custom-painted with fire service scenes and equipment.
The emotional procession started at Thompson-Miller Funeral Home in Butler, then proceeded west on Route 422 to the tiny borough of Prospect.
Wilson died Saturday, Nov. 11 after a short battle against pancreatic cancer. He was a volunteer firefighter for the Prospect department for 30 years. He served as chief, assistant chief and other positions.
The Prospect firetruck carrying his casket was followed by more than 30 other firetrucks, ambulances, and a triaxle from his employer, McClymonds Supply & Transit Company.
The gleaming fire trucks that helped bring Wilson home to the fire hall he loved came from Connoquenessing, Unionville, Oakland, Adams and Marion townships, West Sunbury, Herman, Lick Hill, Saxonburg, Harrisville and Chicora volunteer fire departments, as well as Butler Ambulance, Harmony EMS and Portersville EMS.
Fire vehicles from other municipalities and the Butler County Fire Police helped with traffic control for the procession or hung enormous flags from their ladder trucks above Route 422 to honor Wilson on his final journey.
At Prospect fire hall, Wilson's grieving bride of three months and other family members sat in a half-circle in front of Wilson's empty turnout gear and fireman's helmet.
The uniformed firefighters and medics lined up on either end of the semicircle, as if to guard the Wilson family in their hour of mourning.
Only the whipping of the huge American flag hung over the fire hall and an occasional sniffle was audible before Wilson's brother, Frank, sounded the Prospect fire unit's siren three times.
The fire truck's radio then crackled to life and Wilson was officially commended for 33 years of service to Prospect Volunteer Fire Department as the solemn voice wished him Godspeed.
"Assistant Chief Kenny Wilson, this is your final call," echoed down the Main Street of a town stricken with grief over the loss of a beloved community servant.
LifeFlight and Stat MedEvac helicopters whizzed above the mourners' heads as they performed a flyover in honor of Wilson's service to the community.
Many friends, acquaintances, and residents lined the sidewalks across from and around the fire hall to witness Wilson's last call.
"He has given so many years to the community," said Melissa Stewart, the sister of Prospect Fire Chief Nate Blackwood. "It's nice to see him getting the respect back."
Her daughter, Emma, 10, chose to sport a sunny smile that resulted from her memories of Wilson.
"He was like an uncle to me," Emma said. "He was funny."
Denna Hays, of Brady Township, graduated from Slippery Rock Area High School with Wilson in 1991 and had remained friends with him since then.
"Be the person who makes the community show up to wish you goodbye on your last day," Hays said as she gazed at the people on the sidewalk. "He impacted an entire community and beyond."
Dana Oliver, of Prospect, had major surgery recently and was not supposed to be out, but she said she could not miss her friend and classmate's last call.
"I had to say goodbye," Oliver said as she failed to fight back her tears.
Like Hays, she was thrilled at the number of fire departments and individuals who turned out for Wilson.
"It says he's one heck of a man," Oliver said. "He will be missed dearly by so many. I can hear him saying to me 'Why are you crying?'"
Charlotte Potts, of Franklin Township, stood across from the fire hall as she waited for the procession to arrive.
"I'm friends with his mother," Potts said. "My heart aches for them."
She lamented that Wilson had to depart at age 51.
"I guess God decided he had enough and he had to go," Potts said.
Jacob Reinert, of Prospect, grew up with Wilson in the small borough.
"I came to support Kenny and his family and everything he sacrificed and did for the community for over 30 years," he said. "It's important to show the family and community the support he showed others."
Joe Restelli, of the North Hills, was a friend of Wilson's.
"He was a fine, fine man," Restelli said. "I always enjoyed Kenny."
Scott Clarke, of Franklin Township, is a former Prospect firefighter who served alongside Wilson in past years.
"He was a really great leader and a great teacher," Clarke said. "I think it was just in his blood, that willingness to help."
Clarke called the public turnout for Wilson "unbelievable."
"It just shows you what a great person he was and what an inspiration to the community," he said.
After his last call, Wilson's casket was taken to Mount Chestnut Presbyterian Church, followed by the legion of firetrucks and ambulances that participated in the procession.
The emergency vehicles parked along Old Route 422 while the county fire police managed traffic during the funeral service.
Mark Lauer, a longtime fireman and chief in Butler County, gave his best friend's eulogy, which was filled with humor and remembrances of jokes played on one another and their fellow firefighters, trips to camp to hunt bear, shooting clay pigeons together and other good times that have now become treasured memories.
But Lauer grew serious at the memory of being chief at Unionville Volunteer Fire Department in April 2001, when two 25-year-old Unionville firefighters drowned while trying to recover the body of a kayaker in Slippery Rock Creek.
"Kenny saved my life," Lauer said, his voice trembling. "I was in rough shape (after the incident), and I'm not sure I'd be here without him keeping me grounded and showing his love."
He recalled another emergency responder's amazement at the dedication Wilson showed to a trapped child at the scene of a fatal school bus crash a few years ago on Interstate 79.
"He said you could see the determination in Kenny's eyes," Lauer said.
He also mentioned the love Wilson had for his wife, Terri, and the tender care she showed her longtime love and new husband as his illness progressed.
"You were there every second for him, and I know he loved and appreciated you," Lauer told the young widow.
Lauer asked everyone who packed the church on Saturday to raise a glass to Kenny Wilson later that day.
"He loved you all," Lauer said.
Wilson was committed into God's hands by the Rev. Larry Maley, and a bagpiper played "Amazing Grace" as the casket was removed from the church for burial, with Wilson's brother, Frank, leading the procession while carrying his brother's fireman's helmet.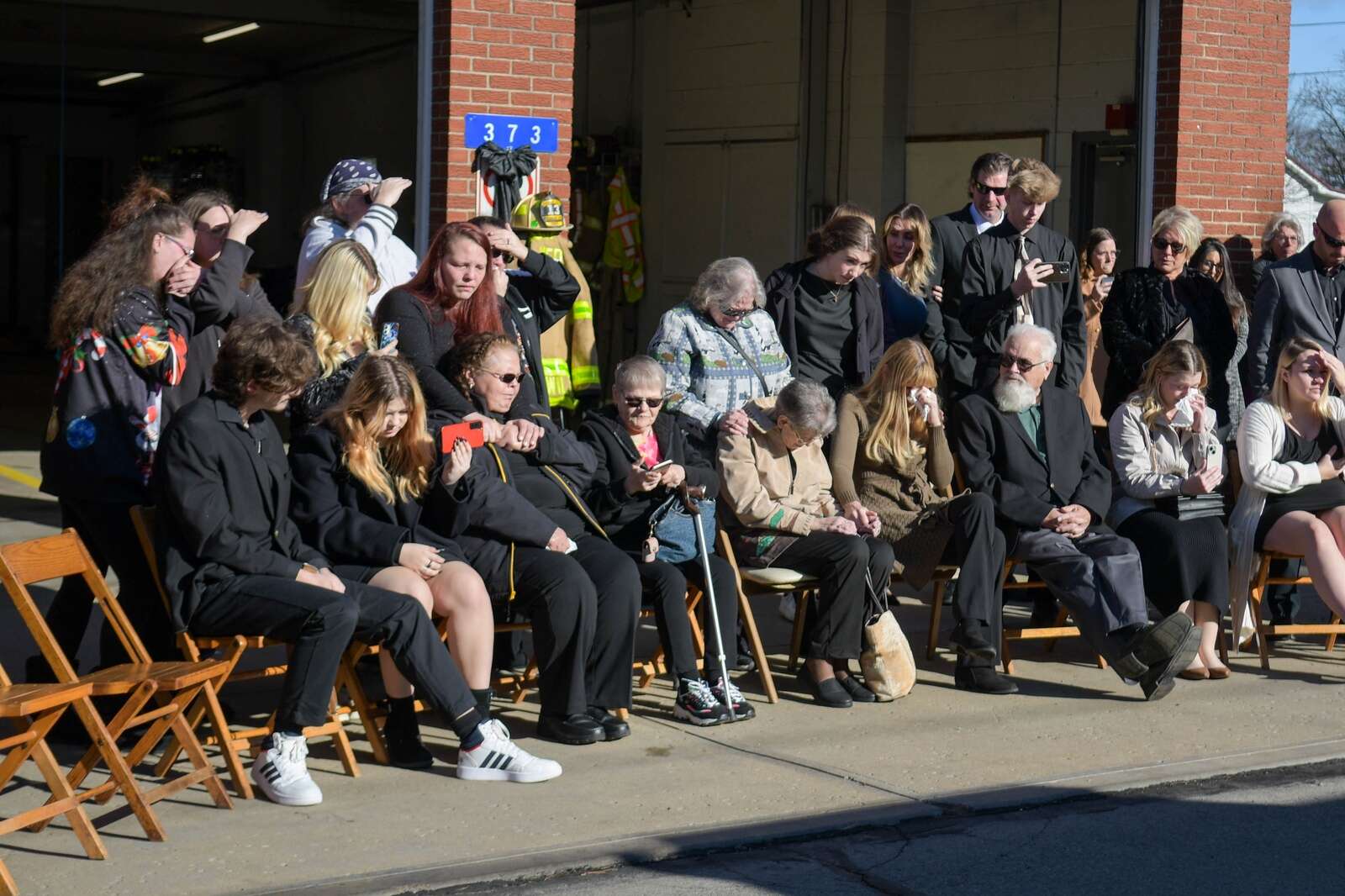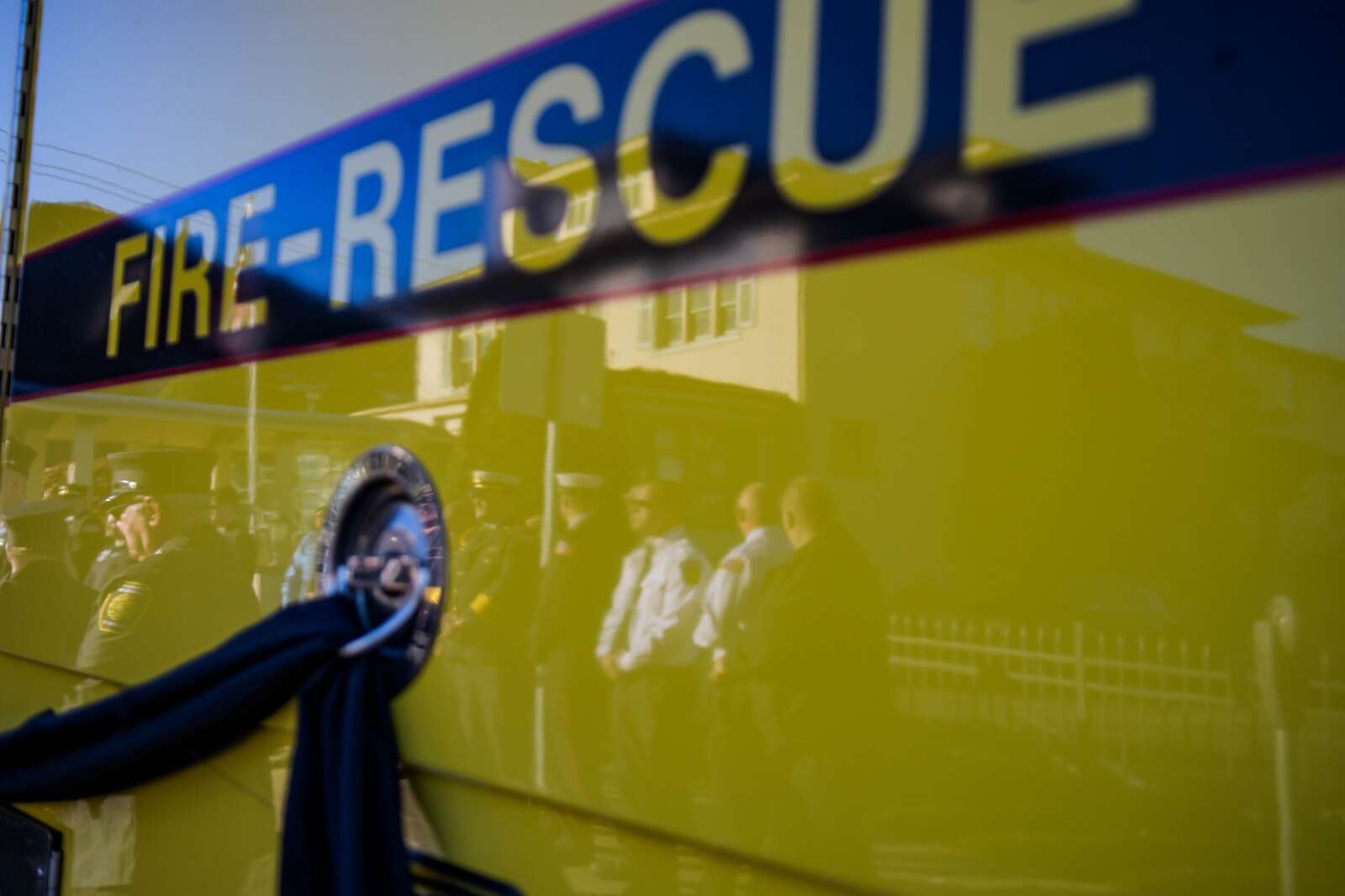 More in Local News