A Circle of Friends Vocal & Bell Choir helps others
Ringing and singing
FORWARD TWP — Some dedicated singers and musicians are devoted not only to their craft and one another, but also to people in need throughout the community.
A Circle of Friends Vocal & Bell Choir performs five concerts in December and five in May, and every penny of the proceeds raised through offerings at the concerts is donated to a charity chosen by the choir's board of directors.
The popular choir has raised more than $300,000 for various charities and individuals since it started its musical mission in 2010, including one show in 2019 that raised $16,000 for a Butler County native and veteran of the Marine Corps who was injured in a vehicle accident.
Dr. David English, the choir's creative director, is quick to foist the credit for fundraising success onto those who donate when they attend concerts.
"We have quite a following," said English, who is a retired optometrist and stage 4 lung cancer survivor.
"They prayed me through that," English said of his 2020 cancer scare while pointing to devoted choir members who gathered at the Glen Eden Event Center, where the choir performs.
The event center on Dufford Road is a rustic-chic 1860 barn that developers had slated for demolition on the former Graham farm in Cranberry Township.
In 2020, English and his wife, who is a Graham, moved the barn to property on Dufford Road, upgraded it, and opened it as a wedding venue.
Naturally, the A Circle of Friends choir began performing there as well.
Friendly beginnings
The group got its start in 2009, when 18 friends who sang in their church choir wanted to branch out into performing for the community. The group began rehearsing at different choir members' homes.
Cheryl Harancher, English's "favorite sister," said she and her brother, plus a few others, started singing together in their mother's kitchen.
"Then we got a little bit bigger, so we moved to the basement," Harancher said.
From the first concert they performed, A Circle of Friends donated everything collected to charity.
"That excites people," English said. "It really does."
One year later, Community Alliance Church in Center Township unearthed a five-octave collection of handbells that didn't quite fit their modern-style ministry, English said.
The bells were donated to A Circle of Friends Choir.
"They really added to growing the group," English said. "That year, we had 20 or 25 members."
Rehearsals for the vocal choir were held in one home and the bell choir rehearsed another night in another member's home, English said.
The choir, which now boasts 15 bell ringers and 45 singers, began rehearsing each Tuesday evening at St. Peter's Reformed Church in Zelienople.
The group also became a nonprofit choir with bylaws that mandated 100% of the profits are given away to a charity or individual in need that is chosen by the board of directors.
A community advisory board operates the nonprofit.
Funds have gone to an individual with heart issues, children who need prostheses, the Evans City Public Library, a school backpack program, and other people and organizations who need help.
The Dec. 9 concert will benefit an ALS organization, as a handful of choir members have lost family members to the illness, also known as Lou Gehrig's Disease.
Funding
Each member of both the bell and vocal choir is asked to donate $50 per year, which goes toward buying music, required insurance, bell maintenance, and additions or repairs to the sound system used at shows.
"The $50 is a suggestion," English said. "Some give more, some less."
He said a representative from each charity or individual receiving the funds from a performance speaks briefly to the audience during each show to talk a little about how the donation will be spent.
English said there is no admission charge for attending an A Circle of Friends concert, but a basket is passed during the show for donations.
"The (choir members) are very dedicated to raising money," he said. "This is the most dedicated group of people I've ever worked with."
He said concerts include secular and sacred music, and audience singalongs are often on the bill.
"We act up," English said.
Many times, those who follow the choir begin asking when and where the performances will be a month or two before they are held.
The choir also invites anyone interested in singing or ringing to attend their rehearsals on Tuesday nights in Zelienople.
"It's a non-audition group, but it is amazing the sound these people make," English said.
Original member Colleen Cotherman said the vocals and handbell skills of choir members are always challenged by English.
"We have a director who is very passionate, and he pushes us," Cotherman said.
It's a family
Carol Heckert met English as a teenager who sang in the choir at Seneca Valley School District. English came to the concerts and would chat with Heckert.
Years later, when Heckert's daughter needed glasses, she took her to see English for an exam, frames and lenses.
"He said 'I have a really good group. We're singing at a church,'" Heckert recalled.
She is now a soloist in the choir. Asked when she'll quit, Heckert answers, "When they shut the doors."
"It's a family, and not just during the singing," Heckert said. "I know I can count on any person here to help me."
She said the choir members support one another onstage as well, which she feels during her solos, like "Perfect Praise."
"The feeling of the choir behind you when you know they've got your back is awesome," Heckert said.
Harancher started out on handbells when A Circle of Friends began, but she is now a vocal performer.
"I took a break from bells and never came back," she said.
Harancher said the generosity of those in the vocal and bell choirs is another aspect that makes the group a family.
"We all are willing to give the most we can for other people," she said.
Patty Godsen, past president of the choir board, recalled feeling nervous at the number of people who came to support the veteran who had been in a car accident, as the crowd spilled into the hallway to hear the performance.
"But once a show starts, it's a worship," Godsen said. "You kind of forget the audience is there."
Concerts never the same
English said it's one thing to sing on a stage, but quite another when the singers own the music and express their relationship with it during the performance.
"I think that's what the audience responds to," he said. "It's a purely emotional interpretation of the music."
For one spring concert, English said, the vocal and bell choir members performed the music from the movie "The Greatest Showman," and dressed like circus performers.
"The music reflected a lot of inclusiveness," English said of the decision to choose the movie's music for a concert.
He said the vocal choir is backed by instrumentalists, who, like their singing counterparts, volunteer their time.
English said the choir does not rehearse with the instrumentalists until just before each show.
"They become the backdrop for us," he said.
Musicians on keyboard, percussion, electric bass and guitar now play with A Circle of Friends, and English plans to add strings, brass and a flute in the near future.
"And we have a tech team to do sound," he said. "All told, there are 60 of us."
He thanked Jen Bowers, who stepped in as creative director during English's recovery from cancer, and Carol Jamison, co-director of the handbell choir.
"She has really allowed the bell choir to grow," English said.
All are invited to attend the upcoming concerts.
"We are blessed beyond measure," Harancher said.
"Which allows us to bless others," English said.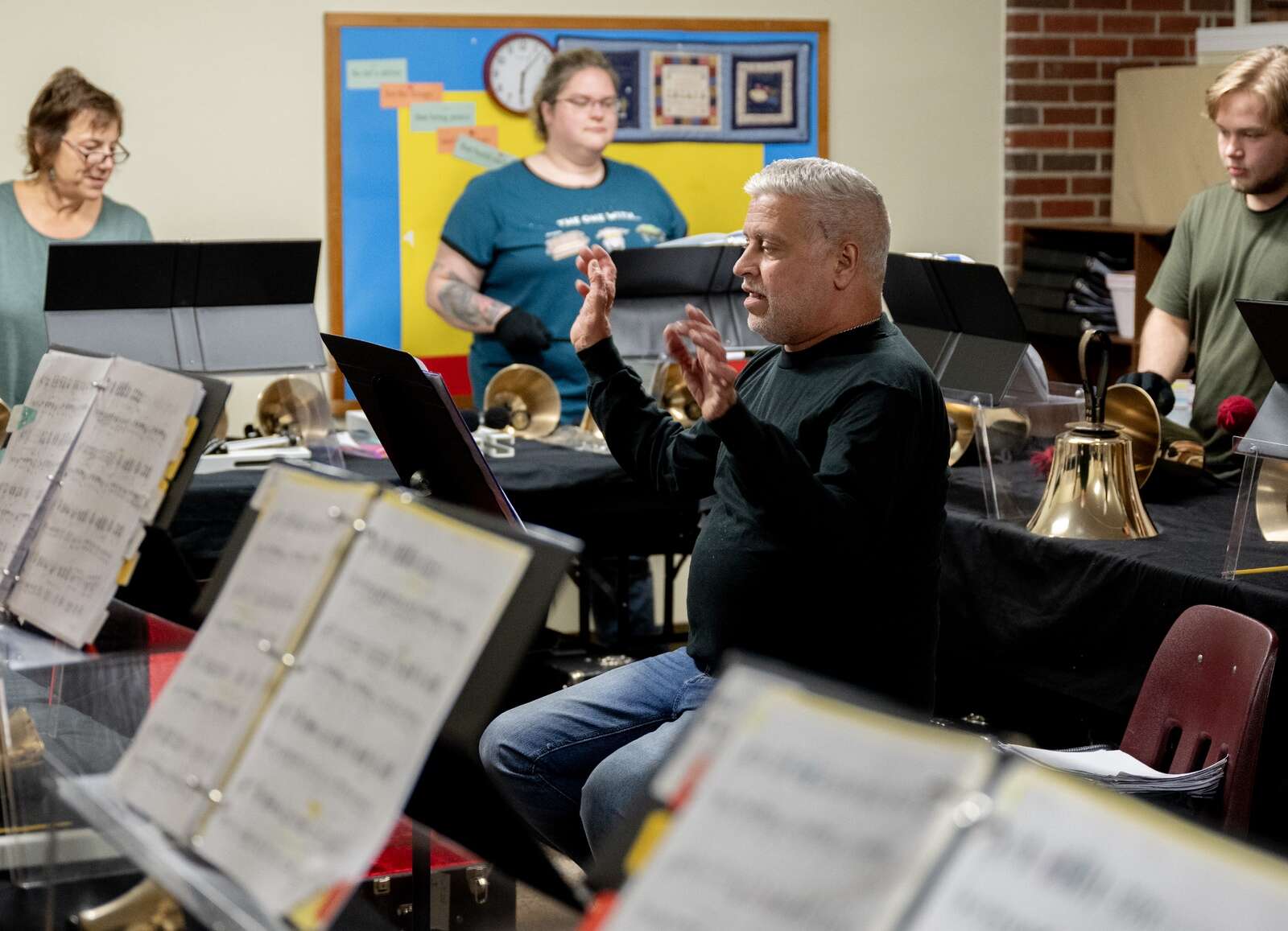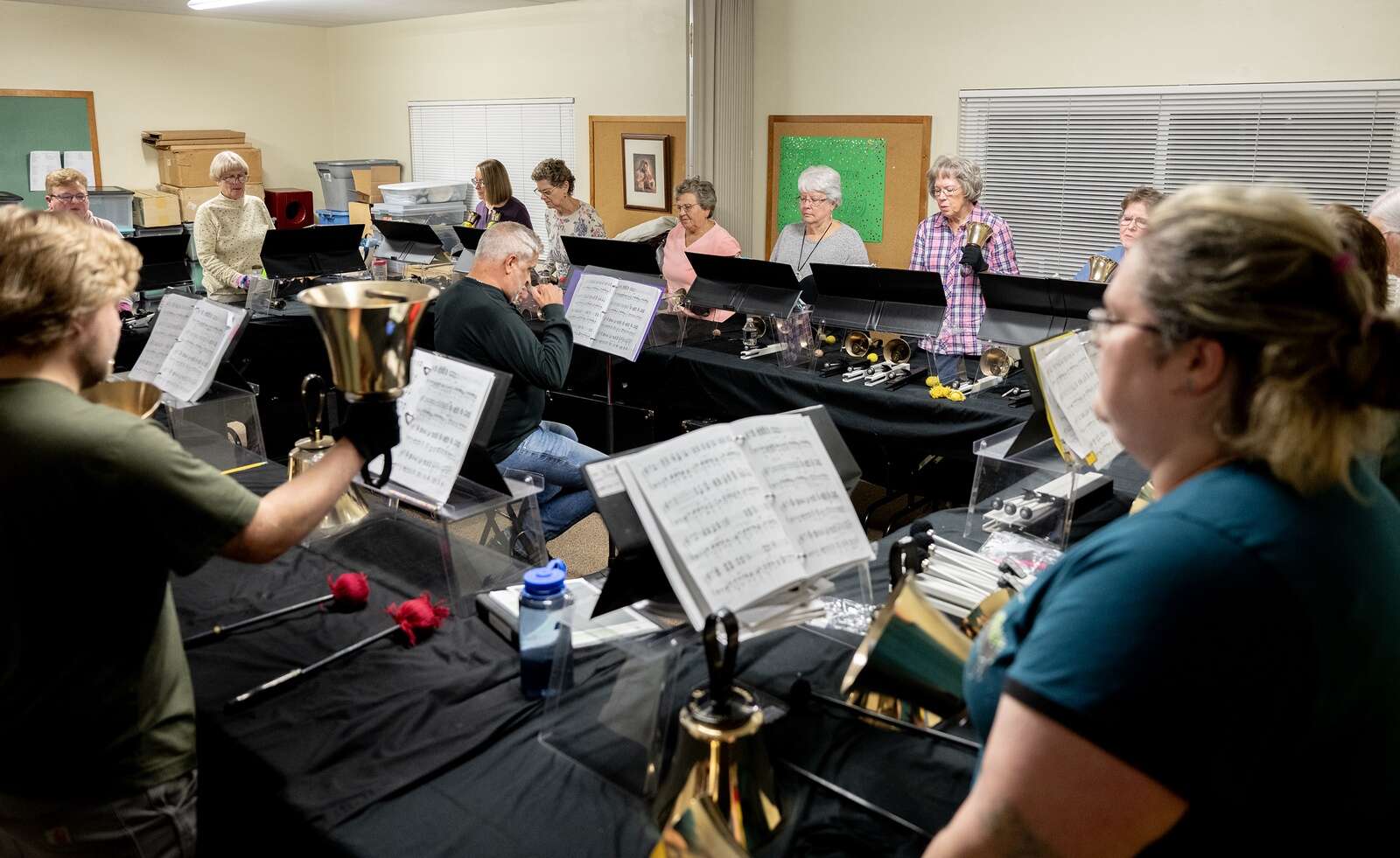 More in Community