Experts: How 'livable' wage affects housing options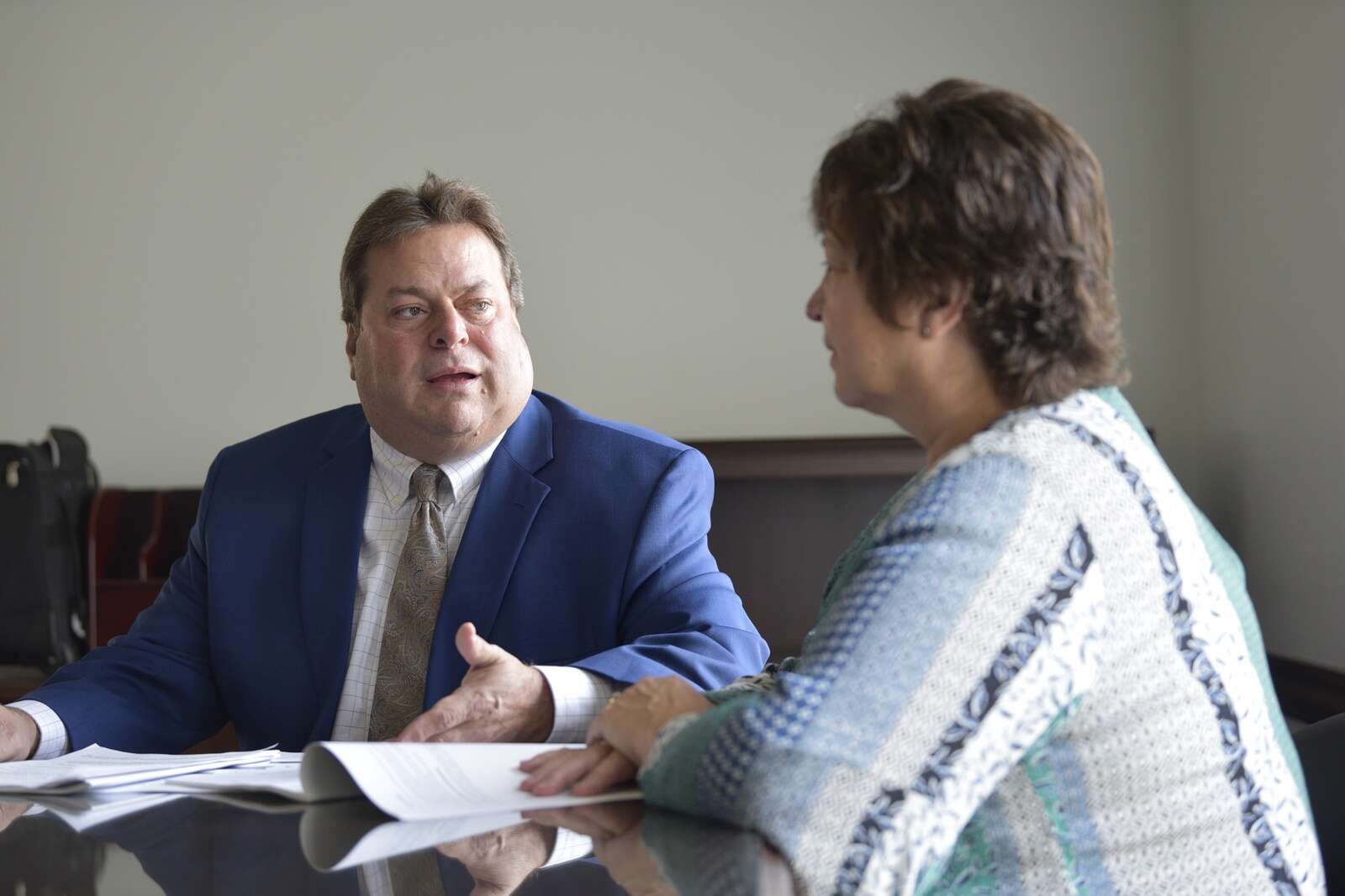 This is one in a series of articles about livable wage pursued after the state House passed a $15 minimum wage bill in June 2023. The legislation, which would increase the minimum wage from $7.25 to $15 an hour gradually by Jan. 1, 2026, has not been passed by the state Senate.
An annual review by Massachusetts Institute of Technology's Living Wage Calculator estimates the livable wage for a single adult in Butler County is $16.24 per hour — just shy of $9 more than the state's current minimum wage of $7.25.
According to Edward Mauk, CEO of the Butler County Housing and Redevelopment Authority, even MIT's estimated "livable" wage is not enough.
Many individuals in Butler County working on MIT's estimated livable wage still need assistance, even though they are not eligible, Mauk said in a recent interview.
As part of the federal Housing Choice Voucher Program, he said qualifying low-income families put about 30% of their monthly income toward rent and utilities — with the housing authority subsidizing the remaining rent.
Many households working at the "livable" wage of $16.24 per hour, however, become ineligible for housing assistance, according to Mauk, as they make more than the United States Department of Housing and Urban Development's low-income limits.
According to HUD's calculator, the 2023 low-income limit for a single adult is $56,250 and $64,250 for two adults. With a $33,280 annual salary at $16.24 per hour, a single adult would meet the low income limit, two adults would not.
"You have two people working that $16-an-hour job, you're in that $60,000 range," he said. "You think you're making money, but you don't qualify here, and you also can't afford to live here because the two people work, they've got cars, they've got insurance — you have all the expenses."
It creates a "limbo" where people find themselves between the ability to get subsidies and the need to "take the whole thing on yourself."
"There's nothing that helps that, and that's the part that's the most frustrating," he said.
While programs like the Housing Choice Voucher Program are a step in the right direction, Mauk emphasized they often overlook the real cost of living and working for individuals and families.
Often, Mauk said, "the system works against people pulling themselves up."
While public assistance often offers a reasonable standard of living, according to Mauk, adults attempting to "pull themselves up" by working a livable wage job regularly see that standard diminish as their expenses exponentially increase.
To illustrate, Mauk said he would likely pay only $50 a month for rent if he had no income and received public assistance.
"If I go out and get a job making $15 an hour, now I make $30,000 a year, $2,500 a month, and my rent goes to $750," he said. "I just lost $700 just to pay my rent."
The other costs
Part of the solution, at least for now according to Amy Franz, regional vice president of United Way of Southwestern Pennsylvania, is connecting individuals with county resources to mitigate day-to-day costs.
"If we can help with those other expenses by connecting people to programs, then we could give them more money toward housing and transportation," she said.
She referenced the organization's own estimate for a "survival" budget — noting its limitation on housing.
"We're suggesting that the household survival budget for a single person would be $14.74 an hour," she said. "And that illustration is assuming that you're only spending $703 a month for housing."
The budget also allows for $330 monthly transportation costs — with the expense in car-centric Butler County being "a problem for a long time."
And with many lucrative regions lacking affordable housing options, Mauk said, workers are often required to commute, increasing transportation costs.
"For example: If you're working in Cranberry in the plethora of work there, and they need tons of people ... and you're making $15 to $16 an hour, you're probably not going to be living in Cranberry," he said. "I don't think that Mars or Seven Fields or Cranberry has got a place where you can afford to live, so now you have to come north or south, but you have to have a vehicle to get there."
This issue especially plagues the county's many manufacturing industries, according to Mauk, with workforce housing a constant topic of conversation at the housing authority.
Franz also sees this conversation happening in her line of work.
"It's one that people are at the table talking about on a regular basis, but I don't know that we have a solution," she said. "We're all talking about it, and it's supply and demand: where the jobs are and where the people are."
Additionally, Mauk said the authority has no way of competing for development in these areas and is limited in its ability to house individuals on private developments.
"You've got all kinds of housing being developed in the southern part of the county and private developers are handling all that," he said. "But their pricing is so high in that market that even with a voucher — even with above fair market rents that are established by HUD — for that area, I can't afford to put people in those projects."
For former students, education is a debt akin to purchasing a home and vehicle, said Alyssa Dobson, director of financial aid and scholarships for Slippery Rock University.
"I know that at Slippery Rock in particular, our average debt at graduation is about $37,000," she said. "It's pretty comparable to the other colleges in our region and in our state."
And while income-based repayments exist for federal education loans, Dobson said, monthly payments for students who do not seek assistance are often near $375 a month.
According to the Institute for College Access and Success, the average student loan debt in Pennsylvania for 2019-20 was $39,375 — one of the highest averages in the nation.
"This is why I think a lot of people are still at home: The kids can't get out of the basement because they can't afford to venture out on their own," Mauk said. "And if they did, their standard of living goes down so much."
What's next?
On June 20, the state House of Representatives successfully passed a bill that would see the minimum wage increase incrementally to $15 an hour by Jan. 1, 2026.
According to state Sen. Elder Vogel, R-47th, the bill remains in the state Senate.
"Currently, House Bill 1500 is in the Senate Labor and Industry Committee," he said.
The state's minimum wage has not changed since 2009 — when federal mandates set it at $7.25 per hour.
While the bill remains in the state Senate, Vogel said it was "hard to tell" how raising the minimum wage would impact Butler County.
"Some businesses have the money and resources to adapt to that change while other businesses would potentially struggle," he said.
According to the recent bill, the minimum wage would increase from $7.25 to $11 per hour by Jan. 1; $13 per hour by Jan. 1, 2025; and $15 per hour by Jan. 1, 2026. In 2027, the minimum wage would then be indexed to inflation.
For businesses, Vogel said the gradual increase could be "seen as a better option than raising it all once."
"However, as we continue to witness, many Pennsylvania businesses have already raised their pay for employees to remain competitive in today's hiring market," he said. "That is the main principle of how a free market functions."
Ultimately, Vogel said it was important to prioritize the county's small businesses as the Senate continues to consider the change.
"Just like any piece of legislation, all avenues should be explored and discussed until a common ground, beneficial solution is agreed upon," he said.
According to a 2023 report by the Pennsylvania Department of Labor and Industry, the original 1938 minimum wage was set at 50% of the national average manufacturing wage — eventually shifting to the statewide average wage.
"A gradual decline in the minimum wage as a percentage of the Pennsylvania's average wage began in 1968," the report read. "By 2006, Pennsylvania's minimum wage was 26% of the average wage."
The mandated increase in 2009 increased the state's minimum wage to 34% of the average wage, according to the report. That number dropped to 23% by 2021 and has been decreasing ever since.
---
For more information on housing, transportation and assistance programs in the county, contact the Housing and Redevelopment Authorities of Butler County or United Way of Southwestern Pennsylvania.
For the county housing authority, visit housingauthority.com or call 724-287-6797.
For United Way of Southwestern Pennsylvania, dial 211 or 1-888-553‑5778.
Information on student loan assistance and income-based repayment can be found at studentaid.gov.
More in Local News