New K-9 officer 'Canyon' to protect and serve Jackson Twp.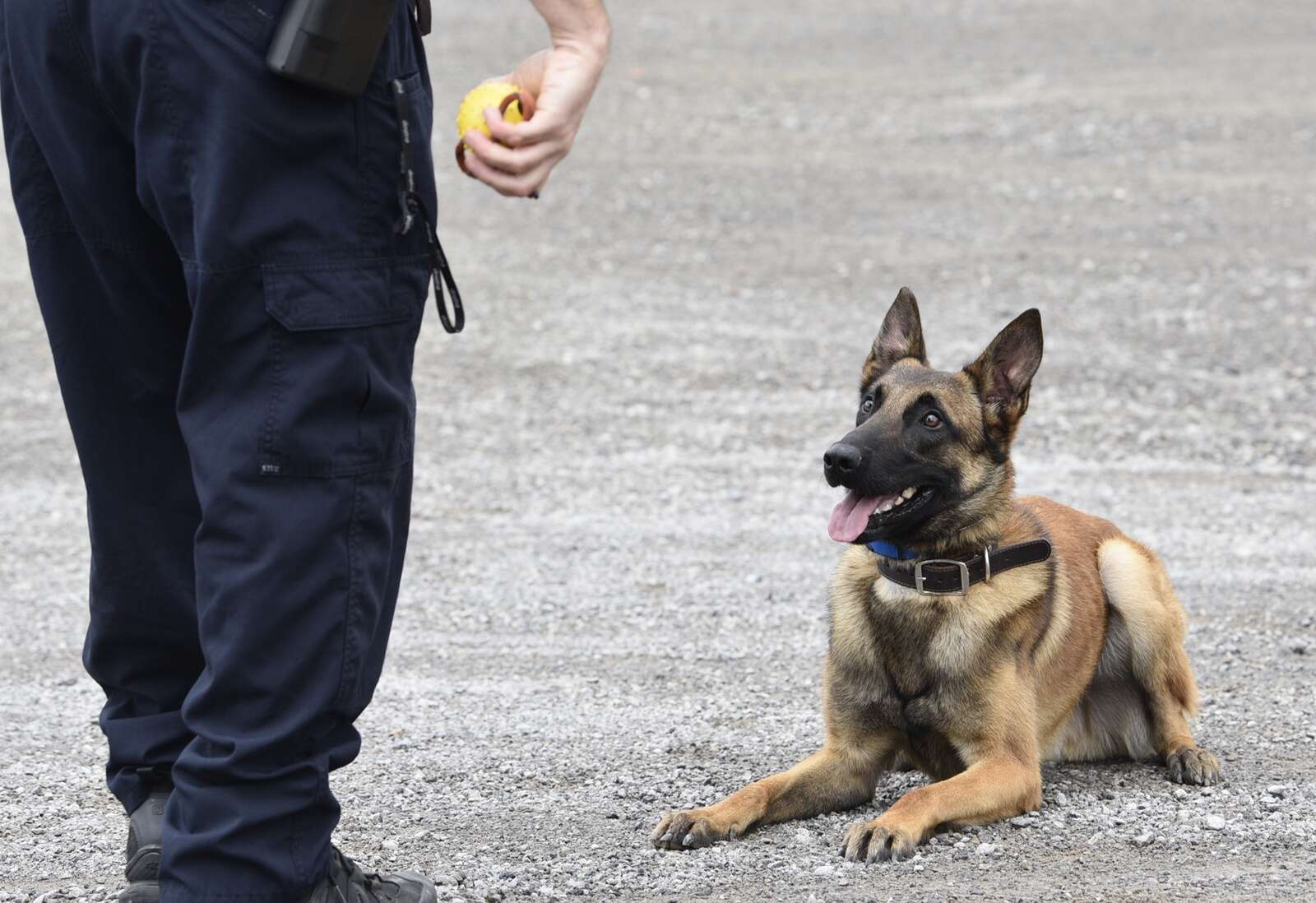 JACKSON TWP — Weighing in at 60 lbs and 14 months old, the township's police department welcomed its newest officer this month: K-9 officer Canyon.
"I think his strong points are that he's very level-headed as far as trainability and as far as intelligence," said officer Vaughn Pulgini, Canyon's handler. "Right now, he picks up on stuff pretty quick, so we're moving along as should be expected."
Diving into training with Pulgini earlier this summer, Canyon was sworn in by District Judge Amy Marcinkiewicz on Sept. 5.
"In the time of just doing a couple reps with him, one or two different things, there were certain exercises that he just really picked up on," Pulgini said. "But that is part of the breed itself — that desire for the trainability and the drive for being quick learners."
Pulgini said Canyon, a Belgian Malinois, is his third K-9 partner with the department.
"I was the first handler when the program started back in 2006," he said. "My first dog, his name was Hutch, and then we had Aron — which we just retired."
At 9 years old, Pulgini said Aron's retirement this summer coincided seamlessly with Canyon's training.
"We were in a fortunate situation where we were able to do things without being crunched for time this go-around," he said. "Everything really worked out as far as him being retired at 9 years old and just kind jumping right in this summer to do the training."
With Hutch and Aron, both German shepherds, being bred abroad, Pulgini said Canyon's local upbringing proved a blessing as he transitioned to a new partner.
"He was born in Greenville, (Mercer County), and then there's a trainer in Beaver County I was able to go through as both the trainer and the vendor," he said. "Which was nice, because whenever we went through training, it was closer to us, and we were also able to integrate a lot of scenario-based training within the township itself."
With the assistance of local businesses, Pulgini said the pair trained in Canyon's primary duties — narcotics detection, tracking and K-9 patrol — throughout Jackson Township.
"We were able to use some of those local resources like towing yards that gave us access to used vehicles, we did a lot of work training in schools and other various buildings within the township," he said.
Passing the torch
While Aron enjoys a well-deserved retirement at Pulgini's home, Canyon has grown leaps and bounds in his five months of training.
"He was a lot younger than the two previous dogs when I started training," Pulgini said. "The first dog I started training, he was 16 months old. The next was 14."
Canyon began his training in Beaver County at just 9 months old, according to Pulgini.
"Then we started training together at 10 months," he said. "So, starting a lot sooner, there was a lot of young, age-related things that we were working on initially."
And with Pulgini's two previous partners being born abroad, the language of Canyon's commands was an important part of his initial training.
"He's actually kind of trilingual," he said with a chuckle.
Pulgini said he regularly spoke Dutch and German with the Dutch-born Aron and German-born Hutch. Canyon, however, now responds to a blend of Dutch, German and English.
"Because we started at the ground level with him and he was from the states, it was just, 'Which word do you want to use to sit, which word you want to use to stand, which word you want to use to heel?'" Pulgini said. "And I said, 'well, I like using this word,' so he's actually trilingual."
And as with every dog Pulgini has worked with, adapting to a new partner has been a challenge.
"You become so familiar with a certain thing with your dog, and it's essentially having to start all over," he said. "That was the biggest challenge."
Additionally, now working with a different breed, Pulgini said he has had to make changes to the way he and Canyon operate.
"He's a smaller dog, but he's also faster and more agile," he said. "So certain things — certain search patterns and things like that — we kind of had to change a little bit."
Canyon received his certifications in canine patrol, tracking and narcotics detection on Aug. 31, according to Pulgini, and has participated in routine searches throughout the county.
Having been with the township's K-9 program since its inception, Pulgini said that he's excited to continue his work with the animals.
"I just have a fascination with how the dogs work," he said. "They're really impressive, and I'm an animal lover."
And the work remains — as it ever was — rewarding, according to Pulgini, both on and off the case.
"We do a lot of school searches, a lot of public demonstrations, and that's essentially one of the best places to showcase a dog's ability," he said. "I think when the public gets to see that, that's pretty rewarding — to see the smiles on people's faces."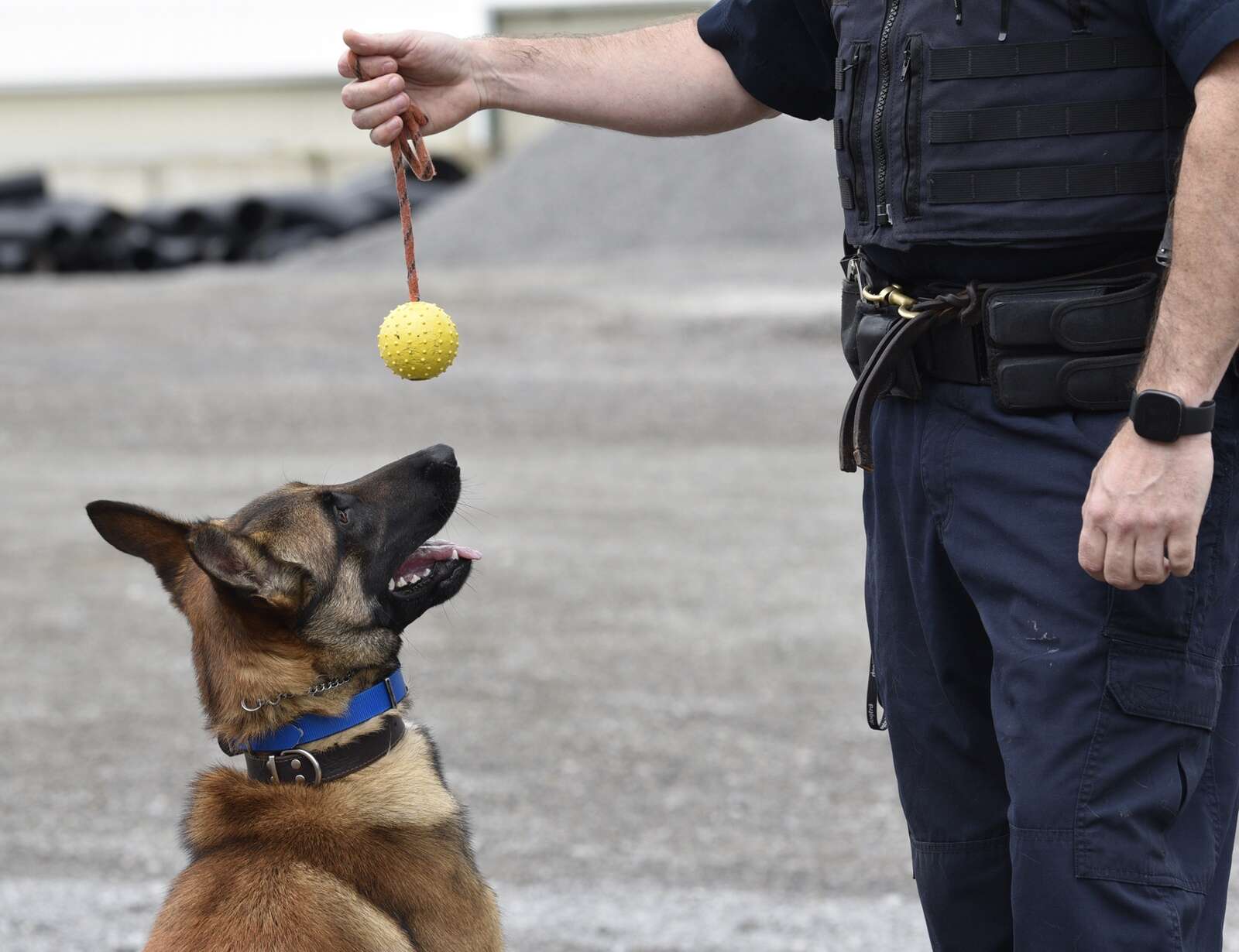 More in Local News