Jobless rate for Pennsylvania, Pittsburgh region at record low for 3rd consecutive month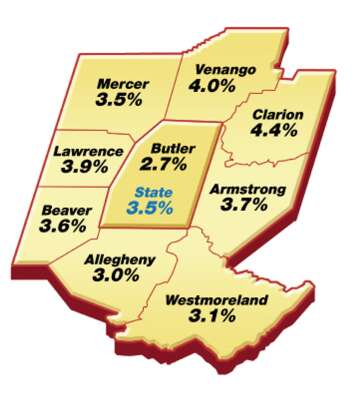 The Pittsburgh region's seasonally adjusted jobless rate for July decreased two-tenths of a percentage point to a record low of 3.7% dating to January 1976, when the rate started being tracked, according to the Pennsylvania Department of Labor & Industry.
This was the third consecutive new monthly record low for the region.
Butler County's seasonally adjusted jobless rate decreased a half-percentage point to 2.7% during that time — the lowest rate of the seven-county Pittsburgh Metropolitan Statistical Area.
Pennsylvania's seasonally adjusted rate fell to a record low of 3.5% from 3.8%, while the nation's rate decreased slightly to 3.5% from 3.6%.
Butler County's seasonally adjusted labor force did decrease by 300 workers from June to July, rounding out at 98,100, with 2,600 people unemployed.
Armstrong, Allegheny, Beaver, Fayette, Washington and Westmoreland are the other counties in the Pittsburgh region.
All counties saw a decrease in their jobless rate from June to July, as Allegheny County came in with the second lowest rate in the region at 3%, while Washington and Westmoreland counties boasted a jobless rate of 3.1%.
Fayette County had the highest jobless rate in the region at 4.3%.
Beaver County clocked in with a jobless rate of 3.6%, while Armstrong County's rate was 3.7%
In surrounding counties not classified as part of the Pittsburgh region, Mercer County came in with a jobless rate of 3.5%, Clarion at 4.4%, Lawrence at 3.9% and Venango at 4%.
The Gettysburg Metropolitan Statistical Area boasted the lowest seasonally adjusted rate in the state at 2.7%, with the Lancaster region in second at 2.8% and the State College region at 2.9%
East Stroudsburg had the highest at 4.8%, while Johnstown came in at 4.4% and Scranton-Wilkes-Barre-Hazleton was at 4.3%.
Seasonally adjusted total nonfarm jobs in the Pittsburgh statistical area increased by 4,100 over the past month to 1,176,600 in July.
Statewide, jobs were up by 2.4% since July 2022.
Jobs increased from June to July in seven of the 11 "supersectors" in the Pittsburgh area — the broadest groups of industries.
The largest gain was an increase in education and health services, which was up 2,100 jobs over the past month.
There were seasonal increases in construction, which added 1,400 jobs, and leisure and hospitality, which added 1,200.
The largest decreases were in government, which went down by 5,000 jobs, and trade, transportation and utilities, which decreased by 1,400.
Since July 2022, jobs were up in nine of the 11 supersectors, as education and health services added 8,000 jobs, leisure and hospitality added 7,800, professional and business services increased by 6,100, and manufacturing added 2,900.
More in Business