Zelienople honors Volunteer of the Year award winner
ZELIENOPLE — Borough Council named Neal Jackson its 2022 Volunteer of the Year at its bimonthly meeting Monday night, Aug. 28.
Jackson, vice president and business development officer at WesBanco Bank in Zelienople, spends his off-time involved in numerous volunteer and community organizations in and around the borough -- usually serving as treasurer.
These organizations include the Zelienople Area Business Association and the local Rotary Club, with which he has been involved since 1994, as well as the Explore Zelie borough revitalization group. He has also been a key part in coordinating both the Zelienople Fourth of July Parade and Santa's House in Four Corners Park.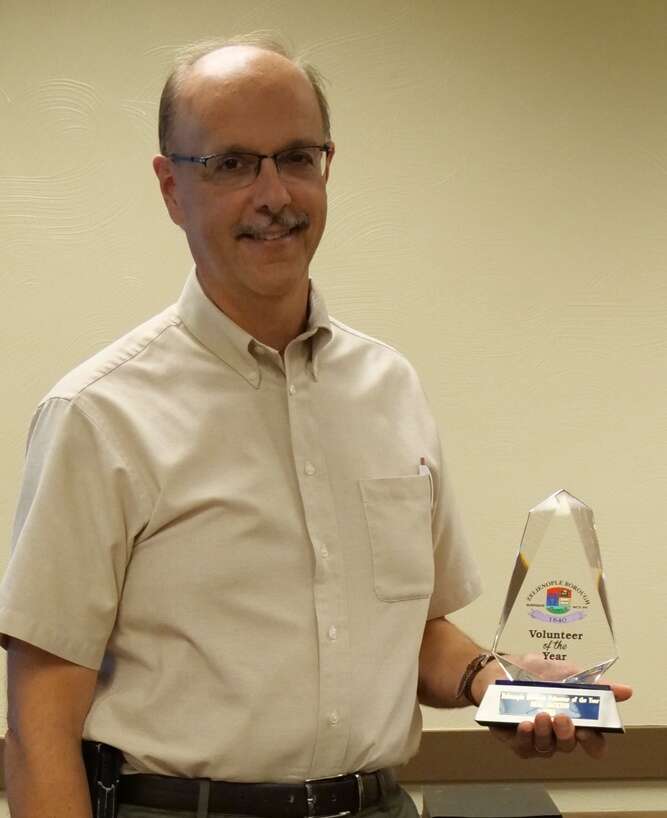 His volunteer efforts have even extended outside Zelienople, as he is involved with the AmSpirit networking group in Cranberry Township, as well as the Seneca Valley Band Foundation.
For his efforts over the years, Jackson received a crystal trophy.
"I just want to thank everybody," said Jackson upon receiving the award. "I didn't do it for any recognition. I just love the community and do it to make things better around here and help people out. So I appreciate the award, and I'm happy to do whatever I do."
"He has been involved in so many service organizations in the community, and he has done a lot of work behind the scenes, so it was a good opportunity to recognize him when he otherwise hasn't been in the forefront," said Kristen Spezialetti, the borough's communications and administrative services coordinator.
The borough introduced the Volunteer of the Year Award in 2014. Each year, candidates for the award are nominated by a member of the community or a community organization. Jackson was nominated by former Zelienople borough manager Don Pepe.
"His love for Zelienople and its people shows through the many hours of service he performs," said Pepe in a statement through the borough's website.
Jackson's award recognizes volunteer achievements over the 2022 calendar year. The nomination process started in February.
More in Community