Adams Township GetGo kicks off grand opening with community events
Convenience store; 'community center'
ADAMS TWP — The township's new GetGo Cafe + Market hosted two private tours this week in preparation for its grand opening Thursday, May 18.
According to public relations manager Brandon Daniels, the festivities really kicked off May 12, though, with a visit from GetGo mascot Lil' Tot at the Mars Area High School prom.
"The school district has been amazing; we have such a good relationship with them," Daniels said. "Tot attended prom; he was there to take pictures with students, and we were giving coupons away — and he had a new costume for that too. It's like, 'Party Tot,' so he's got a bow tie and little party hat."
With the new location nestled between Mars high school and middle school, Tot's prom visit and the tours Tuesday and Wednesday were part of community-focused activities to celebrate the location's partnership with the township.
"One of the features of this store in particular, we really want this to be a community center," Daniels said.
Ronald Shemela, supervisor vice chairman, and township manager Gary Peaco said the company worked closely with the municipality to make that possible.
"When we were working with them initially, the management people here, the planning people, were very accommodating because we had some challenges brought to us at the board, and we sat down with them as adults and worked things out," Shemela said. "They were very willing to help the township wherever they could, and we were very happy with the response from the management here."
Peaco said that in spite of any opposition to the development, the location at 1800 Three Degree Road remains an economic asset in the community.
"It's economic development," he said. "We're on the path of growth, and we try to manage the best we can when somebody brings this to our attention."
Daniels emphasized that the location was more than just another gas station in the community.
"We wanted this to be a place where the community can come; we want to be a pillar of the community — we want to serve this area," he said. "So you'll notice there's more outdoor seating than we typically have in our stores available, and our restrooms, we actually changed the plan to expand those, make those bigger, so that you can get strollers in there."
As a market and cafe location, Daniels said the new GetGo offers a full restaurant-style kitchen, grocery items and brewed coffees.
"We really leverage the experience we have from our supermarket-mother — you know, we came out of Giant Eagle — so you'll see a lot more of a focus on fresh food, prepared food, groceries," Daniels said. "We can exist as a market just as well as we can exist as a convenience store."
For many of their products, he said, they also partner with local vendors.
"Last night, we invited our vendor Soldier Boy Beef Jerky," Daniels said. "They're new in the area, and so we've partnered with them to help them grow, and they're a big supporter of veteran services."
As part of that support, Daniels said the vendor invited Canines for Warriors, an organization which pairs veterans with rescued service dogs.
And while this week's tours were primarily "friends and family events," Thursday will officially kick off the public grand opening. Doors open at 9 a.m., with a ribbon-cutting event at 3 p.m.
"We'll be having a prize-wheel, giveaways, a live DJ is going to be on-site tomorrow," Daniels said, "and we're going to have a tent outside where we're going to do our 'ribbon-cutting.'"
The ribbon-cutting, he said, will be the ceremonial slicing of giant, fabricated GetGo sub.
Additionally, the ribbon-cutting will unveil a new costume for Lil' Tot in honor of the Mars Area High School and offer photo opportunities with Mars Area alum and Pittsburgh Pirates pitcher David Bednar, former Pirates second baseman Neil Walker, and the Pirate Parrot.
"We're really proud of this community; we're proud to be here," Daniels said. "I mean, our people who are working here live in this community, so we really are a community space."
Shemela reiterated the company's dedication to the township.
"They really want to do what's best for the community, not just themselves," Shemela said.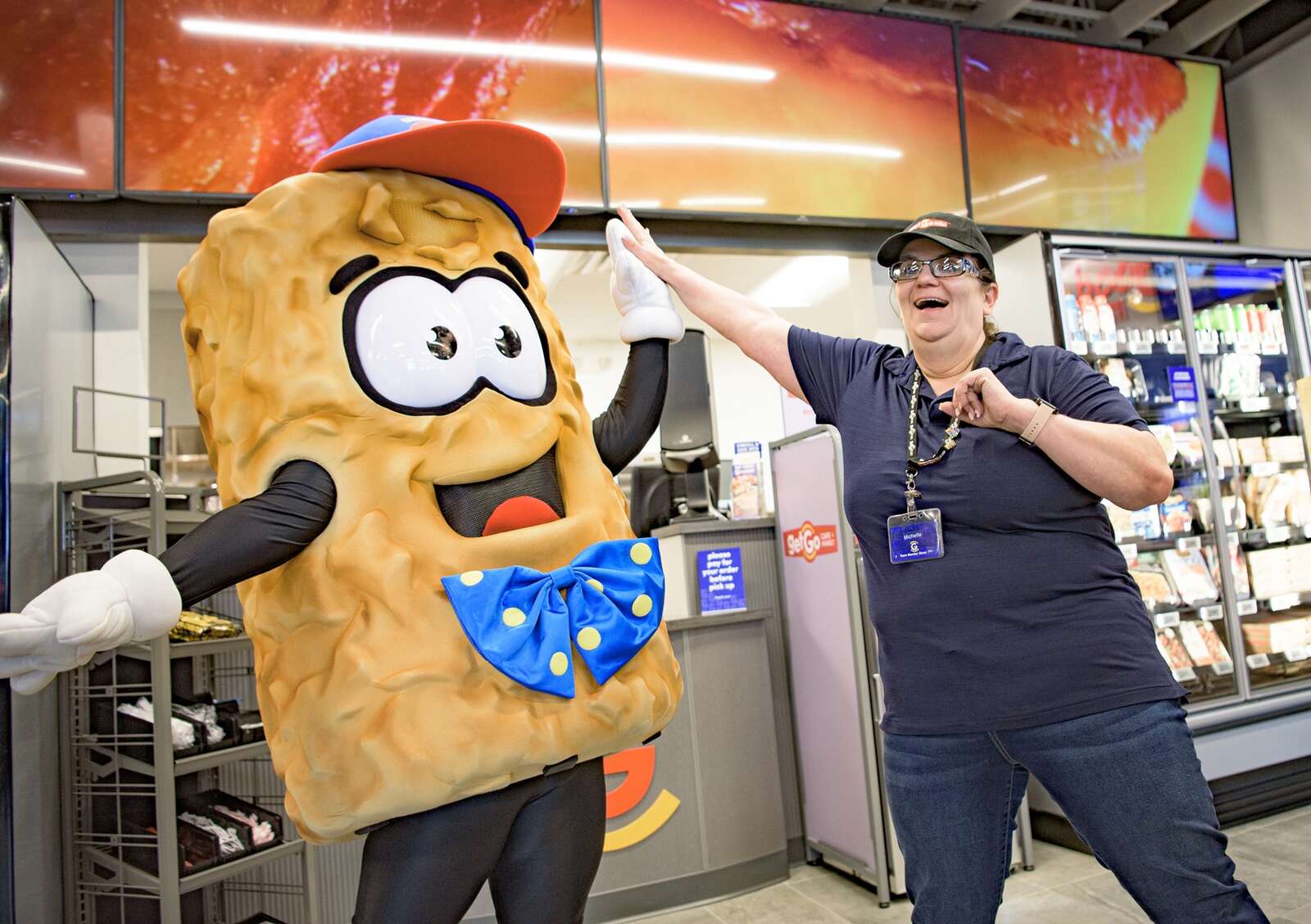 More in Business