SV adjusts, dispatches Hempfield in lax playoff, 15-9
In the Zone
JACKSON TWP — Colton Garner made quite an impression with Hempfield's boys lacrosse team.
When the Spartans met Seneca Valley for a regular season game last week, the Raiders' sophomore attack scored 12 goals in an 18-10 win.
"We realized we couldn't keep up with them man-to-man," said Hempfield coach Michael DeMatt.
The Spartans decided to play zone on defense in the rematch, a WPIAL Class 3A first-round playoff Tuesday at NexTier Stadium. The Raiders needed a few possessions to adjust, trailing the Spartans 3-1 eight minutes into the contest.
But when Brady Skinner found the net with 3:39 left in the opening quarter, it was the start of a 9-0 run that paved the way to a 15-9 victory.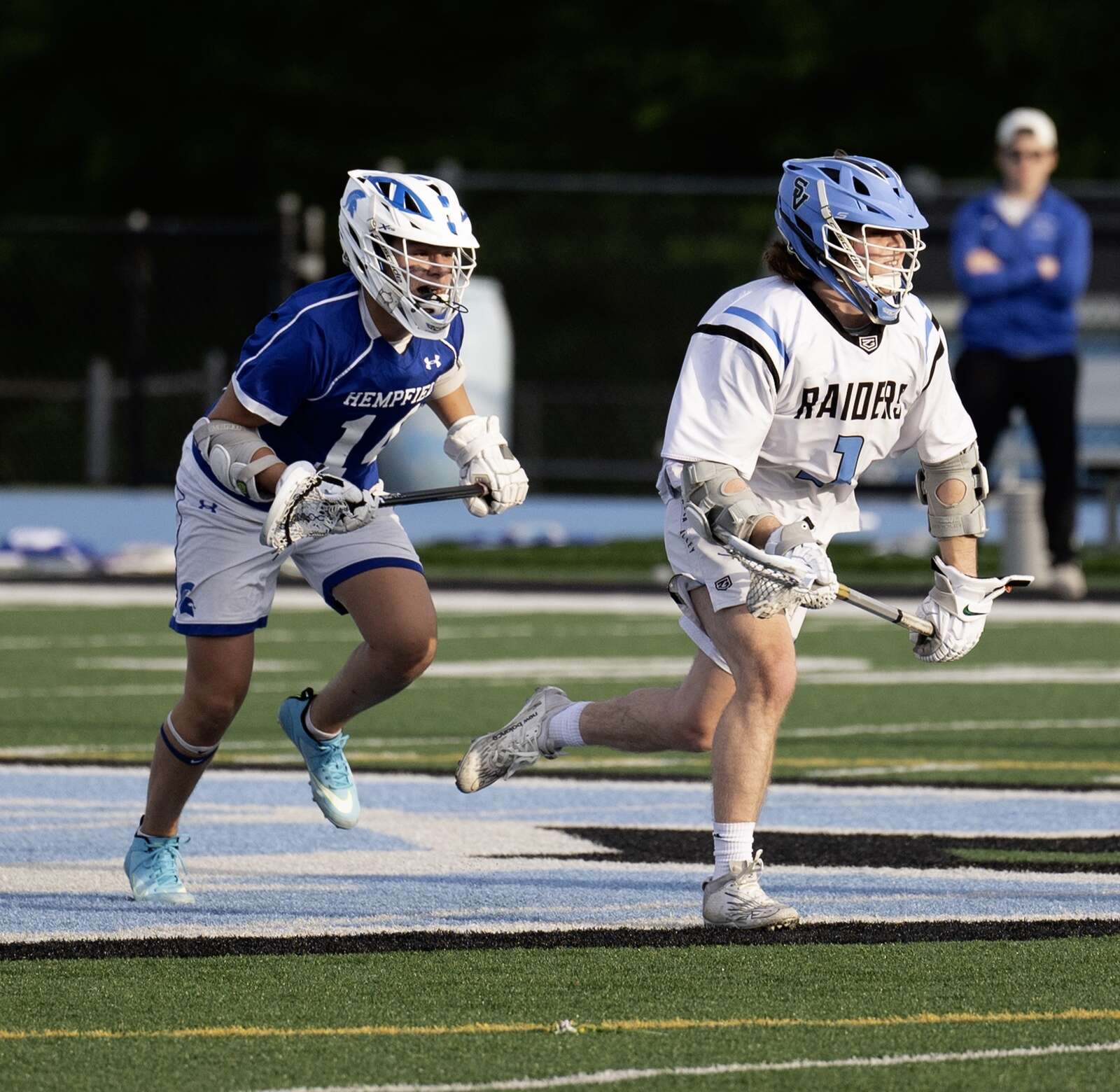 Grant Adams, another sophomore on SV's attack, led the way with five goals to go with a pair of assists.
The effort came against a Hempfield defense that includes a pair of 6-foot-4 seniors in Anthony Vallano and Ethan Shaw.
"Hempfield has some strong players and they're good on defense," Adams said, "but once we got going, we were unstoppable."
Adams scored three goals during the onslaught, Garner had two, and teammates Ian Wheland, Evan Vetter and Braden Ketler each added a goal to hand the Raiders a 10-3 lead with 3:36 remaining in the third quarter.
"With teams looking to shut Colton down, that opens up opportunities for other guys," said SV coach David Hall. "Grant stepped up for us."
The Raiders also excelled in putting the clamps on Hempfield's attack. During a 22 minute span from midway through the first quarter until Jake Phillips' goal with just over three minutes left in the third, the Spartans were limited to just five shots.
"During that run, we probably won 90 percent of the faceoffs," Hall said. "And our defense pressed their shooters, limited the guys we knew could hurt us."
Vetter and Garner both scored three times in the victory.
For DeMatt, his team simply did not control the ball enough to defeat the Raiders (11-5)..
"When you're winning faceoffs like they were, that's just more possessions for them," he said. "If we were able to go 50/50 with them on faceoffs, it could have been a different game."
The Raiders led 15-6 prior to Hempfield's run late in the fourth that produced three goals. Phillips scored four times to pace the Spartans and Caden Horton had three goals.
SV goalie Dylan Kunkelmann stopped four shots. His counterpart, Jackson Martin had six saves before Alex Parfitt finished the game in net for the Spartans (7-8).
Seneca Valley will travel to second-seeded Mt. Lebanon for a quarterfinal on Thursday at a time to be determined.
More in Sports