Mars Area Primary Center gets 'silly' for heart health
Students raises over $20,000 for American Heart Association
ADAMS TWP — Armed with cans of Silly String, two classes at the Mars Area Primary Center gathered around their defenseless principal Thursday, May 11, to celebrate helping raise over $20,000 for the American Heart Association.
Principal Jessica Semler told the little crowd that their classes won the opportunity to "Silly String" her for completing the "Principal's Challenge" as part of the association's Kids Heart Challenge fundraiser.
"Our goal was to raise funds, and, you know, our school broke a record this year — over $20,000 was raised," Semler told the children. "And then we had our 'Principal's Challenge' to see how many people could register to do Finn's Mission and complete all of his little activities there."
Kiley Shine's first-grade class was top in its grade level with 25 students registered to complete the online fundraising and educational activities. Kim Schuelke's morning kindergarten class was top of its level with 21 registered students.
"Give yourself a pat on the back, right now, because that was awesome," Semler said.
While the students shook up their Silly String cans, Semler asked them to show a little mercy.
"Let's say, to make it safe, too, for everybody, (aim) from Mrs. Semler's shoulders down, all right?" Semler pleaded. "That way it will really show up on my black T-shirt when we get all the Silly String going."
After a short countdown, Semler was covered head to toe in a rainbow of slimy string.
"I feel like I'm going to be finding Silly String for weeks," Semler said, laughing.
Silly-stringing the principal
After cleaning herself up, mostly, Semler reiterated that this year's fundraising effort was a record-breaking success and that the Silly String reward was a great way to celebrate the students' work to achieve it.
"We're willing to do anything for the kids, and kids here come first, and that's what it's all about," she said. "Just seeing their excitement today, knowing that they helped another organization with raising money for the American Heart Association, but also being able to have some fun doing it too with Silly String, was what it was all about."
The school's fundraiser ran all through the month of February, Semler said, and its success was owed not just to the students but to families and staff that support the primary center.
"This year we have a wonderful group of parents and students here at the primary center, with great support from all of our teachers just to get that word out," Semler said. "And I think just having that little bit of an incentive, that there'd be a reward at the end, helped."
Harper Vaytko, 7, and Peter Meriwether, 8, of Shine's first-grade class, said the day made them happy.
Peter said his favorite part was "'Silly-Stringing' Mrs. Semler — because we got to 'Silly String' Mrs. Semler."
You only get 1 heart
Chief organizer for the fundraiser was health and physical education teacher Sara Coon, who said the effort was not just about raising money.
"The primary goal here is to raise awareness for heart health," Coon said. "Heart health is so important, as this is the leading cause of death when you get a little bit older, so if you can get them younger and they know how to take good care of their hearts, this is why I do it.
"I have lost a good friend to heart disease, so, to me, it is even more important to raise awareness of heart health."
In addition to organizing community activities for heart health, Coon said she's careful to highlight that importance in all of her classes.
"I teach them about heart health in class, and they earn little tokens and each token stands for something like 'get more sleep,' 'exercise more,' 'drink more water,' 'breathe clean air,'" Coon said. "So that's the message the kids take home, and each time they raise to a different level, they earn a token and they get really excited about it."
Emma Eisert-Wlodarczyk, youth education coordinator for the American Heart Association, said that this year's tokens featured little dragons.
"Every year there's a theme, so this year is our dragon theme," Eisert-Wlodarczyk said. "So there's six different dragons that represent the things that Sara was speaking of."
In addition to the tokens Coon listed, Eisert-Wlodarczyk said there were tokens warning against smoking and emphasizing the importance of kindness and leadership.
"So, it kind of encompasses not just the physical education component, but also does social and emotional," she said.
And of course, Coon helps facilitate the fundraising, which she said is mainly done online by parents.
"They are the ones that can send it through social media, they can get neighbors involved," Coon said. "So most of the fundraising is done online."
Eisert-Wlodarczyk said that the association and the school's emphasis on heart health is not just limited to the monthlong fundraiser though.
"This is yearlong — we want these kids to be thinking about being heart-healthy throughout their years into adulthood," she said. "Because that is the American Heart Association's mission — to create a world of longer, healthier lives — so the younger we can start that the better success we will have in the future."
Coon agreed, hoping that students take the lessons they learn and spread them to friends, family and community.
"You get one heart, and you have to take good care of it from when we're little through teens through adulthood," Coon said. "This is forever."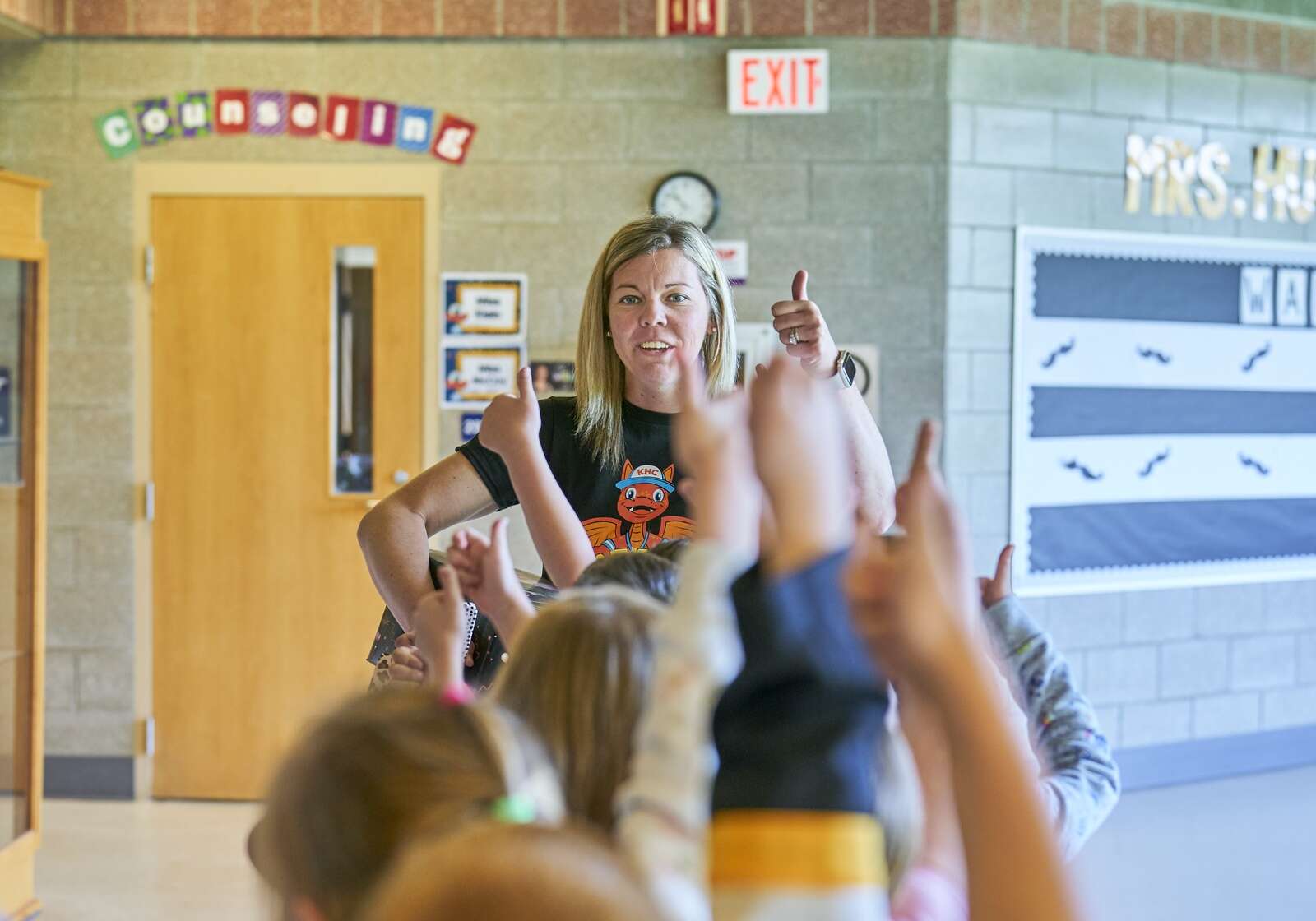 More in Education