Manufacturing Day well-attended at Butler Intermediate High School
BUTLER TWP — The Manufacturer & Business Association, along with partners the Butler County Chamber of Commerce and the Butler Manufacturing Consortium, hosted the first Butler Manufacturing Day on Tuesday at Butler Intermediate High School.
Young minds and manufacturing businesses had all hands on deck to share their experiences and ideas regarding everything manufacturing.
"There are two parts to the day," said Jezree Friend, MBA assistant vice president. "The Butler Manufacturing Consortium is one of our partners in this. They took a couple students from different schools from around the area. They have been visiting different manufacturers as a group. They are going to present what we discovered, what we learned."
The morning began with a panel discussion with what Paul Weifenbaugh, assistant director/EO officer at Tri-County Workforce Investment Board, called the "student advisory board," which visited four manufacturers during the past school year.
"I really like hands-on stuff," said Jake Szul, a seventh-grade student at Butler and member of the advisory board. "Maybe not stuff with machines. I'm a really hands-on person. I like making things, mechanical stuff probably."
The four manufacturers that students visited were Coherent in Saxonburg, CID in Sarver, Butler Technologies in Butler and IDL in East Butler.
Topics of discussion included what the students learned at these manufacturers, what they feel they should be paid out of school, as well as education routes after high school.
"It all depends on what you are looking to do," Weifenbaugh said. "You could be looking at apprenticeships, regular on-the-job training or college."
Rylan Wagner, a Seneca Valley High School senior, said he has been taking part in the Butler County Area Vocational-Technical School's HVAC program, a subject he plans to pursue at Rosedale Technical College.
Rylan became interested in manufacturing because of his dad's work experience, and he picked HVAC because it covers many areas of manufacturing.
"I'm in HVAC, and you're always looking at heating and cooling," Rylan said. "But we also learn electrical and plumbing in that as well as sheet metal. We get a variety of every trade."
The second part of the day was hosted by the MBA and involved 20 interactive exhibits and displays from local manufacturers to engage more than 800 students from the region.
Manufacturers who were present included Penn United in Cabot, Oberg Industries in Sarver, MSA The Safety Company in Cranberry Township, Cleveland-Cliffs in Butler Township and Butler Technologies.
"It's the backbone of our economy, especially in the greater Butler area," Friend said of manufacturing. "In Western Pennsylvania, we are a manufacturing powerhouse. When you look at other parts of the country, you just might not see it."
Meghan McClimans, human resources business partner of Cranberry Township MSA, and her colleagues showcased some of MSA's technology, such as thermal imaging cameras and other firefighting equipment.
"What we are showing them is what some firefighters would be doing in an emergency situation, and I feel that resonates with anyone no matter what age," McClimans said. "Anytime something is hands-on, it really goes a long way."
Friend and Weifenbaugh called the event a success and hope to make next year's event even bigger with more ways to showcase what manufacturers are looking for and what they are all about.
"For year two, my plan is to have a bigger location and to have more speakers," Friend said. "This would include breakout sessions that are more specific, such as robotics or what employers are looking for on resumes."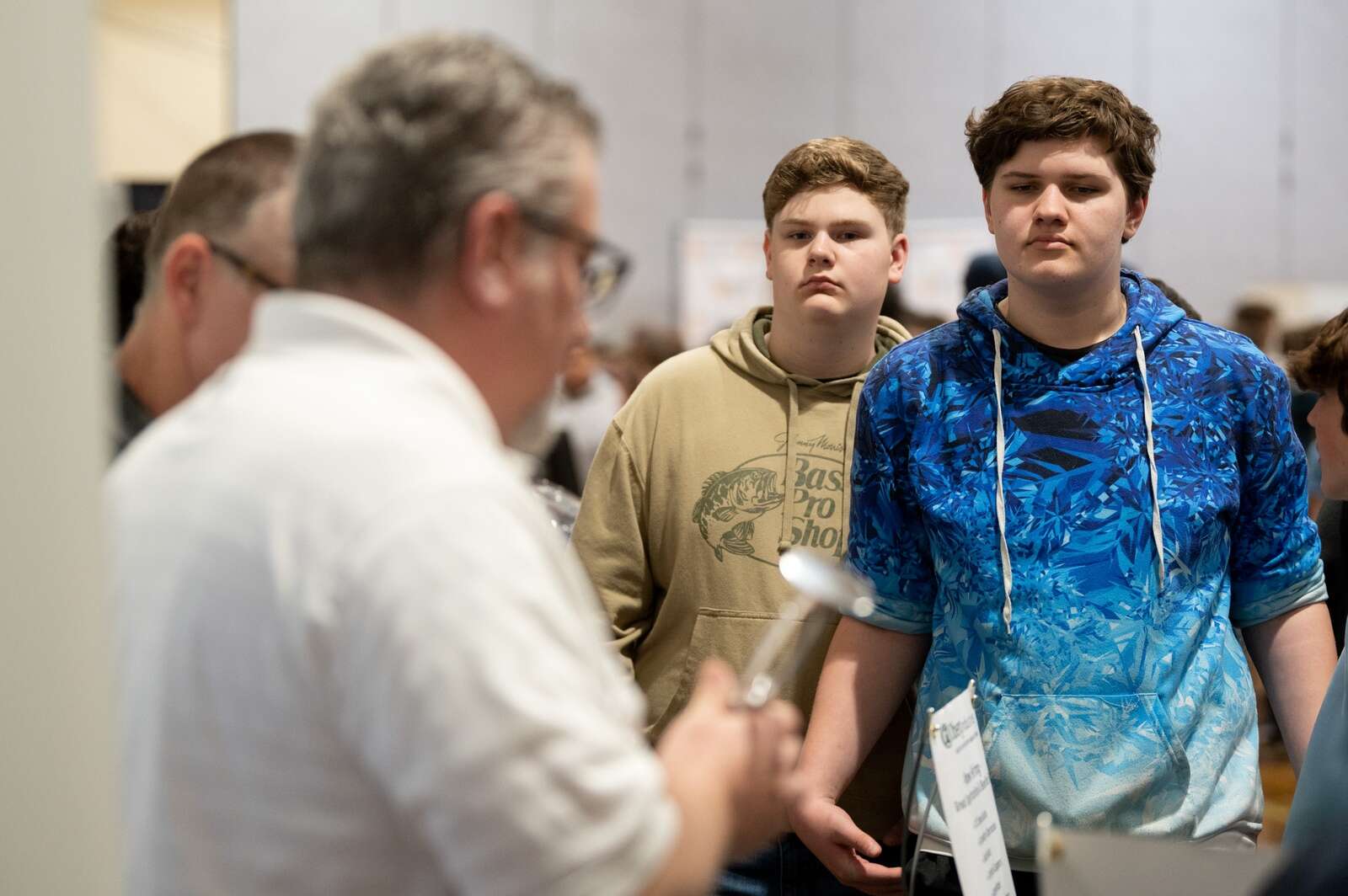 More in Business