Make it a beautiful day in your neighborhood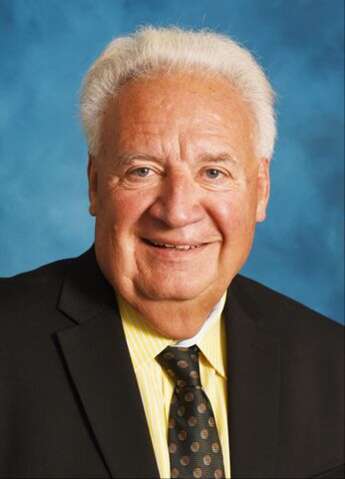 Super spread kindness
The opinion piece below was included in a publication about the retirement of Butler Eagle publisher Ron Vodenichar. This column was originally published on Nov. 13, 2020 in the Butler Eagle.
Today is a triple crown day for those who pay attention to "national day" recognitions.
Today, of course, is Friday the 13th, but that in itself doesn't get recognized unless you are superstitious. But it is also the birthday of King Friday (of Mister Rogers' Neighborhood fame), WQED Cardigan Day (again related to Mister Rogers), and it is also World Kindness Day.
We didn't find any exceptions listed for participating, so we think both Democrats and Republicans are eligible if by some miracle they could put politics aside for the day of celebration.
King Friday was the king who reigned with his wife, Queen Sara, over Mister Rogers' Neighborhood of Make-Believe.
King Friday is best described as a caring ruler who understands that everyone needs limits and rules, especially rules that keep us safe. We could certainly use more leaders like him in the world today. His birthday was celebrated every time the 13th fell on a Friday, so he had multiple birthdays every year.
Cardigan Day is marking only its third anniversary. It does coincide with the larger World Kindness Day and is primarily a Pittsburgh holiday celebrated by public television station WQED.
Fred Rogers, more famously known as Mister Rogers, always put on his cardigan sweater for each episode of his show, and it came to be recognized as a sign of his getting comfortable with his fans, especially the children. No one was kinder than Mister Rogers.
World Kindness Day was started in 1998. The intent is to use that day to highlight good deeds in the community, focusing on the positive power of kindness. Kindness bridges the divide of race, religion, politics, gender and postal codes.
Some of the activities suggested for World kindness Day include:
Smile.
Hold the door open.
Give an honest compliment.
Thank someone you appreciate.
Be a good listener.
Offer to help someone.
Ask the person serving you how their day is going.
Superspread kindness Make it a beautiful day in your neighborhood:
Treat someone to coffee or tea.
Let someone go in front of you in a line.
Send someone candy or flowers for no reason.
That is an impressive list with very little cost involved if any.
Kindness doesn't have to come at a price. Kindness doesn't have to be requested or be expected. Maybe the greatest kindness would be shown to a stranger.
So let's not let this opportunity to be a superspreader pass us by.
Get out there and see how many random acts of kindness you and your family can perform Friday the 13th.
It will make you smile as much as the person to whom you are kind.
Make today a beautiful day in your neighborhood.
Ron Vodenichar is president and publisher of the Butler Eagle.
More in Special Sections