County remembers 'Storm of the Century'
Butler's Blizzard of '93
Monday, March 13, marked the 30th anniversary of the Blizzard of '93 and, according to meteorologist Jared Rackley, it really was the storm of the century in the region.
At 23.6 inches, March 13, 1993 is the highest recorded snowfall in a single day for the region, said Rackley, of the National Weather Service in Pittsburgh, and brought snowdrifts as high as 10 feet in some areas.
"The only one that even comes close to it is 22 inches back in 1890," Rackley said.
"I know that it really crippled transportation, because it took them several days to really plow the roads," Rackley said. "That's a lot of snow."
For resident Michele Taylor, whose son came six weeks early on March 15, two feet of snow was the least of her worries as her husband raced her to the hospital.
"I told my husband, I said, 'Do not stop for anything — we have to get there,'" Taylor said. "We went through red lights, we went through stop signs, just because there was nobody on the road."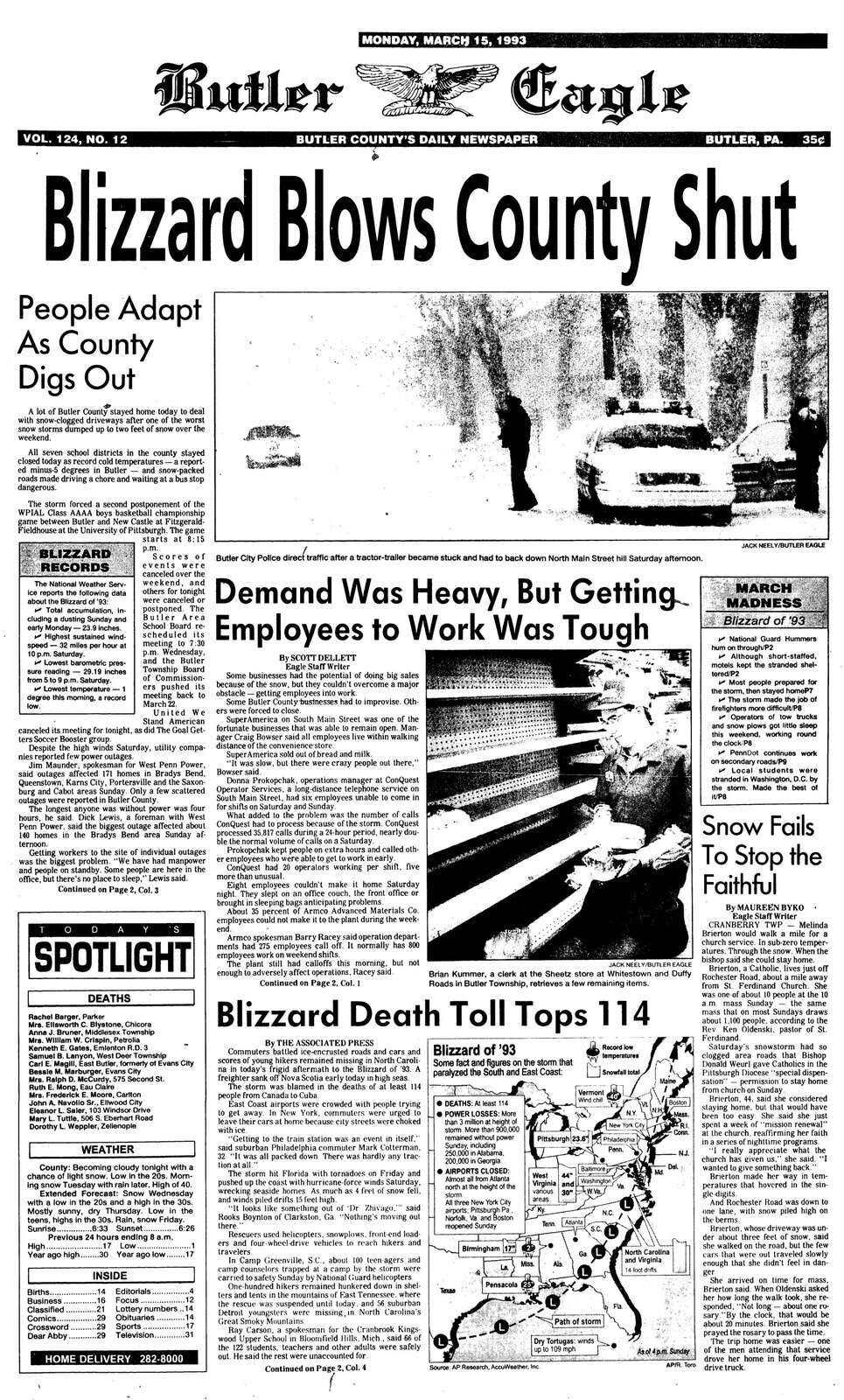 The 'blizzard baby'
As the couple braved the storm from Old Plank Road to Butler Memorial Hospital, Taylor said her biggest fear was the car getting stuck.
"We had a Chevy Chevette," Taylor explained, "which is a pretty small car, low to the ground."
With the roads shut down, Taylor said the only car they passed as they sped through the drifts at 2 a.m. was an idle police car, but they made it to the hospital without any trouble.
It was once they were at the hospital that the real trouble began.
"The doctor wasn't coming, he wasn't coming because of the road," Taylor said.
The doctor on call had, himself, gotten stuck in the storm.
"They kept telling me, 'Don't push,' and I'm like, 'I literally have to push,'" Taylor said.
But, amid a night of many miracles, Taylor said the doctor arrived in the nick of time.
"He walked in, got his gown and stuff on and literally turned to catch my son as he was coming out," Taylor said.
At 4:06 a.m. on March 15, she said, Dakota Taylor was born.
"We call my son our 'blizzard baby,'" Taylor said, laughing. "He's not a baby anymore — he's going to be 30 on Wednesday."
A storm of inspiration
Daniel Cox, director and emergency management director at Connoquenessing Valley Regional EMA, said the blizzard helped kick-start his career.
"I was a young man then, attending school in Ohio, and had decided to make the trip home for a few days that weekend," Cox said. "I managed to make it as far as my girlfriend's parent's home in Cranberry Township when the storm hit, where I ended up remaining for many hours."
The next morning, he said, they were greeted by an amateur radio operator who had volunteered with the local Amateur Radio Emergency Service group.
"He was traveling through neighborhoods of the township checking on residents and offering support," Cox said. "We were doing fine at the time, though it was this kind man's gesture of taking time away from his family to serve others in part that helped lead me to my volunteer work in public safety."
Cox earned his amateur radio license that summer. A few years later, after returning from school he joined his local volunteer Emergency Management Agency and his local fire company.
"I never got the name of that man during the Blizzard of '93, though his dedication to the community and kind way impacted me in a way that I will always remember," Cox said.
He emphasized the importance of people such as the amateur radio operator in a community and challenged others to follow that example.
"Contact your local municipality for more information, and help your community be better prepared for the next blizzard, flood or other disaster," Cox said.
Working the blizzard shift
Edward Merkner, a former Butler resident, found himself stranded at work during the blizzard.
"I was working the afternoon shift at Armco and got the word that my relief buddy couldn't get out of his driveway due to the snow," Merkner said. "Therefore, I was required to stay overnight for the 11 to 7 shift — needless to say, I couldn't get my pickup truck out of Armco's parking lot at the end of the shift."
Stuck out in the cold, Merkner said he phoned his ex-wife and asked if he could stay at her mother's house nearly a mile from the steel mill.
"I trudged through all that snow to get to Ann's house, who graciously allowed me to rest for a few hours in a spare bedroom," Merkner said.
After that, he began the long journey back to work.
"Walking back to work that afternoon along Hansen Avenue, two young men in a car stopped to ask if I needed a ride or any other help," Merkner said. "I declined, but was touched by the offer."
After another day of work, Merkner said his son finally was able to help him free his pickup.
"I well remember that monster storm," Merkner said.
Mild winter of '23
After last month set a regional record for the lowest snowfall in 150 years, its hard to imagine the scale of that "monster storm."
"The only thing that would be close, I believe, was February 2010," Rackley said. "We had 21.1 inches, but it was spread across two days, which makes it much more manageable."
While March is shaping up to be a little more snowy than February, Rackley said Tuesday morning likely would bring less than an inch to the region.
"It's the exact opposite, for March at least, of '93," Rackley said with a laugh.
The rest of month, he said, may only see up to 3 inches in some areas.
"Which, I mean, that's more than we've seen in January and February, but it's not a whole lot in the grand scheme of things," Rackley said.
The season itself, Rackley said, makes it hard for snow to stick around for very long.
"I'm not saying we couldn't see another '93, but the likelihood of that is pretty low," he said.
STORIES YOU MAY ALSO LIKE