71st GFWC Antiques Show & Sale returns
The GFWC Intermediate League of Butler's Annual Antiques Show & Sale will return this weekend for its 71st year of offering unique items to its attendees and financial aid to local nonprofits.
The show begins with an opening night from 6:30 to 9:30 p.m. March 17 at the Tanglewood Center, 10 Austin Ave., Lyndora. The sale will continue from 10 a.m. to 5 p.m. March 18 and from 11 a.m. to 4 p.m. March 19.
Proceeds will go to fund local nonprofit organizations, said Yolanda Cypher, publicity chairman for the show.
Last year the GFWC donated $12,680 to 14 groups. Those groups were the Children's Advocacy Center of Butler County, Butler Art Center, Butler County Symphony, Butler Area Public Library, Jean B. Purvis Community Health Center, Fishbone Ministries, Grapevine Center, Kids Weekend Backpack Program, Maridon Museum, Meals on Wheels, Tanglewood Center, Musical Theatre Guild, Friends of Preston Park Foundation and the YMCA.
Cypher said this year's show is the second after a two-year hiatus because of the COVID-19 pandemic.
The stoppage didn't seem to affect last year's attendance. Cypher said, "We had even more attend than in previous years. I think it was people just wanting to get out."
Although, Cypher added, the pandemic did change some of the show's features. Opening night will no longer feature hors d'oeuvres, but instead a dessert selection.
"It's partly because of the cost," she said. "But we are very aware of the concerns about food being displayed. All of the desserts will be packaged.
Cypher said the 65 members of the GFWC Intermediate League are eager for this year's show to be a success because it is the Intermediate League's only fundraiser.
This year's event will feature 40 dealers, including Susan and Richard Webb, co-owners of the Linden Tree, 233 Mercer St., Harmony, who will be bringing 18th and 19th century furniture, paintings and prints, a variety of small inlaid boxes, Staffordshire animal figures and art deco pieces.
Susan Webb said they have operated an antique shop for more than 50 years, the last six of which have been in Harmony since their retirements.
Susan Webb was a French teacher and Richard Webb was a biology lecturer at Thiel College before they decided to move to Harmony to be closer to their son, who lives in the Old Allegheny section of Pittsburgh.
Their old antique shop was called the Ash Tree. The Webbs named their Harmony business for the large liden tree that overshadowed their courtyard. When the Webbs bought the building and property behind their house that contained the tree, they had the tree removed at the request of a neighbor who questioned the linden's safety.
The Linden Tree shop is open from 11 a.m. to 4 p.m. every Friday and Saturday and by appointment the rest of time by calling 724-473-4675.
Susan Webb said, "We had an antiques store for more than 44 years in northeast Ohio. We specialize in late 18th century and 19th century furniture, but we have artwork that goes through the 20th century."
She said she and her husband both have degrees in art history. "I'm certified in art history but never taught it," she said, while her husband did the course work for a master's degree in art history but didn't get the degree.
The Webbs said they pick up stock for their shop by making weekly trips to shops throughout northeast Ohio, Pennsylvania and New York.
They look for age, construction and rarity in their furniture purchases.
As for artwork, Richard Webb said, "Does it appeal to us? If we like it, somebody else will too."
Susan Webb said they will also be taking very old books to sell at the GFWC event.
"We have a book from 1774 and one from 1807, early editions. Everything we have is pretty reasonable," she said. "I have an 1808 map of Africa that will go to the show. It was printed in London. We got it at an antique shop near Erie. I love things like that, the earlier the better."
Along with the books, the Linden Tree has quite a collection of bookends, said her husband.
The Webbs say their sales of prints and paintings are consistent.
"They buy practical furniture. They buy the things they need even if it is an antique," Richard Webb said of their furniture sales.
"It doesn't go out of fashion. Pieces tend to be placed and can be worked into modern settings," Susan Webb said.
The Webbs say they are looking forward to the GFWC show.
She said, "We've been very fortunate. We've met people with a broad interest in antiques and just are very serious collectors. They've studied and researched what they collect.
"The group of dealers that are there have always been very welcoming," she said.
"We enjoy the camaraderie of the dealers at the show," said Richard Webb.
The Webbs said the women of the Intermediate League sponsoring the show are very friendly, organized and helpful, and welcoming to all.
Other dealers specialize in primitive, midcentury modern and art deco styles as well as jewelry, glass, china, rugs, coins, sterling silver, paintings, pottery and toys.
The Intermediate League's Cypher said tickets for the 71st Annual Antiques Show & Sale are available from any league member, from Don Paul's Jewelers, 148 N. Main St., Butler, or at the door at the Tanglewood Center.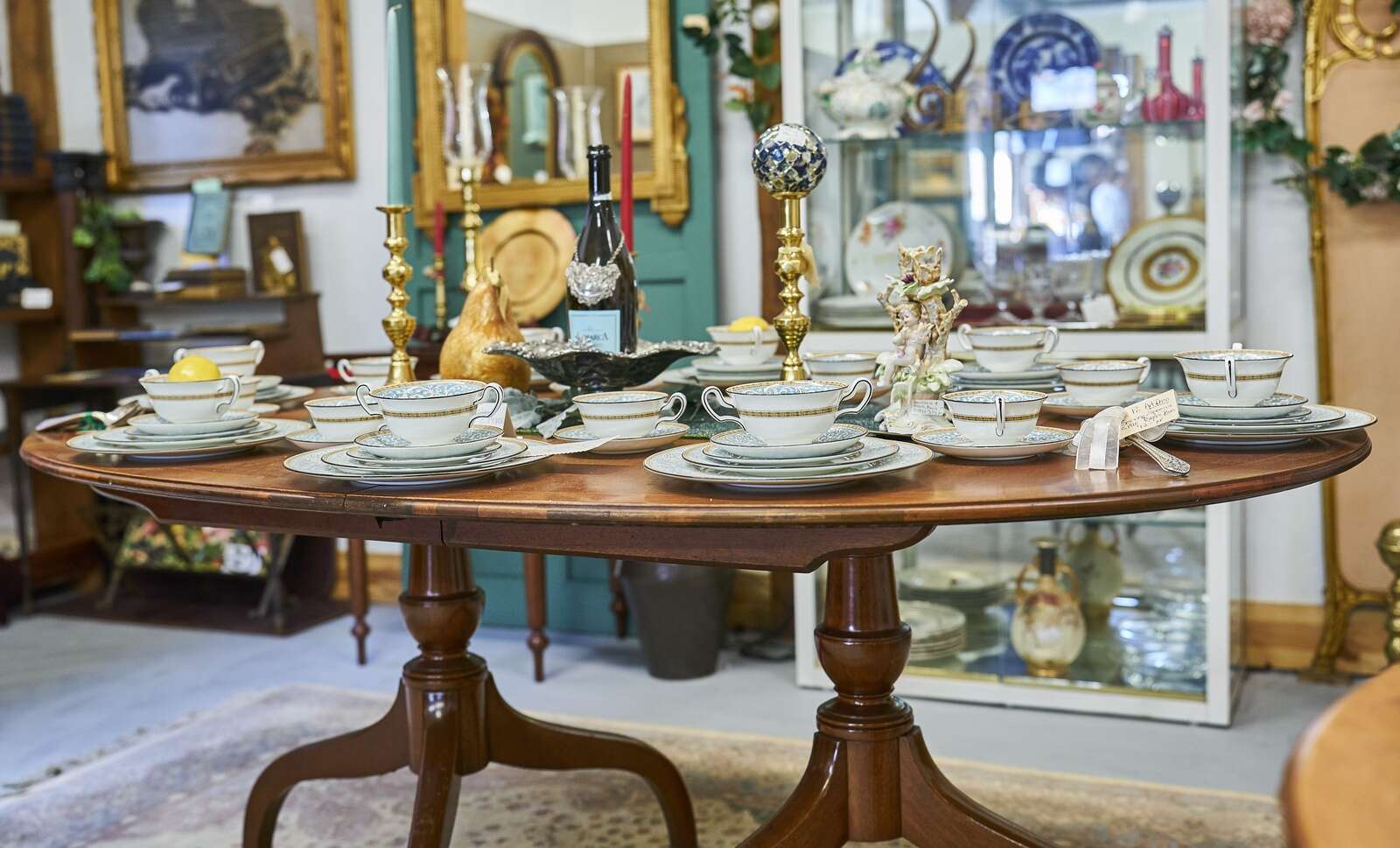 STORIES YOU MAY ALSO LIKE