In aftermath of train derailment, concerns linger, even in Pa.
The train derailment and subsequent burn of toxic chemicals in East Palestine, Ohio, has caused Butler County residents to question the potential health impacts for their area and beyond, even as authorities maintain they are doing their best to protect people.
After portions of Cranberry and Slippery Rock townships, Mars, Prospect and Zelienople were included as areas of concern in multiple class-action lawsuits filed against Norfolk Southern Railway for the controlled burn of toxic chemicals, local emergency services said Thursday they have taken calls about the public's concern.
County officials are seeking answers and clarity as concerns about potential adverse effects come up, and legislators are working to ensure air, soil and water quality remains safe.
On Thursday, Butler County Department of Emergency Services said it has received inquiries about how local air quality will be affected by the Feb. 6 controlled burn of vinyl chloride.
Five of the crashed rail cars contained the chemical, which is used to make hard plastic resin and is associated with an increased risk of liver cancer and other cancers, according to the National Cancer Institute. The train derailed Feb. 3. A controlled release of the flammable chemical was conducted Feb. 6 to prevent a possible explosion. Evacuated residents were told they could return home Feb. 8.
There is no evidence any of the toxic chemicals reached Butler County, and residents here were not told to evacuate.
Steve Bicehouse, director of Butler County Emergency Services, said he has not been informed by officials of Beaver County, Pennsylvania Emergency Management Agency or the state Department of Environmental Protection of any impact from the derailment.
"I'm still not hearing of any impact to residents of Butler County," he said.
As questions remain unanswered and the potential for hazardous conditions is unknown, legislators have continued working to reassure the public.
More on what's known:
Was the controlled burn safe?
Vinyl chloride is associated with increased risk of certain cancers, and officials at the time warned burning it would release two concerning gases — hydrogen chloride and phosgene, the latter of which was used as a weapon in World War I.
Environmental officials say that monitors detected toxins in the air at the site during the controlled burn and that officials kept people away until that dissipated. They say continuing air monitoring by the railroad and government agencies — including testing inside nearly 400 homes — hasn't detected dangerous levels in the area since residents were allowed to return. The U.S. Environmental Protection Agency has shared air monitoring results online.
State Rep. Aaron Bernstine, R-8th, addressed the public's safety concerns Tuesday night on a Facebook livestream, saying he has heard from farmers in Beaver County and other areas about the effects of the chemical release on animals.
"The basic generic information from Norfolk Southern Railway is when they set off chemicals, that was the right thing, to make sure there wasn't a larger explosion," Bernstine said. "The massive cloud affected the air quality and breathing quality."
He commented that the lack of transparency from the railway is "completely absurd."
Gov. Josh Shapiro sent a letter this week to Norfolk Southern Corporation CEO Alan Shaw saying he was concerned as to how the company handled the derailment.
"You can be assured that Pennsylvania will hold Norfolk Southern accountable for any and all impacts to our commonwealth," Shapiro wrote.
What are the continuing concerns?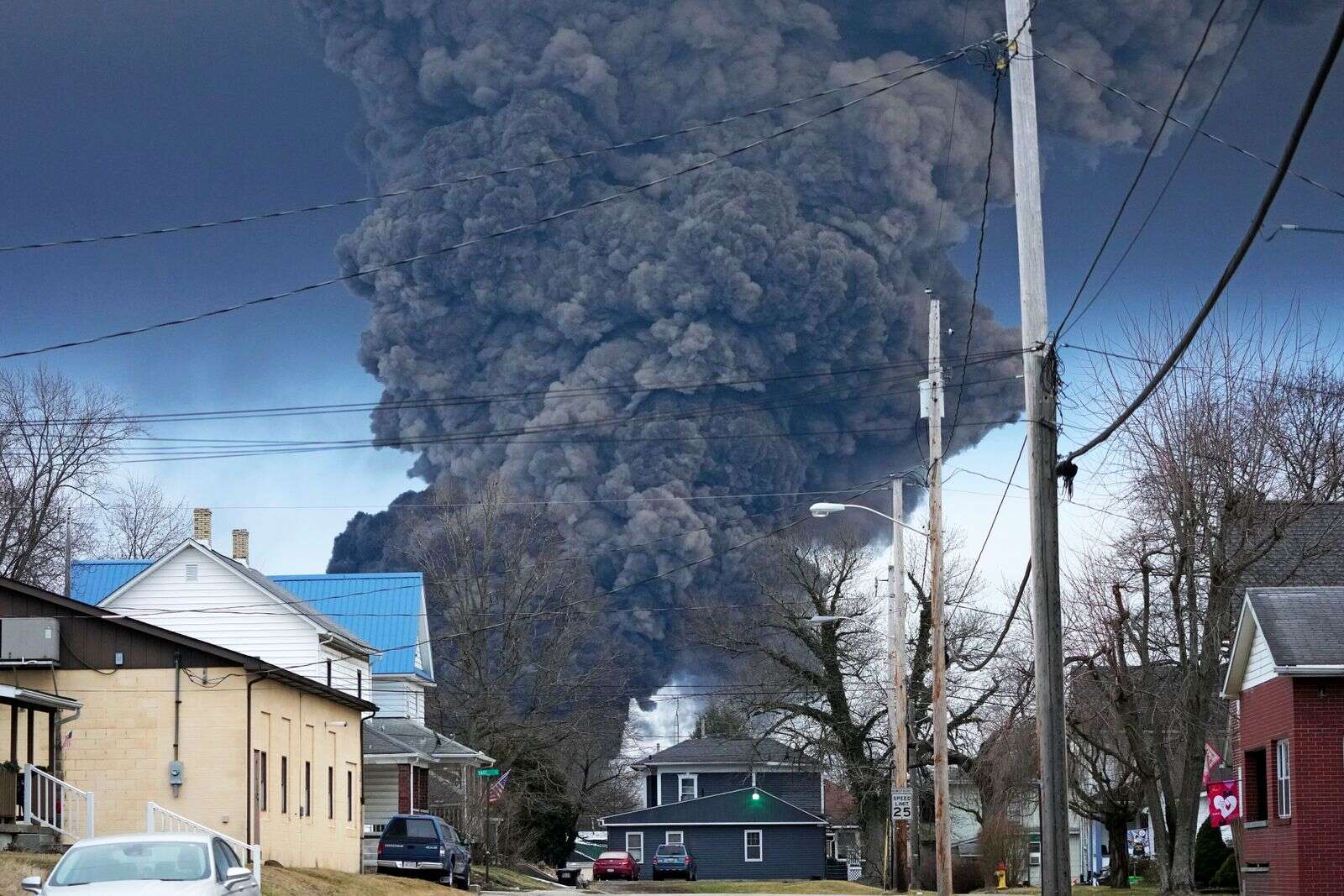 Even in communities beyond East Palestine, some residents say they worry about long-term effects of even low-grade exposure to contaminants from the site. The village held a town hall at the local high school Wednesday evening to hear questions from residents, whose concerns have included lingering smells, how to ensure accountability for the cleanup, and what to make of pets and livestock that have appeared ill or died since the derailment.
The risk to such animals is low, according to the Ohio Department of Agriculture, which recommended that people contact a local veterinarian for any concerns about their livestock or pets' health. The department hasn't received any official reports about livestock or pet illnesses or deaths directly related to the incident, though making such a determination would require a necropsy and lab work, ODA said.
Bernstine said he has been accepting calls from concerned residents in his district, and some of those have been from farmers.
"People are reporting air issues, breathing issues, animals acting strange, in Beaver County," he said. "If (people) are experiencing anything specific they should reach out to me so I can provide info to the appropriate agencies."
David Anderson, of New Galilee, Beaver County, filed one of the lawsuits against Norfolk Southern that included Butler County as an area of concern. He told the Butler Eagle Thursday that he owns a farm four miles from the crash site and has more than 100 animals. He has concerns about the health of his family and livestock.
"Our tongues still feel like you drink something too hot and you burn (yourself)," he said. "A few of my cows have diarrhea, which is weird this time of year. We care about our animals, that's just our lifestyle."
Shapiro's office said the state continues to see no concerning air or water quality readings following the derailment.
What about the ground and water?
Contaminants from derailed cars spilled into some waterways and were toxic to fish, but officials have said drinking water in the area has remained protected.
On Tuesday, Cranberry Township informed residents that its water supply was declared safe after a test was done on the Ohio River.
"Cranberry Township and its water provider, West View Water Authority, are closely monitoring the situation and will take any necessary steps to ensure the safety of the township's water," officials said.
In addition to vinyl chloride, at least three other substances — butyl acrylate, ethyl hexyl acrylate and ethylene glycol monobutyl ether — were released into the air, soil or water, according to a U.S. Environmental Protection Agency letter putting rail operator Norfolk Southern on notice about its potential liability for cleanup costs.
Bernstine said he and Shapiro have been working with the state DEP to provide free testing to residents of Beaver, Lawrence and Butler counties.
"My focus is for anyone who may be impacted to receive no-cost air, soil and water quality testing," he said Wednesday via phone. "I think we're close to having that happen as soon as possible."
The Pennsylvania DEP said there were no air or water quality concerns for the residents near the derailment site, but that independent water samples will be taken within a two-mile radius of the site for six months.
"There are not likely to be long-term impacts to ground or surface waters in Pennsylvania from the derailment," according to the website. "A basic groundwater evaluation shows that groundwater near the derailment site flows westward and would not carry any possible contaminants from the site toward groundwater wells in Pennsylvania."
Shapiro's office said Thursday that residents with concerns about private well water should contact the DEP Southwest Regional Office at 412-442-4000 for more info about well testing.
Associated Press contributed to this report.
STORIES YOU MAY ALSO LIKE