Holes in broadband service leave voids in daily life
Rural Dilemma
Part-time wedding photographer Margie Mackrell needs hours to upload wedding photos at her Muddy Creek Township home, an assignment that, by contrast, takes only a half-hour from her brother's Gibsonia home.
Before upgrading to the mobile hot spot plan she now uses, each assignment took a week, she said.
She's been asking for better internet access for 24 years, she said.
Help finally could be on the way — if only her need is recognized by state and federal authorities charged with the management of at least $100 million in federal aid for broadband expansion projects in unserved and underserved areas.
In late 2022, the Federal Communications Commission announced a national broadband map. The map allows users to navigate to any address within the country and see the availability of fixed and mobile broadband.
That map largely indicates 80% to 100% accessibility to fixed broadband and 100% accessibility to mobile broadband across Butler County — which just isn't the case according to three townships that recently made pleas to the county for broadband-related funding.
In 2022, Worth Township requested $2 million to help with the installation of broadband from the county's American Rescue Plan Act funding, according to Shari Kreuz, township secretary and treasurer.
But when the Butler County commissioners granted $11.7 million in municipal infrastructure awards from that funding, Worth Township didn't make the cut. Neither did Muddy Creek and Lancaster townships with their broadband-related requests.
County Commissioner Leslie Osche in an earlier interview said the county set aside an additional $500,000 from the American Rescue Plan for broadband and hoped to see efforts combine to move those projects forward.
"We want to make sure that we're doing it almost as a single project, as opposed to three independent projects," she said.
She also anticipated additional federal funding to become available for the expansion of broadband service.
The Southwestern Pennsylvania Commission, of which Osche is chairwoman, did submit a challenge on behalf of Worth Township to the FCC's National Broadband Map in January, she said. Challenges to the map were permitted through Jan. 13.
Additionally, the Pennsylvania Broadband Development Authority — formed in February 2022 — submitted bulk challenges from 35,000 locations statewide, including a number from Butler County, over the map's accuracy.
The bulk challenge could ensure Pennsylvania receives better funding to help meet its high-speed internet access needs, said Brandon Carson, the authority's executive director.
The result of those challenges remains unknown.
Routine disruptions
For those residents whose homes face routine disruptions, access problems make it hard to navigate career tasks, stay connected with friends and relatives who live at any distance from them and enjoy streaming services and other everyday comforts.
Mackrell and her late husband built their home along Stanford Road, where residents occupy 50 other homes.
"I shoot weddings for a lot of other photographers, so weddings per se don't necessarily affect me as much as regular sessions," Mackrell said, referring to photography sessions that generally require an hour or two of time. "And even a regular session is over an hour to upload 50 photos, where if I had broadband access, it would probably be 10 minutes."
"We had DSL (digital subscriber line) for a long time, which was painfully slow," Mackrell said. "It would take me a week to upload a wedding."
A DSL line aims to provide internet connection using standard telephone lines. Since designed for voice signals alone, these lines come with restrictions on bandwidth and data rate.
The hot spot she now uses has improved that situation, but this requires a great deal of bandwidth, even with her unlimited data plan, Mackrell said. She has to pay additional charges because of this, contributing to a total monthly cost of $140 plus taxes for the service, she said.
"I'm a data analyst for my day job, and I need to have high-speed internet to work with data," she said.
As with other residents in underserved locations, quality of life also suffers as a result of these problems. If she streams one movie, she receives a "nastygram" from AT&T, warning that her service is about to slow down.
"So I don't have any real streaming services here," she said. "If I want to stream anything, I have to stream it on my iPad. And what fun is that? That's not any fun at all."
Mackrell said her niece wants to watch content on Apple TV when she visits, something Mackrell would love to accommodate. But because of access problems, Mackrell can't do this.
'Doughnut holes'
Often a phenomenon called "doughnut holes" interferes with service for residents in Lancaster Township, according to township manager C. Michael Foote.
There was a time when certain locations did not have enough homes to warrant better coverage from the FCC, and people who live in those spots now find themselves slipping through the cracks, Foote said.
Generally the FCC has required 20 homes per square mile to better serve these locations, he said.
Doughnut holes do present an obstacle the service provider Armstrong must surmount, but Armstrong has managed to connect homes even when there are only 12 to 15 per square mile, said Joseph Taylor, who serves as Armstrong's vice president of regulatory affairs.
There are other factors that can complicate service though, such as whether existing utility poles afford enough space for Armstrong to attach its equipment, Taylor said.
Among those affected by doughnut holes are Megan Balint and her husband, Jonathan, of Lancaster Township, who live about five minutes from downtown Zelienople.
Yet internet providers can reach only to the top of the road on which they live, Megan Balint said.
"When you don't have broadband service you're relying on hot spots, which are very unreliable," she said. "Just day-to-day life, we always are relying on our phones, internet service, like mobile internet."
The couple cannot use the Amazon Alexa or similar Google devices that they bought when living in nearby Zelienople, and even TV streaming applications such as Netflix encounter problems, Balint said.
She said Starlink, dish-based internet service launched through the SpaceX engineering corporation, has helped bridge the gap between some of these disruptions. But accessing Starlink had required the Balints to spend more than a year on a waitlist.
Once past the waitlist, Balint found that even Starlink's dish-based mechanism often proves hit or miss, depending on the weather affecting them.
"It's very frustrating, and I do feel like it would be a deterrent for younger couples to move out this way," she added.
The Balints have two small children, both under age 2, who will need internet access to support them through school as they grow older, Megan Balint said.
Discussions with friends and neighbors, many of whom have older children and also struggle with broadband access, haven't painted an encouraging picture of how internet will affect school, Megan said. These neighbors have been fighting for years to gain better access, and that's gone nowhere, she said.
"They're always talking about how they're just at the mercy of these hot spots, which is very unreliable, not to mention costly," Balint said. "To have a hot spot, to get the gigs of data you need, it is very costly."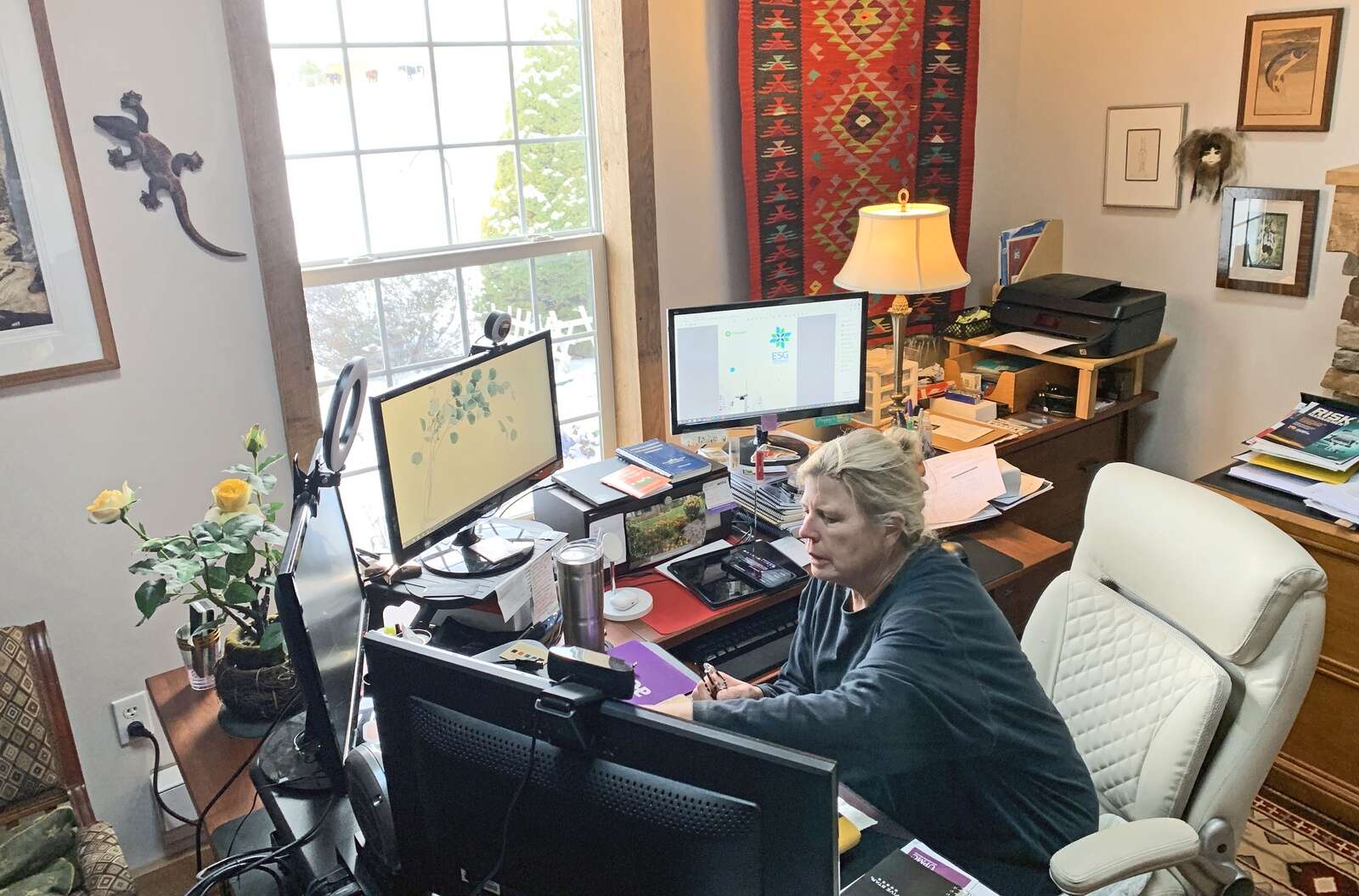 Just out of reach
The more comfortable life just tantalizingly out of reach — due to an unfortunate snag in geography — parallels that of Roxanne Turner, who lives near the county line between Butler and Lawrence counties in Worth Township.
Turner, who serves as a senior vice president for health care technology company Omnicell, said she has faced routine disruptions to her work since Omnicell closed the third floor of its Cranberry office two weeks ago. Turner's office had been located on that floor, Turner said.
Since COVID-19 struck, Turner had traveled to the Cranberry office three days a week largely for the reliable internet offered there, she said. But now she relies 100% on the service that's available while she works from home — and the DSL goes bad whenever high winds blow.
"I have to basically prepare ... board meetings," she said. "It has serious consequences for me when I'm dealing with a meeting with the CEO or other senior vice presidents or the board of directors and I can't be heard or I can't communicate because the wind's blowing."
The DSL line stops just 200 yards from Turner's home, so Turner is forced to rely on a connection with a highly unstable line, she said.
The access problems affect Turner's personal and professional life. Turner has family in New England and Florida, whom she doesn't get to see much in person, she said.
"So being able to speak to them when I want to is important, and I can't necessarily do that," she said.
FaceTime calls frequently drop during important conversations, Turner said.
"Just the fact that I get better internet service when I have to travel for work and I'm in a hotel than I do in my own home is a little bit of a disappointment," Turner said.
Turner chose to live in this rural community because she owns and cares for horses, but she also had planned to move in reach of key services such as shopping and health care, she said.
"Yes, I'm surrounded by farmers, but farmers have to rely on the internet now in order to do their business, because that's where they get pricing for the commodities and that's where they get feedback for crops and things like that," Turner said. "And just because we're rural doesn't mean we don't contribute to business and we don't contribute to society."
A community
Mackrell knows she's not alone. She's a part of a number of social media groups where others complain of the same issues.
She serves as one of the site administrators for the Facebook group "Armstrong for Stanford Road," a 20-member group that advocates for improved broadband in Muddy Creek Township.
She also is an active contributor to the Facebook group "Families of Muddy Creek Township, Prospect, Pa," a community consisting of 164 members that discusses broadband access, among other topics.
"I think we've got a good group of people on the site," Mackrell said.
She wants to see groups take it a step further.
"I'd really like us all to band together and start calling ... and writing letters," she said, "because the squeaky wheel gets the oil."
More in Local News