Word of warming shelters spreads through Grapevine
A safe and warm place to go
If Grapevine Center didn't operate its shelter and community center, Butler native Dustin Scott said he would be dead.
Scott would have no options without Grapevine, he said.
"I don't even know where I'd go, because this is the one place where people can come — they rely on it. It's a good place in Butler. It's like the vein, where people can come and get warm and be all right. I'm thankful for it."
Scott's story is one of dozens from people who said they otherwise could freeze without the warming center at 140 N. Elm St. The center is open from 8:30 a.m. to 4:30 p.m. Grapevine is one of two warming centers whose combined outreach provides shelter to people facing homelessness both day and night. The other is Grace Wellness Center.
The Butler County Local Housing Options Team, which conducts one of the largest outreach efforts in the county, reported finding two homeless people sleeping in their vehicles during a county canvass it conducted Wednesday night, Jan. 25. The canvass followed a morning snowstorm that brought temperatures well below freezing.
An important factor to this outreach is education, said housing coordinator and housing options chairwoman Allyson Rose.
"Many of the volunteers were able to talk to store managers about our efforts and provide resources, such as the Overnight Warming Center and Grapevine Center for them to share with individuals who are in need," she wrote in an email. "Other volunteers talked to community members and helped raise awareness."
"The OWC is a newer program, so the more the community knows about the program, the more it will be shared with individuals in need. We have found that word can spread quickly once individuals realize that is a safe and warm place to go."
A matter of life and death
Butler native Joe Fulmer, who is staying at Grace Community Wellness Center, said he would be outside in the snow without the center's help. He sat reading a copy of "Work with Passion: How to Do What You Love for a Living" in Butler Public Library on Thursday afternoon.
The shelter provides a place to keep from freezing, he said.
"The night before I got into the shelter, I slept up on Main Street, under the roof of the Penn Theater," he said, referring to the marques of the theater, on an evening earlier this month. "It was cold that night, so cold I could barely have feeling in my toes, and I had multiple pairs of socks on, and my toes were still cold."
But the kindest of people in the community came through for Fulmer at the toughest times, he said.
"Some guy who was living in one of the apartments close by ... handed me a bag with two cans of SpaghettiOs and about $2 to $3 in change," he said. "Just came over and handed it to me. 'Here you go. I thought you might be hungry.'"
Fulmer said he shouted a big thank you.
"It kind of helped out a little bit," he said.
Fulmer said he had been staying with friends before he found himself on the streets, when everything fell apart. Now the warming shelter at which he stays, Catholic Charities and Center for Community Resources, is working to provide Fulmer with more permanent housing, he said.
"Participants have expressed a deep gratitude for us opening up their doors to them," said Glade Run president and CEO Stephen T. Green. "I think they've appreciated our approach with them as well of just being helpful and open ... All of our participants have just been a pleasure to work with and to have the opportunity to help."
Glade Run operates the Grace Wellness Center at 123 E. Diamond St., an overnight shelter. Guests can gain access to this shelter, following a screening and approval process, from 10 p.m. to 8 a.m. seven days a week.
"I just think between Grapevine, Catholic Charities and Glade Run, there's just a tremendous amount of collaboration, partnership and we even share some staff from time to time," Green said. Catholic Charities helps people experiencing homelessness find housing arrangements.
Somewhere to go, day and night
Homelessness can happen to anyone, said peer specialist program manager Richard Blews, who helps operate the Grapevine Center. The center provides resources to help people seeking refuge from the cold and isolated people who are seeking community, Blews said.
"It just depends on circumstance," said Blews, who has experienced homelessness. "We don't really have concrete statistics, as far as that goes. ... A lot of times people just come in."
Guests can range in number from about 40 to 50 daily on average, although major events, such as Thanksgiving and Recovery Fest, can bring in well over 100 people, Blews said.
Recovery Fest, which Grapevine hosts each June, acknowledges the gains of people working through addiction, mental illness and homelessness with food, music and games.
Blews said Grapevine shifted its hours to coincide with those of Grace Community Wellness Center. Mornings, in particular, allowing for enough time for guests to walk across town from Grace Community Center, when it closes, to Grapevine.
Daytime guests might spend their evenings after Grapevine closes at a variety of church-held community dinners or at Alcoholics Anonymous or Narcotics Anonymous, to fill the gap in service hours, Blews said.
"Individuals are very resourceful, and honestly, if I'm practicing some empathy, I would have done the same thing, so they're really thinking outside the box," Blews said.
The shelter also offers food, coffee, activities such as board games and pool. It offers access to a shower, phones, computers, and mental health support services, according to Dee Field from Grapevine.
She said a mixed group of people come to the center. "A lot of people are homeless," she said. "Some have mental-health issues, young drug addicts, a lot of veterans."
An inclusive climate
Grapevine guest Dennis O'Grady, who grew up in Pittsburgh, said the shelter offers a welcome respite from being out in the cold, which has often been the norm for him. He learned growing up to do the best with what he has, even if that's when he physically has nothing, he said.
Scott, 26, has counted often on the support of Grapevine for the last 2½ years, he said. He arrived on site Tuesday for his current stay at Grapevine after being released from Butler County Prison, following a charge of criminal mischief on which he had been held.
An inclusive climate of peers, where other guests often bond and support one another, helps a lot too, Scott said.
"It gives me hope, coming around here and being around good people, opening up to some people and relating with them to see where they're coming from, getting to know some people," Scott said. "Having a shelter is really important, especially in severe conditions like winter."
Scott doesn't have many places to turn for refuge besides Grapevine, he said. Police have arrested him 12 times, he said. Scott, who said he's been diagnosed for mental health disorders, says he has struggled to support himself financially and escape homelessness or prison.
"I've slept on the streets a lot of the time," he said. "I've been homeless. ... I've been arrested for public intoxication, just losing my mind out on the streets and stuff."
"I feel like I've suffered a lot of my life," he said. "I've struggled with pretty much everything. I'm lucky to be alive. It's really hard."
"My family, they struggle with substance abuse as well, so they're not always there for me as much as I would like them to be," he said. "I was poor growing up. ... We didn't have money. ... I'm on my own a lot of the time. I learn to cope as best I can with what I can do, push myself to a certain extent, adapt in certain areas."
Scott said he credits his mother with making him aware of Grapevine's presence, because she used to bring him there when he was a child.
"She actually introduced the place to me," he said. "I wouldn't have come down here if it wasn't for her."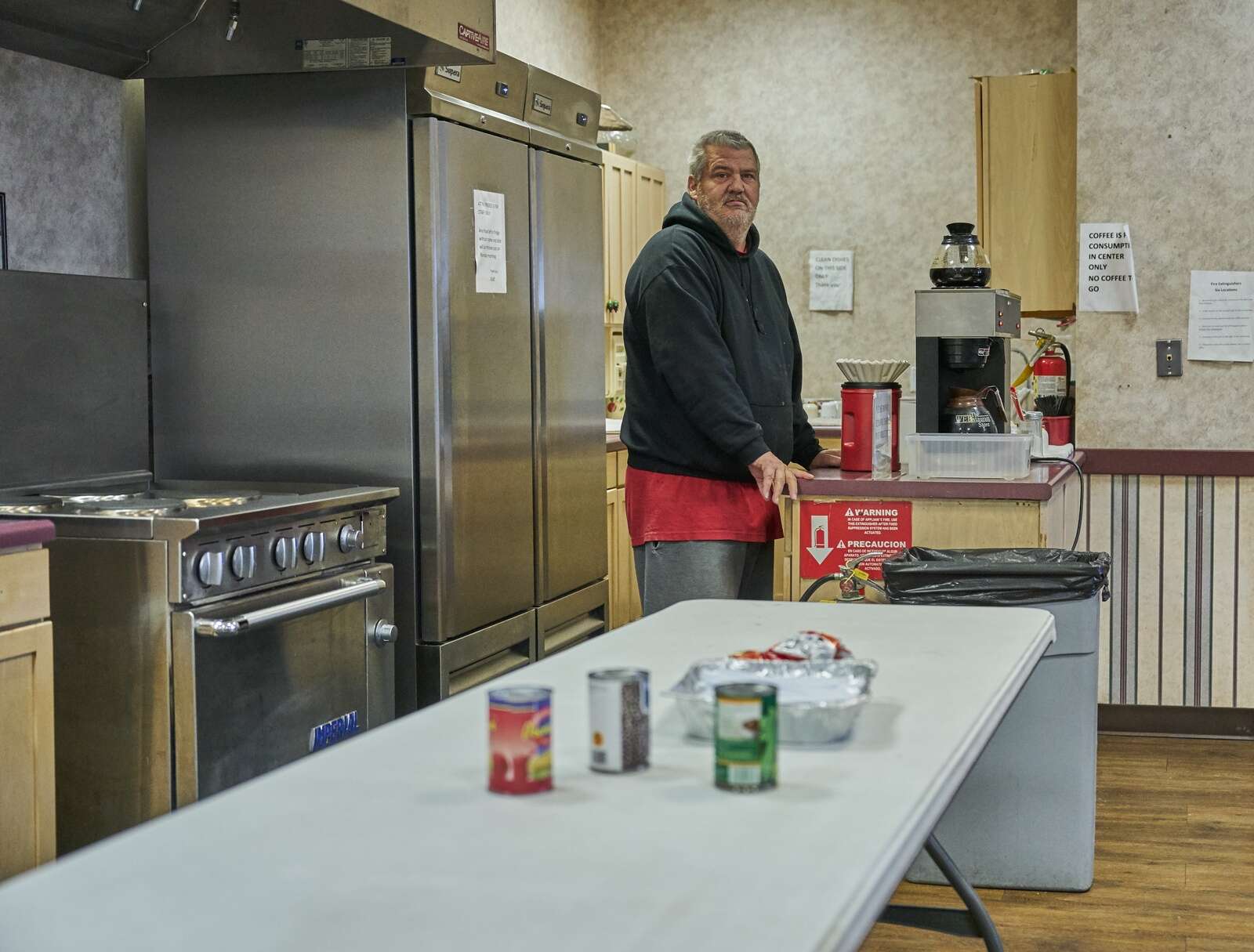 More in Local News