Evans City man performs CPR, saves stricken father
EVANS CITY — Patrick Grubbs knew a little knowledge can go a long way, but he didn't know a little knowledge would go a long way in saving his father's life after he was stricken with a heart attack last year.
Grubbs used his knowledge of CPR, which he learned as a requirement of his job, on his father, Dave Grubbs of Forward Township, on Jan. 28, 2022, when the elder Grubbs suffered cardiac arrest after a morning spent shoveling snow.
Dave, 66, a retired construction worker, said, " I was shoveling snow. We'd gotten quite a bit of snow the day before, and that day I was clearing off the driveway."
After driving to his granddaughter's house and shoveling the driveway there, Dave was driving home with his granddaughter when he started feeling strange.
"I didn't know what it was, but I knew something wasn't right," he said.
Upon reaching home, Grubbs was unable to lift his granddaughter out his truck.
Thinking maybe he was suffering from heartburn, Dave said he took some antacids and sat down in his recliner.
Meanwhile, his wife, Patricia, had called her daughter-in-law, Sarah, who is a nurse at Butler Memorial Hospital. Sarah Grubbs told her mother-in-law to call 911 and to call her son, Patrick, to come over.
Dave Grubbs said its as though the stars were aligning to save his life.
"If she hadn't been on her toes and recognized that something was wrong and called our daughter-in-law..." he said.
Taking action
Patrick said, "My mother called and said my dad thought he had heartburn, but Sarah said to get him to the hospital."
The younger Grubbs, a construction superintendent, drove 20 minutes to his father's house and persuaded him to go to the emergency room.
"He was awake. I went out to clear out the passenger side," Patrick said. "He was starting to get dressed. Then my mother comes running out — she never runs — and she's screaming 'Come now!'"
When he got back inside the house he was met with a disturbing sight: his father convulsing in a chair.
"He was out in the chair," Patrick said. "He was having a seizure. He was stiff like a plank."
He checked his father for a pulse, didn't find one and pulled him to the floor.
"I began chest compressions, pulled his dentures out, did rescue breaths," he said. He continued CPR as he waited some 29 minutes for an ambulance to arrive.
Once the paramedics were on scene, Patrick asked them to take over. He was exhausted from his efforts.
"I was running on adrenaline at that point. The next 20 minutes were like a flash, " he said. He does remember that the backboard the paramedics placed his father on had an auto-pulse device that continued the chest compressions.
Patrick said he has taken so many CPR courses to keep his certification that "it was muscle memory at that point." But he also had practiced only on resuscitation dummies, never on another person, and certainly not his father.
"It was rather traumatic," he said, especially after his compressions caused snapping and cracking noises in his father's chest.
"I was taught if you were not hearing those noises you weren't doing it right," he said. "Ribs don't mean anything if your heart's not beating."
"I don't know if he broke them, but they were awful sore for a long time," Dave said.
The elder Grubbs said, thanks to his son's actions, he was able to wake up several days later in the intensive care unit of Butler Memorial Hospital. From what he learned later, he had two stents placed in his chest, was placed in ice and given painkillers only to have a second cardiac episode 12 hours later.
---
Katrina Whetsel, registration agent for the American Red Cross Western Pennsylvania Region, said, "It's very easy to sign up for a course in the area."
American Red Cross CPR classes are designed with options available on weekdays and weekends. Employers, schools and groups can arrange to have the classes taught on their premises.
Nicole Roschella, regional communications manager for the local chapter, said the Red Cross offers a variety of online, instructor-led and blended courses that include online content and in-person skill sessions. Course participants learn how to perform CPR, help someone who is choking, control bleeding, treat someone having a heart attack and more. Those interested can visit redcross.org/takeaclass to register for a course.
Dave said he is thankful for Patrick's CPR instruction and Butler Ambulance Service emergency medical technician Aaron Natali for saving his life. And, he added, thanks to Dr. Varun Avula, an interventional cardiogist with Butler Health Systems, he was able to walk out of the hospital a week later.
Now, nearly a year since his heart attack, Dave said, "I'm just glad to be here. I'm getting around. I'm still weak from it overall, but I'm 66 years old.
"I don't have any restrictions, but I'm not allowed to shovel snow," he said.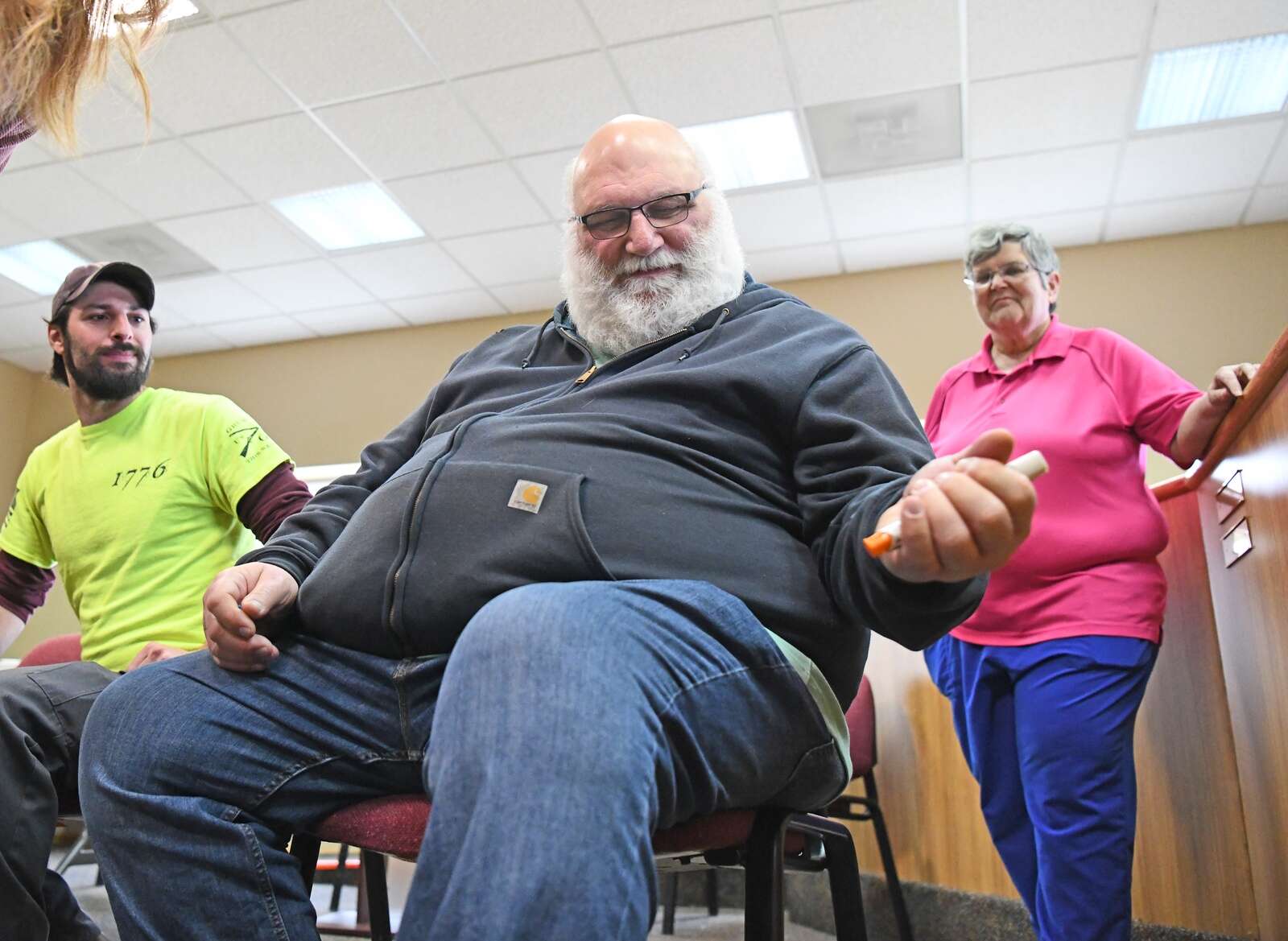 More in Community