SV's Fronk receives WPIAL Courage Award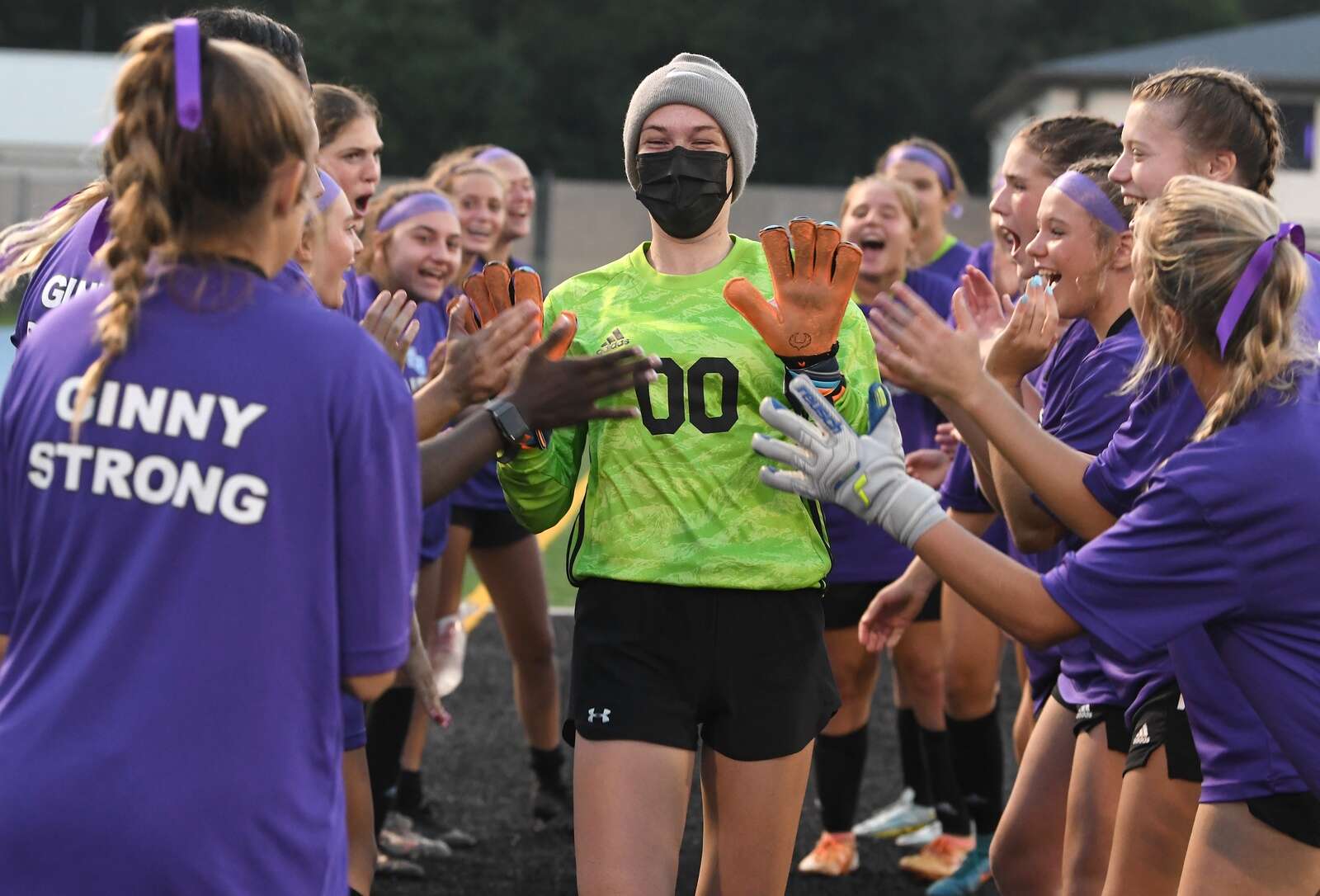 Girls soccer goalkeeper battled Hodgkins lymphoma during her senior season
JACKSON TWP — Her senior girls soccer season didn't go as planned.
But Seneca Valley student Virginia "Ginny" Fronk showed much more than the ability to keep shots out of the net while the Raiders compiled a 13-2-2 record and trip to the WPIAL semifinals last fall.
Fronk was diagnosed with Hodgkins lymphoma on Aug. 19 and spent much of her final high school season undergoing chemotherapy treatments. But she was there for her teammates at the same time.
"Not many high school girls could have handled what she went through," SV coach Mark Perry said. "There were days she'd come out of chemotherapy and go straight to the field to support her teammates during games.
"Ginny was at nearly every practice, every game. When she felt up to it, she practiced with the team. She played in four games or so. When she felt well enough to participate, she did. But she was always there."
Recently declared cancer-free, Fronk received the annual WPIAL Courage Award as part of the WPIAL Hall of Fame Class of 2023, revealed recently at the Heinz History Center and Western Pennsylvania Sports Museum.
"This means everything to me," Fronk said. "I was very surprised. I appreciate everyone's support ... It's special."
Seneca Valley's girls soccer program had a Cancer Awareness Night in Fronk's honor during a home game early in the season. She was feeling ill and was taken to the emergency room that day.
She was still able to make it to NexTier Stadiuim in time for the game.
"The doctors and staff were very accommodating that day," Fronk recalled. "They gave me some extra medication so I could be released in time to get to the game."
Through T-shirt sales and other fund-raising efforts, the Seneca Valley Boosters and community raised $17,000 for Fronk and her family that night.
"I'm so grateful for the support everyone gave me," Fronk said.
Perry was shown a video Tuesday of Fronk "ringing the bell" as she left the hospital, to signal she was cancer-free.
"Her and her family went through quite an ordeal," Perry said. "Ginny is very deserving of this award. The doctors figured she was medically clear around Thanksgiving, but they wanted to wait a while to be certain."
Fronk committed to George Mason University last summer to continue her academic and soccer career. She plans to major in environmental science.
Every player on the George Mason team bought a T-shirt last season to support Fronk's cancer fight. Each player on the team wrote her an individual letter of encouragement as well.
"Those letters meant so much," Fronk said. "I feel like I already have a bunch of new friends (at George Mason) and I haven't even met them yet. I can't wait to finally get together with them.
"Right now, I'm focusing on getting back to 100% athletically, so I can be competitive and play some games for them next season. We'll see how it goes."
George Mason was 1-10-7 last season and will return three goalkeepers in the fall.
"She is a great student and a great girl," Perry said of Fronk. "She's playing club soccer now and is getting ready for the next stage of her life. The recognition she received from the WPIAL is great for her, our program and our school.
"She was able to play in our Senior Night game against Shaler. That girl is a true success story."