Just Rewards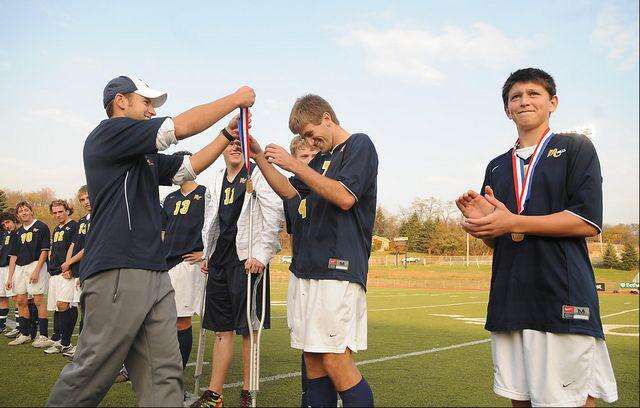 Passion for game drives Mars soccer coach Knauff
ADAMS TWP — Coaches don't just give their time and energy to a sport, they get something back, too.
Veteran Mars boys soccer coach Chris Knauff recently explained what keeps him coming back year after year.
"I love the sport and it doesn't get old," he said. "There's always a new challenge and ways to improve. I enjoy the chess-game aspect of it and dealing with new personalities every year."
The Planets have qualified for the WPIAL playoffs in each of Knauff's 16 seasons at the helm, but that's just a sample of the job he's done with the Planets. His teams have combined for an overall record of 262-64-16. That includes a 175-20-11 section mark with 10 section titles.
In the postseason, the Planets have gone 43-21, winning WPIAL titles in 2008, 2009 and 2020 as well as a state championship in 2020.
His accomplishments earned for Knauff induction into the Mars Athletic Hall of Fame as part of the Class of 2022.
The 2020 season saw Mars finish with a perfect 21-0 record.
"That team was such a special group," said Knauff. "The players had so much confidence and determination. There was always the belief that we were going to win and the circumstances didn't matter. That's what pushed us over the top."
A 1999 Mars High graduate, Knauff's love of the sport began when he was just 6 years old.
"We practiced and played games at the club fields across the road from the high school," he said. "My dad (Dave) was my club coach for years and his top priority was to help kids find a love for the game. He is by far my biggest influence and my coaching style mirrors his. I want to help bring enjoyment to the game."
Knauff was an all-section midfielder who was on the first boys soccer team at Mars to qualify for the WPIAL playoffs in 1998. He played collegiately at Pitt-Greensburg and was part of the 2002 team that won a conference title and reached the NCAA playoffs. The entire squad was inducted as part of the first hall of fame class in the school's history last year.
Knauff still ranks second in Bobcats' history with 72 games started. He served as an assistant for Mars' boys under head coach Blair Gerlach before taking the reins of the program in 2007.
"I have strong emotional ties to soccer at Mars," said Knauff, who has been a business teacher at Mars Area High School for 16 years. "To be mentioned with so many great players and coaches in the hall of fame, it's nice to be recognized like that."
Chris and Jaime Knauff have a daughter, Juliana.