Butler wrestlers making most of practice time
Embracing the Grind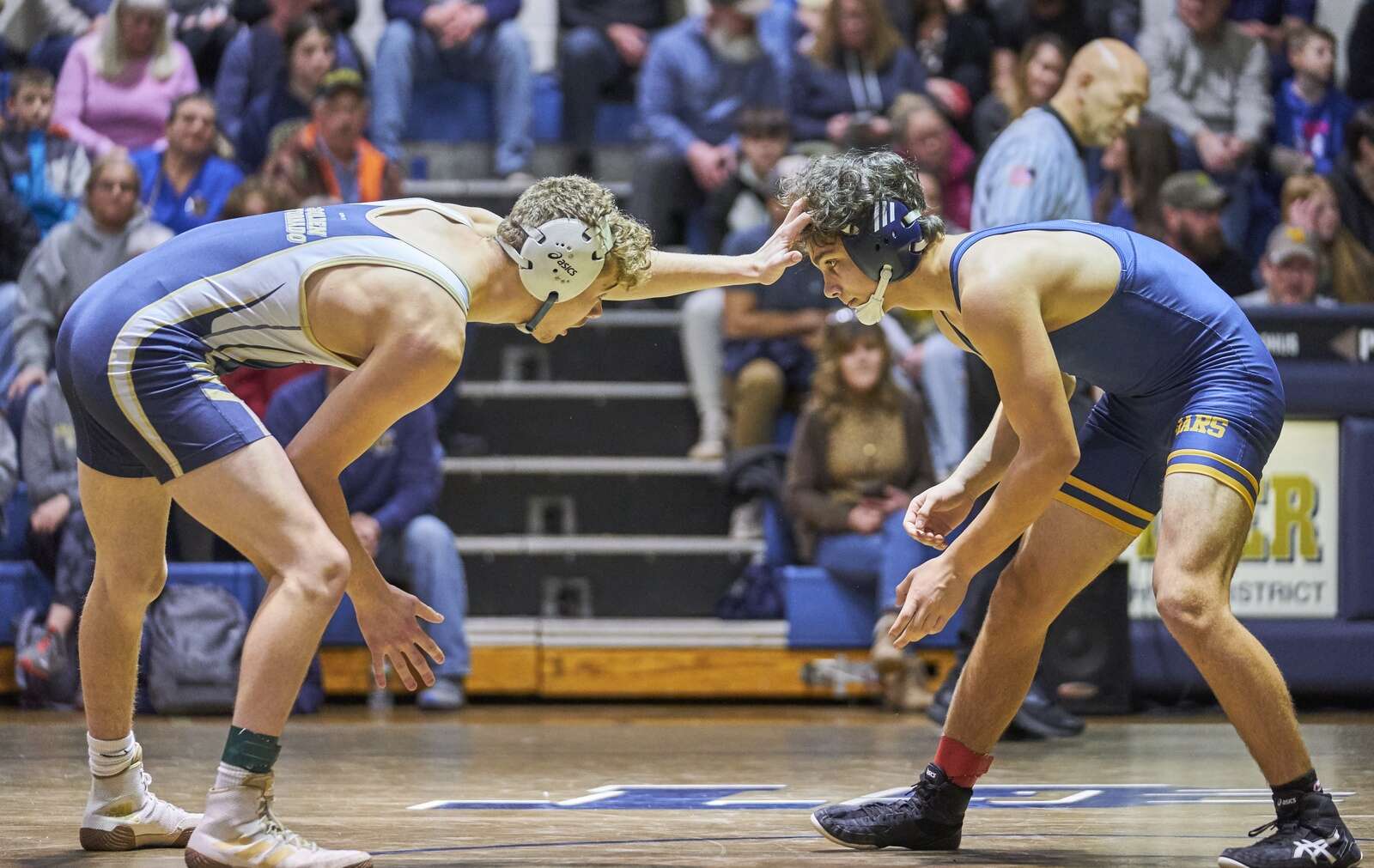 BUTLER TWP — Fans of Butler High wrestling have enjoyed watching the team's 14-0 effort to date in dual matches this season, but that success has been fostered when few are present.
Practices are where the wrestlers hone their skills and become mentally prepared prior to each match.
"At times, practices have not been as intense as I'd like them to be," said Butler coach Scott Stoner following Butler's latest victory, a 75-0 shutout of Mars on Wednesday. "There's been a lot teaching, but not as much actual wrestling. We're getting into more of that now."
Sophomore Kase Chopp frequently takes on teammate Levi Donnel in practice. The latter is in the midst of a 22-2 season and recently earned his 100th career victory.
"We have different styles and he's a bit bigger than me, but going up against him has definitely made me better," said Chopp, a 139-pounder who is 19-6 on the year and ranked seventh in the WPIAL. "We're all trying to work as hard as we can. We're on a great streak and want to keep it going."
Chopp went 24-13 as a freshman last year.
"It wasn't a bad season, I was hoping to get to 25 wins," Chopp said. "Now my goal is to place at WPIALs and make it to states."
Earning pins against the Planets were Landon Christie (285 pounds), Donnel (160) and Gavin Rush (133). The other contested weight class was 152, where the Golden Tornado's Dawson Davis earned a 6-3 decision over Joe Zottola.
Butler is 4-0 in team tournaments this season and will look to remain unbeaten when it competes at the Clearfield Duals on Saturday.
"Our first match is against undefeated Meadville," said Stoner. "There's five or six undefeated teams that'll be there."
Butler held a practice prior to Wednesday's match. Stoner was expecting Mars (1-7) to show up with eight wrestlers, but due to illnesses and injuries, the Planets sent only four to the mat. The team's top wrestler, 152-pounder Liam Hein, is out with a broken hand.
"Numbers are everything in wrestling," said Stoner. "You need to have the kids there, getting better. In the few losing seasons we've had here, we had to forfeit bouts in two or three weight classes."
First-year Mars coach Ben Rings aims to increase the interest in varsity wrestling at Mars.
"We've got a strong youth program with 90 kids and have almost a full lineup with the junior high team," he said. "We have three freshmen and two sophomores wrestling varsity now. We are looking to build the program from the bottom up."
Mars hosts North Allegheny next Wednesday.
Butler 75, Mars 0
(Match started at 215 pounds)
107-Santino Sloboda (B) won by forfeit; 114-Ana Malovich (B) won by forfeit; 121-Kelley Schaukowitsch (B) won by forfeit; 127-Leo Iarrapino (B) won by forfeit; 133-Gavin Rush (B) pinned Brandon Frantz, 2:25; 139-Kase Chopp (B) won by forfeit; 145-Legend Wilkinson (B) won by forfeit; 152-Dawson Davis (B) dec. Joe Zottola, 6-3; 160-Levi Donnel (B) pinned Cooper Courson, 1:37; 172-Brennan Michael (B) won by forfeit; 189-Matt Zinkhann (B) won by forfeit; 215-Mickey Kreinbucher (B) won by forfeit; 285-Landon Christie (B) pinned Adam Budzilek, 1:58