Volunteers at North Catholic spend Black Friday serving others
CRANBERRY TWP — Instead of getting up early on Friday to hit the stores and score deep discounts on material items, 300 faithful Christians joined Bishop David Zubik at North Catholic High School to pack a meal for the disadvantaged.
The last of 10 Amen to Action food-packing events saw volunteers bopping along to loud and upbeat music as they worked as a well-oiled machine to create eight-serving zipper bags containing an oatmeal-and-dried-apple meal.
The completed bags from each table were then neatly packed into boxes, the stacks of boxes wrapped in plastic, and the stacks shipped to the Greater Pittsburgh Food Bank for distribution to people in need.
Amen to Action volunteers have packed various meals at 10 churches of many denominations throughout the Pittsburgh region.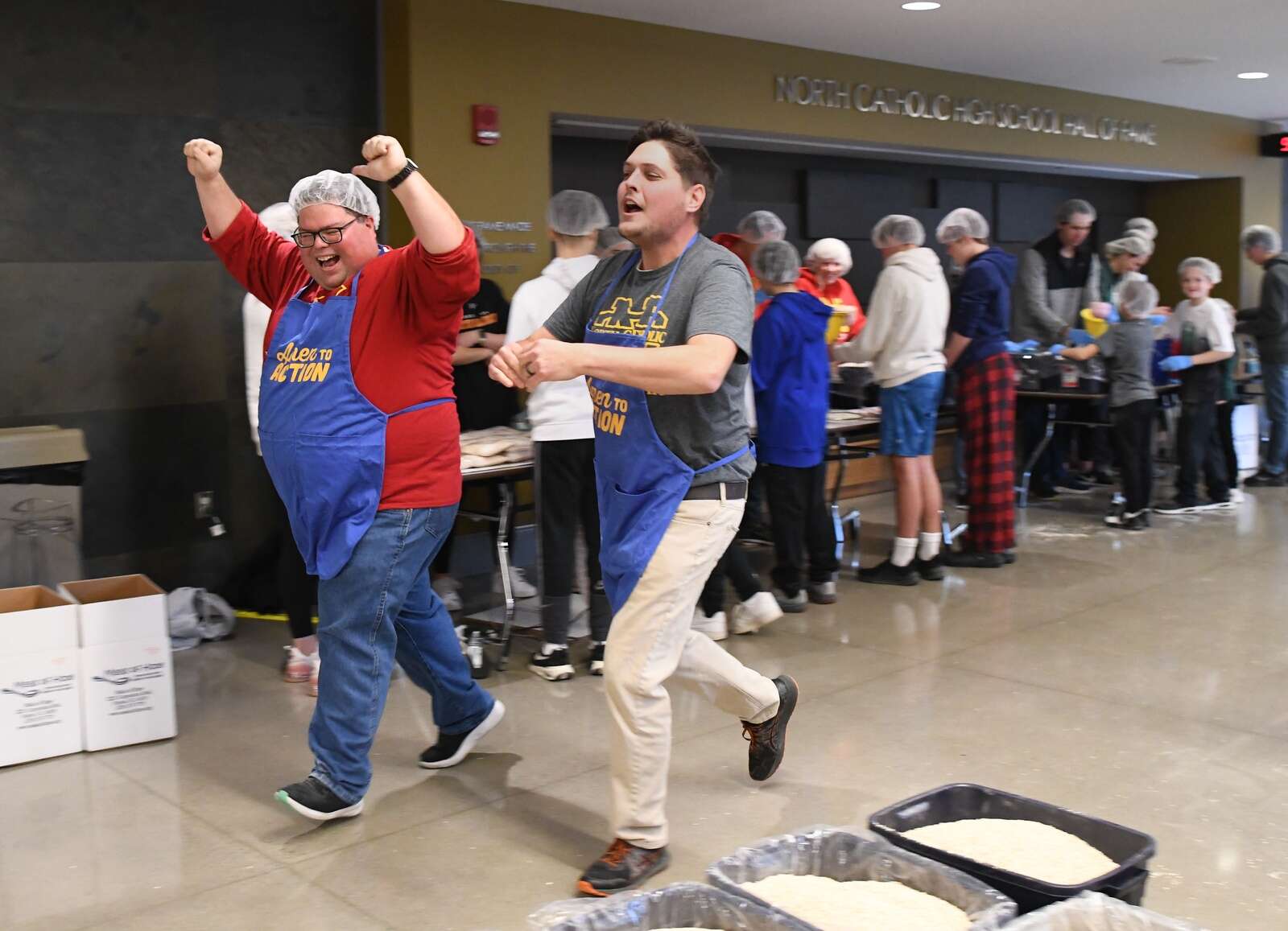 Michael Palcsey, principal at North Catholic, wiped sweat from under his hair net as he proclaimed the one millionth meal in the 2022 Amen to Action program was to be packed at his school on Friday.
Many North Catholic students stood at the tables, or "stations," in gloves and hair nets, pouring measured scoops of oats, cinnamon, sugar and dried apples into the zip bags.
"It's at the core of our philosophy at North Catholic, to help people in need," Palcsey said.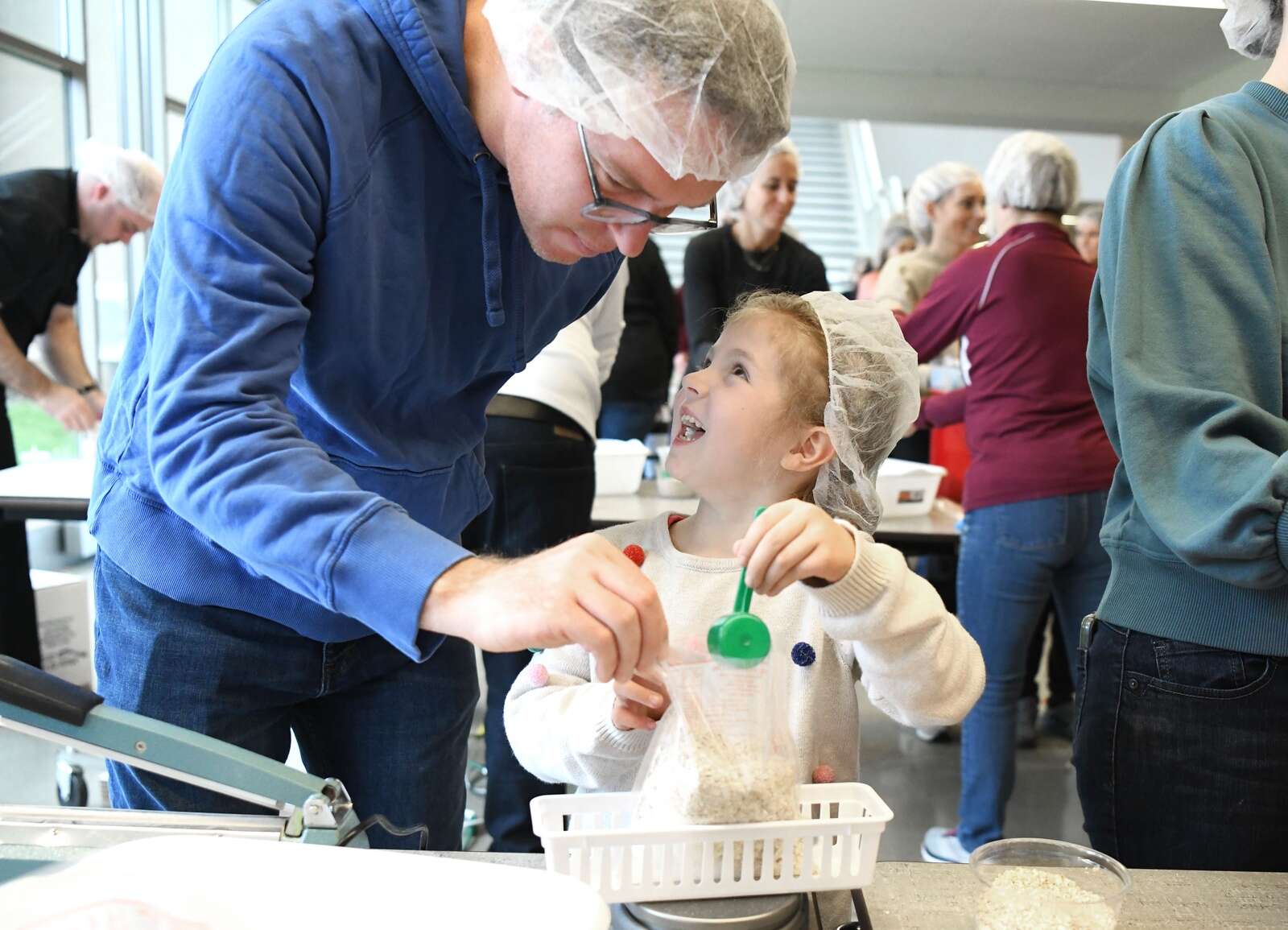 Elijah Vangura, a North Catholic senior, dumped rolled oats from 50-pound bags into bins.
"I had a nice big Thanksgiving meal yesterday, and I can't stand to have anyone go without food," Elijah said of his reason for volunteering on Friday morning. "It teaches me that service is necessary all the time because Christ served, and as Christians, we are all called to serve."
The athletically built young man marveled at Zubik, who packed and sealed boxes nearby — complete with hair net and gloves.
"I'm complaining about my back hurting, and this man has had back surgery after back surgery and he's going strong," Elijah said of Zubik.
Zubik said he was thrilled to see so many youths volunteering on the day after Thanksgiving when they could have slept in.
"It's a sign of how seriously we take our faith and put our faith into action," Zubik said. "It's really encouraging to see all these young people."
Asked why he decided to work at the event instead of don his robes and simply preside over the faithful, Zubik hearkened back to his own youth.
"My Mom always said 'God gave you two hands. Make sure you always use them for good,'" he said.
Lianne Felice, a North Catholic parent and two-year participant in Amen to Action's food packing event at the school, brought six people with her to volunteer for the project.
She said the event was good for the many students and young people who came to help.
"They need to learn how to give back," Felice said. "They've been given so much. Many in our community don't have what they have."
She said sign-ups to volunteer for the event filled quickly, meaning more people than needed wanted to help out.
"The people who are here are not out shopping," Felice said. "They're here to do an act of mercy."
More in News