North Catholic falls just short in PIAA Class 3A volleyball final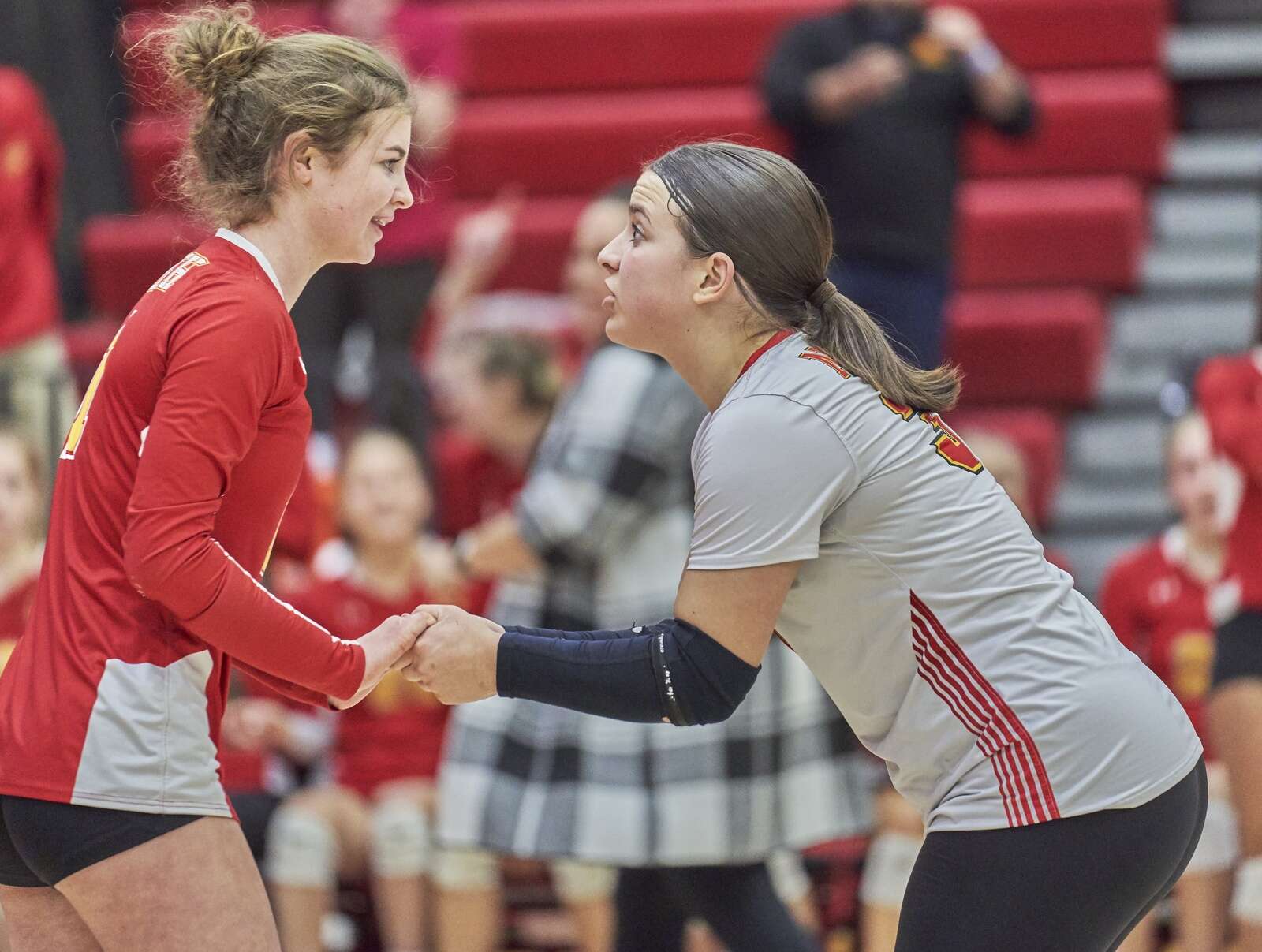 MECHANICSBURG, Pa. — It all came down to a nail-biter of a fifth set for the PIAA Class 3A title Saturday evening at Cumberland Valley High School.
A matter of inches kept North Catholic from handing Pope John Paul II its first taste of defeat this season. With the Trojanettes up 14-13, a point would have meant gold for coach Amanda Fetter's team, but senior standout Ally Feczko's spike landed just outside the back left corner, knotting the score up and making it a win-by-two situation.
The scoreboard would level at 15, 16, and 17 before (No. 21) put the District 1 champion Golden Panthers up and another North hitting error, which gave the latter the title.
The scores of the match were 25-15, 25-12, 25-18, 25-16, and 19-17.
"Volleyball's a game of errors," Fetter said. "It's not necessarily a game of what you do, it's a game of what you don't. Today, we just fell a little short."
The teams went back-and-forth the entire match. The Trojanettes trailed for only three serves — and never by more than a point — in the initial set. Then, Pope John Paul II (25-0) gathered itself at the beginning of the game that followed, running out to a 10-0 lead to get things going and opening up as much as a 15-point advantage.
North never looked up at the Golden Panthers in the third set, which the Trojanettes (20-3) started to run away with when senior Sydnei Jones broke a seven-all tie, Feczko notched back-to-back service aces, and sophomore Ella Koziara three kills.
After Pope John Paul II's hitting error that made it 2-1 in North's favor in the fourth set, the Trojanettes led for the ensuing 12 serves. The Golden Panthers evened it up at eight and 11. From there, they went on a 14-5 run that forced the deciding set.
"Someone actually asked me before what our chances were," Pope John Paul II coach Ryan Sell said. "I said, '50-50.' They (North) are a good team … I just thought that, if we could find spreads of points, we'd be okay. If we could serve tough, keep them out of system, we were going to be alright. We were able to do that."
Sell's side got out to a 4-1 lead before Fetter called a timeout and North knotted it up with a pair of kills by Feczko — who ended with 20 — and a block by Katie McNelly.
The Golden Panthers buckled down and came up with enough of an answer for the Trojanettes' offense. The tense final game featured nine tied scores and five lead switches. North came back from down three twice.
"Our defense started to pick up there in that fifth (set)," Sell said. "When we're playing defense really, really well, it's tough to score."
That effort included having to deal with the talented tandem of Feczko and Koziara.
"Ally's swing is very, very strong, but we have some kids in our gym that hit just like that," Sell said. "We play a lot in practice like that. Having kids swing hard is what we're going for all the time."
The Trojanettes' senior class owns a list of laurels that few high school athletes can boast. That group is made up of Jones, Feczko, McNelly, Gianna Aguglia, Gabriella Cozza, Aislin Daugherty, Amanda Esser, Stephanie Lynch, McKenney Martha,
"They're leaving here with second place in the state, two state championships, and three WPIAL championships," Fetter said. "I think that's still a pretty good haul."