Former SV athletes find extended success through rugby
New uniform, new sport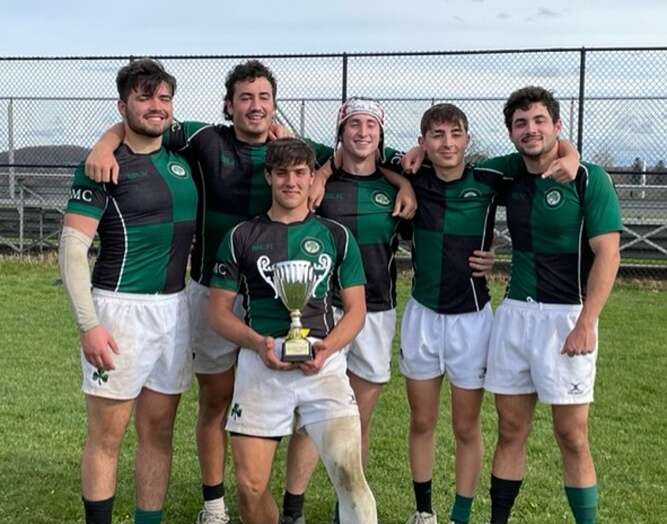 SLIPPERY ROCK — Once their senior football season ended at Seneca Valley, they figured their athletic careers were over as well.
They figured wrong.
Former Raider gridders Bady Martin, Aiden O'Shea, Luiz Flowers, Brady Moore, Chase Nething and Gavin Zoelle are now sophomores at Slippery Rock University — and members of SRU's undefeated club rugby team. That squad is headed to St. Louis this weekend to compete in the Midwest Championships.
Should The Rock score a pair of wins there, it will be part of the Final Four nationally and will play at Aveva Stadium in Houston, Texas, Dec. 9-11.
"We were a good team last year and all of those guys were freshmen," SRU coach Matt Heasley said. "We finished fourth in our league. Now they're sophomores and we finished first in the league.
"I sent out a thank you to Seneca Valley's football coach (Ron Butschle) and told him if he has any more players coming to school here, send them our way. Those guys have made a big difference for us."
Bady Martin's father is good friends with Terry Brown, a former Rock rugby player. Martin's father suggested he give rugby a try at SRU.
The team held an informational meeting and Martin didn't want to go alone.
"He brought me along with him and we were intrigued by it," Nething said. "It looked like fun. The sport is a unique combination of football and soccer. A lot of different plays are run that involve everybody.
"I played line in football, so being more active on the field has been excited."
Martin and Nething talked O'Shea, Flowers and Moore into playing as well. Zoelle played baseball at Penn State DuBois last year.
"Gavin was looking for a change and we convinced him to transfer here and play rugby with us," Nething said. "It's been a blast."
SRU plays in the 10-team Allegheny Rugby Union and went 6-0 this season, not including a pair of forfeit wins. There are 28 players on the team. The squad's ARU championship was the program's first in more than a decade.
The team receives some funding from the Student Government, but does fundraising on its own as well. Players are recruited through word of mouth, primarily from players already on the team.
"We run a program where we help incoming freshmen move into their dorms," coach Clint McConnell said. "We find some prospective players that way. Anybody is welcome. Anyone can play.
"Our team last year was freshmen and sophomores. Now it's sophomores and juniors. We're still young."
O'Shea said the Seneca Valley group has been tight since they were little kids.
"There's always been a bond among us," he said. "Now that bond is tighter than ever. This is a totally different sport and we all love it."
The team practices five days a week during non-game weeks. Games are played on weekends. Rugby games allow a team 15 players on the field, as opposed to football's 11.
"From the first practice, I've loved this," Martin said. We play with a lot of heart and perform at a high level. Team chemistry is a big part of our success. We just go out there and execute."
"Coaching has been a big part of it," O'Shea said. "We receive good criticism and we're always prepared for each opponent."
SRU plays St. John's (Minn.) Saturday. A win there pits The Rock against the winner of Wayne State (Neb.)-Franciscan. SRU defeated Franciscan, 22-12, in its league championship game.
The Rock is ranked No. 9 in the country. St. John's is ranked No. 5, Wayne State No. 2.
"Some of these teams we'll see out there are fully funded," Heasley said. Many of Wayne State's players are from overseas. We played them last year and they beat us by 60. If we get them again, I think we can be competitive with them. We've really improved.
"Those Seneca Valley players are our heart and soul. They're always competitive, always energized."
And very appreciative.
"We never thought we'd walk into something like this," Martin said.
More in College