Enrollment numbers fluctuate as school districts look to future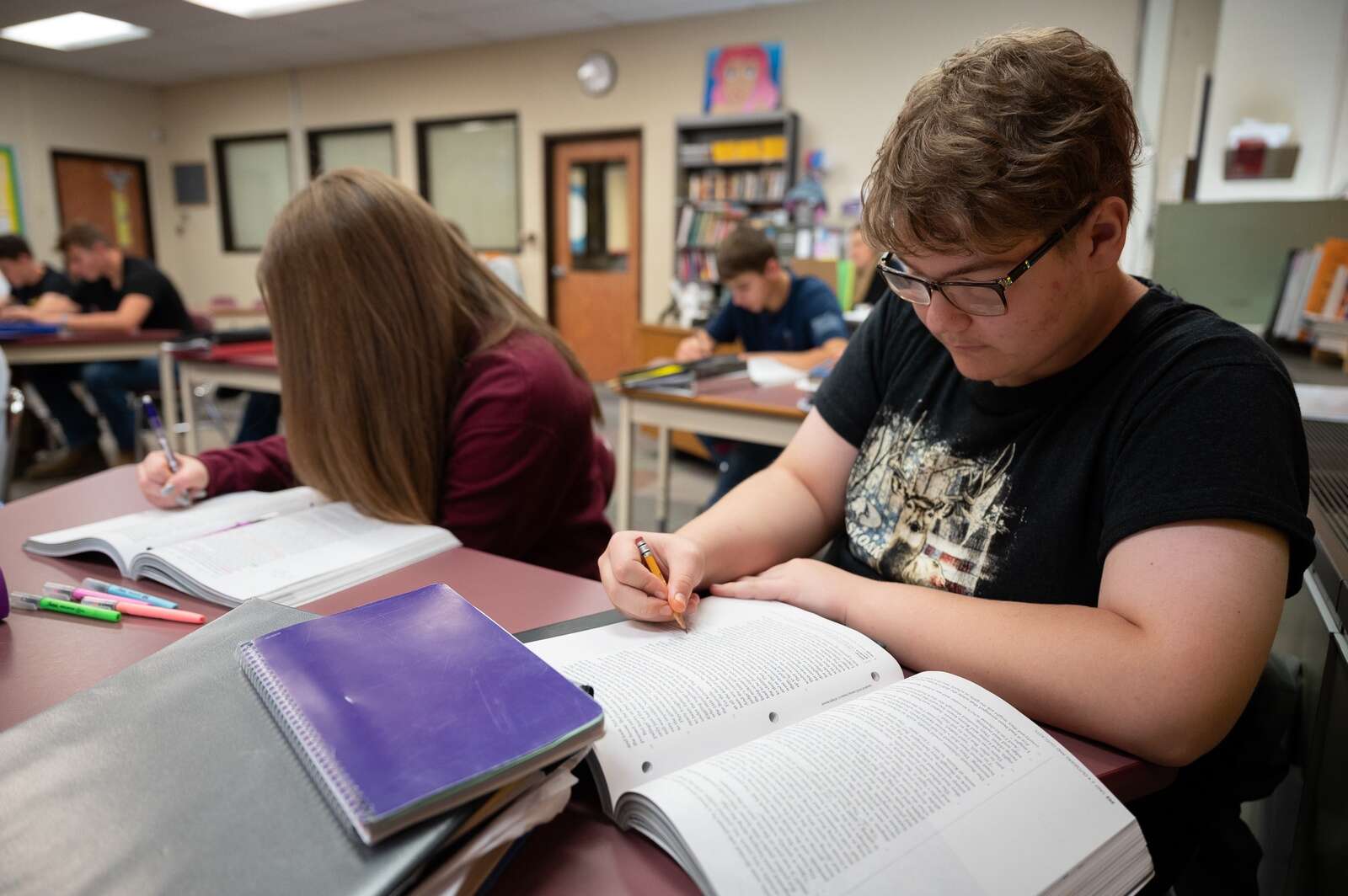 A student walking the halls of school buildings at Butler Area School District this year might notice it's a little more crowded than usual.
The district has approximately 100 more students enrolled this year as compared to the year before.
"I think that marks the first time that enrollment has gone up in quite a long time," said Brian White, superintendent. "Some years, our enrollment has had sort of a dramatic decline, and right now, being up 100 kids is pretty good for us."
More than two years after the start of the COVID-19 pandemic, students are beginning to return from cybercharter schools, which White credits with around 45% of the increase in students. The other 55% of students moved to the district from other locations, White said.
In all, Butler Area's student body numbers 6,125 this year.
"I think this year's growth was a little bit fueled by kids returning from cyberschool," White said. "But there's also housing developments in Butler Area School District that are being built as well, which are also contributing, to a certain extent."
Districts across Butler County have seen a wide range of enrollment fluctuations during the past few years, bringing with them both the impacts of and recovery from the pandemic, as well as creating new challenges.
Keeping up with growth
While Butler Area saw growth in the student population this year, White said he doesn't expect it to continue exponentially.
"I think we anticipate stable enrollment," White said. "I don't think we're anticipating any type of massive increase."
The expansion in numbers this year funneled particularly into a few grade levels across the district, he added. A number of high schoolers who returned from cyberschool didn't earn enough educational credits through their programs and were placed in 10th grade despite being the age of 11th- or 12th-graders.
"We are in the middle of a reorganization already," White said. "When there's more kids in need, you need more support with them. If kids are unsuccessful, you need to find staff to support them, and the challenge right now is to find support staff. We're short paraprofessional positions right now — we can't find people to fill the jobs."
Like many districts, Butler Area has a number of open paraprofessional positions, as well as positions for bus drivers.
"(Trouble) with filling positions, I feel like that's pretty standard across the entire commonwealth," White said. "In many ways, we're better off staffing-wise than many others. I think some of that is our geography. For better or worse, we're a little off on our own, so we can pull from people who work around us."
Returning from cyber
At Mars Area School District, business manager Debbie Brandstetter said a 61-student increase in enrollment at the district this year was due in part to students returning from cybercharter schools.
"We did have kids come back," Brandstetter said. "Our cyber numbers did go down from where they were last year."
The district's enrollment as of Sept. 1 was at 3,522. Eighty-nine Mars Area students attended cybercharter schools in 2022, a decrease of 39 from 128 the previous year.
In all, Mars Area School District's total enrollment has seen an increase of 222 students since 2018.
Other districts also have seen students return from cyberschools, including Karns City Area School District, said Eric Ritzert, superintendent.
"We've seen more students come back to us from external cyberschools to our in-person school setting, whether it's in-person with us or in our own cyberprogram," Ritzert said. "We believe that's a positive trend that we are seeing. I credit our teachers and our administration for reaching out to those families to make them aware of that option."
Ritzert described the movement of students in and out of the district as "relatively net neutral," adding he expects stability in the next few years.
"We don't have a large influx of people, but usually the ones that do reside in the district generally stay," he said. "From that aspect, I do think it will be stable. In the near future, we're hopeful to break ground this coming school year with the new addition onto the Chicora Elementary School, which will allow us to consolidate our two elementaries into one building with a newly renovated and increased educational capacity complex, which will accommodate what we will believe to be our current and future enrollment."
The post-COVID numbers at Karns City are "pretty typical" for the last couple of years, Ritzert said, and the trend each year has fluctuated between 20 students, plus or minus.
"As a small district, we're well-positioned to predict and understand our student enrollment," he said. "I believe as a system we're primed to address the next 10 to 15 years' worth of what could be coming down our way."
Looking ahead
At Seneca Valley School District, superintendent Tracy Vitale said the district saw relative stability during the past year, with an enrollment count of 7,381 this year and 7,382 last year. Looking back five years, the district has seen an increase over time of 136 students.
"We were lucky," she said. "We only lost about 50 kids during the pandemic, but I have to tell you that other districts weren't so lucky. If they didn't have their own cyberschool, their numbers were much higher."
Movement within the district sometimes balances out, especially with what Vitale called "corporate movement."
"We have nine municipalities, and Cranberry Township is an area that can be very transient for corporate America. Families transfer in, and they transfer out," she said. "We might see 350 new kids come in, and 350 kids leave, or 330 leave in any given year. We didn't see that shuffling during the pandemic, but we are starting to see some of that movement again. But not as much as before the pandemic. I suspect that is because companies have softened their policies around where people can live in order to do their work."
The district works with demographers to predict growth and enrollment shifts, Vitale said.
"We don't have a crystal ball, but we hired demographers — we have a group of people who study student populations, and they have formulas and statistics, and they look at how many children were born in the last five years," she said. "They look at the home-building. They know Cranberry is still growing, but Forward and Jackson and Zelie have really taken off."
Growth planning factors into projects such as the new Ehrman Crest Elementary and Middle School, which opened this year, she said.
"We are growing. It's good steady growth, and we are able to accommodate the growth because of all the planning that this school board and prior administrations did over the last 20 years," Vitale said. "The (new Ehrman Crest school) property was bought 20 years ago with the thought that we would need it. They weren't positive whether they would need it for high school or elementary, but they knew they would need it based off the substantial growth they were seeing 20 years ago."
At Butler, White is looking ahead to ongoing struggles that the district faces with the number of housing insecure or homeless students.
"We're trying to get a handle on it to see if last year was different than this year, (with) the number of students who are homeless who end up in our school district," he said. "Their enrollment sometimes shifts between the districts, but also we end up with families from other communities who are homeless, and that presents a different kind of challenge, in providing proper support. The last few years have just been so hard because of the pandemic. Are these trends, are these one-offs, is this our new normal? We're just not sure."
The district works with the Center for Community Resources and Glade Run Lutheran Services to assist homeless students, and many of the Butler Area schools offer "kindness closets," or stations stocked with essential supplies for students in need.
"We have the Tornado Shelter at the high school, which is full of clothes and toiletries and things like that," White said. "Students can access that if they need items. It's stocked by donations, but students and teachers help organize it. Students access it on a very regular basis. When there's a season change, we also set up tables in the hallway and set things out."
More in Progress