Raiders come up short vs. CC
JACKSON TWP — Lamenting missed opportunities won't be something coach Ron Butschle and the Seneca Valley football team can afford.
Following a month without a conference game, the Raiders were thrust into a high stakes game, which they lost 28-25 to Central Catholic Friday night at NexTier Stadium.
The Raiders, who have lost five straight to Central Catholic, are now forced into a tough week if they are going to make the WPIAL Class 6A playoffs. Seneca Valley will now have to beat North Allegheny next week or have Mt. Lebanon beat Canon-McMillan to make the playoffs.
The margin of error for the Raiders (6-3, 1-2) has been eradicated.
"We're going to come back here tomorrow morning and restart," Butschle said. "We are going to practice next week getting ready for a playoff game."
The Raiders got a big passing performance from Graham Hancox, who finished with 300 yards passing and three touchdowns. Luke Lawson was his top receiver, catching nine passes for 175 yards and three scores.
But it was a key special team's moment that killed Seneca Valley. The Raiders went ahead 13-7 with 7 minutes, 23 seconds left before halftime on a 47-yard catch-and-run by Lawson on a pass by Hancox.
Seneca Valley kicked the ensuing kick-off out of bounds. Vikings coach Terry Totten said Central Catholic loves their returners and decided to make the Raiders kick it again. Vikings return man Xxavier Thomas ran it back 88 yards for a score, allowing Central Catholic to surge ahead 14-13 just 13 seconds later.
"We played and made the same mistakes we made in our other two losses," Butschle said. "If you look at the game, the kickoff return for a touchdown was a momentum changer. We never really got our tempo offense going, which is what we do best."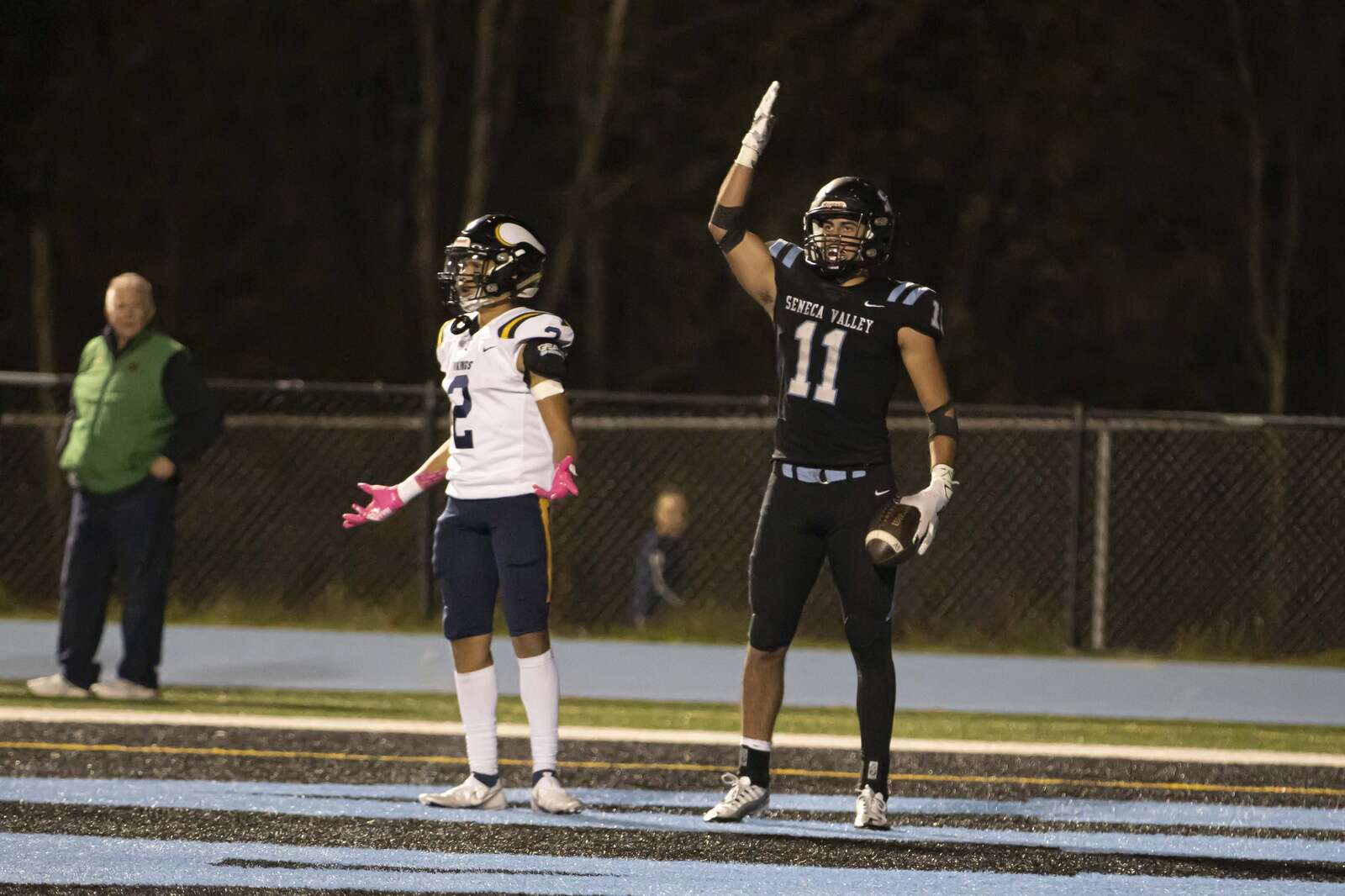 Central Catholic rallied behind the excellence of quarterback Payton Wehner, who threw for 300 yards and two touchdowns. Wehner's first touchdown pass to Peter Gonzalez, who led the Vikings with 129 receiving yards on seven catches, tied the game at 7 in the first quarter.
While Central Catholic (5-4, 2-2) doesn't have its usual sparkling record, Totten said it was because of how young his team is. He felt his team may have grown up a little bit.
"I hope so, there are hardly any seniors out there," Totten said. "There's no more than two seniors on the field at any given time."
Gonzalez's second touchdown catch allowed Central Catholic to take a 21-13 lead into halftime. Penn State football coach James Franklin, accompanied by former Gateway coach and Nittany Lions assistant Terry Smith, arrived via helicopter at halftime and watched about a quarter of the second half from the track. The Nittany Lions have been recruiting Vikings junior linebacker Anthony Speca.
After halftime, the Raiders used a surprise wrinkle to get back in the game. With starting running back Wyatt Craver out with an injury and backup Kai West also out with an injury, Seneca Valley called upon Sean O'Shea to pick up some carries.
"I got one rep last week," O'Shea said. "They said I might get in a little bit because we are short on running backs. Our starter got hurt tonight and they told me at halftime I was going to go in."
O'Shea would get 16 carries in the second half and led the Raiders with 81 rushing yards. Seneca Valley capped its first drive of the second half with a seven-yard touchdown run by O'Shea to cut the lead to 21-19.
Central Catholic's final score came on a contentious drive. In the fourth quarter, a Seneca Valley punt bounced up and hit two players that were engaged. The Raiders fell on the ball, but it was ruled it went off a Seneca Valley and not a Central Catholic player.
On the ensuing drive, Vikings receiver Vernon Settles lost the ball at the end of a 50-yard catch-and-run, but was ruled to have been down by contact.
Amari Shields would cap that drive with a 10-yard touchdown run that put Central Catholic ahead 28-19. Another Lawson touchdown would cut the lead to three with 5:28 remaining, but the Vikings were able to grind out a win.
O'Shea said the Raiders are focused on earning a spot in the playoffs next week.
"I think this showed us where we were at," O'Shea said. "NA is a tough team. We will put up a fight. It's great to see where we'll be at next week."
Central Catholic 7 14 0 7 — 28
Seneca Valley 7 6 6 6 — 25
First Quarter
S — Luke Lawson 24 pass from Graham Hancox (Jacob Adams kick), 4:00
C — Peter Gonzalez 55 pass from Payton Wehner (Billy Lech kick), 2:28
Second Quarter
S — Lawson 47 pass from Hancox (kick failed), 7:39
C — Xxavier Thomas 88 kick return (Lech kick), 7:23
C — Gonzalez 15 pass from Wehner (Lech kick), 1:33
Third quarter
S — Sean O'Shea 7 run (pass failed), 9:24
Fourth Quarter
C — Amari Shields 10 run (Lech kick), 9:45
S — Lawson 23 pass from Hancox (kick failed), 5:28
Individual Statistics
Rushing,Central Catholic, Elijah Faulkner 13-52, Payton Wehner 14-36, Amari Shields 4-30, Vernon Settles 1-16. Seneca Valley, Sean O'Shea 16-81, Kai West 4-3, Chris D'Appolonia 1-(-3), Graham Hancox 5-(-15).
Passing: Central Catholic, Payton Wehner 16-28-300-0. Seneca Valley, Graham Hancox 22-38-300-0.
Receiving: Central Catholic, Peter Gonzalez 7-131, Vernon Settles 3-75, Cole Sullivan 3-69, Jacob Sassic 2-23, Bradley Gompers 1-3. Seneca Valley, Luke Lawson 9-175, Jackson Wetzel 5-51, Aiden Lyczek 4-40, Chris D'Appolonia 2-15, Amari Henson 1-5, Kai West 1-2.
More in High School