Mosaic celebrates region with rich, sparkling scavenger hunt — and stories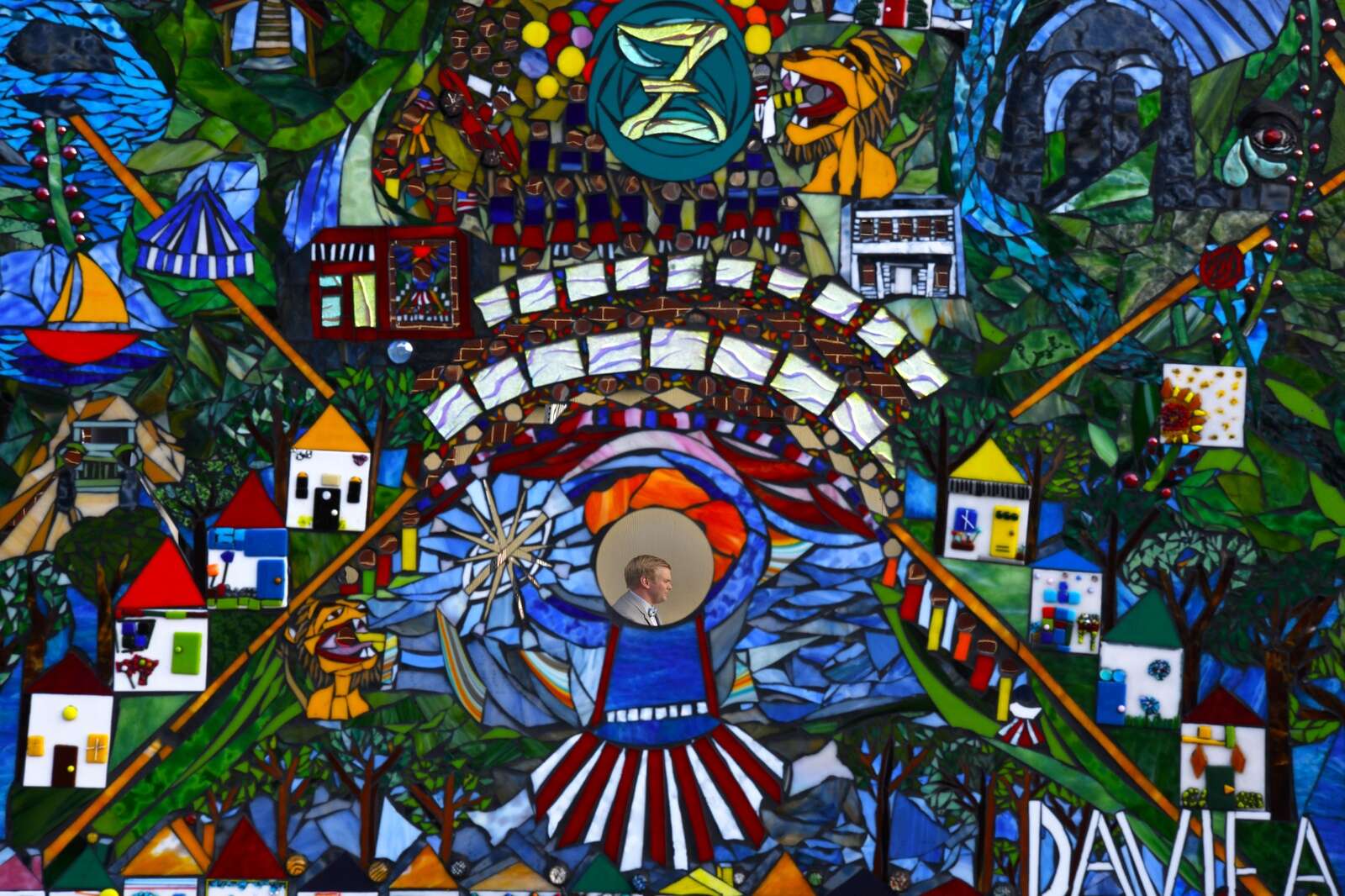 ZELIENOPLE — A picture is worth a thousand words, but a mosaic like the one that was unveiled outside Spring Street Studios Thursday night offers a whole world.
The Zelienople & Butler County Community Mosaic shined in the twilight of an open air evening to bursts of applause and fascinated passersby stopping to interpret its panorama of creations.
These ranged from the historic to the whimsical: a "Z" to honor the emblematic Z's that welcome visitors at both entrances to the borough, a theater bedecked by a "Now Showing" sign for Zelienople's Strand Theater and a flying saucer for neighboring Mars.
The piece features imagery of 26 different community treasures from Zelienople and other neighboring Butler County communities.
Daviea Davis crafted the mural from fragments of reclaimed glass over the course of nearly three months, often working for 10 hours a day. The project, funded by a grant from the Butler County Tourism & Convention Bureau, seeks to recreate the culture and spirit of Zelienople and Butler County.
The most distinctive feature of the work, which extends 6 feet in width and 8 feet in height, is a mirror at the center of a majorette's face. The majorette commends Betty Lambert, a local celebrity who's served as baton twirler in Harmony's Fourth of July parades for decades.
Lambert, who had suffered a stroke before July's festivities, still turned out at age 89 to twirl her baton and perform the splits before the crowd once more. A note in the guide for the artwork advises people to "be your own Betty," meaning you should passionately pursue interests and dreams with determination, even in the face of hardship.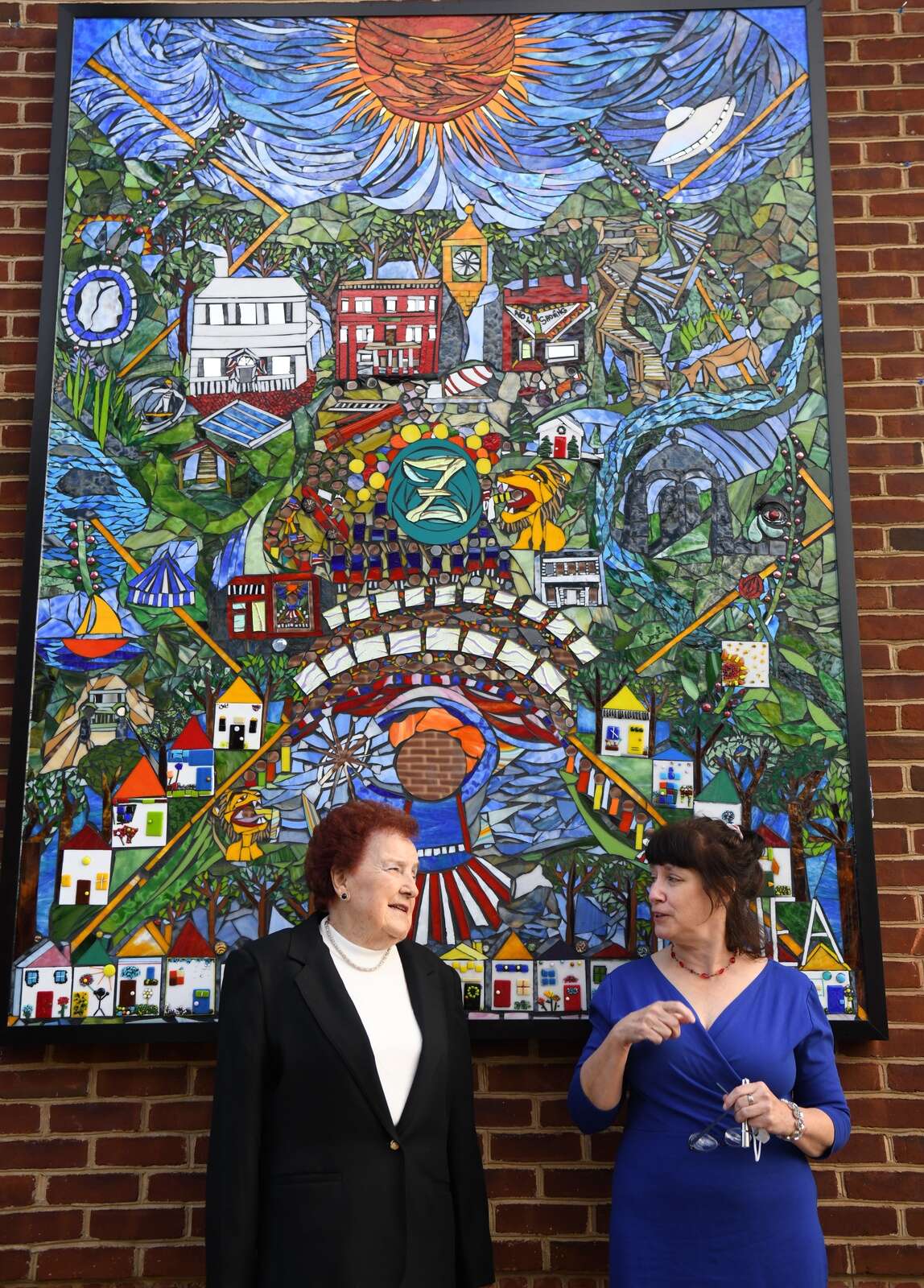 "We thought, 'What's one beautiful cool thing, structurally, or what's important? These things,'" said Davis, describing the idea-making process behind the piece.
Renee Ayers, a co-founder of Spring Street Studios, chimed in.
"I went to her even, like, two weeks before the piece was done," said Ayers, referring to Davis. "And I said, 'What do you think about throwing this in?' She's like, 'Yeah! We'll make it work!' Just totally free-thinking. It was awesome.'"
Spring Street Studios, which exhibited the work, helped to introduce it before the blue tarp that had veiled the mosaic dropped. Jeff Martinelli, head of public relations and communication at Butler County Tourism & Convention Bureau, and Mary Hess of Zelienople's City Council also attended the event.
Resident Tom Turici, who has lived in Zelienople for 30 years, said he was glad to see another symbol of the community's revitalization. It's a unique community with dozens of flourishing small businesses, he said.
"The people in this town know everybody," he said. "It's a small-town community. I know 30 people walking down here today."
He pointed out how one of the young girls outside the gallery was his daughter's friend. He played pickleball in Cranberry with a group of people he was talking with just a minute ago.
"So, I think that the people make Zelienople. It's a small-town feeling."
He pointed out an eerie eye in the mosaic that Davis had drawn from a poster for the groundbreaking movie "Night of the Living Dead," saying this was filmed in Evans City. A crowd who had gathered jumped in when it heard this, telling more about the movie and how the region played a role in history.