Seneca Valley's Fronk gets overwhelming support in battling Hodgkin's lymphoma
JACKSON TWP — In early August, Seneca Valley senior Ginny Fronk began prepping herself to do battle against rival schools as the Raiders' senior girls soccer goalkeeper.
By late August, Ginny found herself in a fight she never saw coming — and those rival schools became part of her support system.
She was diagnosed with Hodgkin's lymphoma shortly after being rushed to UPMC Passavant on Aug. 19.
"She was in Hodgkin's lymphoma," Ginny's father, Stuart Fronk, said, "causing the entire body to shut down."
Ginny spent two weeks in UPMC Children's Hospital of Pittsburgh receiving treatment. She already has undergone a round of chemotherapy with a second cycle of chemo scheduled for Monday.
One day after learning her diagnosis, Ginny addressed her team following a scrimmage and explained her condition.
"A very courageous thing for a young person to do," Seneca Valley girls soccer coach Mark Perry said. "We could have learned of this another way. Ginny wanted to tell us herself."
While Ginny's prognosis is good, the Raider soccer program wanted to do something to lend support to her cause.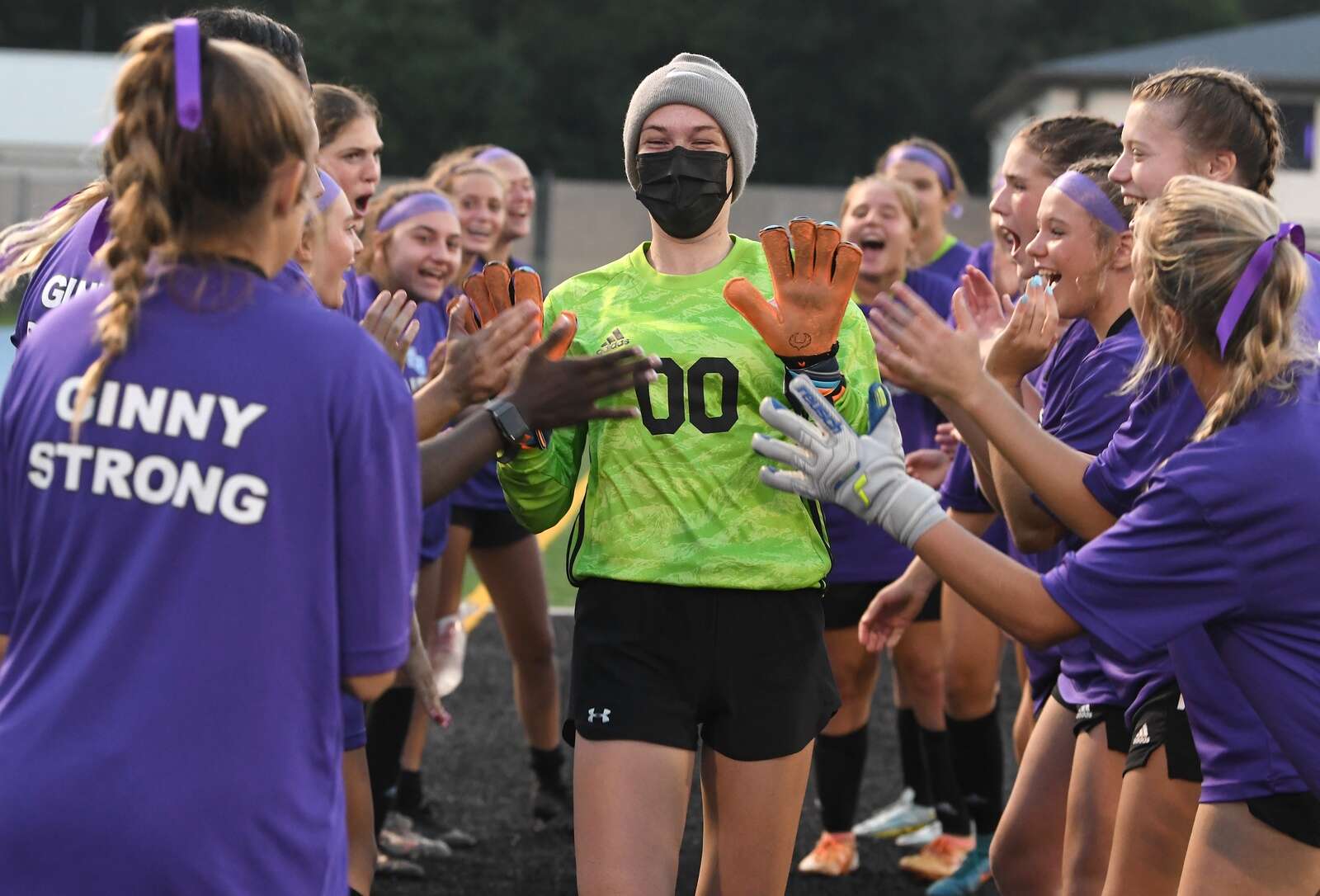 Overwhelming support
Soccer booster club president Matt DeMarco and assistant girls soccer coach Jenna Plummer got together "almost immediately" upon hearing the news, DeMarco said.
"We decided to do a fundraiser, primarily through the selling of 'Ginny Strong' purple shirts, since purple is the color of lymphoma awareness," Plummer said. "Since we got the shirts out there, this whole thing has taken off.
"The support this girl has received from the community, all over, has been incredibly overwhelming."
Prior to last Wednesday's game against North Hills at NexTier Stadium, booths were set up selling 'Ginny Strong' shirts. DeMarco said 18 baskets, donated by area retailers and restaurants, were to be raffled off and a 50-50 drawing was taking place. All funds were going toward Hodgkin's lymphoma awareness and the Leukemia & Lymphoma Society.
"I can't say enough about that organization," Fronk said of the society. "They've walked us through everything, been with us every step of the way. I mean, something like this happens to your child ... we didn't know what to do. They do, and they're there."
Other soccer programs have been there as well.
Seneca Valley section rivals Butler, Pine-Richland, Shaler and North Allegheny all bought 'Ginny Strong' shirts for their team members. So did Latrobe, Oakland Catholic and North Catholic.
Goal exceeded
DeMarco said the original goal was to sell 200 shirts and raise $5,000. Before Wednesday's event even began, more than $1,000 in shirts had been sold at a cost of $15 (short sleeve) and $20 (long sleeve) each.
The shirts and Wednesday's event raised $17,000.
"We had a game Monday at Pine-Richland, and when we got there, the entire Pine-Richland team was wearing the 'Ginny Strong' shirts during warmups," SV soccer parent Ada DeFanti said. "It was so moving."
Ginny will be continuing her education and soccer career at George Mason University, Carrying a 4.8 grade point average in high school, she plans to major in biology. The entire George Mason women's soccer team has bought shirts as well.
"Their goalie coach, Alyssa Whitehead, played goal for the Jamaican national team," Fronk said. "Goalies share a bond. She's been great with Ginny through this, as has their head coach, Manya Puppione.
"Every member of that George Mason team wrote Ginny a letter. Every single player. They're supporting her all the way on this," he said.
So is Pittsburgh Penguins Hall of Famer Mario Lemieux, who beat Hodgkin's lymphoma himself during his playing days. Through the Mario Lemieux Foundation, he sent an autographed Lemieux jersey to be auctioned at the game Wednesday night.
Lemieux also wrote a personal letter of support and encouragement to Ginny.
After going through her first chemo treatments and with her doctor's approval, Ginny suited up for Seneca Valley's non-section game against Norwin last week. The Raiders had a 1-0 lead at halftime, though Ginny did not start. Coach Perry put her in goal for the second half.
"It lifted her spirit and the spirit of our entire team," Perry said. "And she played great."
Ginny made four saves in the second half, including a lunging stop to preserve the shutout and the victory.
"Watching her come off that field, that smile on her face is something you don't forget," SV athletic director Heather Lewis said. "It was illuminating. It was inspiring to me. It reminded me to take notice of the special moments in life."
Lewis battled breast cancer last year and helped the Raiders' coaching staff and players deal with the news of Ginny's diagnosis.
"Heather spoke to us through experience," Perry said. "She showed us how to handle it. She's been a major help through this entire process."
"I went public with my fight because I wanted people to understand it," Lewis said. "I believe there's a reason why I have this job, why I'm at Seneca Valley at this time of my life. I believe I'm supposed to help this young person and her family. This is not the way a girl is supposed to start her senior year."
"It felt like a movie when she played the other night," Fronk said of Ginny's performance against Norwin. "But it's not a movie. This is real. She has a struggle in front of her.
"Ginny had beautiful auburn hair. That's gone now. Her spirit, her attitude are as strong as ever. She told me she'd rather play soccer than have hair. She loves this game."
Ginny was scheduled to attend Wednesday night's festivities and was planning to start the game in goal for her team. She came down with a fever that afternoon and was taken to the hospital, dealing with another infection.
She was released from the hospital and got to the stadium in time for Wednesday's varsity game. She took the field as the starting netminder, the opening kick was intentionally rolled to her and she scooped up the ball, receiving applause from everyone on hand
She was then removed from the game.
"It was important for her to get here and witness firsthand the kind of support that's behind her," Lewis said. "I felt and received that same kind of support."
Whether Ginny will need to undergo radiation treatments won't be known until October. She is moving full steam ahead with her life regardless.
"She says this cancer isn't that tough, that she will beat it easily," her father said. "That's just who she is. That's Ginny."