Indiana, Mars meet in conference opener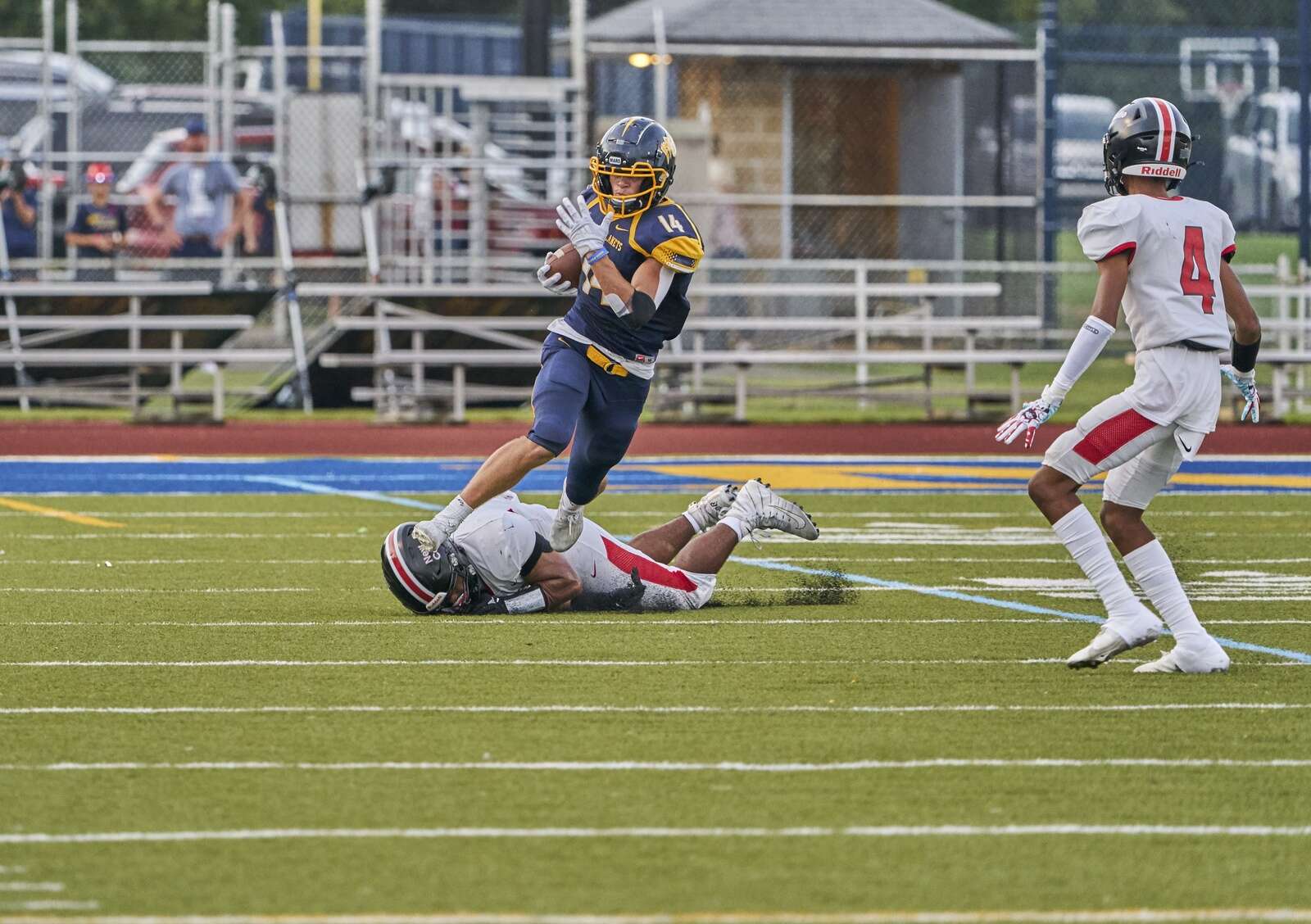 Now it's for real
The thrill of victory and the agony of defeat — Indiana and Mars have recently found themselves on opposite ends by the slimmest of margins.
The Little Indians have prevailed in their last two games by a single point. They survived a meeting with Knoch two weeks ago, winning 32-31 in overtime. Last week, Indiana celebrated a 23-22 decision over Shady Side Academy.
Meanwhile, Mars' hot start to the season was halted last Friday when Blackhawk kicked a late field goal to down the Planets, 15-14.
The 2-1 teams will square off against each other Friday when the Indians invade the Mars Athletic Complex for a mutual Greater Allegheny Conference opener.
"We had nine or 10 opportunities to put that game away in the fourth quarter," said Mars coach Eric Kasperowicz of the loss to Blackhawk. "Some dropped passes, penalties called against us that helped Blackhawk move the ball of their last drive ... The good news is the game didn't count (in the conference standings). We just have to put it behind us and get back on track."
First-year Indiana coach Brad Wright is pleased with how his team handled crunch time the last two weeks.
"It's been very challenging, but the kids rose to the occasion," he said. "The team is playing with a lot of confidence right now."
Indiana went 5-6 last year, with a lopsided playoff loss to Thomas Jefferson ending its season.
After passing for just 30 yards per game in 2021, the Indians are leaning more on the aerial game with junior quarterback Trevor Smith, who has passed for 449 yards, three touchdowns and one interception through three games.
"He's a very capable, very intelligent quarterback," Wright said. "He processes things well and has good mechanics."
"They've had a total change in offensive schemes," Kasperowicz said of the Indians. "Their quarterback is also about 50 percent of their running game (242 of 570 yards).
"Indiana is a good, solid team and I'm sure they'll be showing up at our place ready to go."
Senior running back Garrison Dougherty has rushed for 199 yards for Indiana, but has yet to score a touchdown. Liam McFarlane has scored three times on the ground and Smith has two scores.
Both of Mars' touchdowns last week came on the ground. Running back Evan Wright scored on an 82-yard run while quarterback Eric Kasperowicz found pay dirt from eight yards out.
"We moved the ball pretty well, but stalled in the red zone," said Coach Kasperowicz. "We have to keep improving."
Evan Wright has piled up 501 rushing yards so far. Kasperowicz, the quarterback, has completed 35 of 63 passes for 295 yards, two touchdowns and four interceptions.
Slowing the Planets down will be a formidable challenge for Indiana's defense, which is led by 6-foot-1, 170-pound junior linebacker Isaac Nygren, who Brad Wright described as "the best overall player on our defense.
"All week, we've been saying we have to play our best game so far if we are to have a chance to win," Wright added. "Mars is talented, disciplined and well-coached. They have a lot of things going for them."
Mason Childress is handling punting and placekicking duties for the Planets.
"We haven't had to punt much, but when we have, it's been incredible," said Coach Kasperowicz. "Our weakness on special teams, if we have one, would be our kickoff coverage. We gave up a (65-yard) touchdown against New Castle, but we're working on it."
Kickoff is set for 7 p.m.