Mars walks off with fifth straight crown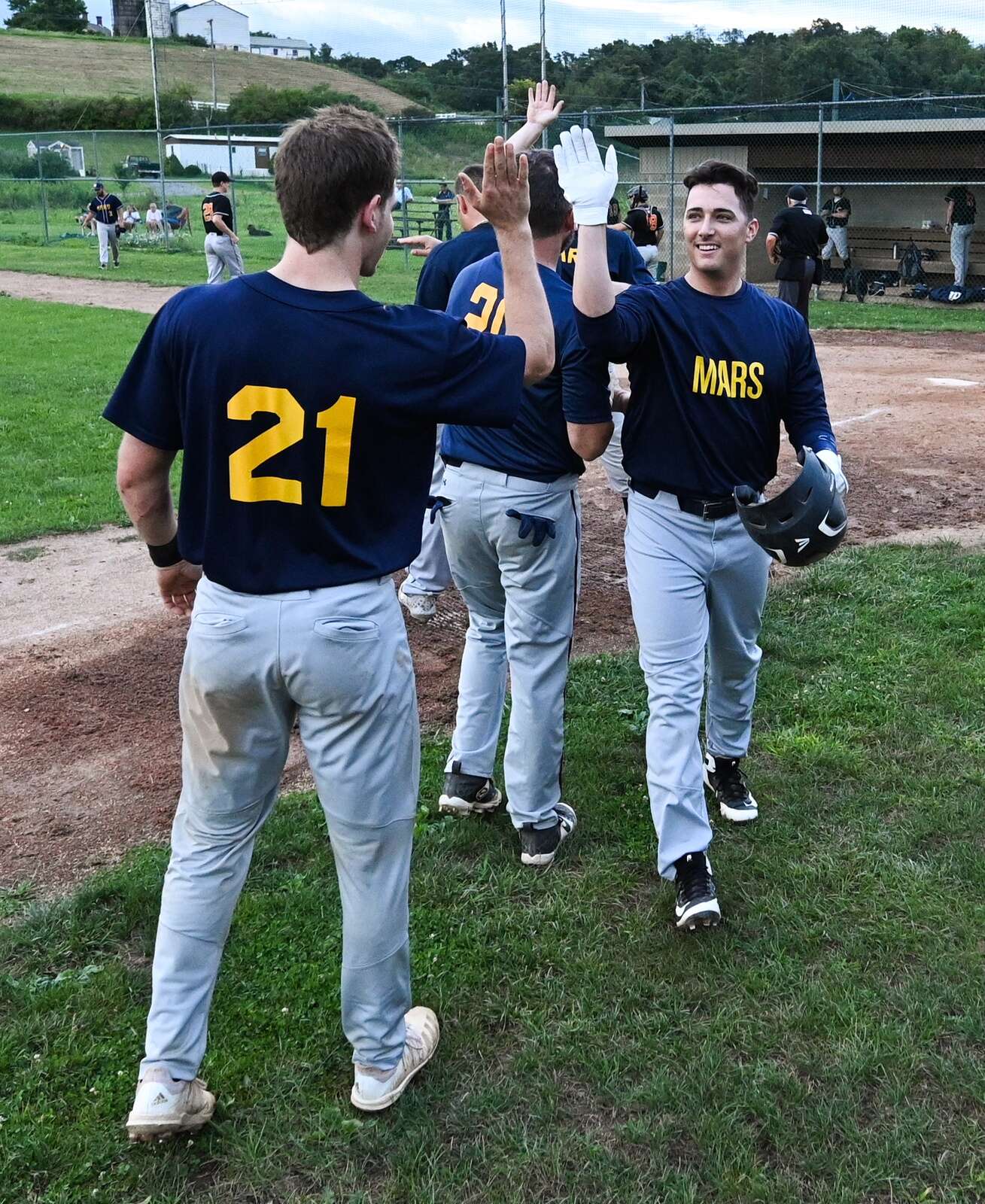 Kings of the County ... again
CALLERY — Contributing to an Eagle County championship is nothing new for Rick Devereaux. He's played for Mars during the team's recent run of titles.
But he may consider the latest one a bit sweeter than the rest.
It was his two-out single in the bottom of the seventh inning that plated Nick Arnoni with the winning run Wednesday at Callery Field, handing Mars a 3-2 victory over Cranberry Township in Game 3 of the best-of-five set.
The sweep marks the fifth consecutive season Mars has claimed the championship.
"Winning's great," exclaimed Mars player/manager Brendan Malone. "We lost in the finals in 2016 and 2017 (to Mars II and Cranberry, respectively). We don't want to feel that way again."
The deciding sequence began with Arnoni's pinch-hit single off Cranberry's Lake Pry to begin the bottom of the seventh.
Scott Ventura's sacrifice bunt moved him to second. Zach Murray's fly out was followed by a throwing error, allowing Arnoni to take third base.
That brought Jim Pasquine to the plate. Standing on-deck, Devereaux heard a Cranberry player urge his team to intentionally walk Pasquine to set up a potential force-out at second base. Devereaux, however, took it personally.
"That added a little fuel to the fire," he said with a smile. "I'm excited. It feels good to get it done."
Pasquine was indeed walked intentionally and Devereaux soon found himself in an 0-2 hole.
"I was looking for anything to hit," he said. "I wasn't going down looking and fortunately, I got a pitch I could do something with."
It was a curveball and Devereaux laced it into center field as Arnoni jogged home.
Cranberry's bats had struggled recently, but on Wednesday produced nine hits and the team's first lead of the series.
Jesse Clary's single in the third drove in Evan Oswald and Tyler Yough's base hit in the fourth plated Johnny Brittner for a 2-0 edge.
It was a lead Cranberry carried into the bottom of the fifth. That's when Mars (25-6) finally got to Pry.
With two outs, Scott Ventura was hit by a pitch and raced to third on Zach Murray's double. Pasquine's single scored both moments later.
"Lake seemed to be on cruise control," Cranberry player/manager Bill Clinefelter said of his pitcher. "We felt good about the lead, but missing a lot of our core guys ended up hurting us."
Jimmy Devine struck out 11, walked three and allowed the two runs on nine hits to earn the victory.
He got out of a jam in the top of the seventh, not allowing a run after surrendering consecutive singles with one out to Matt Evans and Clary.
"He didn't have his best stuff early," said Malone, "but he settled down and kept us in the game. He's been doing it for years."
Cranberry, which has lost to Mars in the final series four straight years, finishes the season with a record of 22-10.
Though disappointed in the result, Clinefelter once again had his team in the mix for a title.
"I can appreciate a good season, even when it doesn't end the way we want it to," he said. "Three months of good isn't erased by what happens over a three or four-day span."
2 outs when winning run scored
Cranberry Twp. 001 100 0 — 2 9 3
Mars 000 020 1 — 3 8 2
W: Jim Devine 7 IP (11K, 3BB). L: Lake Pry 6.2 IP (3K, 2BB).
Cranberry Township: Nash Matson 2-1B, Tyler Yough 1B RBI, Matt Evans 2-1B, Jesse Clary 3-1B RBI, Brandon Pouch 1B
Mars: Zach Murray 2B R, Jim Pasquine 1B 2B 2RBI, Rick Devereaux 1B RBI, Brendan Malone 1B, Dave Lemley 2-1B, Nick Arnoni 1B R