Bar Association marks 130 years in county
Law and Order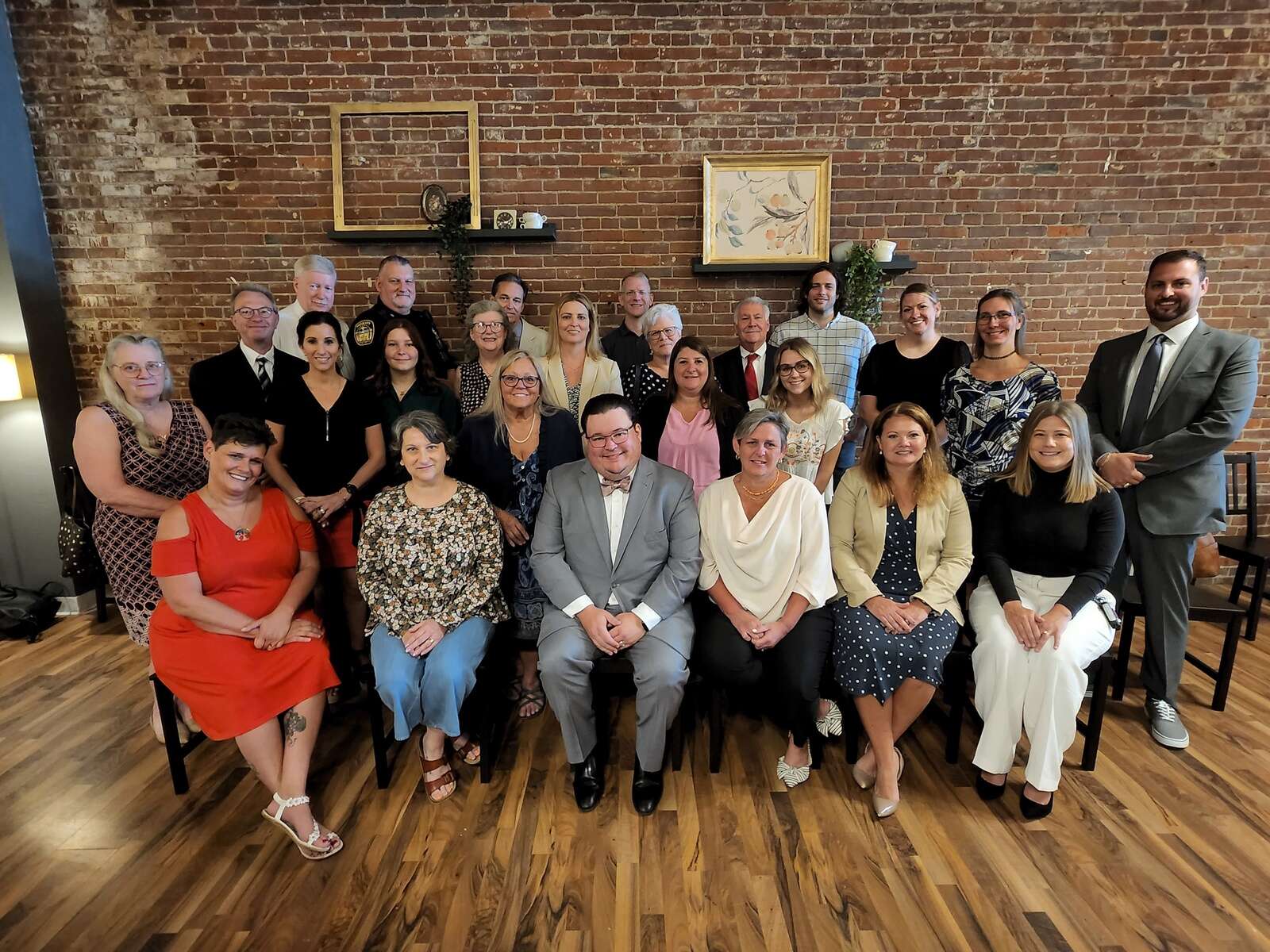 Organizations count on adding young, new members to perpetuate their goals and missions.
The Butler County Bar Association, along with the Pennsylvania and American bar associations, rely on their Young Lawyers Divisions to guide new lawyers to membership.
That can be a challenge.
The American Bar Association says there has to be a value to paid membership because many new attorneys accrue substantial debt from loans for college and law school.
Promoting the value of membership to new lawyers is the charge of Jamey Belin, an attorney with Charlton Law in Sarver, who serves as president of the county bar's Young Lawyers Division.
"For new attorneys fresh out of law school, there's quite a bit of student loans," Belin said. "Younger attorneys don't see the benefit until they get involved with it."
At $105 a year, the cost of membership in the county bar seems reasonable. Members don't have to pay for continuing legal education courses they are required to take to maintain their licenses to practice.
Benefits to new lawyers go beyond dollars and cents, Belin said.
"The main benefit is getting to know more seasoned attorneys. When I started, doing family law, I met other lawyers who, if I had questions, I'd reach out to," Belin said. "It builds that foundation so you can learn more about being an attorney. You have someone you can reach out to."
New attorneys who contact the bar association office to inquire about membership are directed to Belin. Membership in the Young Lawyers Division usually ends at age 40, but the maximum age is extended to 47 for people who become lawyers later in life, he said.
"It helps them get established within the local legal community," he said.
In its 130th year, the Butler County Bar Association serves new and established attorneys in addition to serving the community.
Established in 1892, the county bar association provides continuing legal education seminars that are required for attorneys to maintain their licenses to practice law.
Once a week since July 16, 1959, the bar association has produced and published the Butler County Legal Journal containing items such as estate notices, mortgages, unclaimed property notices, legal judgments and sheriff sales that are required by law to be published publicly.
Mock trials that the bar runs for high school students are academic exercises designed to teach students to communicate and work together.
Through its nonprofit Butler County Bar Association Foundation, members contribute money that is donated to organizations that assist underserved residents.
"When I first joined the bar association, I was straight out of law school," said Maria Imbarlina, of the Haller and Imbarlina law firm in Cranberry Township, who serves as president of the bar association executive committee and chairwoman of the foundation. "I think it's a great opportunity for newer attorneys to network. It's so important to have that camaraderie among members of the bar. That's my favorite aspect of the bar."
Membership in the bar is voluntary. Attorneys who live or practice in the county can join. The county bar has 150 members.
Membership benefits
Invitations to continuing education programs are sent to members and nonmembers, but nonmembers can be charged a fee, said Janis Hackett, executive director.
"Mainly what we do is organize continuing legal education opportunities for attorneys. We organize continuing education opportunities that are hyper-focused to the local legal community," Hackett said. "We try to be welcoming to all attorneys."
The Pennsylvania Continuing Legal Education Board, a branch of the state Supreme Court, sets the standards that the courses have to meet for attorneys to receive credit and conducts accreditation reviews every two years to make sure the programs meet the standards. In addition, the board reviews attendance, she said.
"Courses are designed to help attorneys understand changes to laws and changes in the way courts handle cases," Hackett said.
Attorneys, judges and representatives from other professions such has banking and accounting can be presenters in continuing education programs. A program presented by people in other professions must meet the criteria set by the state board and relate to the practice of law, she said. An FBI agent presented a program on cybercrime and a representative from Veterans Affairs presented a program about legal issues that impact veterans, she added. Some programs are conducted remotely.
The "bench bar" which involves attorneys and judges is the most popular continuing-education program in the county, Imbarlina said.
"The bench bar is probably the most well-attended program we have because it gives attorneys a chance to interact with judges," she said.
The legal journal contains notices that attorneys read and that nonattorneys can use.
"It's a way for people to see if a property is up for sheriff sale. We consider that a public service," Hackett said.
Hackett and her assistant produce the journal, which was distributed by mail only until the COVID-19 pandemic struck. Since then, the bar association has offered electronic versions. Most subscribers sign up for the digital version, but some receive just the printed version or both, she said.
Anyone can subscribe at a cost of $25 a year for the digital version or $60 a year for the printed copy. Subscriptions can be ordered through the bar association website or by calling the office at 724-841-0130.
The bar association connects with high school students by hosting annual regional and district tournaments for the Pennsylvania Bar Association's statewide mock trial competition.
High schools in Butler, Armstrong and Lawrence counties compete against each other and the winner goes against the winner of the Beaver County competition. Beaver County conducts its own competition because it has more than a dozen teams, Hackett said. Each team has a bar member as an adviser.
The winner moves on to regional contests, which whittle the competitors down to two teams that vie for the state championship. One team from each state then competes for national honors.
A statewide mock trial team travels to the competitions to put together the cases the teams will try in the mock court.
A lot of students take part in the challenging competition that is held in courtrooms in the county courthouse. Two teams compete each night of the competition.
"We've seen a large number. It's a very tight, very competitive event for these high school students," Hackett said.
Bar members serve as jurors who judge the students on how they communicate with one another, how they present themselves and how they question and cross-examine witnesses.
"It's more of an academic competition," Hackett said.
Public service
Another public service the bar provides is attorney referral. The county bar association website contains a list of attorneys in the county and the areas of law in which they specialize. The list, which is updated, does not include a directory of attorneys who work for no fee, she said.
The foundation, funded by member contributions, donates money every year to nonprofit organizations.
"We just recently awarded $17,000 in grants to six local nonprofits. That's a nice thing members of the bar do for other nonprofits in the county," Hackett said.