Students prep for upcoming season at band camp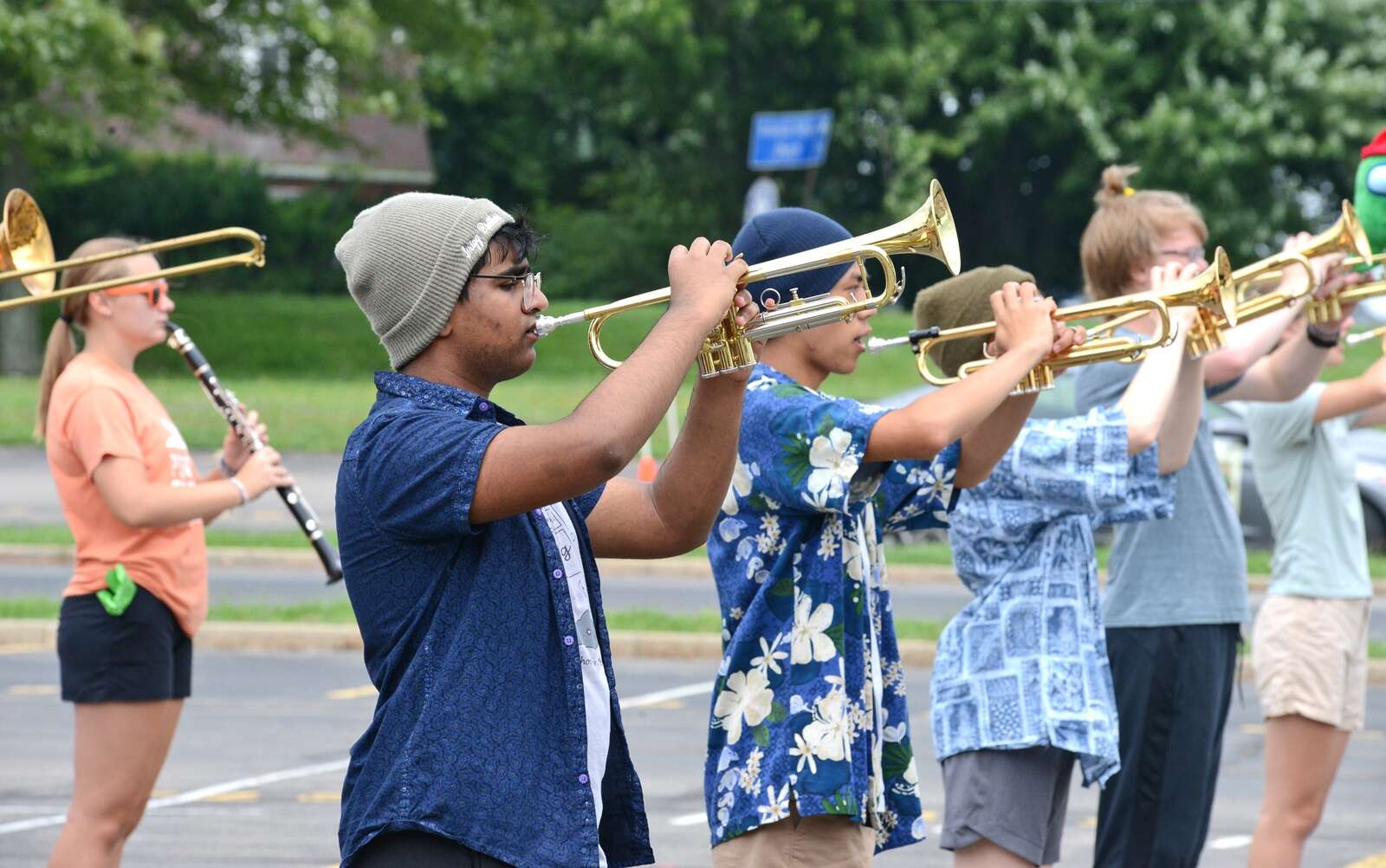 MUSIC'S IN THE AIR
As students march in show formations in the parking lot in front of Mars Area High School holding up their instruments in a practice pose, Meghan Smith, drum major of the marching band, watches and takes notes.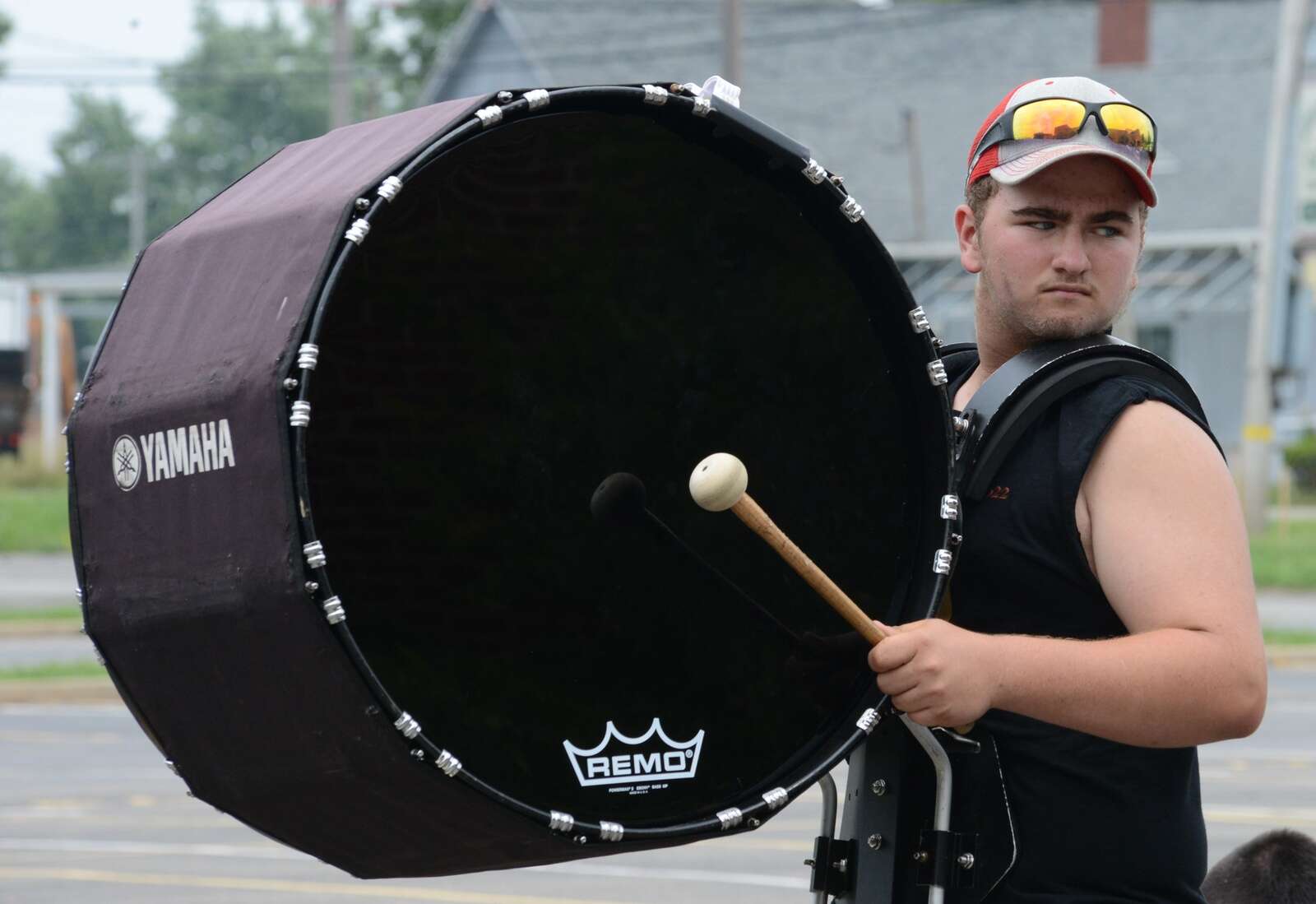 It's a hot, humid day at the start of a hot, humid week, but save for the potential of a thunderstorm, very little presents an obstacle to band camp this year.
"Last year, I felt like it was a lot slower, but this year, everyone is having so much fun," Meghan, a junior at the high school, said. "I think a lot more people are more pumped for the show in general. Everyone just seems like friends, and everyone seems like they want to be here, which I'm really happy about."
It's Meghan's second year as drum major, and her fifth year as part of the marching band. After two years disrupted by the coronavirus pandemic, the band's activities are back in full swing.
All around the county, marching band camps have started back up to prepare for the upcoming football and performance season. For many band directors and leaders, this year is another step on the road to recovering from the wallop of the pandemic.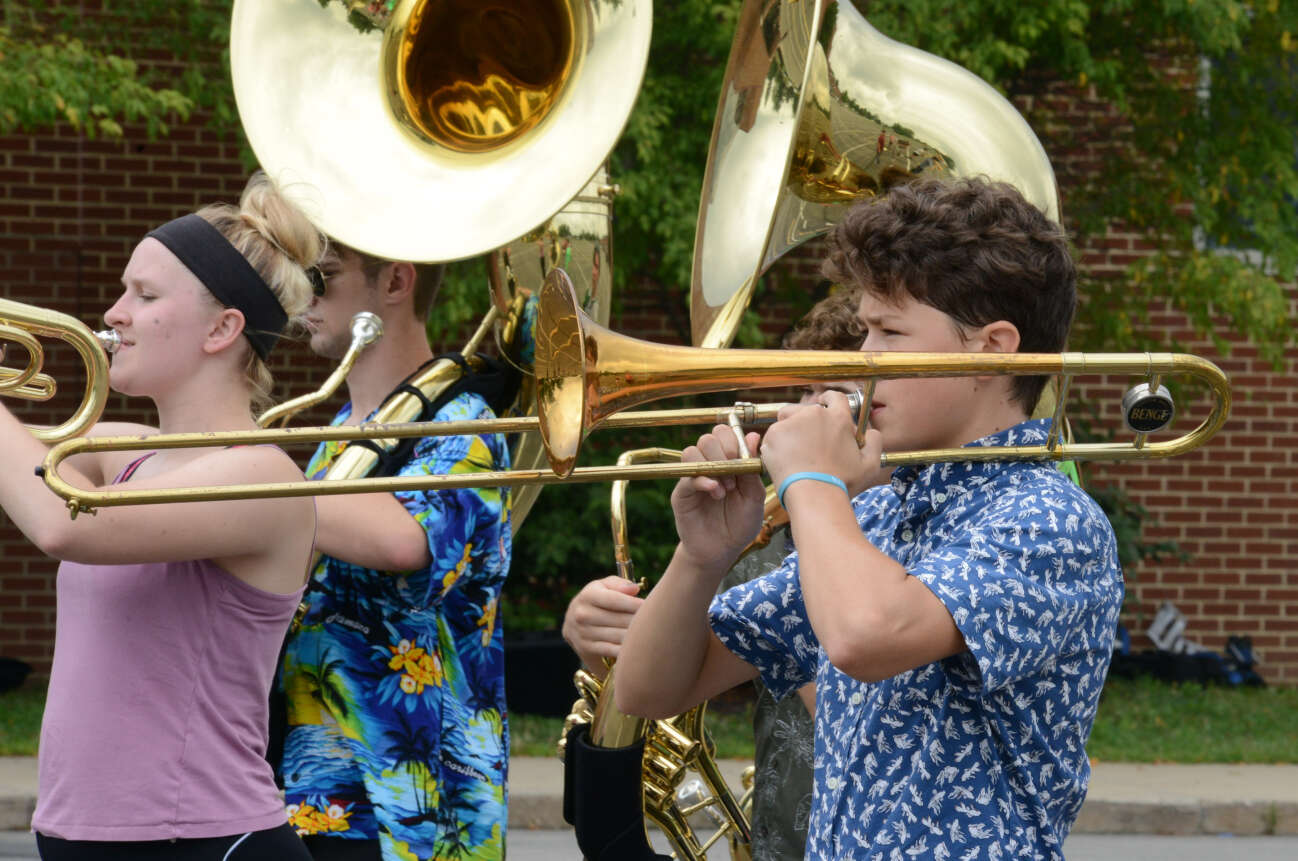 Starting the season
"I think this is probably been the most normal that the kids have felt," said Dave Soose, Mars band director. "We did Kennywood this past weekend, and got the chance to talk to some of the kids, and they feel like band camp is going well and band camp is back to normal. They're excited for the most regular season that they have had in the past two or three years."
At Seneca Valley, Varden Armstrong, one of four marching band directors, said morale is high.
"The feeling of everything here is really positive," he said. "I was a little afraid that because last year, coming off of COVID, it was fairly easy to get the kids motivated, because we haven't done it for a while, but the kids are just moving forward and really excited."
Band camp is, for the most part, back to the way it was before COVID, he said.
"Our camp really feels like it's back to normal in terms of what we're allowed to do," he said. "Using the facilities, having the kids in the same spaces at the same time … it feels completely normal. At the same time, we're continuing to build back from COVID, like a number of other schools."
At Butler, director Jeff Kroner feels the band is on its way to a roaring start to the year, especially compared to past years.
"Last year, we had to pretty much totally rebuild," he explained. "Over half the kids had never marched before. The COVID year, we were here, but we never really marched. There was a lot of rebuilding and teaching them the basics all over again. This year, they came in very strong, very well prepared. This band is probably the furthest ahead that I have had in my career."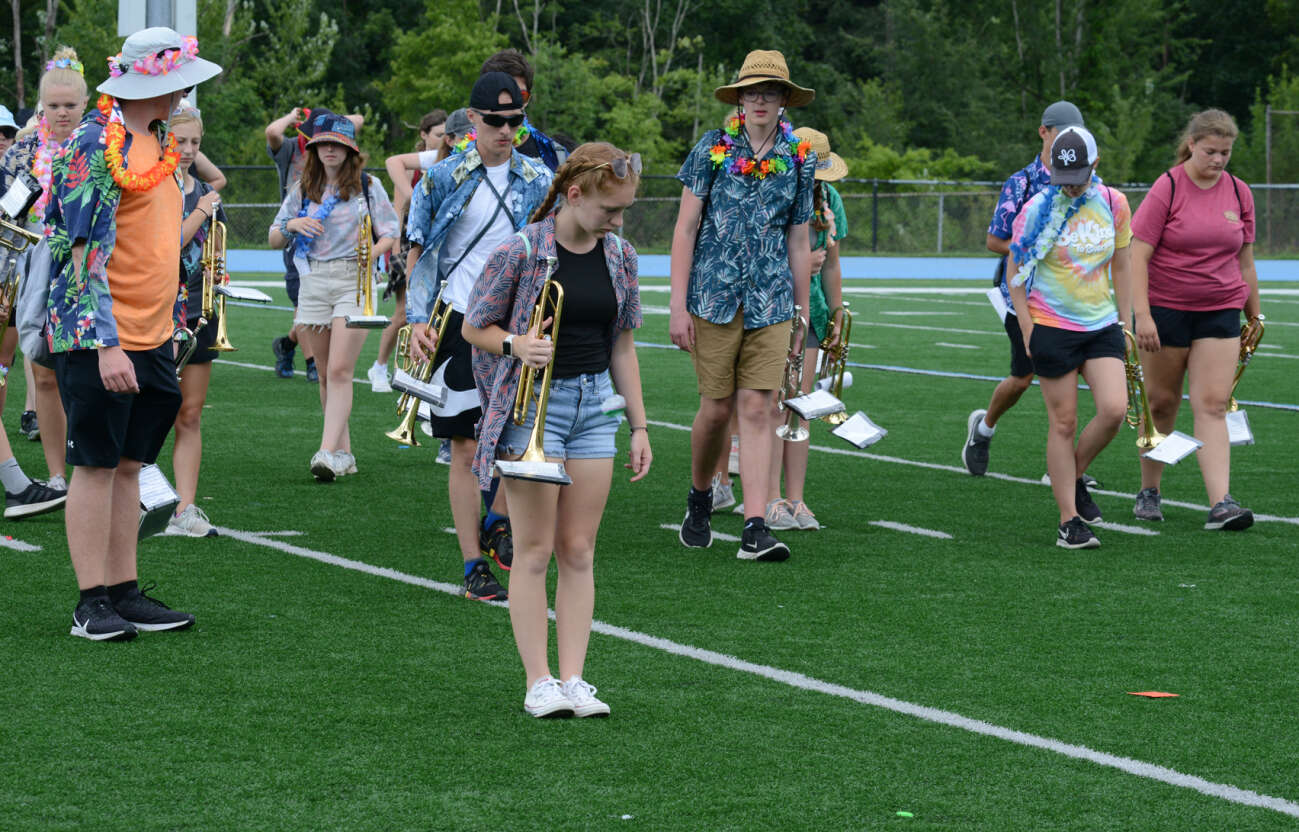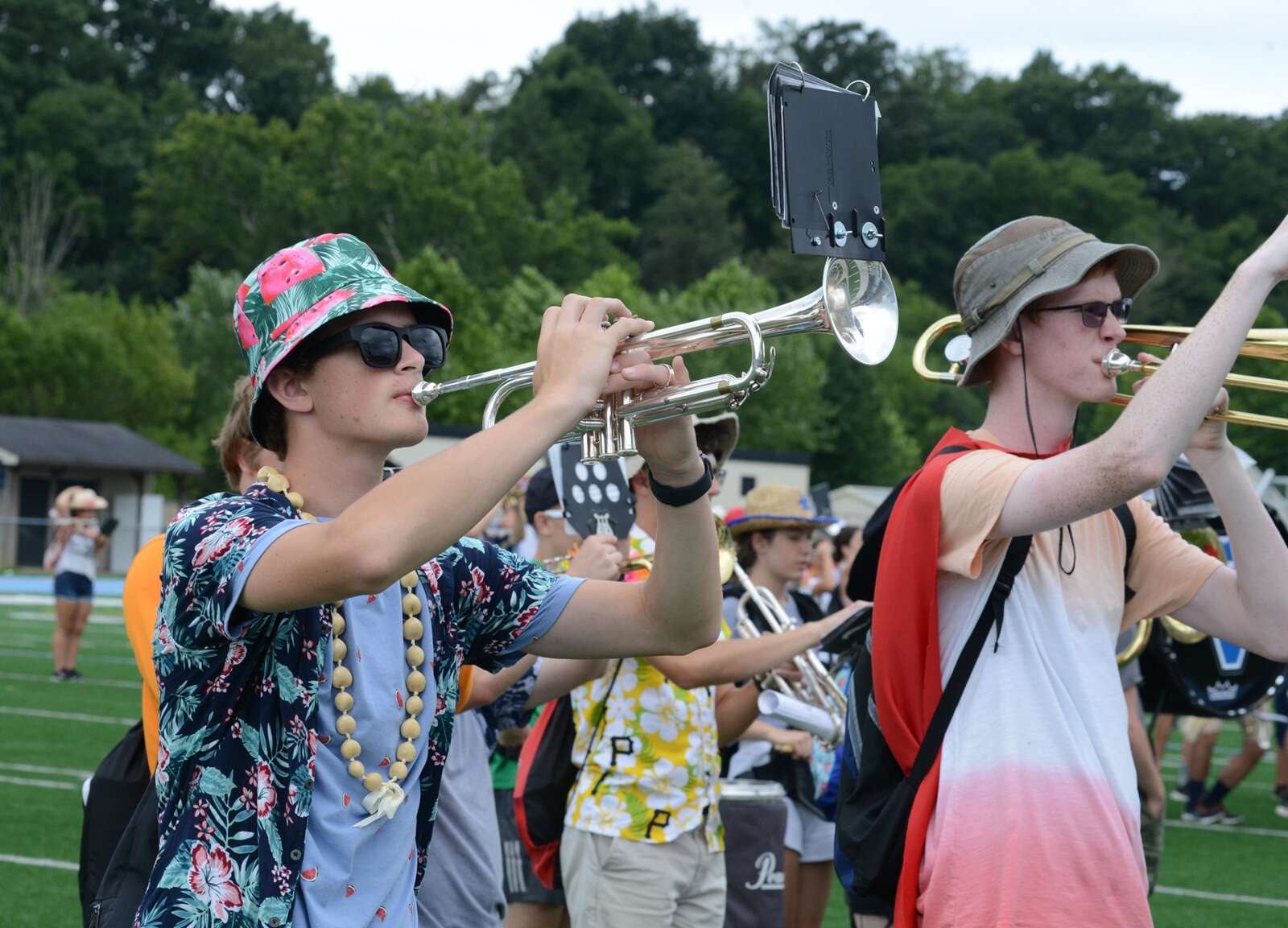 Watching the numbers
The Mars band has 64 students this year, the same number as last year. Soose said around 15 new students joined the band this year from younger grades.
Last year, the looming threat of a drop-off in numbers of children in the lower grades who had started learning their instruments during the pandemic was high on the list of worries for a number of directors.
"I know the middle school seventh- and eighth-grade concert band programs, as of last year, weren't as big," Soose said. "Probably close to half the size. We are definitely still feeling the impact of participation because of that. As of last year, some of the band directors at the lower levels were starting to feel a little bit of increased members, so we're hoping that we start to see some of the increased numbers up in the high school."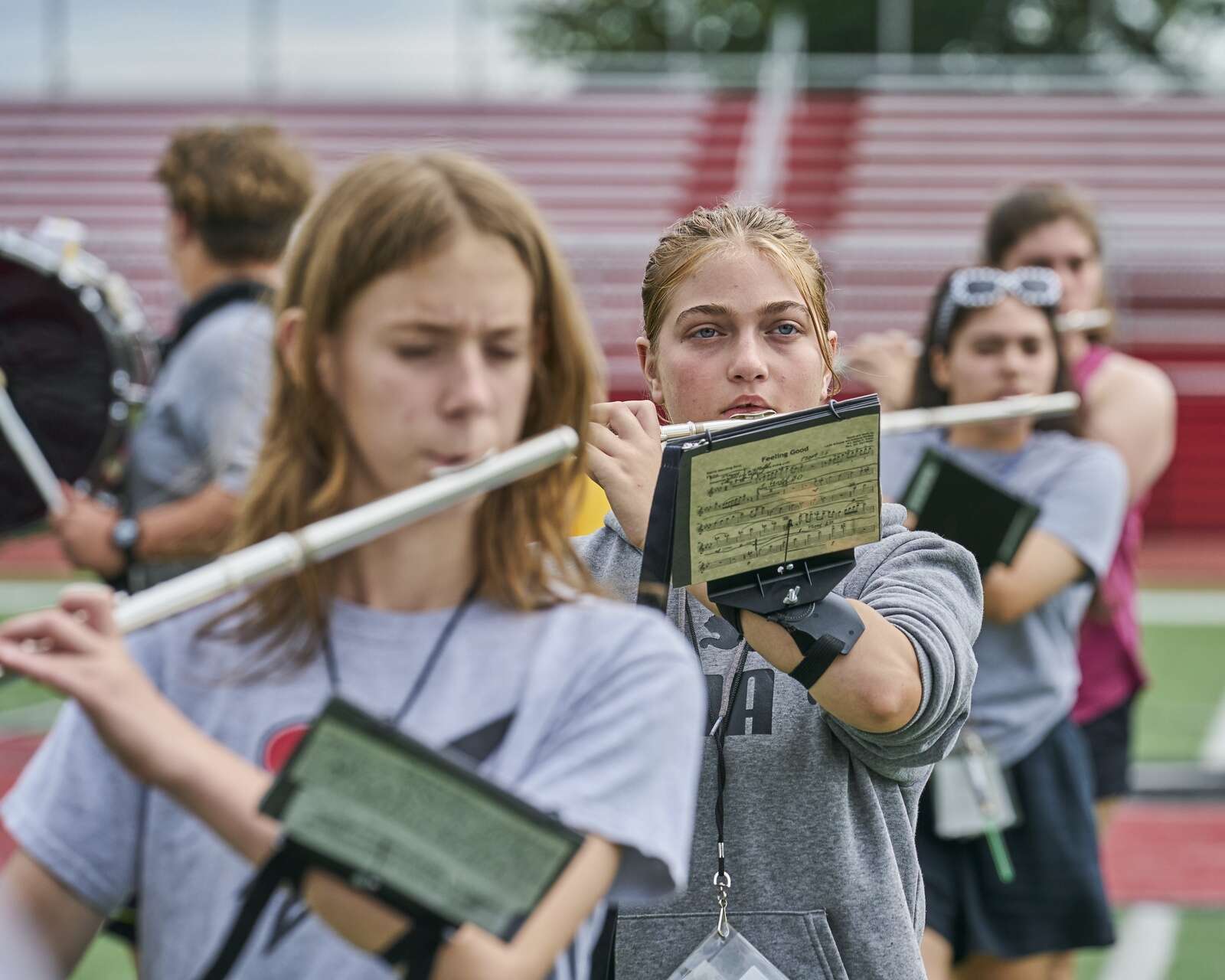 At Slippery Rock Area School District, director Les Fine said numbers are slightly down – 72 students as compared to last year's 75 – but added that he feels like the band is in one of the best places for the future that it has been in years.
"Our numbers are indicative of the fact that our middle school classes are a lot smaller right now. We lost a lot of younger kids," he said. "Behind the younger kids, the ones that are coming into the beginning band programs, our numbers are huge. They're not in the marching bands yet, but our numbers are actually healthier at those levels now than they were before COVID. All the bands are smaller this year, and we are all probably going to be getting smaller before we get bigger, but there's good things in the future."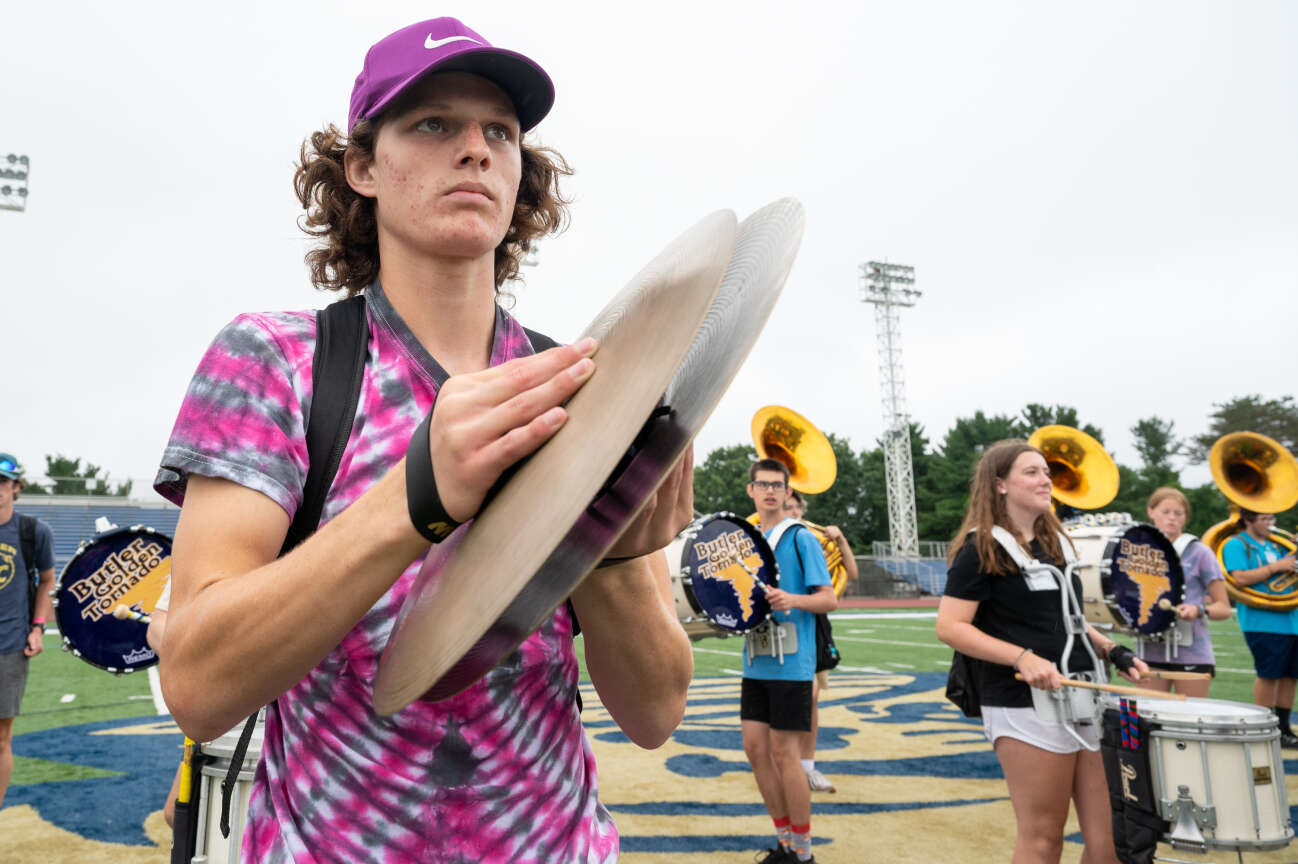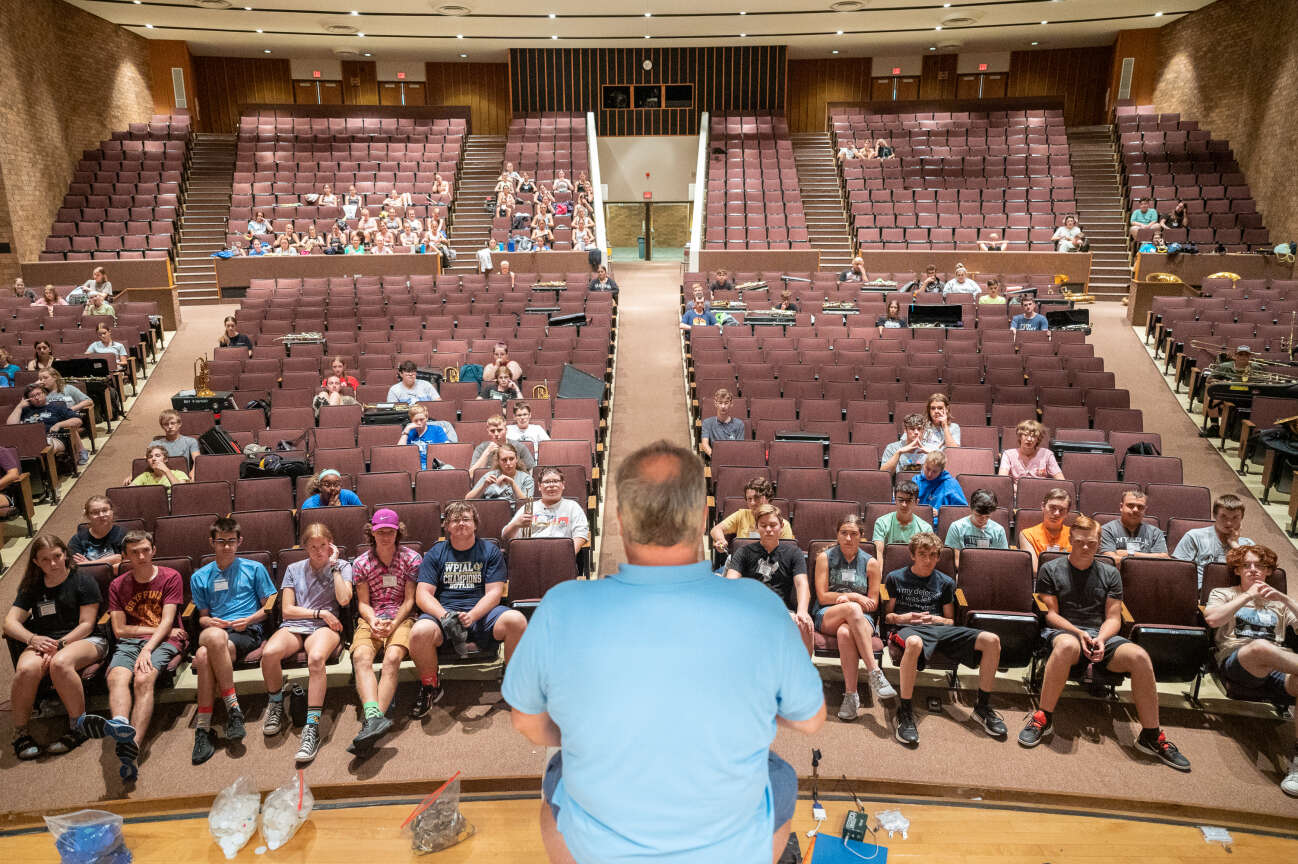 At Butler, the band numbers 175 students, 35 fewer than before the pandemic began. Kroner says that the size of the band has kept up with the shrinking size of the district.
"Our school, compared to where we were 25 years ago, is about half the size of where we were, and the band marched 350 kids 25 years ago," he said. "Statistically, we are exactly where we were."
He anticipates more challenges in the future with numbers, especially in the seventh and eighth grade.
"The seventh-graders didn't get to start until last year, and so they are struggling a little bit. The eighth-graders, many of them didn't even start until seventh grade, which is two years later than normal," he said. "There is going to be a two- or three-year window for most schools that are now sitting in seventh or eighth grade. It's going to be a challenge for a while."
Butler is now starting music lessons in fourth grade instead of fifth grade in order to allow students to begin learning an instrument earlier.
"I think it is really going to help our program rebound, but it just is going to take a while for those kids to go through," Kroner said. To recruit, I'm going to be taking a portion of the marching band down to all of the elementary schools, and play for their kids."
Armstrong agrees that Seneca's band isn't out of the woods just yet.
"We still are in the dip," he said. "We have more kids than last year, not more kids than usual. Last year was extremely unusual — we still aren't back to the numbers we are used to seeing in our program. We just feel like we are climbing out. We are really hoping that the hit we took from COVID, we saw the substantial amount of that last year. Everybody is worried about not having as many starters and losing kids, and we have been working very diligently as a district to maintain everybody that is on the roster."
Keeping spirits high
Marching band staples such as band trips, "Spirit Week" costume contests and section camaraderie have returned. Armstrong feels that the more-normal state of band is motivating for students. Seneca's band will be performing in the Cherry Blossom Festival Parade in Washington, D.C. next April.
"I think the kids that are seniors now, when they were juniors last year, when they got to see the seniors have a good year and be more normal ... If you asked them a year ago if they were looking forward to their senior year, they would have been very timid about it, because they didn't know," he said.
At Butler, Kroner is particularly proud of this year's band.
"This group that I have is probably one of the hardest working and most respectful kids that I have had the chance to work with," he said. "My leaders have been really selfless, they have really taken the idea that leadership is about serving and not about the 'me' attitude. They understand the real concept of what a great leader is, and I couldn't be more proud."
Mars students are looking forward to their upcoming trip to Disney, Soose said.
"The kids are really excited. A lot of them and the parents started using the phrase 'Disney or Bust,'" he said. "They did do a fundraiser over the course of the summer to help fund some of the trip expenses. Right now, we're in the midst of band camp and the competitive part of the season, but we'll start introducing some of what we're going to be doing at Disney toward the back half of October into November."
Fine at Slippery Rock said students still are somewhat nervous about the stability of the "normal" they're experiencing, but added that they've been "really kind" to one another.
"I think they are waiting for the shoe to drop. It's always like, everything we are doing is normal, everything is back to the way it used to be, but you have the feeling in the back of your head that something's on the horizon. It may never come, which is a good thing," he said. "I'm finding that they're much more helpful to each other than they have been in the past. They're very considerate, and they are just out there to do their job and do the best job that they can."